Mills 1.3 comparison
Original Mills 1.3 Comparison
As readers of this website's separate article on the production history of the famous Mills diesels from England will recall, the Mills 1.3 cc model appeared over the years in four distinct variants. I designated these (clockwise from lower left in the accompanying photo) as the Mk. 1 Series 1 (July 1946 – c. October 1946), the Mk. 1 Series 2 (c. November 1946 – May 1948), the Mk. 2 Series 1 (June 1948 – November 1949) and finally the Mk. 2 Series 2 (December 1949 – mid 1964).
For a brief period of time I found myself with simultaneous access to nice examples of all four models, thanks entirely to the kindness of reader Derek Butler of Queensland, Australia, who generously made a loan of his pristine Mk. 1 Series 1 model. Being placed in this happy situation, I thought that it might be interesting to run a side-by-side comparative test of all four to see how they compared in performance terms.
No sooner thought of than done! I never pass up an opportunity to run one (or more!) of these finely-built and user-friendly engines which have given so much pleasure to so many modellers (including myself) over the past seventy years.
I think that the best way to present the results of this multiple test is to report on each model individually and then to discuss the results in comparative terms in a subsequent section of the article. That decision having been made, here goes…………….
Mills Mk. 1 Series 1 no. 2246
This is the engine which was so kindly lent to me by Derek Butler. It is unquestionably an all-original example of the type – Derek is only its second owner. It appears to have had very little use.
This engine was never the subject of a published test in the contemporary modelling media. This is not due by any means to neglect but rather to the fact that the production of this model had ceased some eighteen months prior to the May 1948 commencement of the long-running series of model engine tests which appeared over the years in "Aeromodeller" magazine. The parallel series of tests which graced the pages of the rival magazine "Model Aircraft" did not make its debut until June 1949. This being the case, I was starting from scratch as far as performance expectations were concerned.
Throughout the series of tests reported here, I used a fuel containing 30% castor oil (to protect the engines) plus a small proportion (c. 1%) of ignition improver. I have found that the later Mills engines do perform better with a little improver, particularly as speeds climb past the 9,000 rpm mark. At lower speeds, the improver makes little appreciable difference.
The engine had not been run for some time, and a small prime was necessary to achieve an initial start. Thereafter, in common with all other Mills diesels of my acquaintance, a prime was never necessary at any time. A couple of choked flicks followed by a few starting flicks invariably did the trick.
These excellent starting qualities undoubtedly played a major role in securing the early widespread acceptance of the model diesel in Britain and elsewhere given the fact that the Mills 1.3 was the most widely-available model during the early diesel pioneering period beginning in Britain in mid 1946. The engine thus served in effect as an
ambassador for the new type of engine. A less user-friendly pioneering model from another maker might have greatly retarded the progress of the diesel. British and Commonwealth modellers were indeed fortunate that the Mills led the way and created such a positive first impression of diesels in general. In a very real sense, the Mills set the stage for the later success of other British diesel manufacturers.
Once running, the engine proved very easy to set. The contra-piston was perfectly fitted and control response was extremely positive without being excessively critical. That said, I found that the needle setting for the absolute maximum speed on any given prop was fairly critical. The absolute maximum speed was found just at the point at which a very slight "crackle" first intruded into the exhaust note. However, the engine would run consistently within a hundred RPM of the maximum over a fairly wide range of slightly richer settings. The needle is only critical when it comes to extracting the absolute maximum – for practical purposes, this is not an issue at all. For the sake of consistency, I would happily run very slightly on the rich side of the optimum setting and accept the loss of 100 or so RPM!
A characteristic which I did not expect was the engine's tendency to run a little "dirty". When leaned out to the max, the oil residue took on a somewhat dark colour, implying less-than-optimal combustion. This may clearly be seen in the accompanying photograph. There was no hint of any polychromatic appearance which might indicate rapid bearing wear, nor did any such wear manifest itself in a physical sense – it was simply a characteristic of the engine's combustion residues when fully leaned out.
I ran an extensive suite of airscrews for which power absorption coefficients were reliably known. The results were as follows, along with the derived power curve.
Prop

RPM

BHP

10x7 TF wood

9x6 APC

8x7 APC

9x5 APC

9x4 APC

8x6 APC

8x4 APC WB

8x4 APC

7x6 APC

7x5 APC

7x4 APC

4,100

5,600

5,800

6,000

6,300

6,500

6,600

6,800

6,900

7,100

7,200

0.033

0.042

0.044

0.045

0.047

0.047

0.042

0.034

0.033

0.028

0.024
The APC 8x4 WB (wide blade) is an APC 9x4 which has been cut down and calibrated to fill an otherwise glaring gap in my calibrated test airscrew set.
As can be seen, the engine peaked at around 6,400 RPM, at which speed it was developing some 0.048 BHP. Not all that impressive for a 1.3 cc engine, you might say. Well, it must be recalled that the Mills was the first widely-available small-bore diesel to appear on the British market, hence having no direct competition at the time of its introduction. Viewed in isolation from a mid 1946 standpoint, this is a more than acceptable performance for a small sports diesel of the day, especially given the fact that it enabled its owners to dispense with the heavy, complex and potentially unreliable spark ignition support system of its predecessors. Plenty of power there to fly the small sport free-flight models in which the engine was doubtless most commonly employed. Taken together with its excellent handling and high-quality construction, there's no wonder that the engine took the British market by storm!
Mills 1.3 Mk. 1 Series 2 no. 9757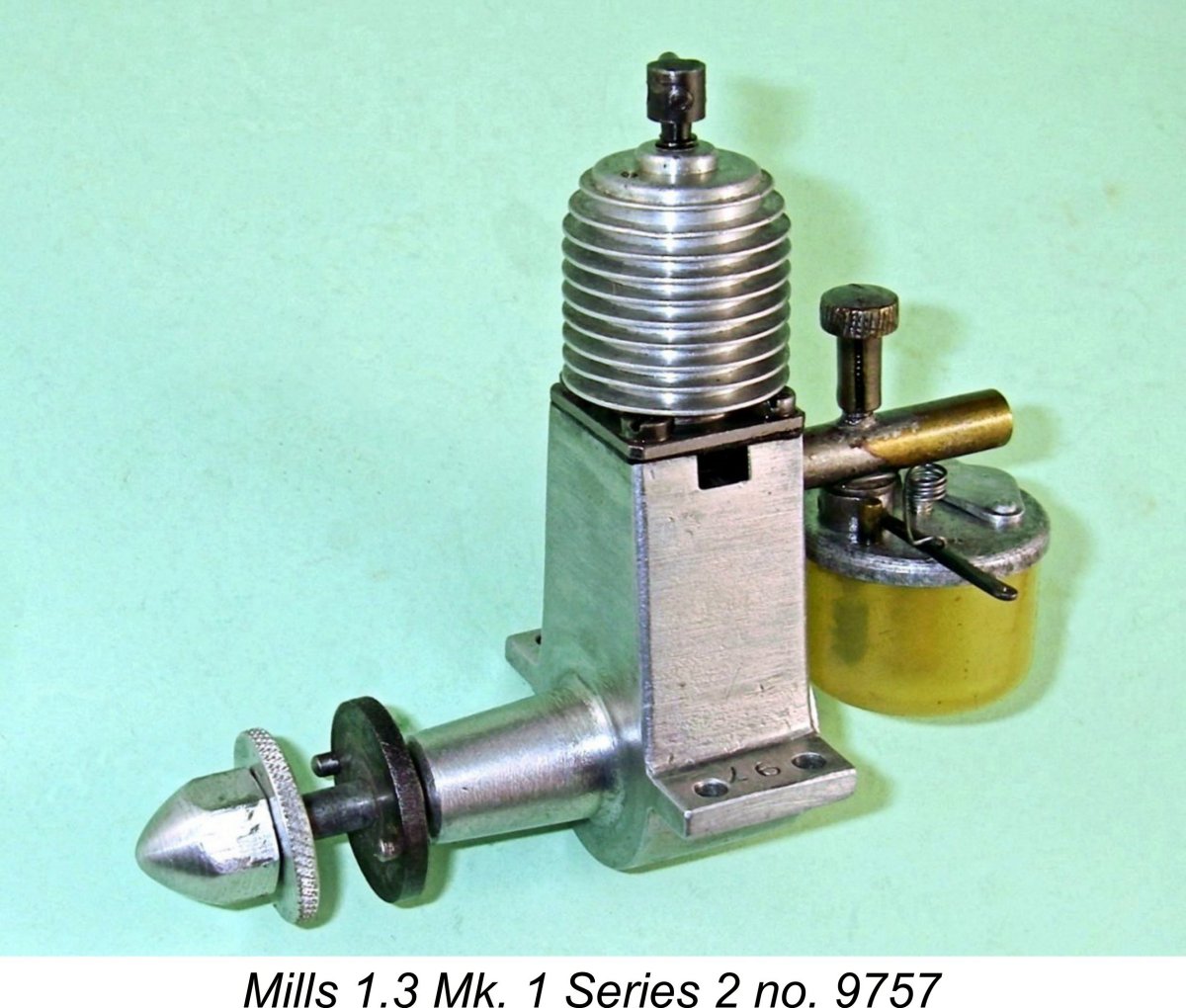 Once again, we are dealing here with a model which was never the subject of a published test in the British modelling media. Production ended in May 1948, just as the "Aeromodeller" series of model engine tests conducted by Lawrence H. Sparey was getting underway with a review of the E.D. Comp Special. By the time that Sparey got around to publishing a test of the Mills 1.3 in July 1948, his subject was the then newly-released Mk. 2 Series 1 variant of the engine. More of that model in its place below.
The test of this variant was more or less a carbon copy of that undertaken for the Mk. 1 Series 1 model. Starting and handling qualities were identical in all respects. The one difference that became apparent was the fact that this example ran very cleanly indeed, displaying none of the dark colouration of the exhaust residues that was a characteristic of the model tested previously. I have no explanation for this.
It must be pointed out in fairness that engine number 9757 had received a fair amount of use in the past. Apart from having clearly spent a fair bit of time in the air, it had been bench-tested previously by myself, proving itself to be a very good runner on that occasion. By contrast, engine number 2246 appears to have seen very little use at any time.
The main interest in conducting a test of this particular engine stemmed from a desire to see if there was any evidence to suggest that Mills Bros. had incorporated any performance-enhancing changes into the Mk. 1 Series 2 variant. The speeds obtained using the same fuel and props as for the earlier model tell the story:
Prop

RPM

BHP

10x7 TF wood

9x6 APC

8x7 APC

9x5 APC

9x4 APC

8x6 APC

8x4 APC WB

8x4 APC

7x6 APC

7x5 APC

7x4 APC

4,200

5,600

5,800

6,000

6,300

6,500

6,600

7,000

7,100

7,400

7,700

0.035

0.042

0.044

0.045

0.047

0.047

0.045

0.037

0.036

0.032

0.029
As can be seen, the performance of this engine was almost exactly the same as that extracted from Mk. 1 Series 2 engine number 2246. The observed peak output was once again 0.048 BHP @ 6,400 RPM. The only observable difference was that the power dropped off somewhat less sharply beyond the peak. This could well be down to the significant difference in running time between the two examples. The main point is that there was no indication whatever of any performance-enhancing changes having been made between the two variants.
It's also worth recording the fact that despite the passage of some years as well as the use of a completely different set of calibrated test props, the performance measured for engine number 9757 on this occasion was identical to that determined during my earlier test of the same engine. On that earlier occasion, I recorded an identical output of 0.048 BHP @ 6,400 RPM, exactly as in the present test. Clearly my calibration coefficients for the two prop sets were mutually consistent, despite the fact that they were independently derived.
Mills Mk. 2 Series 1 no. 19106
We now come to the first Mills 1.3 model for which contemporary published performance figures are available. This variant was tested twice back in the day – once by Lawrence Sparey, whose report appeared in the July 1948 issue of "Aeromodeller", and then again by Peter Chinn, whose report was published somewhat belatedly in the July 1950 issue of "Model Aircraft".
The timing of both of these reports is of some interest for almost diametrically opposite reasons! Given the fact that the Mk. 2 Series 1 variant of the Mills 1.3 only reached the market in June 1948, it's clear that Lawrence Sparey must have been provided with one of the very first examples off the production line, possibly even during the pre-release inventory build-up stage. At the time in question, the "Aeromodeller" test series was the only game in town (the initial appearance of the "Model Aircraft" series was then still a year in the future) and was thus seen by manufacturers as a highly desirable vehicle for the promotion of new designs. There seems to be little doubt that promotional considerations led to Mills Bros. facilitating Sparey's early acquisition of his test example.
By contrast, Peter Chinn's published test of the same model appeared some eight months after the Mk. 2 Series 1 variant had been replaced by the Mk. 2 Series 2 version of the engine (see below). Chinn stated that his test example had been in use in his hands for some 15 months prior to the test being undertaken. He was well aware that the design had been revised – indeed, he included a summary test report on the revised model in his article. However, his major findings applied to the earlier version of the Mk. 2 engine.
For the purposes of the present report, it will suffice to say that Sparey reported an output for his presumably new example of 0.078 BHP @ 7,250 RPM, with a relatively flat peak. Chinn found a maximum output for his well-used example of 0.079 BHP at a slightly higher peaking speed of 7,900 RPM. Relatively speaking, these are remarkably consistent findings, especially given the widely differing previous running times for the two examples.
I tested my well-used example of the Mk. 2 Series 2 engine (no. 19106) using the same props and fuel as applied to the two Mk. 1 engines. Starting and handling characteristics were once again exactly as those experienced with the other two models. However, the same can't be said of the results obtained, which were way above expectations! My engine is admittedly a highly "experienced" example, clearly having done a lot of running in the past, but even so I was not prepared for the results obtained. Check out the following figures:
Prop

RPM

BHP

10x7 TF wood

9x6 APC

8x7 APC

9x5 APC

9x4 APC

8x6 APC

8x4 APC WB

8x4 APC

7x6 APC

7x5 APC

7x4 APC

5,400

7,200

7,600

8,000

8,400

8,700

9,100

10,000

10,100

11,000

11,300

0.075

0.090

0.100

0.106

0.111

0.113

0.115

0.107

0.106

0.097

0.092
Despite the fact that I clearly missed the setting on the APC 9x6, these figures (a number of which I re-checked to confirm that I hadn't mis-read the tach!) imply an output of some 0.115 BHP @ 9,100 RPM. This is way up in the reported range for the later Mk. 2 Series 2 model! In fact, it suggests a greater level of torque development than the later variant given the lower peaking speed. How could this be?!?
A quick inspection soon supplied the answer. Removal of the intake quickly revealed that some previous owner had very neatly filed a step in the rear of the lower piston skirt to increase the induction period to more or less the same as that of the later version. It's entirely possible that the transfer port had also been re-worked, although I didn't disturb the well-sealed and firmly "glued" cylinder base joint to check this.
Regardless, this engine had clearly been reworked very competently and successfully to enable it to perform on par with the later Mk. 2 Series 2 variant. As such, this can't be viewed as a representative test of the Mk. 2 Series 2 model.
Even so, a comparison of my results for the two Mk. 1 engines with the very consistent published figures from both Sparey and Chinn clearly demonstrate that the Mk. 2 Series 1 variant of the Mills 1.3 was a significant step forward from the Mk. 1 version in performance terms. The main puzzle is why it took Mills Bros. some 18 months to realize the full potential of the engine! The unknown owner of engine number 19106 clearly did so........................
Mills 1.3 Mk. 2 Series 2 no. 36627
This final variant of the Mills 1.3 was also the subject of a number of contemporary published test reports. As previously mentioned, Peter Chinn included a summary report on this model as an addendum to his July 1950 "Model Aircraft" test of its predecessor, reporting an output of 0.108 BHP @ 10,600 RPM. A further supplementary test of this model appeared in the May 1955 issue of "Aeromodeller", where a somewhat lower output of 0.093 BHP @ 10,000 RPM was recorded. Finally, Peter Chinn published a retrospective re-test of both the Mills .75 and 1.3 models in the December 1960 issue of "Model Aircraft", reporting an output for the tested example of the Mills 1.3 of 0.114 BHP @ 11,000 RPM.
It's worth noting that Chinn's December 1960 horsepower figure almost exactly matched that which I obtained for my reworked example of the earlier Mills 1.3 Mk. 2 Series 1 apart from the fact that my engine peaked at a significantly lower speed. A ringing endorsement of the effectiveness of the modifications applied by the unknown previous owner of my engine! His efforts clearly demonstrate the ease with which the earlier variant could be brought up to parity with its successor in performance terms – anyone who truly understood what he was doing and could used a Swiss file could have done the same. Why Mills Bros. took so long to do so is one of those insoluble mysteries ……………
The published figures also highlight another well-recognized trait of the Mills engines, namely a certain "variability" in performance levels between different examples of the same model. This is an issue upon which comment has frequently been made in the past - owners of different examples of ostensibly the same model have often reported widely differing performance figures. The reasons for this are unclear,
but there can be no doubt that this is a Mills characteristic. They all start and run very nicely, but the real trick is to pick a good 'un!!
After my experiences with engine number 19106, I began my evaluation of engine number 36627 by inspecting its induction port! All appeared to be well – there was no step in the piston skirt. Indeed, this particular example of the Mills 1.3 seems to have seen very little use in the past. I had tested it myself some years ago but had never flown it.
Once again, this engine exhibited all of the very positive starting and handling characteristics of the other examples tested. The excellent control response made these tests a genuine pleasure, while the very effective cut-out greatly facilitated testing by keeping the required running time on each prop down to a minimum while retaining the running needle setting. I could easily test two props on one tank of fuel.
The results obtained on this occasion once again closely matched my earlier figures obtained using a different set of calibrated test props. The actual numbers obtained this time are shown below:
Prop

RPM

BHP

10x7 TF wood

9x6 APC

8x7 APC

9x5 APC

9x4 APC

8x6 APC

8x4 APC WB

8x4 APC

7x6 APC

7x5 APC

7x4 APC

4,500

6,100

6,500

6,800

7,200

7,600

8,100

9,300

9,800

10,800

11,200

0.041

0.055

0.063

0.066

0.070

0.075

0.077

0.088

0.094

0.100

0.090
The above figures imply an output of around 0.102 BHP @ 10,600 RPM – more or less right in the middle of the range reported in the contemporary modelling media. As can be seen, there's a sizeable gap in my figures between 9,800 and 10,800 RPM, in which range the peak evidently lies. The actual peak output figure is thus somewhat imprecise. However, for all practical purposes this test confirmed the validity of previously-published figures.
Conclusion
I undertook these tests primarily for three main reasons:
To document the level of performance achieved with the Mills 1.3 Mk. 1 Series 1 introductory model;
To determine whether or not any performance-enhancing modifications were made to the original Mills 1.3 Mk. 1 in connection with its development into the Mk. 1 Series 2 variant; and
To check reported performance figures for the Mills 1.3 Mk. 2 variants.
Taking the first objective first, these tests showed that the Mills 1.3 Mk. 1 Series 1 model which appeared in July 1946 developed around 0.048 BHP @ 6,400 RPM. Unimpressive as these figures may appear, they actually represent a more than acceptable performance in a mid-1946 context, especially for a model diesel of this displacement. Moreover, the engine's excellent starting, handling and running characteristics made it a perfect ambassador for the model diesel concept. In this respect, the Mills probably did much to bring about the immediate and widespread acceptance of the model diesel among British modellers.
With respect to the second objective, these tests produced no evidence whatsoever to suggest that any performance-enhancing modifications were applied at any time to the Mills 1.3 Mk. 1 model. The measured
performance of the tested example of the 1.3 Mk. 1 Series 2 was essentially identical to that for the Series 1 variant. The slightly less abrupt fall-off beyond the peak was most likely down to the fact that the Series 2 example had a good deal more running time in advance of the tests.
Finally, the fact that the tested example of the Mills 1.3 Mk. 2 Series 1 turned out to have been modified by a previous owner into more or less Series 2 configuration prevented me from confirming published performance figures for the Series 1 variant of that model. However, the figures that were obtained both from the modified engine and from unmodified Mk. 2 Series 2 engine number 36627 pretty much confirmed the range of published figures for the Mk. 2 Series 2. It's abundantly clear that the Mk. 2 variants of the Mills 1.3 both represented a significant step forward in performance terms from the Mk. 1 models.
Perhaps it's fitting that I acknowledge the outstanding co-operation extended to me by Derek Butler by allowing him to have the last word. Derek states his opinion that "….all mythology and hoop-la aside, the Mills 1.3 Mk.1 Series 1 succeeded because it was a good, honest engine. It started easily, ran smoothly and was well made of good materials. The engine is one of my favourites, though not for any aesthetic reason. It is just a good honest product". A very fair assessment which applies to all of the engines produced by Mills Brothers!
______________________________
Article © Adrian C. Duncan, Coquitlam, British Columbia, Canada
First published December 2016