August 2018
From the Editor - August 1st , 2018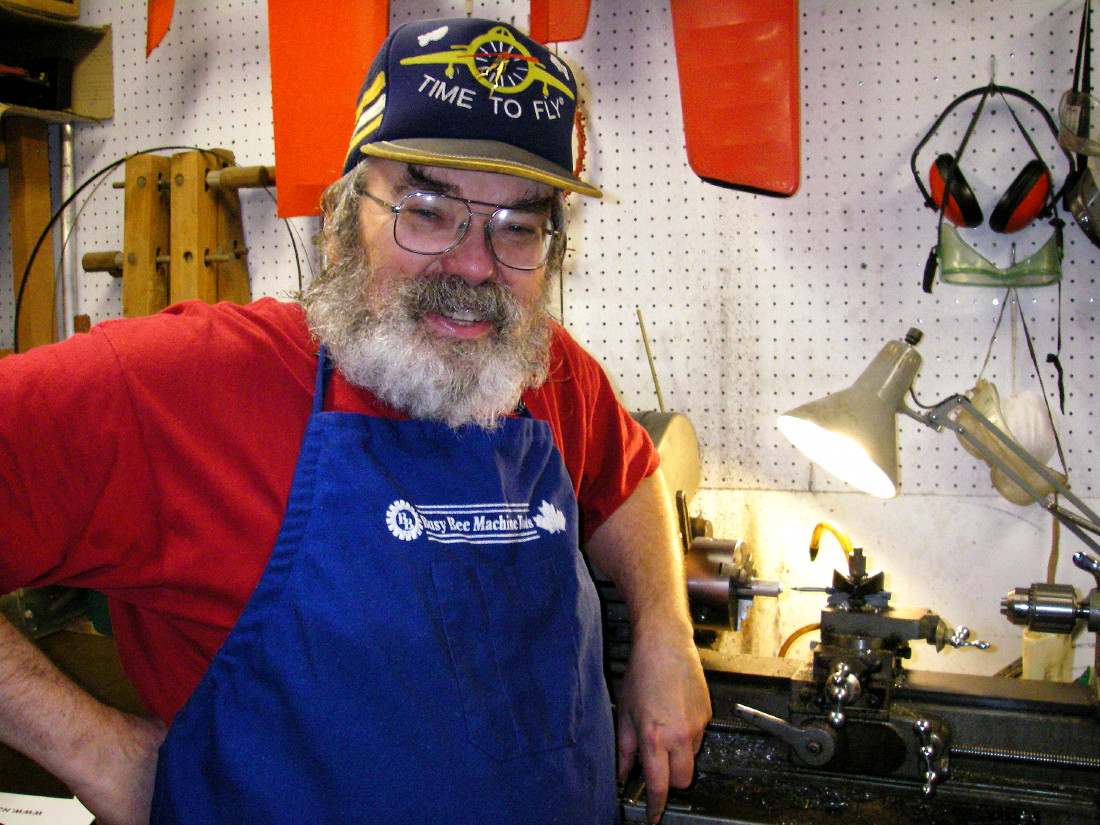 Well, after a missed edition in July thanks to the intervention of a three week absence on vacation, here I am back again with another edition of the website! Sorry about the missing issue, but as far as I'm concerned my recently-completed trip across Canada by rail and then touring New Brunswick was a very much-appreciated break. Now it's back to the business of researching, restoring and running those classic model engines that have fascinated me for well over half a century and counting!

I've got things back on the right foot by meeting my self-imposed deadline of the first of the month for the activation of this edition of my ever-expanding website. As far as I'm presently aware, this should now continue for some time - no new scheduling conflicts appear on the calendar for the next six months or more.

During my absence on vacation, I'm glad to report that the level of reader engagement with this site held up very well despite the missed issue. The previously-unreported numbers for May 2018 were spectacular, with new records set for both hits (566,607) and number of pages accessed (111,033). Wow! In June 2018, the last month for which complete data are available at the time of writing, the number of hits understandably fell from that record May figure of 566,607 to 434,668. I was expecting this given the combination of summer in the Northern Hemisphere (where the majority of my readers live) and the general awareness that there would be no July issue - fewer people would be looking. Still, the June figure indicates continuing high site visibility.

This translated into a total of 12,014 actual visits in June, a small decrease from the figure of 13,461 established in May 2018 but still indicative of a continuing high level of interest. The number of pages accessed actually declined more sharply, falling quite significantly from 111,033 in May to 83,005 in June - still a very good figure. People using the site were evidently more focused on specific topics rather than merely browsing.
The net result was that the average number of pages accessed per visit fell somewhat in June to around 6.9 from the previously unreported record 8.2 figure recorded in May. However, this still easily beats the average of around 5.5 pages per visit which had remained relatively constant for many months prior to March 2018. The implication is that those who did visit continued to find something of interest in these pages. Thanks for being part of that!

Despite my repeated admonitions not to do so, people are continuing to try to register on this website. As I've previously stated repeatedly, this has absolutely no effect - it's simply an artefact left over from the generic platform's intended use as an on-line sales site. Since this is not a sales site, the registration feature is redundant and I make no use of it whatsoever. Please don't bother - it simply creates unnecessary cyber-clutter! This message clearly needs to remain a regular feature of these Editorials...........
Along with the well-sustained use of the website, the correspondence from my valued contacts around the world has continued to pour in unabated. During the past two months I've heard from Andrew Boddington, Maris Dislers, Andrew Fullarton, Derek Butler, David Burke, Goran Milosavljevic, Andrew Coholic, Ferenc "Somi" Somogyi, Steve Thomas, Steve Webb, Han Peng, Steve Hainsworth, Ed Holly, Alan Strutt, Luis Petersen, Jens Geschwendtner, Peter Valicek, Alan Greenfield, Mike Conner, Paul Praus, Tom Coletta, Robert Care, Tim Dannels, Miles Patience, Ken Croft, Graham Podd, Jim Mace, Dave Zwolak, Pat O'Donnell, Walter Barbui, Ingemar Larsson and Jim Dunkin. Sincere apologies to anyone whom I may have inadvertently missed in the crowd - it can be hard to keep track! The blog site has also continued to justify its existence by generating a fair amount of traffic - thanks for that.

One of the greatest pleasures with which I'm favoured from time to time is the opportunity to actually meet face to face with one of my regular readers. Such an opportunity arose in June, when I officiated at the 2018 Graffiti Combat meet held this year at the beautiful Mission Wings flying site near Hatzic Lake, British Columbia. Among those in attendance was Pat O'Donnell, who is a regular contributor to the "Home Construction" thread on my blog site.
Originally from Townsville in Queensland, Australia, Pat now lives not far from me in White Rock, British Columbia, Canada. He has been building model engines for many years. At the present time, he has several diesels under construction, including a BJ Cicada from the plans made available on Ron Chernich's "Model Engine News" (MEN) website in December 2012. I hope to get together with him soon to test some of his productions.
Maris Dislers contacted me to make me aware of another on-line resource which will be of interest to aficionados of Italian model engines. This is the "Italian Engines" website primarily authored by two Italian enthusiasts named Carlo Gazzola and his friend Rodolfo (family name not given). It covers engines in three categories - Antique (up to December 31st, 1940); Old Timer (from 1941 to 1950); and Nostalgia (from 1951 to 1960). Some later engines are mentioned if their designers were active prior to 1960 (the Kosmic engines are an example), but a number of important post-1960 manufacturers are not cited. Examples include Rossi, Cippola and Pico.

The site is organized around the designers rather than any specific engine or marque. Accordingly, it can be difficult to find a specific engine unless you know the name of the designer. Even so, it's a very interesting and useful record of the activities of Italy's many talented designers prior to 1960.
Maris also advised that he has now completed a replica AHC diesel. This particular engine was started by Bob Lipori, who ran out of energy along the way. Maris ended up with the partially-built engine and has now completed it. The AHC passed its testing with flying colours, apparently outperforming the example that I tested for my article on the Deezil-AHC confrontation which may still be found on Ron Chernich's "Model Engine News" (MEN) website. A more complete report by Don Howie will appear in a future issue of "AeroModeller" magazine.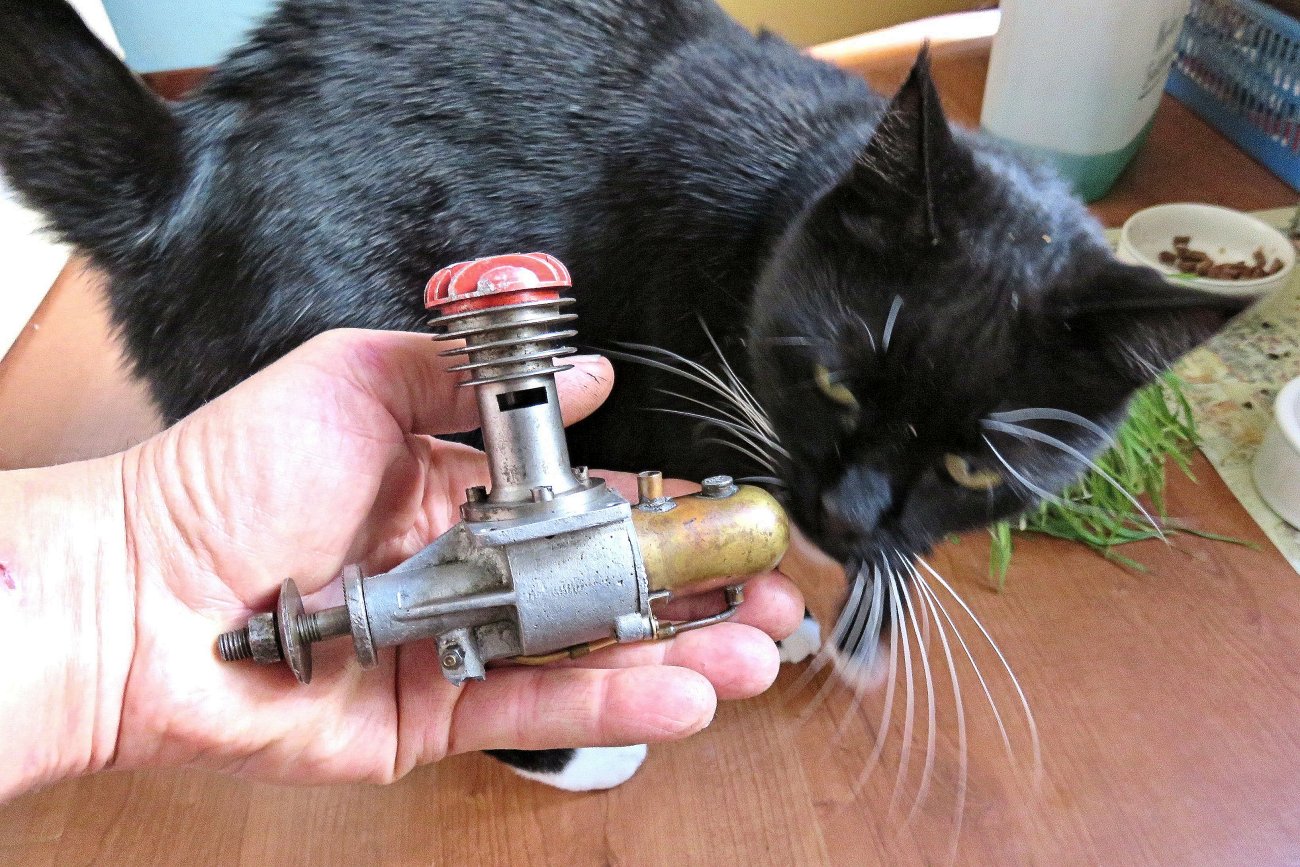 On a rather sad note, I heard from my valued friend and colleague Peter Valicek that his long-time feline companion and helper Felix passed away in June. As Peter's long-time companion, helper and critic (as in the attached picture of him inspecting Peter's work with a critical eye), Felix played a vital role in Peter's life and work. I know from personal experience how painful losing a much-loved pet can be, and I'm really sad for Peter. Life will of course go on, and I look forward to many more happy collaborations with Peter in the years to come.
Changing the topic completely, last month I announced the addition of a new feature on this website. This was the "Engine Parts Available" page which now appears within my "Sources" section to meet this need. I intend to be one of the first posters on this page with my large collection of Nordec parts made available to me through the kindness of my
valued English friend Alan Strutt.
Unfortunately, time pressures during the run-up tp my recent out-of-town trip have so far prevented me from creating the necessary inventory of the available parts. Now that I'm back, I hope to make some significant progress during the coming months. I also hope to receive an inventory of Enya parts which another reader has been assembling to post on that page. Stay tuned ..........
A reminder - I'm prepared to host other major parts inventories here as well, although I reserve the right to refuse any such requests if I feel that they don't meet my criteria. Anyone having such a parts stash is invited to contact me to inquire about having it posted here.

The criteria will be that all parts have to be for a specific engine or marque, and must be offered at a firm price - no bidding and no haggling. I'm not setting up in competition with eBay here! In addition, all transactions between buyers and sellers are to be direct - I will not be acting as a sales agent or an ombudsman! I'm merely providing a listing service, and that is the sum total of my involvement except in cases where I'm the seller. Moreover, I will accept no responsibility for parts sales by others since I have no involvement - that's entirely between the sellers and the buyers.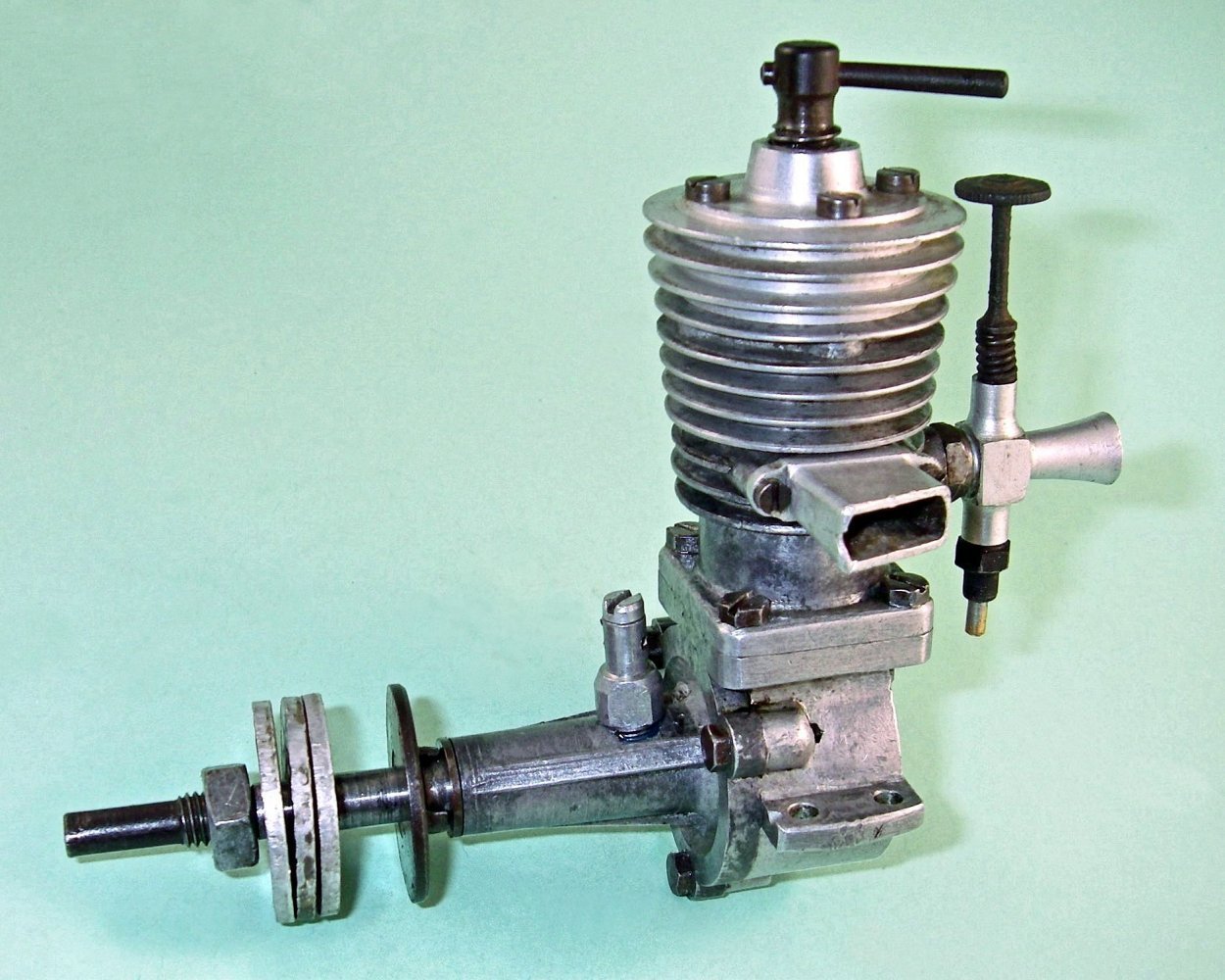 Changing the subject completely, I recently took another of my "gut feeling" eBay fliers by bidding successfully on the extremely well-made 2.75 cc diesel seen at the left, which was on offer from an English seller. Neither the seller nor I had any idea what the engine was, but some others evidently did, hence the greater-than-usual interest in what might easily be taken for a home-constructed one-off. Indeed, one of the unsuccessful bidders went so far as to contact the seller after the eBay auction had closed to offer him considerably more than I paid in an effort to tempt him to renege on my successful eBay bid! Being a principled individual, the seller declined. However, this clearly implied that this unit was know to some and was perceived as having considerable interest and value.

Upon receipt, it became clear that the engine was of British origin, since all threads are BA, BSF or Whitworth. Moreover, it did not appear to be a one-off home-build, since no fewer than four high-quality die-castings were used in its construction. Measured bore and stroke are 0.567 in. (14.40 mm) and 0.665 (16.89 mm) respectively for a displacement of 2.75 cc. The engine clearly had a back tank originally, since a 6 BA tapped hole is provided in the centre of the integral backplate. As illustrated without the tank, the engine weighs a checked 185 gm (6.52 ounces).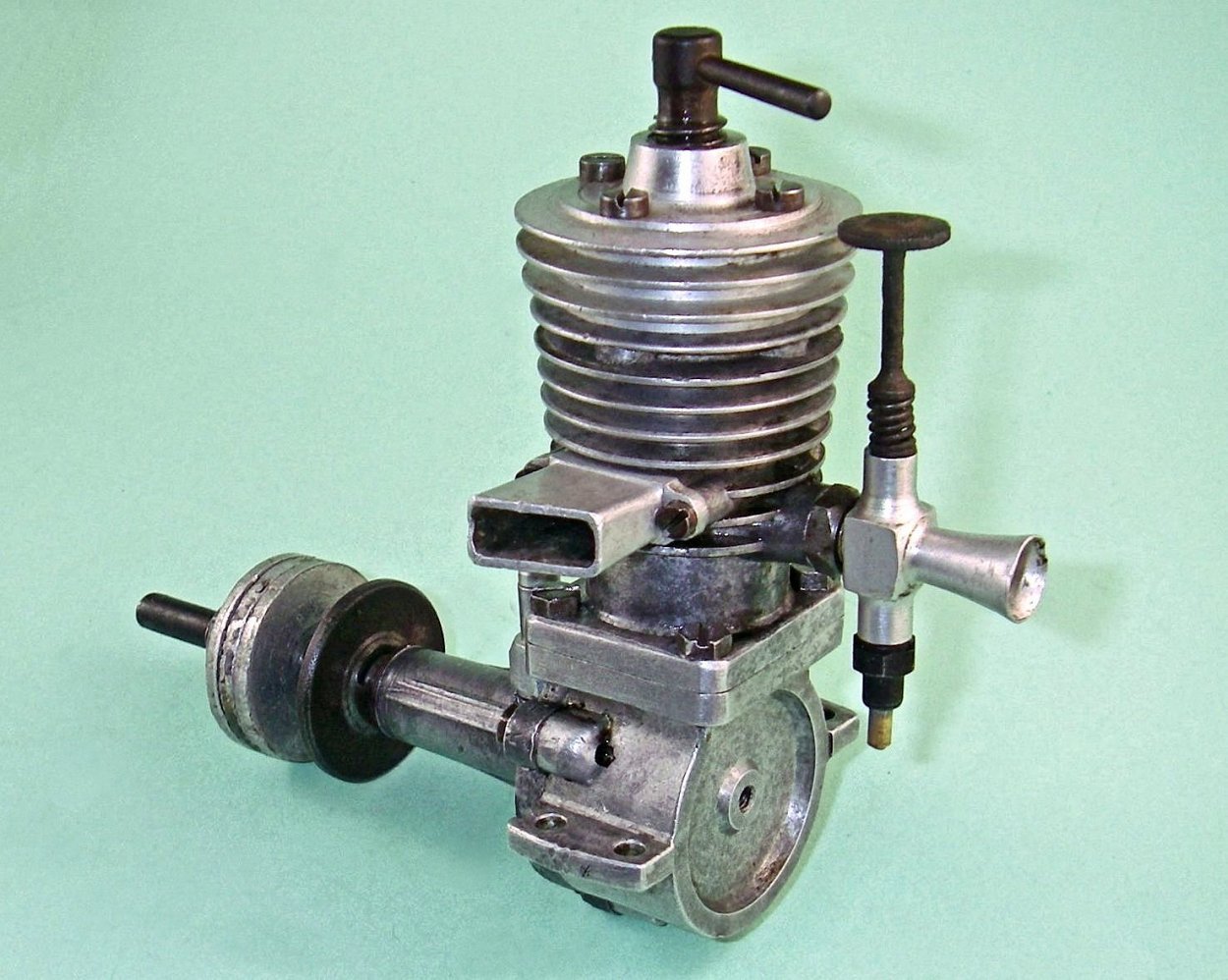 The engine exhibits some very unusual features. For starters, the use of cross-flow loop scavenging is a bit of an anomaly for a sideport diesel of the seeming period. However, perhaps the most odd feature is that weird little vertical fitting on the top of the main bearing. It might be supposed that it's an oil reservoir, but in fact its open end is stopped by a screw (which probably had a small coil spring originally for tension). It is connected to the crankcase through a small-diameter conventional FRV valve in the main journal. Primary induction is of course sideport, so this seems to be an adjustable secondary air-only FRV induction system to allow a degree of fine tuning. It's timed for the conventional running direction. The FRV intake can be set anywhere between fully closed and wide open using the screw at the top. When open, air is drawn in through a pair of transverse holes in the fitting.

The quality of the engine's construction is truly superb. Everything is first-class, right down to the hex head screws used to retain the cylinder casting and the
front cover. The state of the piston crown and contra-piston underside confirm that the engine has had a lot of use, but all fits remain absolutely beyond reproach. Compression is outstanding.
Normally I would have said that this was more likely than not to be the work of some very talented model engineer. However, the use of die-castings throughout would be highly unusual for a one-off. Someone went to a lot of trouble to produce those four dies!
After considerable discussion between myself and a number of my more knowledgeable colleagues, a consesnsus was reached that the suggestion made by Miles Patience and his father was most probably correct. This was that the engine is a previously unattested prototype originating from Ten-Sixty-Six Products of Worcester in England. The cylinder attachment system is identical to that of the 1949 Ten-Sixty-Six Arrow 5 cc model, while the unusual form of the front portion of the crankshaft is almost indicative, being unique to Ten-Sixty-Six to my knowledge. The three-webbed front housing attached by three screws is also a standard Ten-Sixty-Six arrangement.
For now, that's where we have to leave it. Since the identification is not secure, I've added the engine to my "Wotizit" pages, identifying it for now as a "probable" Ten-Sixty-Six production. If any reader is able to set me straight on this on the basis of authoritative information, please get in touch!
Speaking of Miles Patience, I've recently been working with him on sorting out one of only five known existing examples of a still-born ETA glow-plug model - the ETA 15 of 1950. This was envisioned as a companion to the very successful ETA 29 and its smaller 19 glow-plug companion, but its performance apparently fell short of Ken Bedford's expectations. As a result, ETA did not pursue it.
Having gathered enough original castings and other components to make up five examples of this very rare engine, Miles was kind enough to entrust one of those engines to me. I've since been working on sorting out the optimum configuration for best performance. Compression ratio and intake venturi size are the main variables with which I've been playing. To date, the engine's performance has confirmed Ken Bedford's assessment, but I'm not done yet! Once the engine is fully developed and tested in its final configuration, I'll be publishing an in-depth article about this little-known but very interesting unit. Stay tuned!!

Turning now to the lead articles for this month, I'm presenting a double bill to make up for missing July. The first of these articles deals with another member of a Scandinavian model engine range about which I've written before. I've prepared a detailed review and test of the Thorning 3.5 cc diesel, a later member of the Thorning range which began with the Thorning III, about which I've written previously.
The Thorning 3.5 was a fairly close copy of the well-known AMCO 3.5 PB diesel from England. As you'll learn, it was a very well-made engine which had a performance very similar to that of its English counterpart. It appeared in two variants, both of which will be covered.

The bonus article for August is a further installment of my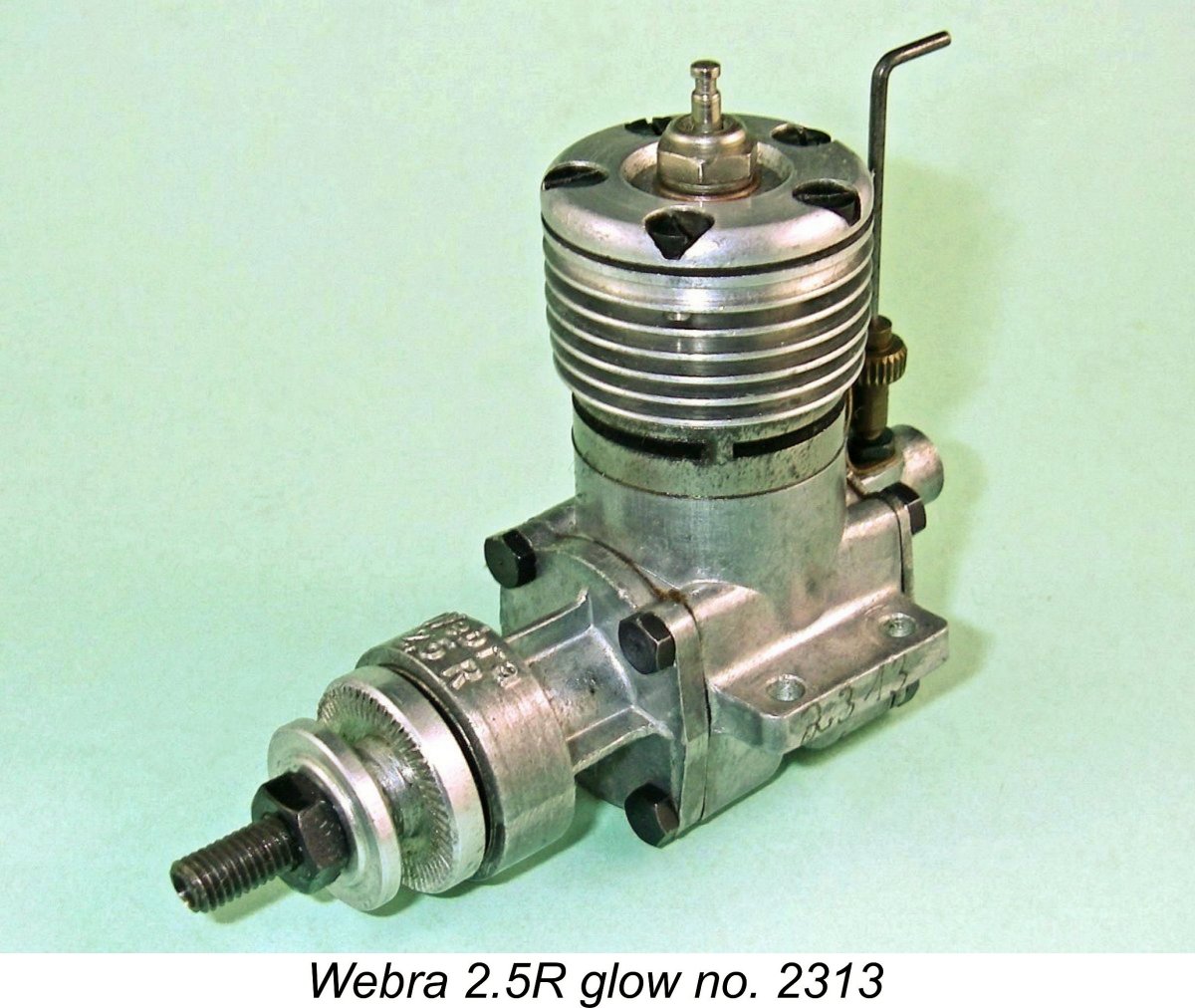 ever-expanding series of tests of 2.5 cc International class racing engines from the "classic" era of the 1950's and early 1960's. This time I'll be evaluating the Webra 2.5R, which was a glow-plug version of the famous 2.5 cc Webra Mach I diesel. I think that you'll be surprised at the levels of performance which I was able to extract from my test example! This was a far better engine than contemporary media reports suggested! A lot of folks believed those reports and missed out ............their loss!

I think that's it for now. I'll be back to you with another issue on or about September 1st, 2018. Meanwhile, best wishes for continued enjoyment of our shared addiction, and may the heady aroma of diesel fumes or burning nitro assault your nostrils frequently.............. !

Cheers,
Adrian Duncan
Coquitlam, British Columbia, Canada
___________________________________
Note regarding material to be found on this site - unless specifically otherwise noted, all images and text which appear on this site are my own work, and I hereby assert my right to be recognized as the originator of this material. For the record, this material is made freely available to all upon two firm conditions:
No commercial use of any kind is to be made of any of the images or text posted on this site without my express written consent.
No use of

any

kind, commercial or otherwise, is to be made of any material published in any form on this site without full and open acknowledgement of the source.
Adrian C. Duncan
Coquitlam, British Columbia, Canada