February 2019
From the Editor - February 1st , 2019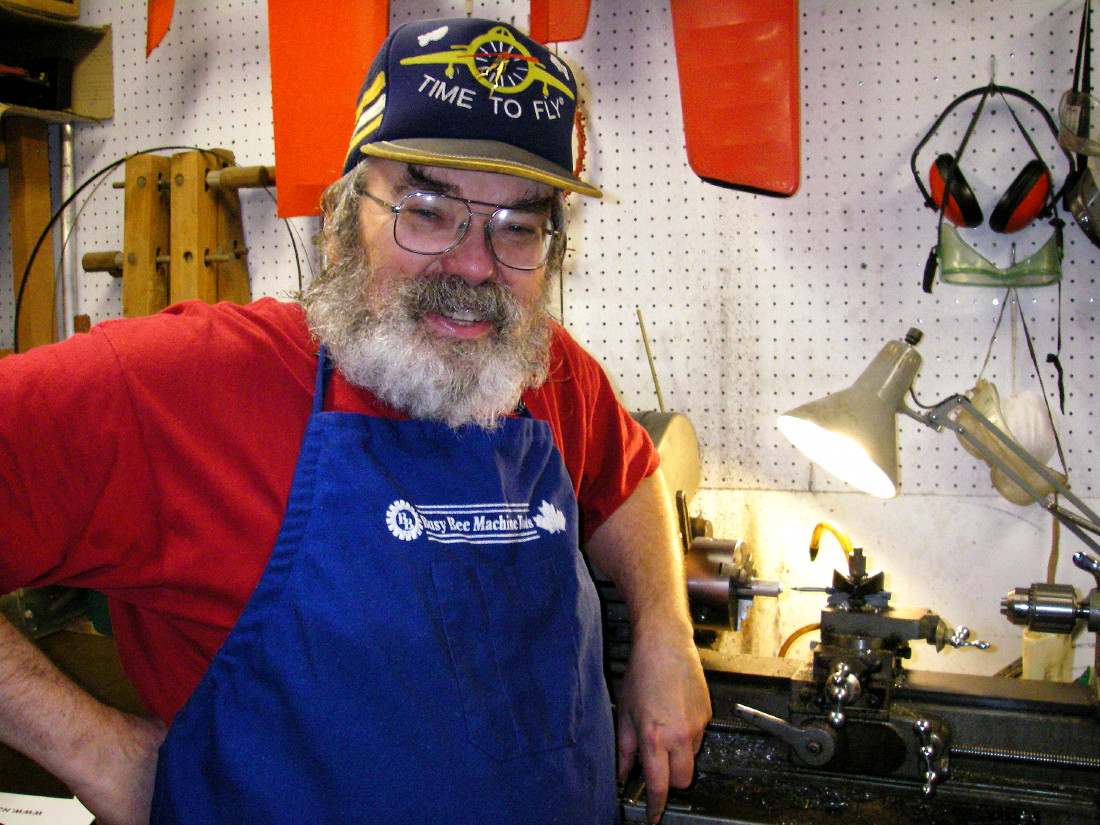 Greetings once more! Well, here we are a month into 2019 already, and the time is just flying by!! I suppose that's a consequence of taking up flying as a hobby - Father Time gets the message! However, it definitely feels more and more as if life's too short...........
We're having a far milder winter than usual here on Canada's West Coast, although some of Canada's eastern Provinces and parts of the USA have been getting their share of visits from Old Man Winter. Looking at the significantly smaller-than-usual snowpack in our part of the world, I fear that we're in for water shortages during the coming summer of 2019. We also expect another bad forest fire season.

My sympathies go out to our friends down in Australia, where record-breaking high temperatures have been pretty much the usual thing during their ongoing summer. Although I was born there (in Adelaide), I'm glad that I now live up here in Canada - I don't do heat well at all, but am pretty good at doing cold......!
My Aussie mate Jon Fletcher, who lives in Marlee, New South Wales, about 4 hours drive north of Sydney, tells me that by late morning the temperatures are pushing past 40 degrees Celcius and that his workshop hits a mind-boggling 60 degrees in mid-afternoon. He's been forced to begin work each day very early in the morning, working what he calls "Mexican hours"!
Incidentally, Jon has just finished a complete rebuild of my Dyne Mk. III 3 cc diesel which was mentioned in my previously-published article on the Dyne engines. He tells me that the rebuilt engine starts easily and runs very nicely, albeit not particularly powerful. It apparently reminds him of the Mills 2.4 in terms of its performance and handling qualities. When I get it back from Jon, I'll conduct a full test and update the existing article accordingly.
After this website's record-setting and possibly anomalous performance statistics for October 2018, things seemed to have settled back into something of a more normal routine as regards reader interaction with the material presented here. In December 2018, the last month for which complete data are available at the time of writing, the number of hits rebounded somewhat from the November total of 542,485 to a slightly more encouraging 563,663, still well below that record October figure of 673,468. Mind you, prior to that remarkable performance in October this would have appeared as a pretty strong showing. It's clear that site visibility is being maintained at a fairly high level.

However, hits are one thing - actual visits are quite another, since they reflect the level of interest aroused among those who happen to hit upon the site. The good news was that the slight increase in the number of hits translated into a commensurate increase in the number of actual visits for a December total of 18,514. The visit/hit ratio for December (the proportion of hits which translated into visits) held steady at 3.3%, unchanged from November 2018. Put another way, one hit in 30 continued to result in an actual visit. Clearly the site continues to attract its share of direct interest from among those who stumble across it!
Of course, the number of visits only tells part of the story - the number of pages accessed is a more representative indicator of the level of interest in the material on this site. In that regard, there was a slight improvement from the rather dismal figure of only 68,232 pages in November to a somewhat more encouraging total of 79,602 pages in December. The average number of pages accessed per visit rebounded slightly from its discouraging figure of 3.8 in November to a rather more inspiring average of 4.3 pages per visit. Basically, things seem to be settling down once more - thanks for being a part of that!

Despite my repeated admonitions not to do so, people are continuing to try to register on this website. As I've previously stated time and time again, this has absolutely no effect - it's simply an artefact left over from the generic platform's primary intended use as an on-line sales site. Since this is not a sales site, the registration feature is redundant and I make no use of it whatsoever.
So why is it still there?!? Well, before anyone else asks (and quite a few well-meaning souls already have!), I've thoroughly explored the possibility of removing or at least blocking this feature, but it can't be done without extensive (and very expensive) custom modification to the otherwise very useable generic platform which came as a ready-to-use over-the-counter package, thus keeping the costs and complexities manageable. So we're stuck with this feature.
The bottom line therefore remains - please don't bother registering! Doing so accomplishes nothing apart from creating unnecessary cyber-clutter, which I definitely don't need! This message clearly needs to remain a regular feature of these Editorials...........
Along with the continued use of this website, the correspondence from my valued contacts around the world has continued to pour in unabated. During the past month I've heard (in no particular order) from Maris Dislers, Kevin Richards, Ken Croft, Miles Patience, Nigel Tarvin, Andrew Coholic, Peter Rathke, Jon Fletcher, Jesus Ortega Delgado, Fernando Pazó, Javier Pazó, Marcin Sadowy, Steve Webb, Goran Milosavljevic, Jeff Neal, Peter Clarke, Frank Klenk, Jim Dunkin, Don Sohn, Peng Han, Luis Petersen, Jens Geschwendtner, Peter Valicek, Mike Conner and Tim Dannels. Sincere apologies to anyone whom I may have inadvertently missed in the crowd - it can be hard to keep track! The blog site has also continued to justify its existence by generating a fair amount of relevant traffic - thanks for that.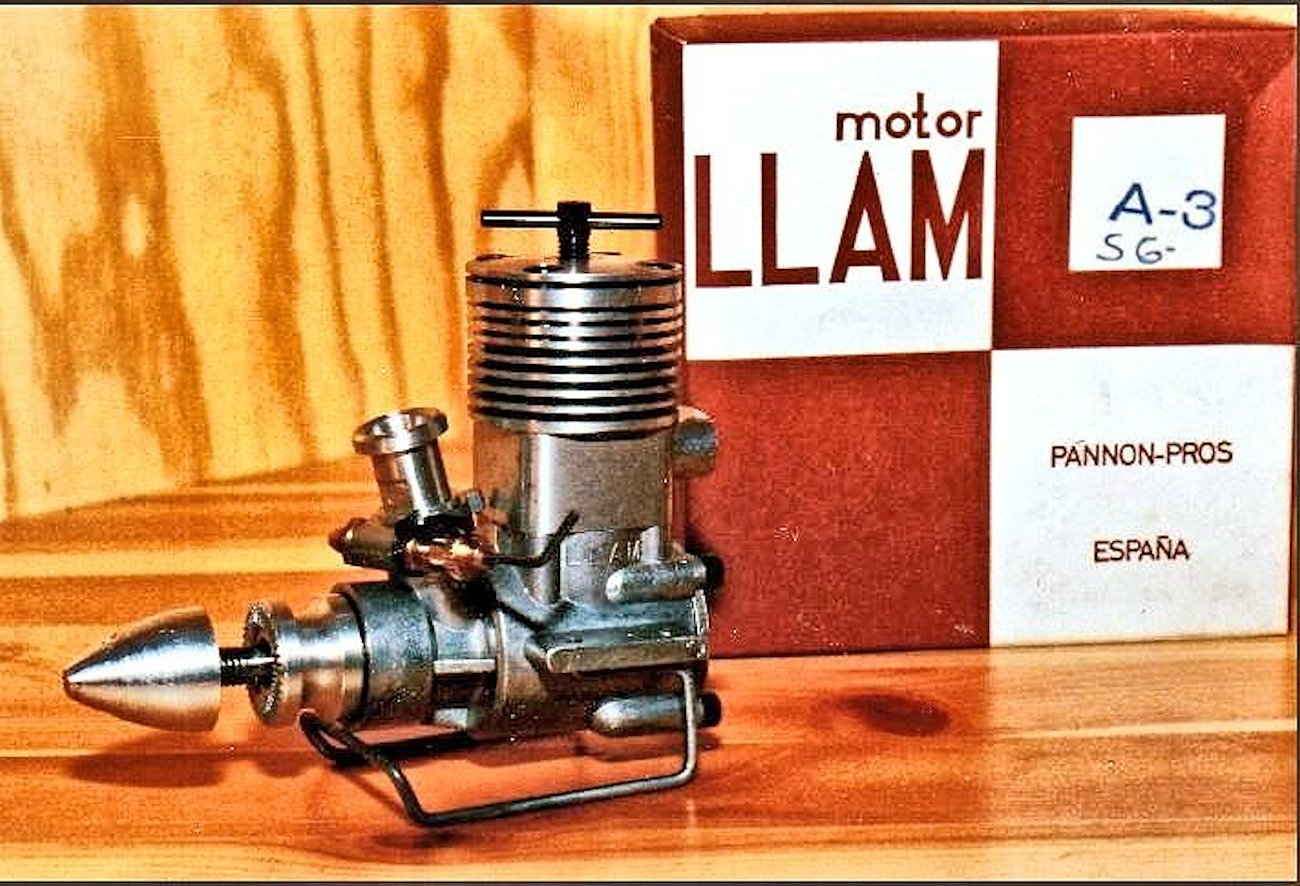 My valued Spanish friend Jesus Ortega Delgado has a particular problem with which he requires some help. He has a Spanish-made LLAM SG 2.5 glow-plug motor that he would like to convert to diesel to replicate tha very rare LLAM SD 2.5 diesel version of the same engine as illustrated here (the A3 SG designation on the box is an error). He has requested my help in tracking down a collector who has one of the SD 2.5 diesel units, of which only a few were manufactured. He needs some dimensional and structural information about the cooling jacket and the contra-piston configuration. If any kind reader is able to help, please contact Jesus directly at jesusortegadelgado@hotmail.com Jesus is a genuine enthusiast and a good friend, and I sincerely hope that someone can help him.
Speaking of Spanish engines, I was delighted to hear from Javier Pazó Olmedo in connection with last month's article about the Payá 2 cc diesel which was manufactured by his father, Don Diego Pazó Montes. Javier was kind enough to send me a detailed PowerPoint presentation summarizing the history of the Pazó family business interests. This provided a wealth of detail about the history of the Pazó company, which went back way further than I had realized. It also clarified the manner in which Don Diego became involved with model engine manufacture. I've updated the article accordingly.

Readers of the original Payá article will recall that I made a number of prop size recommendations for the engine based upon my own testing. I suggested that my previously-mentioned friend Jesus Ortega Delgado test those recommendations by trying his beautiful Payá-powered Scout biplane using the suggested airscrews. Jesus has now undertaken some more flight testing, with results which I hope to be able to present soon.
Now a personal plea for help! A few years ago I acquired the extremely well-made and cleverly-designed team race diesel which is illustrated at the left. As you can see, it's based on the K&B 15 Series 72 glow-plug motor which appeared in May 1972. There were also a few diesel versions of that engine assembled and set up by Roger Theobald specifically for F2C team racing, but this engine bears little design resemblance to that unit apart from the cylinder porting. Its centrifugal drum valve in particular is quite unique in my experience.

Roger had previously designed the ARM team race diesel with which he and John Barr finished a very creditable fourth at the 1970 World F2C Championship meeting at Namur in Belgium. This may be his work post 1972, or it may have been constructed by someone else altogether. Question is ............who??!? If anyone recognizes it or (even better) knows who made it, please get in touch!!

I'm still awaiting an update from Rhodri Dafis with respect to my article on the Davies-Charlton enterprise. Rhodri has remained in touch to confirm that this is still on his "to do" list, but advises that he is still very busy with a variety of family matters and that it will therefore take him some time to read the existing article and provide any necessary updates and/or edits. However, I think it will be well worth the wait - Rhodri's insights into the Davies family (he's Hefin Davies' nephew) should add a new level of authorityand completeness to the existing text. I'll advise when Rhodri's input has been received and incorporated.
Last month I reported that the results of initial testing have prompted a number of changes to the UNICORN valved two-stroke unit which has been under development by the CS company of Shanghai, China. A further round of testing is now underway. Given the upcoming intervention of the 2019 Chinese New Year celebration which runs from February 5th - 19th inclusive to usher in the Year of the Pig, CS owner Han Peng cannot guarantee a release date for the engine - all that he can commit to is a sincere intention to get it ready as early as possible. In the meantime, potential purchasers will just have to continue being patient.
Now to the feature articles for the month! Once again, this is a double-header issue. First, we visit England once more to have a close look at a little-known "engine that nearly was" - the ETA 15 glow-plug prototype from 1950. The development of this near-mythical engine was begun in 1949 during the period in which ETA designer Ken Bedford was embarking upon a development program for a .19 cuin. (3.27 cc) glow-plug companion to the ETA 29 in the range of
model engines manufactured by ETA Instruments Ltd. of Watford in Hertfordshire, England. That model duly appeared as the ETA 19 in May 1950.

While engaged upon the ultimately successful ETA 19 design exercise, Ken also developed a preliminary design for an even smaller .15 cuin. (2.47 cc) glow-plug model arranged along the same lines as the 19. This engine reached the prototype testing stage, but its performance fell short of meeting Ken Bedford's expectations. As a result, the ETA 15 glow-plug model never saw production. It is not to be confused with the later and far better-known ETA 15D.

Thanks to the efforts of Miles Patience and a number of his colleagues, at least five examples of the ETA 15 glow-plug prototype remain in existence today. This month's feature article constitutes a full review and test of one of these units which has been entrusted to my care. A chance to find out what the British modelling world missed!

But that's by no means all! The second feature article for the month has been contributed by my greatly-valued Danish friend Luis Petersen, a former Championship-level F2C team race competitor and (later) FAI team race judge. Luis has very kindly set down his personal reminiscences of his very productive association with the late iconic engine designer./constructor Paul Bugl of Austria.
Luis worked very closely with Paul for some years prior to Paul's untimely death in 1978, actually participating in the manufacture of some of the Bugl engines and using them very effectively in competition. He also served as Paul Bugl's official engine repair man. Following Paul's death, Luis went on to participate in the design and manufacture of the Bugl-based BG team race engines which were made in Denmark by the Geschwendtner brothers and Luis himself between 1979 and 1982. That story too is included in Luis's article.
The writing of this article was stimulated by several recent eBay offerings of engines which were claimed to be Bugl originals but which were actually nothing of the sort. In a particularly flagrant recent example, an example of the Danish-made BG Mk. I was sold on eBay for US$950 as a Bugl Mk. III despite the fact that the seller was clearly told in advance of the sale closing what it really was. There are also the replicas made by Profi in the Ukraine, several of which have been offered as original Bugl units.

Luis and I both find such behaviour extremely distressing. We agree that the best way to combat this kind of thing is to make authoritative information more widely available. That's what Luis's article is intended to accomplish. I hope very much that it proves to be effective. Anyone wishing to authenticate any supposed Bugl which is on offer is advised to contact Luis directly at lup@image.dk He has access to all of Paul's documentation, including model identification, serial numbers and sales details.
Turning now to next month's lead article, a review of the articles published here over the past while reveals that it's been some time since I featured an American engine as the central subject of one of my articles. Can't continue to overlook the country in which a substantial proportion of my readership resides! However, my choice of subject may surprise you - I plan to present a significantly updated version of the Deezil story, a saga which just won't lie down!

Why, you may ask?!? After all, I've previously featured the Deezil in an article which may still be accessed here on MEN, and have also contributed an article about the engine to Tim Dannels' "Engine Collector's Journal" (ECJ). Each time I write up another Deezil article, I do so believing that I've finally reached the end of my decade-long search for the "real" Deezil.

But not so, seemingly! The writing of this new article has been triggered by the discovery of yet another highly significant variant of the early Deezil which further re-defines our appreciation of the engine as originally manufactured, before Gotham Hobby trashed it down into the $1.95 paperweight that it eventually became. I won't say more for now, but suffice it to say that the story of the Deezil just became even more interesting!! You'll read all about it next month...........

I think that's it for now. I'll be back to you with another issue on or about March 1st, 2019. Meanwhile, my best wishes for continued enjoyment of our shared addiction! Look after that flicking finger, and may the heady aroma of diesel fumes or burning nitro assault your nostrils frequently!

Cheers,
Adrian Duncan
Coquitlam, British Columbia, Canada
___________________________________
Note regarding material to be found on this site - unless specifically otherwise noted, all images and text which appear on this site are my own work, and I hereby assert my right to be recognized as the originator of this material. For the record, this material is made freely available to all upon two firm conditions:
No commercial use of

any

kind is to be made of any of the images or text posted on this site without my express written consent.
No use of

any

kind, commercial or otherwise, is to be made of any material published in any form on this site without full and open acknowledgement of the source.
Adrian C. Duncan
Coquitlam, British Columbia, Canada