March 2016
From the Editor - March 4th , 2016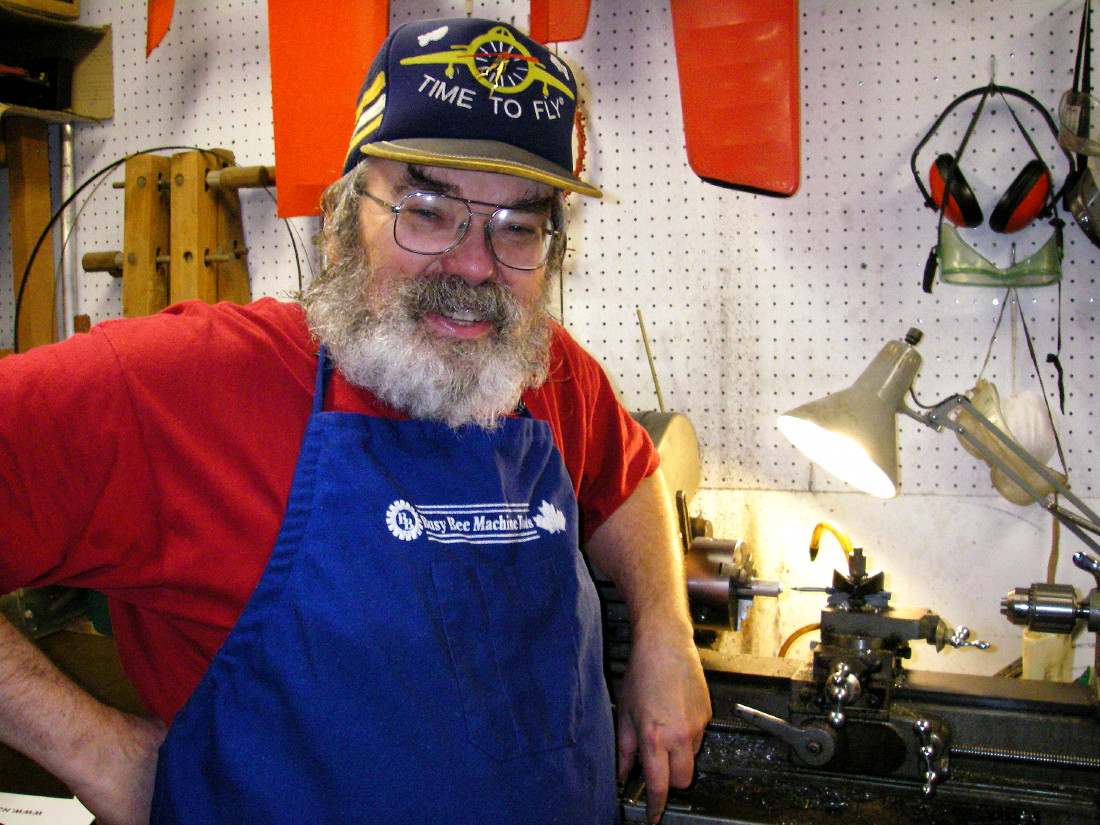 Well, here we go into March once more! The good news is that we're moving right along towards the onset of Spring here on the West Coast of Canada. Can't come too soon for me ...........
This edition is appearing a few days late due to the fact that I spent most of the second half of February on a trip to the Big Island of Hawai'i with my wife Lorna. Although the trip was really enjoyable, I managed to pick up one hell of a cold while over there. Thankfully it didn't get started until the last day, but it made the homeward journey a bit of a challenge as well as laying me up for a few days following my return. Hence the delay in getting this issue out.
I'll begin the model-related discussion this month by marking the departure of yet another valued resource for aficionados of retro models and engines, particularly control-line. If (like me) you're a classic control-line addict, you may very well have stumbled across the wonderful control-line web-site known whimsically (but appropriately!) as Fuel-Soaked. The site was set up by Zoe Quilter in 2008 and has been maintained ever since by Zoe, a true control-line enthusiast if ever there was one.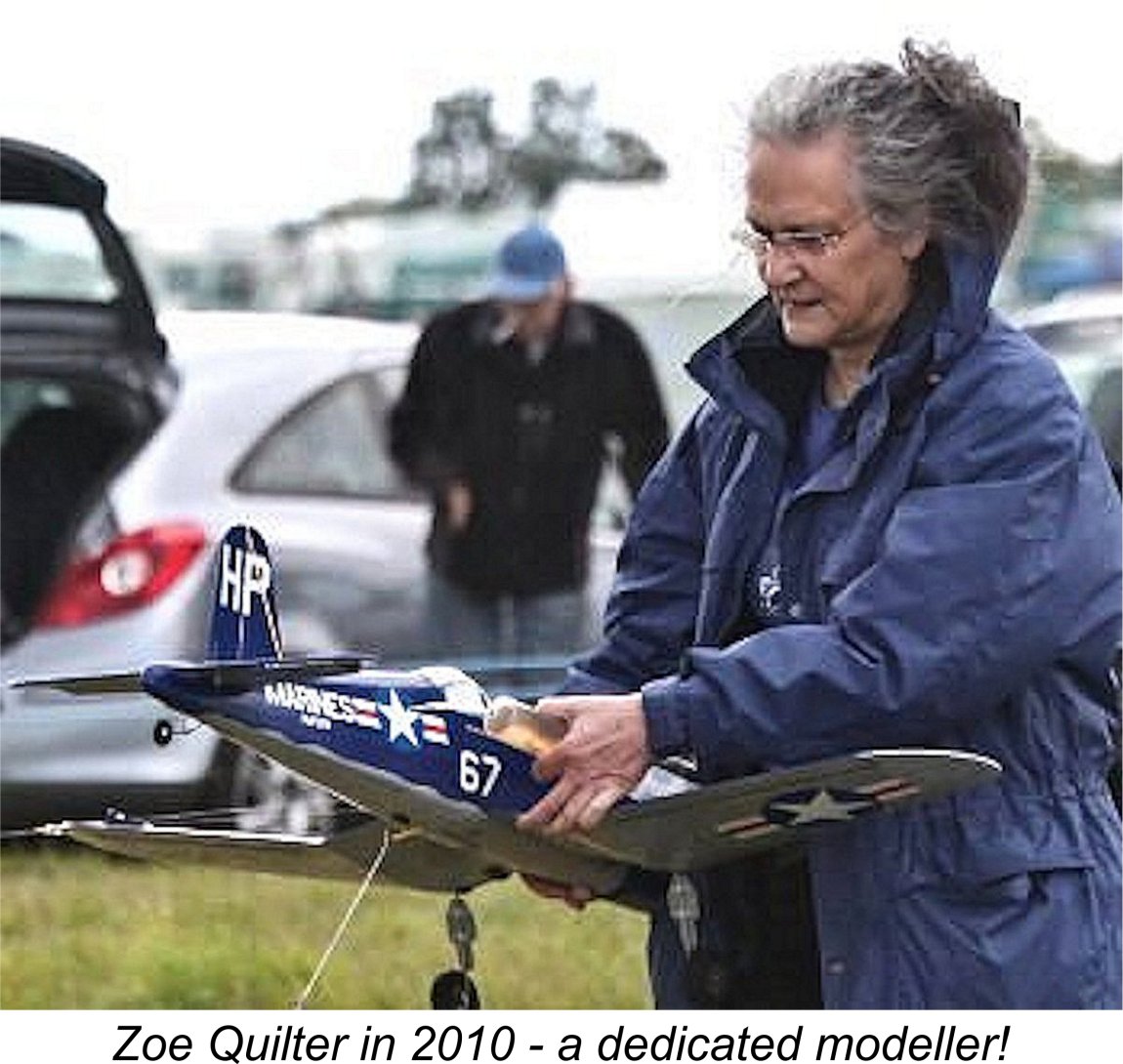 Apart from being a regular reader, I've contributed a few articles to Zoe's site over the years. I've found it to be an entertaining and informative read with an underlying philosophy which has always resonated strongly with me. The scans of old modelling magazines which formed part of each monthly issue have done much to help me to build up the information database upon which many of my engine articles are founded.
Sadly, Zoe has now decided that the return in terms of personal satisfaction for the effort expended is no longer sufficient to sustain the motivation to continue. Accordingly, although the Fuel-Soaked site with all the information and inspiration that it contains remains available for the moment at least, it is no longer being updated. Still well worth a visit, though!
Although I will miss the monthly issues very much, I am in complete sympathy with Zoe's decision - you only embark on a long-term and time-consuming work in progress like Fuel-Soaked (or my own site for that matter) because of the personal satisfaction that you derive from the undertaking. Much of that comes from the knowledge that at least some of your readers are appreciative of your efforts. It's very much a labour of love ............... When I get to the point at which I feel that my effort is exceeding the return in terms of personal satisfaction, I'll stop too.
Anyway, big thanks to my valued friend Zoe for all of the fine work and inspiring stories over the past eight years. Your monthly updates will be very much missed, by me at least! However, we will be staying in touch .............
Moving on to other news, I suspect that few of us thought that we'd ever see the release of another new control-line glow-plug engine given the depressed state of the model I/C engine market at the present time as push-button flying continues its soul-less but seemingly inexorable take-over. However, that's exactly what the good folks at Enya have just given us! Their new Enya 35 Classic model should be available by the time that you read these words. Looks like a set of new castings, and the red anodizing is very easy on the eye! I have no doubt at all that this engine will be manufactured to Enya's usual very high standard.
Enya is a quality company that has supported us control-line fliers very consistently for well over 60 years now, carrying on long after most of the others abandoned the field. They have also served us well by releasing a number of special editions like this one, to say nothing of their ground-breaking models like the Enya 36-4CD four-stroke diesel. Their limited edition re-release of the Enya D15-II diesel a few years back was a superb example - if you didn't grab one, you missed out! Such support from a great manufacturer richly deserves our support in return. I urge all control-line fans who are still using I/C engines to get behind this initiative - your support is very well-merited!
Another new offering from a long-standing manufacturer who is equally deserving of our support is the limited-edition PAW 38 Twin diesel, which was officially announced in the February 2016 issue of "AeroModeller" magazine. I've been aware of this project for some time but was asked not to publicize it in advance of the "AeroModeller" announcement.
The PAW 38 Twin diesel is a limited-edition production which should be available as you read these words or soon thereafter. It ain't cheap - all of £600 plus postage - but a lot of fine engineering has gone into it. Only a very limited number of examples will be made, so if you're interested in acquiring one, better get in touch with PAW as soon as possible through their website.
A full test report by my mate Maris Dislers on this intriguing new design appeared in the March 2016 issue of "AeroModeller". If you haven't already done so, I strongly recommend that you take out your subscription to this fine magazine right away. Definitely the best monthly read going for the "classic" hands-on aeromodeller!
Now, back to my own site with a plea for help! A comment that has been made by several readers regarding my work is the fact that although I've covered engines from many different parts of the world, there's perhaps a certain bias towards engines from the British Isles. Guilty as charged, m'lud - of the thirty-five engine articles which are now listed on this site, no fewer than fourteen (well over one-third) deal with engines from Britain. This figure far exceeds the proportion of the world's model engines that originated in Britain. I'm sure that a similar ratio existed for my contributions to the "Engine of the Month" series which I wrote for Ron Chernich's "Model Engine News" (MEN) web-site.
In defence of what may appear to be something of a bias, I have to point out that I'm constrained by language barriers to writing about engines which I either know well at first hand or which are covered by accessible documentation in my own language. This of course includes a vast number of engines from the USA, but the coverage of those models by my good friend Tim Dannels of the "Engine Collectors' Journal" has been so comprehensive and authoritative over the years that I decided right up front not to even think about dooming myself to failure by going into competition with Tim!
Accordingly, I have chosen to deal with American products only in cases where circumstances have arisen which place me in a unique position to contribute something new. Thanks to Tim's expertise and diligence, there haven't been too many examples of that! One such example that does come to mind was my in-depth article on MEN about the Thermite 34 diesel, which was made possible solely as a result of my acquisition and restoration of what is so far the sole known surviving example of that mega-rare model.
Anyway, that eliminates way over half of the engines that originated in the English-speaking world! Another such area is of course Australasia. The most significant Australian model engines are those produced by the late Gordon Burford, which have been so well documented by my mate Maris Dislers in his outstanding book on the subject that any additional commentary from me would be entirely superfluous. The sole exception so far has been the Taipan 40, about which Maris was kind enough to write an article for this web-site.
There were a few engines produced in New Zealand, and I have already covered the Katipo range from that country on MEN, mentioning the other new Zealand products in that same article. However, that article was only made possible thanks to a great deal of assistance that I received from correspondents in New Zealand.
Which basically leaves engines of British origin as my natural objects of interest. Although I was born in Adelaide, South Australia, I lived in England from age 7 to age 19 and began my modelling career there, latterly as a member of the Sheffield Society of Aeromodellers (Sheffield S.A.). Hence the British
aeromodelling scene of the "classic" era is the one with which I am most intimately familiar. It's thus only natural that I should take a particular interest in the engines which were in current use (either new or used) during that Golden Era of aeromodelling which included the years 1954 through 1966.
However, that does not mean that I have no interest in documenting model engine ranges from the non-English speaking world! Far from it - I would very much like to expand the site's coverage to include as many such ranges as possible. Many of us English speakers (very much including me!) are frustrated by the lack of information on such engines in our own language - we often run across such engines but know nothing about them! I'd love to do something about that. However, language barriers as well as unfamiliarity with the aeromodelling scenes in other countries combine to make it extremely difficult for me to carry out the required research without help.
In cases where a given model engine range from the non-English speaking world did receive some coverage in the English language (classic post-1954 Japanese engines are a good example), it is often possible for me to gather sufficient information to tell a fairly complete story despite any linguistic and cultural barriers. However, there are many other cases in which it is simply impossible for me to research a topic to the necessary level of detail without help.
In those cases, I need the active participation of someone who is both fluent in the language involved and familiar with the aeromodelling scene in the country in question. They also need a sufficient facility in English to convery at least the basic information to me for working into a readable article. Finally, they need a genuine willingness to help. You don't run across such individuals every day!
Despite this, I've been extremely fortunate in the past in establishing a number of relationships of this sort with colleagues in other countries. This has enabled me, for example, to tell the in-depth stories of the David-Andersen range from Norway, the Pinotti GP engines from Sweden and the MOKI, Alag, Proton and VT ranges from Hungary. All of these stories were presented for the first time in the English language. Currently, I'm working with Danish resident Luis Petersen on an article about the Viking engines from Denmark. Watch for it to appear soon in these pages!
Without the enthusiastic cooperation of the respective individuals involved, none of these stories could have been preserved and presented in the English language, by me or by anyone else. I'm extremely grateful to all concerned, hence my care in always openly assigning due credit to them.
So what is all this leading up to, you ask?!? Well, basically to a plea from me for more of the same kind of cooperation! Given the finite scope of topics about which I can personally research and write new articles on my own, it must be obvious that at some point in the foreseeable future I'll run out of subjects - the number of remaining candidate ranges is not unlimited! Reference to the Gallery will confirm that I've now written about well over 100 individual engines and manufacturers. The list of remaining self-researched candidates for inclusion is inescapably growing shorter with each new issue. At my present rate, I'll likely be done within a couple of years if left entirely to my own resources. At that point, this site will become a static reference database as opposed to a living and breathing interactive web-site.
This being the case, there's no doubt in my mind that keeping this site growing and flourishing will require an injection of new information from sources which are presently closed to me due to language barriers. There are many fascinating engines from countries such as Italy, Spain, the Czech Republic, France, Germany, Holland, Russia and Poland (to name just a few), and I'd love to include them on this site! There are also fascinating untold stories from Japan, China, South America and Indonesia. However, I'll never be able to present any authoritative information on engines from those areas and others like them unless I receive help from within those countries.
Please note that the ability to communicate in perfect English is not required here! I'm happy to edit articles by others and post them (in English) as the work of their originators. I'm also happy to take very basic information and work it up into a complete English-language article by myself, assigning due credit to my informant(s). I'm also pretty comfortable using translation software. Whatever best suits my informants works for me!
In summary, I'd really appreciate any help that readers can offer in documenting engines and manufacturers from the non-English speaking world. Moreover, stories from the English-speaking world that I'm missing are of equal interest. If we don't get this history preserved soon, it will probably be lost forever. And that in turn will inevitably lead to a progressive evaporation of interest in collecting and preserving these little mechanical marvels. Accordingly, the more of us who contribute to this effort, the better!!
As another good example of this process in action, it's really gratifying to be able to report that Maris Dislers and I have been collaborating on an article about an obscure pioneering Australian engine called the Winner 10 cc model. We plan to have this ready for publication in next month's issue. Without the help of someone on the spot like Maris, that history could never be preserved in an accessible form. I need more co-operation of this kind!
On a different but not unrelated topic, I've been noticing as time has gone by that an increasing number of sellers on eBay are quoting information about engines that they're selling that was clearly obtained by trolling the 'Web and finding articles that I've written about the engine(s) in question. I know this, because they mention facts and figures that are unreported anywhere else! This is great - in fact, the facilitation of better-informed transactions on eBay and elsewhere was always one of my goals in writing my long-running series of model engine articles.
However, with a very few exceptions these sellers do not provide a link to the source of their information, whether this site or Ron Chernich's "Model Engine News". This is what I'd really like to see change - the more people that are directed to these sites and the information that they contain, the better-informed they will become. Only by the direct stimulation of ongoing well-informed interest in these wonderful little mechanical creations can we ensure that both their acquisition and ongoing preservation are continued into the future. Both buyers and sellers are thus well served by the broader dissemination of information on these engines. No-one's going to be interested in collecting and preserving items for which there's little information and no provenance. If it weren't for the extensive catalogues, who would collect stamps?!?
Speaking personally, I would buy with far greater confidence from a seller who shared the source of his information. A seller who withholds such information from prospective buyers may have something to hide ..............
Accordingly, if you are selling an engine for which detailed information is available on line either here or on MEN, please include a link along with a statement that the prospective buyer can learn more about the item on offer by clicking on it. eBay provides a great opportunity to get this information out there to a wider audience!!
Turning now to other matters, I've continued to hear from my valued readers on various topics. During the month of February prior to my departure for Hawai'i, I had direct contact with Tim Dannels, Neill McRae, Mike Conner, Andrew Boddington, David Burke, Vivek Sharma, David Owen, Tom Pearson, Johnny Shannon and Maris Dislers. All very welcome contacts - thanks, guys!!
Even if you don't have my personal email address (which I keep a bit under wraps to avoid becoming swamped), you can always contact me through my new blog site. This new feature has received a bit of
use, although not nearly as much as I was hoping when I set it up. The majority of my posts have so far drawn absolutely no response, and there has been an almost complete lack of suggestions for new topics. Some useful information has been shared, which is great because that was my intention in setting it up! However, I sincerely hope that over time this feature will receive more use.
On a far happier note, this month's feature article focuses upon the rather obscure and quite rare Dyne engines which were marketed through a retail outlet in Cardiff, South Wales from early 1947 through to mid 1949. Writing a comprehensive article about this range was quite challenging due to the lack of contemporary media commentary that is available. However, thanks to an exhaustive review of the advertising for these engines with the never-failing assistance of my good mate Maris Dislers, I think I've got the main chronological thread sorted out pretty well. I'd be immensely grateful to anyone who can provide aditional information or set me straight where I've gone wrong! Meanwhile, I hope that you enjoy the article as it stands.
For next month, I plan to take a welcome break by going Down Under to turn the pen over to my good mate Maris Dislers of Australia for a look at the previously mentioned pioneering Australian spark ignition engine from the 1930's - the Winner 10 cc model. This mega-rare unit was based in large part upon the Brown Junior "C" from America. Although relatively few were made, those that did see service seem to have given a pretty good account of themselves. Maris's report certainly bears this out - I'm sure that you'll enjoy it.
By way of a bonus, I also hope to have a report on the Owen T2.5 diesel which arrived in January and has been undergoing testing. This is a very worthy effort indeed on David's part and does great credit both to his abilities and to the work of Gordon Burford, who designed the 1958 Taipan Mk. 3 diesel on which the Owen T2.5 was based. Before anyone asks, I should mention that the entire production run is now spoken for and David has no plans to make any more.
I think that's about it for now - more as always next month. Meanwhile, happy flicking, flying and finding!!
Cheers,
Adrian Duncan
Coquitlam, British Columbia, Canada
___________________________________
Note regarding material to be found on this site - unless specifically otherwise noted, all images and text which appear on this site are my own work, and I hereby assert my right to be recognized as the originator of this material. For the record, this material is made freely available to all upon two firm conditions:
No commercial use of any kind is to be made of any of the images or text posted on this site without my express written consent.
No use of any kind, commercial or otherwise, is to be made of any material published in any form on this site without full and open acknowledgement of the source.
Adrian C. Duncan