May 2016
From the Editor - May 1st , 2016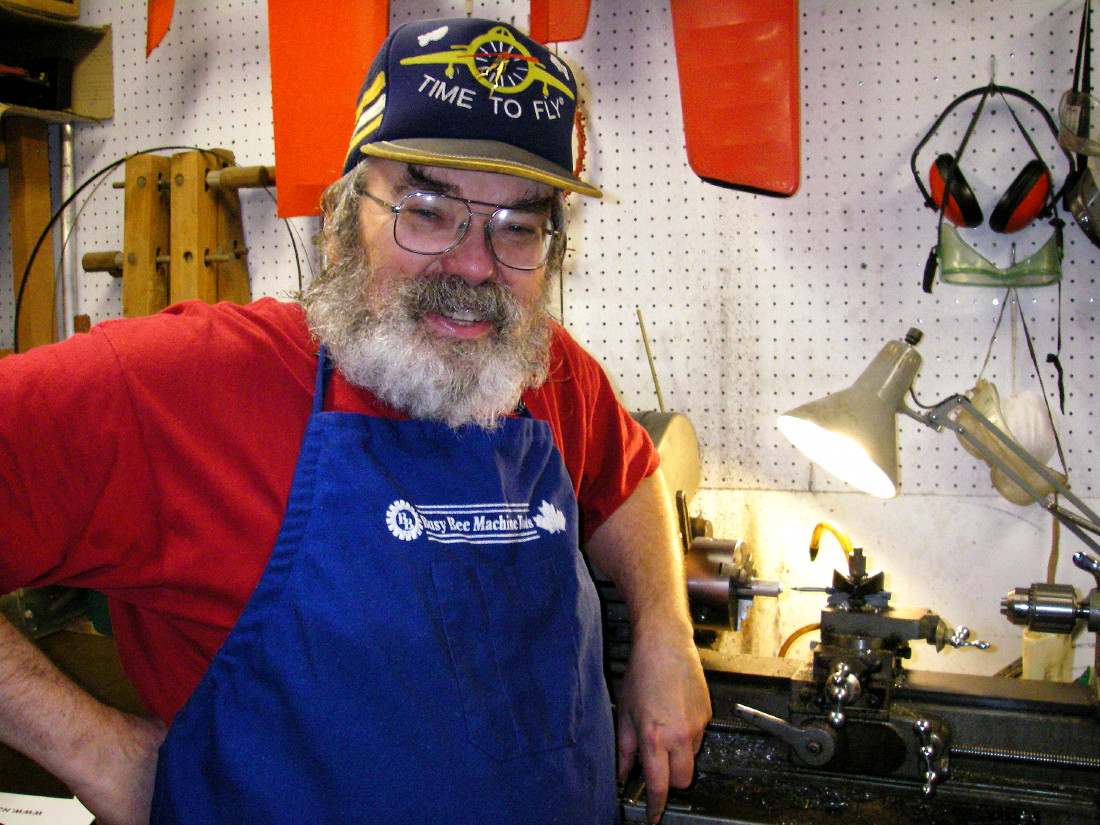 Here we go gathering nuts in May ...... but according to some, we I/C engine fanciers are the nuts these days! Depends on how much you prefer pushing buttons over rising to the challenge of wrestling with "real" model aero engines, I suppose. I know which I find more challenging and hence enjoyable ............if it doesn't challenge me, smell good and make noise, it doesn't interest me!

Just as this issue "went to press", I heard from Kevin Richards and a few others that John S. Oliver, son and long-time colleague of the instigator of the famous Oliver engines, John A. Oliver, passed away on Friday April 29th at the age of 91 years. Another of the pioneers of our hobby/passion gone, and one who with his father made an immense and lasting contribution ...........he will be very sorely missed. My condolences to the rest of the Oliver family. I have an article in preparation regarding the Oliver engines, which will stand as my tribute to both John Olivers. Watch for it in a future edition.
I've been pretty busy over the past month doing the research for a number of upcoming articles on a wide range of interesting subjects. Regular readers will recall my plea of last month for help on topics relating to non-English speaking countries. So far, the Scandinavians are way out in front on that score! I think that they're rightly proud of their model engine heritage and see an opportunity to get the stories of the engines which originated in their part of the world more widely disseminated. Whatever the reason, they're taking full advantage. Good for them - that's what this site is all about!
This month's main engine article is a case in point. Thanks to some splendid help from my valued Danish friends and colleagues Luis Petersen and Jens Geschwendtner, I've been put in a position to tell the story of model engine manufacture in Denmark during the pioneering and classic eras, with particlular emphasis on the Viking range which originated in that country. It's a story with an amazingly large and diverse cast of characters and their respective designs, and I hope that it will lift the veil that has hitherto largely obscured the early history of Danish model engine manufacture, at least in English-speaking countries. You can read all about it here - we hope that you enjoy it!
Mind you, the Danish model engine saga is very far from being limited to Viking! I was actually quite surprised to learn how early some Danish manufacturers entered the field - in fact, the first commercial model diesels manufactured anywhere in the Scandinavian countries originated in German-occupied Denmark in late 1943, as you'll learn from the article. That's almost 3 years prior to the appearance of the first commercial model diesels in England! I was also surprised to discover how many commercial Danish model engines there actually were during the pioneering and classic eras.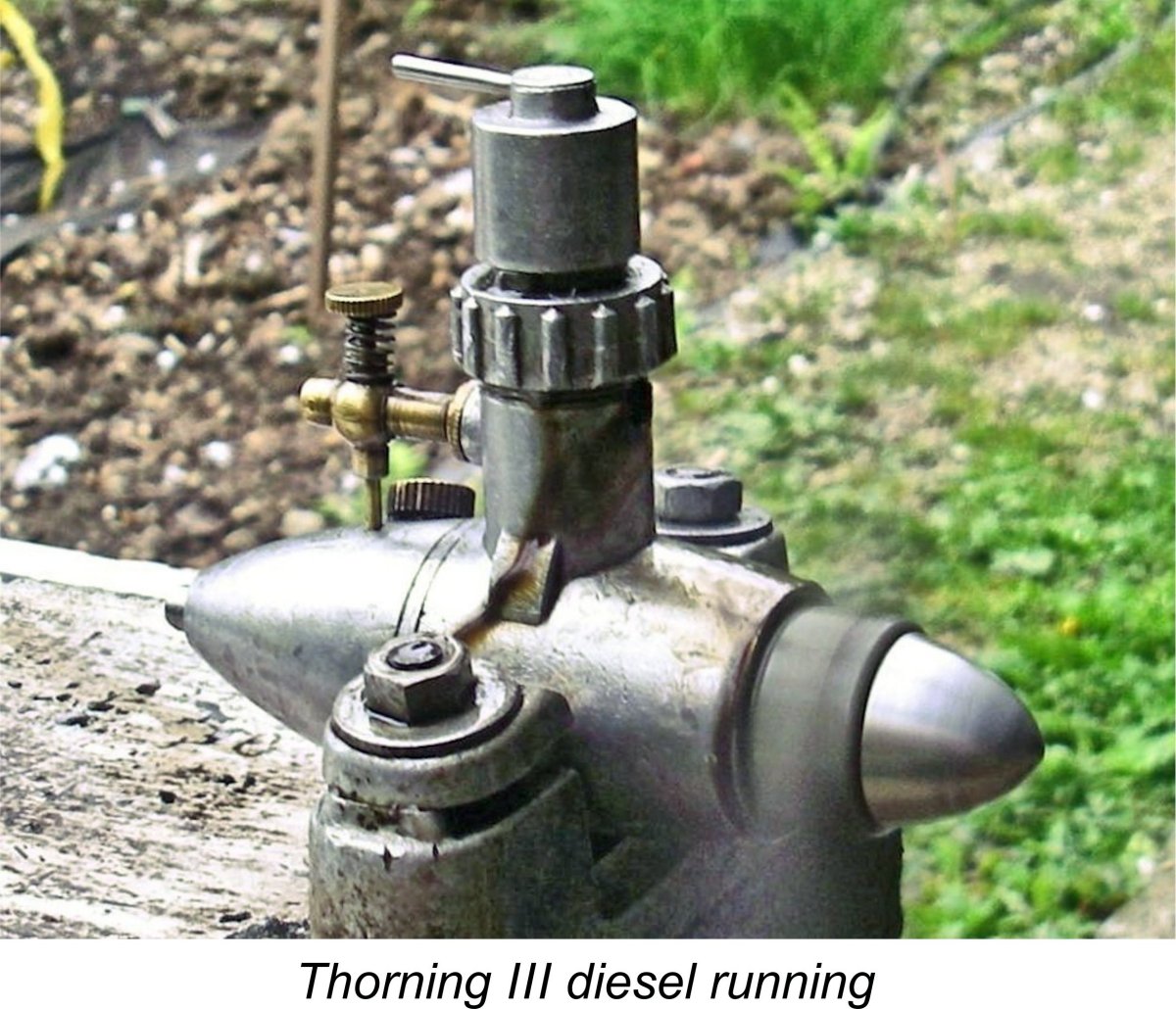 One of the more prominent model engine manufacturers in Denmark during the early post-war period was Thorning Bensen of Helsingør (usually referred to in English as Elsinore). Thanks to some outstanding assistance from my valued Swedish friend Lars Gustafsson, I've been fortunate enough to acquire a nice example of Bensen's work in the shape of a 2.41 cc Thorning III "U-boat" diesel. In terms of its appearance, this must be one of the most unusual model diesels ever manufactured! However, don't be fooled by its odd appearance - the engine actually runs very well indeed. A full test of the Thorning III along with an in-depth review of all of the models manufactured by Thorning Bensen will appear next month on this web-site to complement the more broadly-focused article already mentioned. Once again, Luis Petersen and Jens Geschwendtner are providing exemplary research support for this project, which should therefore end up being quite authoritative.
Lars Gustafsson, Ulf Carlén and Kjell Lindqvist from Sweden have also been providing me with an immense amount of help in the preparation of a detailed review of the surprisingly diverse range of engines produced by the Västerås-based Johansson brothers between 1944 and 1959 under the Komet trade-name. I've completed the restoration and
testing of a number of Komet models for inclusion in an in-depth summary of this very interesting range. This will appear here in due course. Meanwhile, those who can't wait are advised to obtain a copy of Ulf Carlén's excellent book "Swedish Model Engine Encyclopedia", which can still be purchased from the author. Highly recommended!!
Thanks to all of these efforts, the story of model engine manufacture in the Scandinavian countries during the pioneering and classic eras will soon be very well documented on this site. Now, let's hear from some of you readers in other countries - we're all eager to hear your stories!
Apart from the ongoing contacts with my Scandinavian colleagues, including Luis Petersen, Jens Geschwendtner, Lars Gustafsson, Ulf Carlén, Sten Persson and Kjell Lindqvist, I've also been in contact with Maris Dislers, Don Carr, Paul Venne, Derek Butler, Doug Campbell, Steve Thomas (a good mate of the late David Owen), Steve Dyer, Mike Conner, Jim Woodside and Paul Rossitter. Much appreciated, guys! The blog site is starting to see a little more action, and I hope very much that this trend continues.
A particularly valued contact came my way through the blog site in the form of a communication from Bernie Bowler, who was Alan Allbon's employee and later partner at Allbon-Saunders. Bernie was able to supply a great deal of information about the final years of Alan Allbon's working life which had escaped me previously. I will shortly update the Alan Allbon story to reflect Berine's input, along with my grateful thanks. Contacts like this from one who was "there" are every historian's dream, especially when time is rapidly reducing the number of such individuals who remain with us. Thanks, Bernie!
Last month I mentioned a contact from Ken Smith, who drew my attention to yet another Dyne model that had escaped my attention in my recently-published Dyne article. This is a previously-unattested 2 cc spark ignition model. Ken sent me some excellent images of this engine, which also prove that at least some of the Dyne models sported blue paint on their lower cylinders. I've now updated the article to include this information, with my very sincere thanks to Ken. The total of confirmed Dyne spark ignition models now stands at six.
This provides a suitable opportunity to remind readers of the fact that I'm always very much open to the provision of new information. I don't claim to know it all - in fact, I confidently assert that there's a great deal that I don't know! This being the case, I'm very much reliant on others to fill me in on matters of which I have no knowledge, or to correct me when I go wrong (as I inevitably will). The platform on which this web-site is constructed allows for changes to be made to the site content very easily, so there's no difficulty there. Any changes arising from reader input will be openly credited to the source(s) of the information promping the change.
Another very welcome contact via the blog site came from Ken Croft, an ex-Brit now resident in the south of France (lucky man!). Ken is a master home-builder of model engines of all kinds. He draws our attention to the fact that the results of 20 years of home building may be viewed on his Flickr site. Well worth a look!! Ken hopes that a look at his creations may inspire others to have a go. Hear, hear!! If anyone is interested in following this up, Ken can be reached here by email. You couldn't receive better advice.
Finally, I received a package of model engine plans from the very talented builder Chris Boll of Buckinghamshire in England. His BollAero plans are highly regarded and have been used by a number of home-builders to construct excellent model engines. I need to chat with my technical suppport guy to set up a new section for Construction, and then I will start to post contributions of this kind on this website. Many thanks, Chris!!
Turning now to next month, I already mentioned that I plan to stick with the Scandinavian theme by zeroing in on one of the Danish model engine marques which is covered in broad detail in this month's lead article - the Thorning range. The centrepiece of this article will be the first-ever published test in the English language of the most recognizable member of that range - the previously-mentioned 2.4 cc Thorning III "U-boat" diesel. This highly unusual and very individualistic design may look a bit odd to many eyes, but it runs really well, as readers of the article will become aware. The article will also include details
of the other engines manufactured over the years by Thorning Bensen. My very sincere thanks to all who helped to bring this project to completion - you know who you are, and you will all be fully credited by name in the article!
But that's not all! By way of a bonus, we'll return to England to put one of the British contemporaries of the Thorning III through its paces. This will be another first - the initial publication of a test of the late 1948 FROG 180 Mk. III diesel, the largest member of the well-known FROG "bicycle-spoke" series. Maris Dislers has kindly provided a detailed report on a test that he recently conducted on one of these units, and I aided and abetted the cause by testing a second example here in Canada. If you've ever wondered if the 180 might have been a worthwhile substitute for the smaller FROG 100 diesel or FROG 160 glow-plug units, wonder no more!
I think that's it for now - more as always next month. Meanwhile, happy flicking, flying and finding!!
Cheers,
Adrian Duncan
Coquitlam, British Columbia, Canada
___________________________________
Note regarding material to be found on this site - unless specifically otherwise noted, all images and text which appear on this site are my own work, and I hereby assert my right to be recognized as the originator of this material. For the record, this material is made freely available to all upon two firm conditions:
No commercial use of any kind is to be made of any of the images or text posted on this site without my express written consent.
No use of any kind, commercial or otherwise, is to be made of any material published in any form on this site without full and open acknowledgement of the source.
Adrian C. Duncan
Coquitlam, BC, Canada