September 2016
From the Editor - September 1st , 2016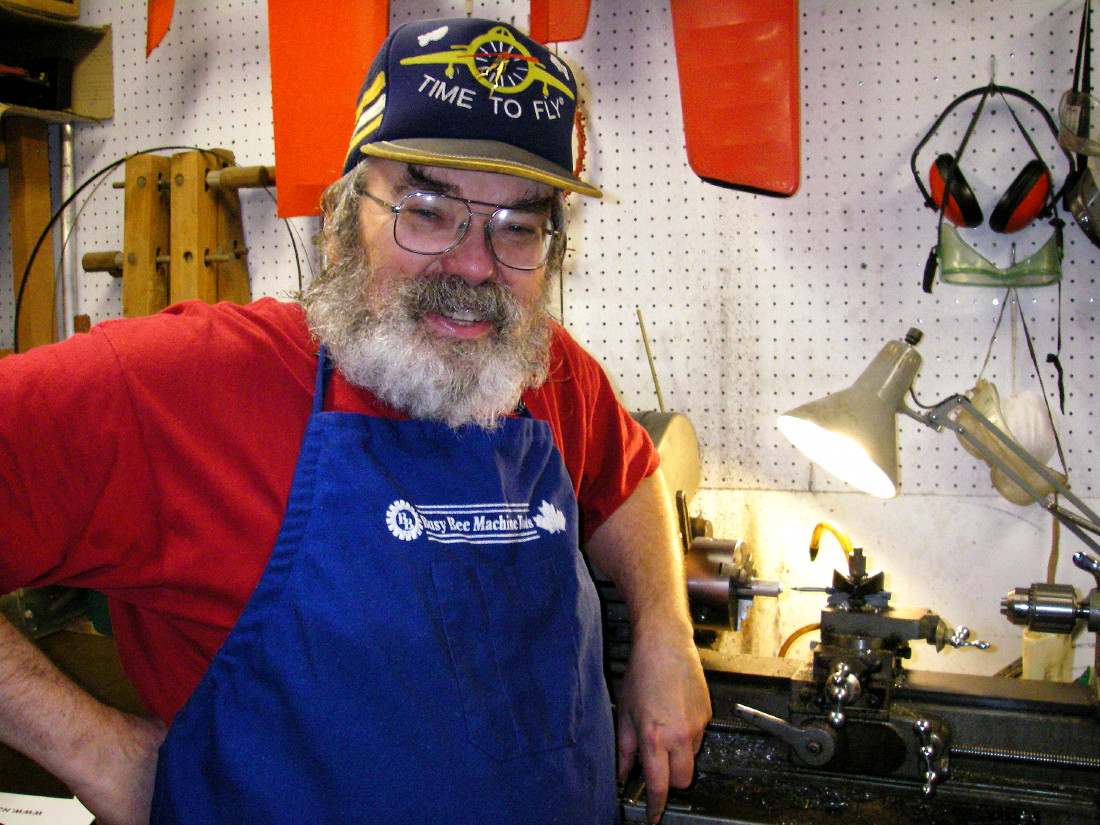 Welcome to September!! After a few months of early releases, this edition is going live right on time for a change!
Here in Western Canada we've had a really weird summer. The weather swings have been quite unbelievable - from March-like cold, wind and rain to Saharan-standard dry and scorching hot quite literally overnight, then back again next day. The plants and the wildlife are just as confused as we are! Anyone who still denies that the global climate is changing at an abnormally rapid rate (and amazingly enough there are still some) is ignoring present-day reality ..........
A recent relatively extended dry period allowed me to get some serious engine testing done for future articles. You'll see the results here in due course. Meanwhile, I'm looking out the window at grey skies once more as I send out this Editorial!
Now on to the topic at hand! Readers of last month's Editorial will recall that during July 2016 I was contacted by Peter Gane, who sent along a few photos of a Kotobuki 29 crankcase from early post-WW2 Japan which has been re-stamped as a Hope "B". At first sight, this appeared to pretty much confirm the hypothesis presented in my earlier article on the Hope 29 series that the Hope "B" was a direct derivative of the earlier Kotobuki 29. That earlier article may still be accessed on MEN.
However, such matters are always open to interpretation! After reading last month's Editorial, my good friend Alan Strutt was kind enough to contact me to suggest a highly credible alternative interpretation of Peter's evidence. Alan notes that the earliest Hope "B" variant of which he is aware is the quite rare model with the separate brass venturi tube. This variant was made to accept a 10 mm threaded spark plug. The next (and more common) variant was identical apart from a change to an integrally-cast light alloy venturi tube. This model was made to fit a 3/8-24 threaded spark plug. This thread survived in the Hope "B" into the glow-plug era beginning in 1948.
Now here's Alan's very cogent point. The use of 1/4-32 spark plugs (and later glow plugs) was late in arriving on the Japanese scene. There's no question whatsoever that the early post-war Hope "B" engines right up to the dawn of the glow-plug era in 1948 all used the larger plug threads mentioned above. However, Alan points out that all of the Kotobuki 29's that he's seen (including his own present example as well as the illustrated Hope-stamped one reported by Peter Gane) have featured the smaller 1/4-32 thread, clearly implying a later date than those early Hope B engines!
Alan finds support for this hypothesis in the fact that the port timing of his Kotobuki 29 is notably more radical than any known version (spark or glow) of the Hope "B", of which Alan has four examples in total. He's inclined to the view that the Kotobuki may have been in effect a latter-day "hot" version of the Hope "B", with a more up-to-date plug and improved timing. I have to say that the architectural evidence certainly seems to point that way.
Fair enough, but if the Kotobuki came later, then what's a Kotobuki case doing being stamped retroactively as a Hope "B"?!? Alan's take on this point is that the makers of the Kotobuki (who may have been breakaway former Hope employees) may have seen an opportunity to improve the Hope "B" and went ahead with their own "upgraded" development of that model. One possible outcome of their efforts is that sales were poor, while another possibility is that there was an underlying design or metallurgical flaw that caused many of the engines to fail in service. Either way, Hope wouldn't want a product that was clearly a development of their own Hope "B" (and presumably advertised as being superior) to be seen as failing either in the marketplace or in service. Of course, a third alternative is that the Kotobuki may have sold too well for Hope's comfort.
Either way, it would have been to Hope's advantage to eliminate an unwelcome competitor by coming to an arrangement with Kotobuki to take over their remaining stocks, marking any remaining cases as Hope "B" models and presumably completing them using Hope "B" components. The fact that Kotobuki were evidently willing to accommodate such an arrangement certainly implies that for whatever reason their engines were not a great sales success.
Now if the Kotobuki design was actually superior, then we need to explain why (having acquired the rights to the design) Hope didn't simply adopt it wholesale for their later versions of the Hope "B". The fact is that they didn't do so - the Hope "B" continued into the glow-plug era with the cylinder porting and main casting essentially unchanged. Even the 3/8-24 spark plug thread was retained in the early glow-plug models, as illustrated above.
To me, this seems to imply that the issue which led to the "merger" (assuming that's actually what happened) may indeed have been some kind of underlying design or structural flaw in the Kotobuki. In that case, an offer from Hope to take them over (or perhaps have them return to the fold!) may have appeared as a lifeline. We'll probably never know the truth beyond all possible doubt, but Alan has certainly given us some food for thought. Many thanks, mate!!
Over the course of the past month I've also had the pleasure of receiving contacts, both direct and through the blog site, with a number of other fellow enthusiasts, including Ferenc "Somi" Somogyi, Luis Petersen, Jens Geschwendtner, Kevin Richards, Tim Dannels, Maris Dislers, Mike Conner, Peter Valicek, Jim Woodside, Simon Young, Steve Betney and Derek Butler. Thanks, guys, and sincere apologies to anyone whom I've inadvertently missed.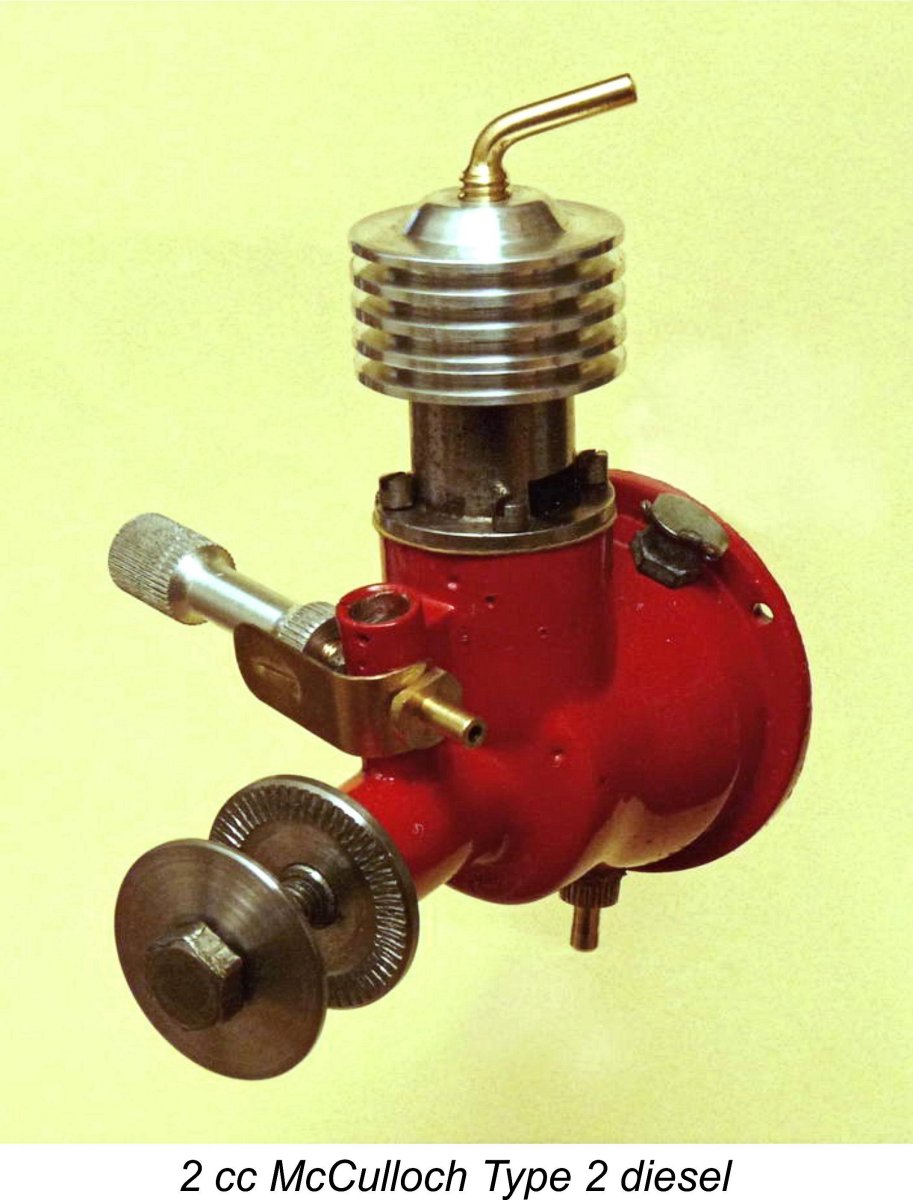 Maris Dislers raised an interesting point in response to last month's DeLong 29 diesel article. He notes quite correctly that Everett DeLong would not have known about diesel ignition improvers - indeed, the recommended fuel composition for the DeLong 29 diesel confirms as much. Based on this fact, I tested the engine on my usual "pioneer" diesel formula of equal parts ether, kerosene and castor oil. The results obtained using this fuel certainly pointed to the strong possibility (which I noted in the article) that DeLong may have dropped the design on the basis of inadequate performance to justify production.
However, Maris goes on to point out that there are many diesels from the "pioneering" era that do in fact benefit significantly from the use of a nitrated fuel. As an example, he cited the case of his example of the Type 2 McCulloch diesel, a very rare 2 cc design from 1940's Australia. This engine features FRV induction and cross-flow loop scavenging, just like the DeLong. On test, it proved to benefit greatly from the use of nitrated fuel, which lifted the peak power output from around 0.09 BHP to 0.14 BHP - a very respectable performance for a 1940's 2 cc diesel.
Maris suggested that the DeLong might benefit similarly. Fair comment - when time permits, I'll re-test the engine using a nitrated fuel mix. Thanks for the suggestion, Maris!
I'm pleased to report that last month's addition of the "Wotizit" page to this web-site appears to have been very well received. Apart from my own two start-up contributions (one of which was identified almost immediately), that page now has additional subjects submitted by Ferenc "Somi" Somogyi, Tim Dannels, Steve Betney, Simon Young and Ken Smith. Tim has now identified his contribution to the new page, but the others remain unidentified. Please have a look if you haven't done so already and see if you can shed any light on any of the elusive engines which appear on that page! There's an email address supplied on the page which is set aside for the exclusive use of those wishing to make comments or post additional subjects. Please respect my wishes by refraining from using that address for any purpose other than the "Wotizit" effort - I will not respond in any way to messages received at that address on any other subject. For that, there's the blog site ...........
Speaking of the blog site, I heard through that route from reader Don DeMent, who has a Hope Super 60 spark ignition racing engine in a boat which he would like to get running. Don asks where he can find information on the required wiring for the spark ignition support system. Fortuitously, an excellent and very informative article on that subject appeared some years ago on Ron Chernich's wonderful but now frozen "Model Engine News" (MEN) web-site. Ron's article on "How to Wire Up a Sparkie" remains accessible on MEN, and a read through its very informative text should hopefully answer Don's questions.
For this month's lead article, we head back to Hungary to complete the history of commercial model engine production in that country during the pre-1970 "classic" era which has been an ongoing labour of love on the part of myself and my valued Hungarian friend and colleague Ferenc "Somi" Somogyi. In an earlier article, Somi set out the history of the MOKI Institute for us, while he and I have subsequently collaborated on articles dealing with the Alag, Proton and VT ranges. Those articles also covered most of the minor manufacturers such as Meteor and GYM.
In-depth coverage of the last of the "classic" commercial Hungarian model engine ranges, the FOK marque, is all that remains to complete what I believe to be currently the most comprehensive readily-accessible English-language history of commercial model engine production in Hungary prior to 1970 (and beyond in the case of MOKI). The FOK engines were briefly summarized in the article about the VT marque, but a great deal of detail was omitted, nor was any testing undertaken. This month's lead article will set the record straight!
I've always had a soft spot for the FOK engines, a number of which have been through my hands and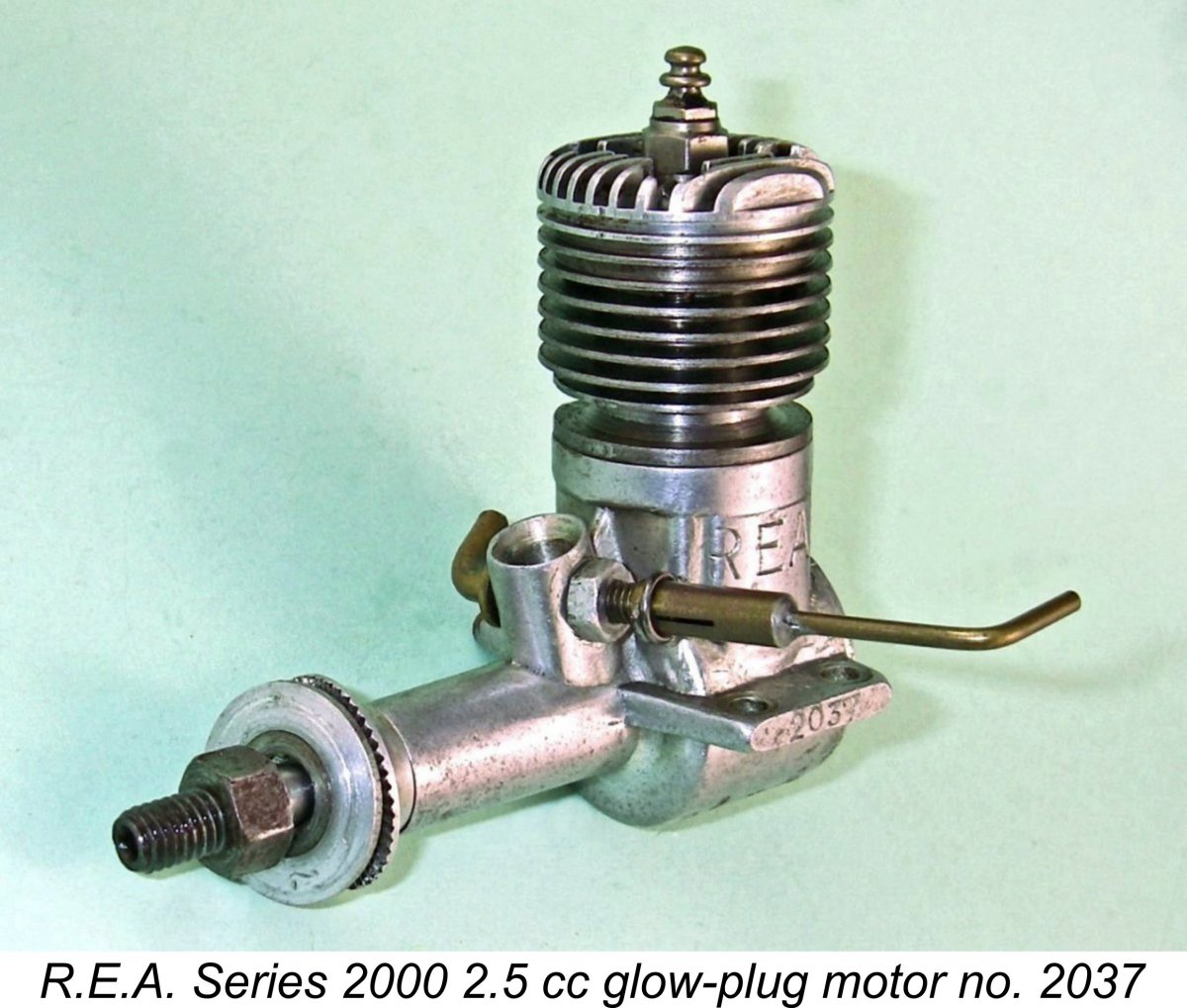 seen service in my models over the years. In my view the range has been considerably under-rated in the past. I hope that the new fully-detailed article will set the record straight! As always, my very sincere thanks to my friend Somi!
For next month, I'll venture into previously-uncharted waters (for this site anyway!) by taking an in-depth look at the first French model engine range to be featured here - the R.E.A. engines which were produced on a very small scale in Paris from 1938 until 1963. The publication of this article will provide a welcome opportunity to summarize the long and fascinating history of commercial model engine manufacture in France during the pioneering era, a topic which is long overdue for widespread dissemination in the English language. As you'll learn, France must be considered as being among the leading nations worldwide in pioneering this type of manufacturing activity. I hope that the forthcoming article proves to be both enjoyable and informative!
I think that's it for now - more as always next month. Meanwhile, happy flicking, flying and finding...............
Cheers,
Adrian Duncan
Coquitlam, British Columbia, Canada
___________________________________
Note regarding material to be found on this site - unless specifically otherwise noted, all images and text which appear on this site are my own work, and I hereby assert my right to be recognized as the originator of this material. For the record, this material is made freely available to all upon two firm conditions:
No commercial use of any kind is to be made of any of the images or text posted on this site without my express written consent.
No use of

any

kind, commercial or otherwise, is to be made of any material published in any form on this site without full and open acknowledgement of the source.
Adrian C. Duncan
Coquitlam, BC, Canada