October 2017
From the Editor - October 1st , 2017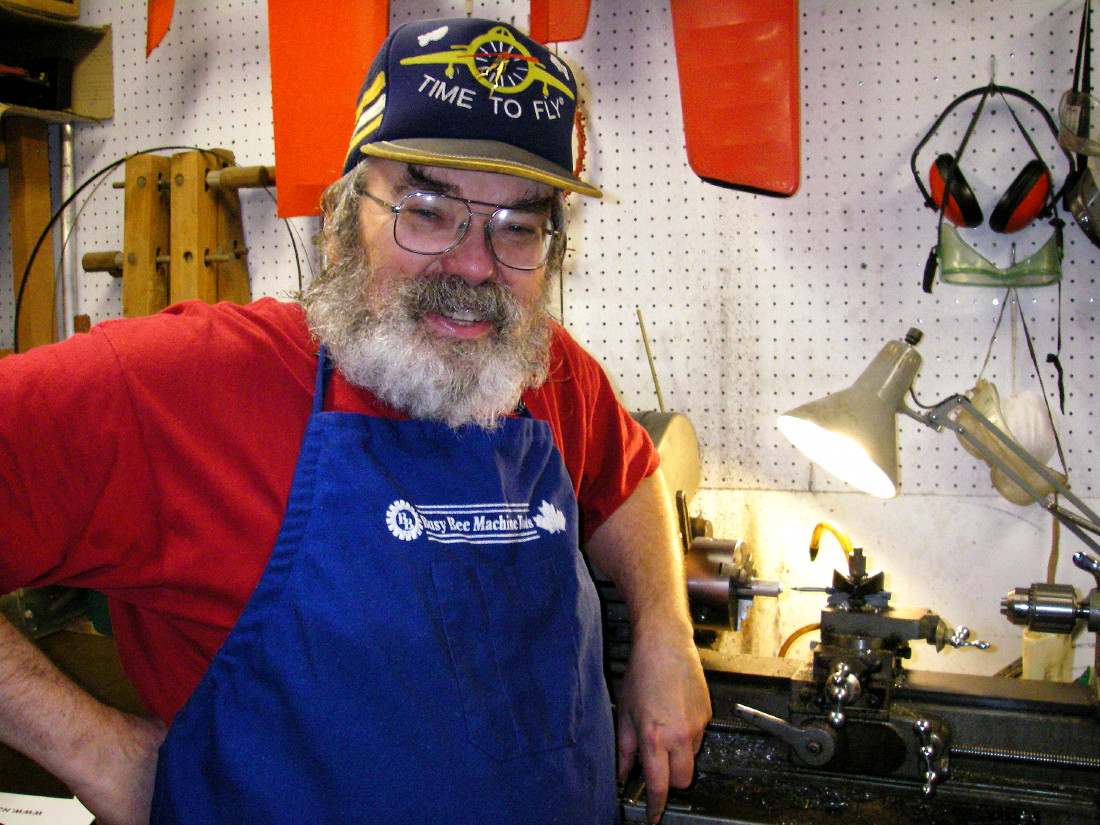 Greetings yet again from Canada's beautiful Pacific Northwest! Once more, I'm coming to you a day early due to the impending passage of another milestone - my 70th birthday on October 2nd! My long-suffering but ever-supportive wife Lorna has arranged a celebratory trip to my favorite location on the West Coast of Vancouver Island, which will see me out of town on the usual issue date.
How time flies - it seems like only yesterday that I was learning to fly control-line on the school playing field as a member of the school Aeromodeller's Club (how many schools have one of those today?!?) and getting to grips with my first-ever model diesel engines! And now here I am ...... I suppose that reaching 70 beats the alternative, but getting old is still something that I approach with some trepidation! So far, so good ..........

The weather has at last turned in our part of the world - Fall (or Autumn, if you prefer) has finally arrived on Canada's West Coast, a bit late but still very welcome. This has more or less administered the final coup de grace to what has been by far the worst forest fire season in recorded British Columbia history. That's something, but if present accelerated climatic trends continue (and there currently seems little reason to expect otherwise), we can look forward to more of the same in coming years.

October 2017 is a double publication month for me, since in addition to this issue of my website I also have an article in the October 2017 issue (no. 965) of "AeroModeller" magazine. Having been an avid reader of this fine publication and its direct ancestor, "Aeromodeller" magazine, for over 60 years now, it's both a pleasure and a privilege to be contributing to its content! My article this time is a survey of the various model engine ranges which were marketed as "house brands" by a number of British retail outlets during the mid to late 1940's. It's only one of a number of interesting articles which appear in this issue, as they do with every issue. If you aren't already a subscriber, you're missing out!!
Reader engagement with this web-site fell off somewhat in August, a not unexpected observation given the fact that this is the summer holiday season in the Northern Hemisphere where the majority of my readers seem to live. Naturally, this time of year offers many opportunities for the pursuit of activities other than Web browsing! Consequently, the number of hits in August fell off to 423,785, albeit still within sight of the record total of 497,885 set in March 2017. The visibility of the site is evidently being well sustained.

Somewhat counter-intuitively, these hits translated into a slightly increased total of 12,194 actual visits - a small increase over the July figure, albeit still somewhat below the record March total of 14,268. However, the number of pages accessed fell off to only 68,610 for a reduced per-visit average of some 51/2 pages - still indicative of a healthy level of visitor engagement despite the alternatives offered by the midsummer holiday season. Thanks to all of you for being a part of that!

Some of you may be wondering why I pay such close attention to the monthly visitation data for this site, to the extent of publishing the information with every Editorial. It's really very simple - these figures allow me (and my readers) to monitor the level of interest in what I'm doing here. No sense preaching to a non-existent congregation! In a very real sense, those numbers are my incentive for spending the very considerable time and money required to keep this up. If the numbers eventually fall to marginal levels, that'll be the time to stop. Until then - onwards!!
Despite my repeated admonitions not to do so, people have continued to try to register on the site. As I've stated repeatedly, this has no effect whatsoever - it's simply an artefact left over from the generic platform's intended use as an on-line sales site. Since this is not a sales site, the registration feature is redundant and I make no use of it whatsoever. Please don't bother - it simply creates unnecessary cyber-clutter! I think that this message will have to become a regular feature of these Editorials...........

Over the past month, I've once again had the good fortune to hear from an amazing number of valued contacts from around the world, including Maris Dislers, Miles Patience, Luis Petersen, Jens Geschwendtner, Peter Valicek, Mike Conner, Tom Coletta, Tim Dannels, Steve Thomas, David Burke, Jim Dunkin and Chris Farcy. Sincere apologies to anyone whom I may have inadvertently missed in the crowd!
One of my most valued correspondents is my friend and fellow "AeroModeller" contributor Maris Dislers of Adelaide, Australia. Maris always seems to contribute something of value to this site, and last month was no exception. Having recently acquired a nice example of an early Vella 2.5 cc diesel, Maris was kind enough to put this engine through its paces on the test bench and send his report along to me. His comments on this unit have been worked into my earlier article on the Vella Brothers engines, adding considerably to the comprehensiveness of that article. Thanks, Maris!!

Peter Valicek is currently working on the restoration of a relatively rare German diesel from the early post-WW2 era - the 2.65 cc RGU Universa model. This very distinctive-looking engine was in fact a forerunner of the far better-known Jaguar range from the same manufacturer. Once Peter has completed his work on getting our example of the engine back into running condition, we plan to publish a full review and test of this unusual and little-known design - stay tuned!!
In last month's Editorial I mentioned the 54th "Coppa D'Oro" (Gold Cup) meeting at the Francesco Baracca Airport in Lugo, Italy, very close to the Adriatic coast. This long-running annual event began as an Italian National competition, but is now part of the World Cup circuit. It caters to all four F2 categories (Speed, Aerobatics, Team Racing and Combat).
My Danish friend and colleague Jens Geschwendtner attended this meeting to fly in the F2C event. His report on the event was a mixture of positive and negative! On the positive side, Jens characterized the meeting as a
wonderful contest in a great country with a lot of nice people in attendance. The competition was at a very high level. Definitely a contest to consider attending next year!

However, things went less well for Jens in the actual competition. An Italian team managed to collide with Jens' model during the first heat, more or less destroying it. Jens had to switch to his reserve equipment, which was not dialled in due to poor weather conditions leading up to the contest. His best heat time was 3:25, which was not fast enough to advance him in the contest. Oh well, it sounds as if he had a good time regardless! Wish I'd been there ........

Tom Coletta sent along the attached photo of his display at this year's model engine Collecto in Muncie, Indiana. Quite a display, especially of those 2.5 cc (.15 cuin.) sport and competition models - no wonder Tom has admitted to coveting that mystery 2.5 cc diesel which was featured last
month! There's still no positive I/D on that engine, and it's staying right here until such an identification is made. If you haven't already done so, please have a look at the linked article on that unit and get in touch if you have any authoritative suggestions as to its identity.
The blog site has continued to generate a certain amount of traffic - thanks for that. One of my reasons for establishing that site was frankly a rather selfish one - I needed some means of soliciting input to articles in preparation. As I've said here many times, I can't do this alone! So from time to time you'll see requests for information in connection with specific research subjects. All input will of course be gratefully received and fully acknowledged! The site has already proved its worth in this regard on a number of occasions.

Turning now to this month's feature article, we return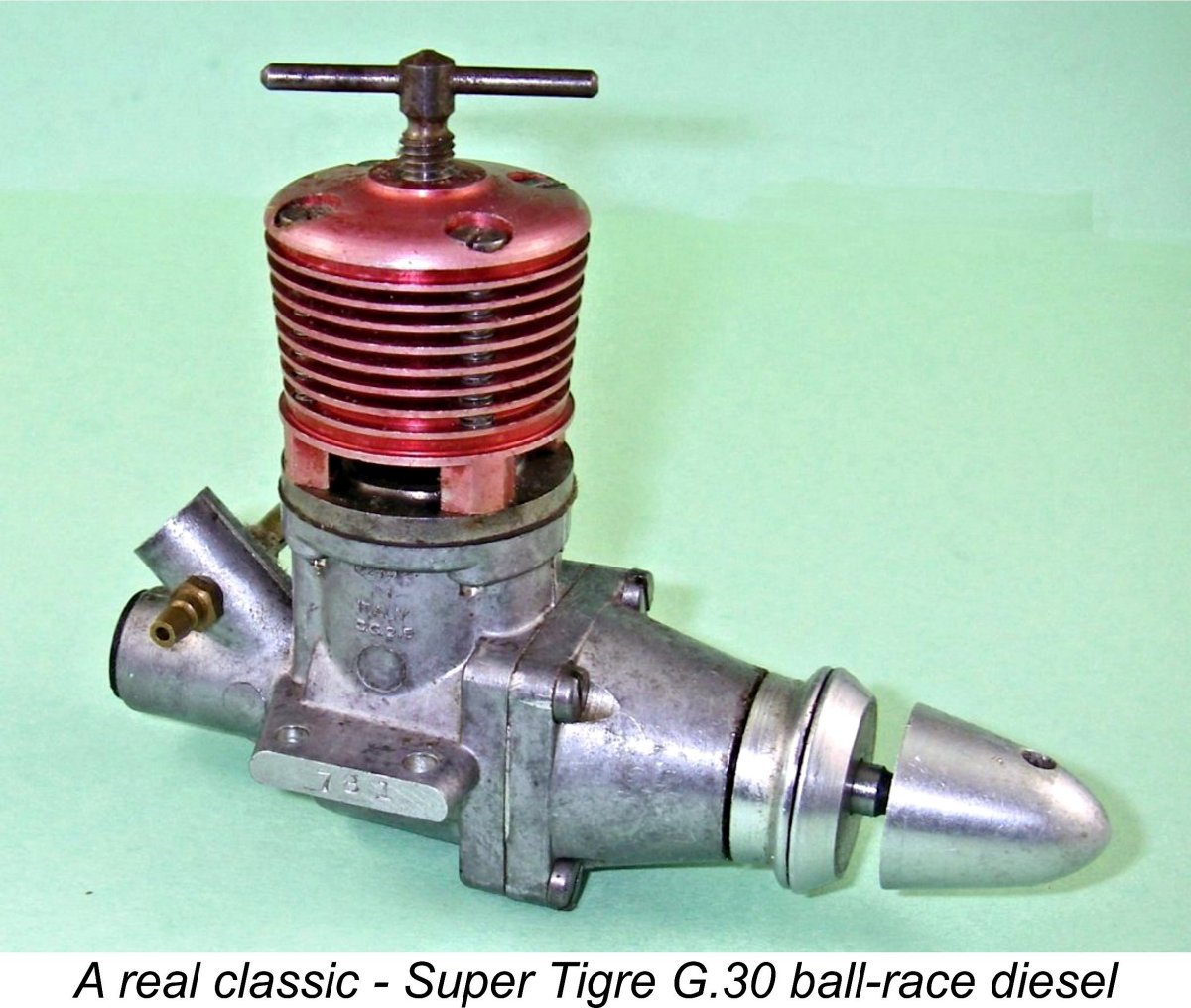 to Italy after a long absence to take an in-depth look at the history of the iconic Super Tigre range during its first two decades of existence. This was the period before model engine design entered its increasingly stereotypical stage as the R/C market came to dominate. It was during this earlier period that Super Tigre designer Jaures Garofali most clearly demonstrated his ability to think outside the box, resulting in the development of an amazing diversity of fascinating and highly original designs intended for a wide range of applications.
As part of this review, I've covered the involvement of Super Tigre in the World Control Line Speed Championship from its beginning in the early 1950's up to the early '60's. It's a fascinating tale of determination and effort, although not without its controversies along the way.
By way of a bonus, I've also included a separate article describing my own appraisal and test of the 1956 version of the iconic 2.5 cc Super Tigre G.20 S racing glowplug motor with which the Italian team contested the 1956 World Control Line Speed Championships. This was the ultimate development of the Super Tigre G.20 S before it was supplanted in 1957 by the significantly updated G.20 V model. Thanks to the kindness of my valued friend Luis Petersen of Denmark, I was provided with the illustrated example of teh engine for testing purposes.

As far as I've been able to discover, this 1956 variant was never the subject of a published test, at least in the English language modelling media. Time to remedy that deficiency! As you'll learn, this unit delivered a standard of performance which other contemporary commercial manufacturers of 2.5 cc competition engines could only dream of matching. An outstanding effort by Jaures Garofali!!
Lest my British readers feel a bit left out by the recent proliferation of articles concerning engines from other countries, next month will see a return to Britain to take a detailed look at the fine glow-plug models in .19 cuin. and .29 cuin. displacements which were produced by ETA Instruments Ltd. of Watford, Hertfordshire. My research into this article was greatly informed through contact with Ray Tuthill, who along with his pilot Don Walker was perhaps the most successful user of the ETA 29 in Class "B" team racing in Britain. Ray's comments provide an invaluable "behind the scenes" look at the development of that outstanding model engine. I think you'll enjoy reading it as much as I did researching it!
I also plan to add another article to my Technical Topics pages. This will be a detailed article on the rather arcane subject of glow-plug heat ranges. The selection of a plug having a heat range which is well matched to the needs of a given engine can have a far greater effect on performance than many people seem to realize, and yet it seems to be one of the most commonly-overlooked aspects of model glow-plug engine operation. I've drawn upon data provided by a number of plug manufacturers, most notably Model Technics of Southend-on-Sea, England and TCA Racing Accessories of Italy. Using the products of fine companies such as these, there's no reason not to get the very best out of your engines by fitting the appropriate plug. I hope that you glow-plug users will find the article useful.

I think that's it for now. I'll be back to you with another issue on or about November 1st, 2017. Meanwhile, happy flicking, flying and finding, and may the heady aroma of diesel fumes or burning nitro assault your nostrils soon............... !
Cheers,
Adrian Duncan
Coquitlam, British Columbia, Canada
___________________________________
Note regarding material to be found on this site - unless specifically otherwise noted, all images and text which appear on this site are my own work, and I hereby assert my right to be recognized as the originator of this material. For the record, this material is made freely available to all upon two firm conditions:
No commercial use of any kind is to be made of any of the images or text posted on this site without my express written consent.
No use of

any

kind, commercial or otherwise, is to be made of any material published in any form on this site without full and open acknowledgement of the source.
Adrian C. Duncan
Coquitlam, BC, Canada