April 2018
From the Editor - April 1st , 2018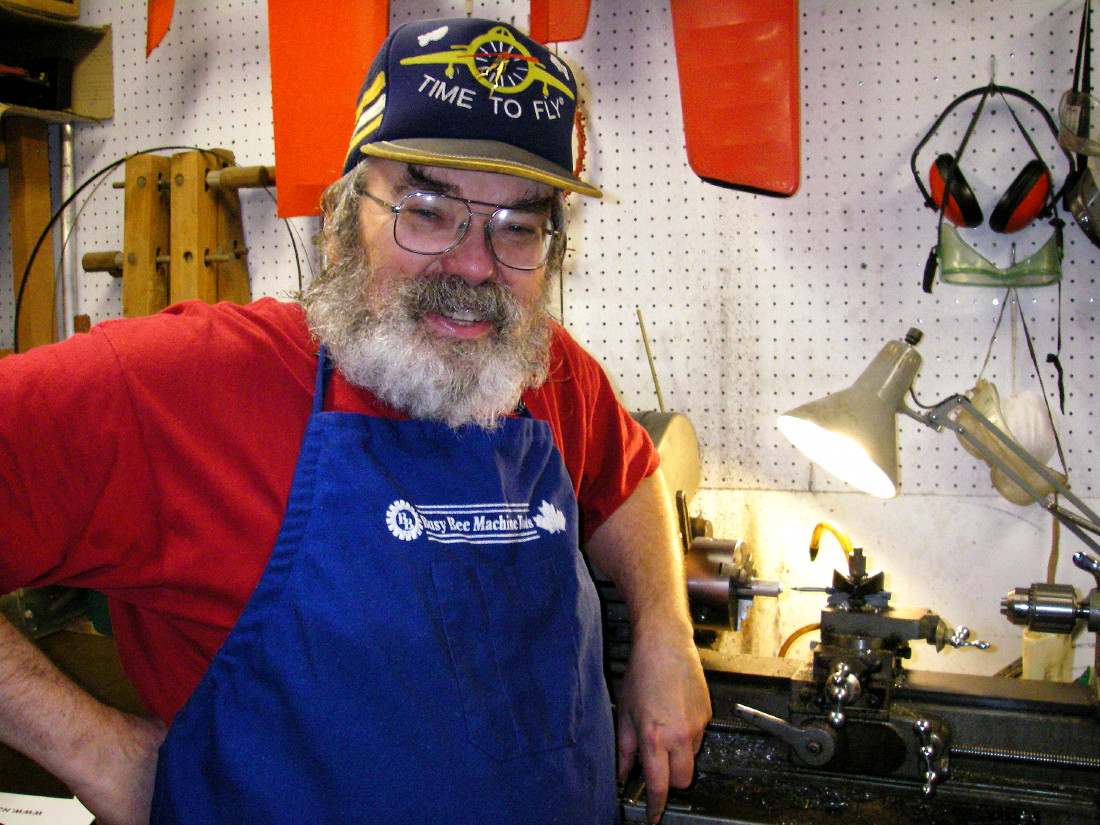 Happy April Fool's Day!! Watch out for squalls ........ anything can happen!! And if we leave it to the politicians, anything probably will happen!! For all too many of them, every day is April 1st!

It's been a weird month for me altogether. Looking at the now-completed wall calendar for March 2018, there's not much open space left thanks to all the various appointments, musical gigs, social commitments, out-of-town trips, etc. which were pencilled in! Thankfully, the calendar for April looks considerably less crowded ..... so far!

Due to that busy March schedule, I've had less time than I would like to stay on top of the model engine research and restoration which generally form my main focus. Still, I've done my best to come up with another informative issue for you.

I'm glad to report that the level of reader engagement with this site held encouragingly steady during February 2018, the last month for which complete data are available at the time of writing. In fact, the number of hits in February actually
rose slightly once more from 534,484 in January to 536,408 in February - yet another site visibility record!

This translated into a total of 13,169 actual visits, very slightly down on the figure of 13,699 established in January 2018 but nontheless indicative of a continuing high level of interest - still around 440 visits per day from readers worldwide. As one might expect, the modest drop in the number of visits resulted in the total number of pages accessed also falling somewhat from 77,092 in January to 71,790 in February. However, the average number of pages accessed per visit held steady at around 5.5. This implies that those who did visit continued to find something of interest in these pages. Thanks for being part of that!

Despite my repeated admonitions not to do so, people are continuing to try to register on this website. As I've previously stated repeatedly, this has absolutely no effect - it's simply an artefact left over from the generic platform's intended use as an on-line sales site. Since this is not a sales site, the registration feature is redundant and I make no use of it whatsoever. Please don't bother - it simply creates unnecessary cyber-clutter! This message clearly needs to remain a regular feature of these Editorials...........
While use of the website may have fallen a little during February, the correspondence from my valued contacts around the world has continued to pour in unabated. During the past month I've heard from Andrew Boddington, Michael Diamond, Maris Dislers, David Burke, Hugh Blowers, Andrew Fullarton, Derek Butler, Steve Thomas, Paul Rossiter, Alistair Bostrom, Alan Strutt, Dr. Walter Sturm, Mark Winstanley, Dave Hill, Luis Petersen, Jens Geschwendtner, Ronald Valentine, Peter Valicek (and Felix), Alan Greenfield, Geoff Peacock, Mike Conner, Tom Coletta, Stephen Archambault, Bill Mohrbacher, Don Sohn, Tim Dannels, Ferenc "Somi" Somogyi, Luke Roy, Ken Croft, Peter Rathke and Jim Dunkin. Sincere apologies to anyone whom I may have inadvertently missed in the crowd!
Luke Roy contacted me to let me know that after three decades of research followed by eight years of challenging writing, his now 76 year old friend Dave Gierke has finished a two-volume lightly-dramatized biographical novel based on the life and work of the brilliant but largely unrecognized American aviation pioneer Augustus Moore Herring, who has been claimed by some authorities to have been the first man to fly a heavier-than-air powered flying machine, anticipating the Wright brothers by some years. Whether or not you accept this claim, the fact remains that Herring was a talented, influential and forward-thinking aeronautical practitioner who had an interesting and varied career which included the construction of many pioneering flying models.

For those who don't know of him, Dave Gierke's background is in education and model aviation. A former control-line stunt champion and master model builder/finisher, he later excelled in R/C pylon racing. He has written two history-based non-fiction books for Air Age Media. One of them, "Two-Stroke Glow Engines for R/C Aircraft" (1994), has sold more than 20,000 copies. Many of his model designs, along with scores of technical articles were published in various model magazines, including American Modeler, American Aircraft Modeler, Fly R/C, Flying Models, Model Airplane News and Model Aviation. In 1992, Dave became a contributing editor for Model Airplane News, writing a monthly column (RPM: Real Performance Measurement). He was named New York State Teacher of the Year in 1978, and was inducted into the Model Aviation Hall Of Fame in 2003.

Nice to see a prominent member of the aeromodelling community making such a worthwhile contribution to the history of aviation in America. For more information on Dave's book on Herring entitled "To Caress the Air", check out his website.
I mentioned last month that my valued friend Maris Dislers had contacted me to draw my attention to the seemingly little-known fact that a number of the famous E.D. model diesels remain available from Weston UK. The popularity of the excellent E.D. marine diesels among boat modellers has never faded over the years, and the Super Hunter and Super Otter 3.46 cc water-cooled models are among the units on offer. In addition, an air-cooled aero version of the Super Hunter 3.46 cc model is also available. All three engines are supplied with R/C exhaust throttles.
I've now taken delivery of my own example of the Super Hunter aero model. A lovely piece of work - worth every penny! It should be noted that these engines are not present-day replicas - rather, they are assembled from original E.D. components, of which Weston still holds considerable stocks. E.D. themselves never offered the Super Hunter as
an aero model, so the air-cooled jacket and the aero spinner are manufactured by Alan Greenfield of Weston. The balance of the components are all original E.D. parts from the Surbiton era of the 1970's.
Maris has been testing his own example of the aero Super Hunter, with his report scheduled to appear in due course in "AeroModeller" magazine. He noted that vibration became an issue at the higher speeds, so I took my example apart and removed two segments of the circular crankdisc on either side of the crankpin to add some counterbalance. It's hoped that this will reduce vibration somewhat so as to allow the comfortable operation of the engine at the relatively high speeds of which it appears to be capable based on Maris's testing to date. I also fitted my example with the unthrottled exhaust stub seen in the above image.

My engine has now had a few shake-down runs, proving itself to be a real charmer! However, it's a bit on the tight side as yet. I plan to do my own test once the engine is fully run in.

Now, a topic which will be of interest to anyone who retains an interest in home construction of model engines. Most of my readers will be familiar with the outstanding "Model Engine News" (MEN) website which was established and maintained for many years by my much-missed late friend and colleague Ron Chernich. Among Ron's many accomplishments during his sadly-curtailed lifetime was the production of a series of
high-quality CAD plans for an impressive array of model engines for home construction. These were compiled into the near-legendary Motor Boys International planbook which was sold for some time by the AMA but is no longer available today. It is a much sought-after resource among today's home constructors of model engines - I've had many inquiries regarding its availability.
Ron and his fellow Motor Boys spent countless hours researching and developing these plans and building engines from them to prove their accuracy. It was Ron's stated intention to enhance his legacy by making the full Motor Boys plan portfolio freely available to all prior to his untimely demise in early 2014. Sadly however, his advancing illness prevented him from making this wish become a reality during his lifetime.

However, thanks entirely to the generosity of Motor Boy Ken Croft, steps are now being taken to finally realize Ron's stated wishes. Ken has very kindly made his own copies of the relevant documents available, and it is hoped that we will be able to provide direct links to the material contained in those pages. We've already made a start - the "Members Only" model engine plan set which was provided exclusively to new subscribers to MEN has already been linked to this website. And we're not done yet - plans are
afoot to make the entire Motor Boys plan portfolio freely available here. Our collective debt to Ken and his former colleagues cannot be overstated. Enjoy!!
And now, from the sublime to the ridiculous!! It's April 1st, right?!? So we should indulge in something foolish, right?!? Well, in keeping with the date, I've elected to share a sampling of the absurdities which can result from a group of hard-core British aeromodellers getting together at their local for a few too many pints to honor the day (or any other day)! This takes the form of the hilarious "AeroMADeller" parody which appeared in the December 1960 issue of "Aeromodeller" magazine. This is reproduced with the kind permission of current "AeroModeller" Editor Andrew Boddington. Read it and be warned against the evil effects of strong drink!! Which reminds me - where's that double whisky that I just poured - I can't have drunk it already?!?
The blog site has continued to justify its existence by generating a fair amount of traffic - thanks for that. I hope over time to see more use made of the new category that I added last month to the list of posts - "Parts Wanted".

This month's lead article sees a return to Eastern Europe for a look at the work of the noted Polish model engine designer Stanislaw Górski (1923-1978). The best-known engines from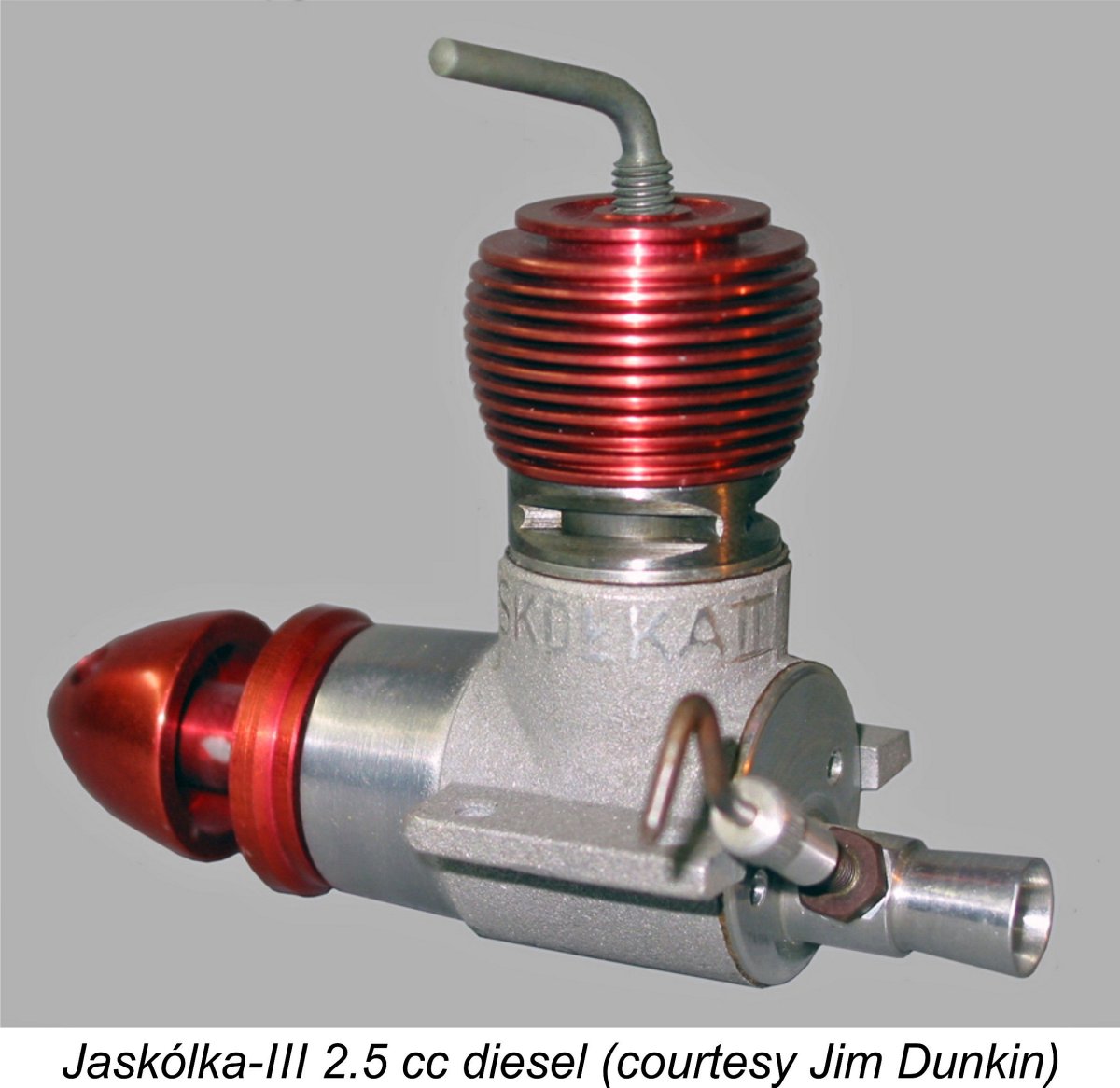 this talented individual are the Jaskółka (Swallow) series which were manufactured from the mid 1950's to the early 1960's, but Górski's activities extended well beyond that particular range. His story is one which richly deserves to be more widely appreciated than it has been in the past. I'm sure that you'll enjoy learning more about model engine development behind what was then the almost impenetrable Iron Curtain!

For next month, I plan to present a summary of the rather sad and all too brief history of one of England's more elusive model engine ranges - the J.B. marque. This short-lived series included both diesel and glow-plug models in 1 cc and 1.5 cc displacements.
The J.B. engines were extremely well made, attractively presented and aggressively marketed, but unfortunately they suffered from some fundamental material selection and production flaws which led to their rapid eclipse in the highly competitive British model engine market of the mid 1950's. The range was only advertised for some 16 months, from October 1955 until January 1957. Good examples are quite rare
today.

All of this is a great pity, because the engines were very capably designed in many respects, also being attractively styled, extremely well finished and enticingly packaged. Despite their failure to establish themselves in the British marketplace, the manufacturers undeniably showed themselves to be well capable of producing model engines of real quality and marketing them effectively. I hope that after reading next month's article, you'll agree that their self-induced failure robbed the British aeromodelling movement of a manufacturer of considerable potential.

I think that's it for now. I'll be back to you with another issue on or about May 1st, 2018. Meanwhile, best wishes for continued enjoyment of our shared hobby, and may the heady aroma of diesel fumes or burning nitro assault your nostrils frequently.............. !

Cheers,
Adrian Duncan
Coquitlam, British Columbia, Canada
___________________________________
Note regarding material to be found on this site - unless specifically otherwise noted, all images and text which appear on this site are my own work, and I hereby assert my right to be recognized as the originator of this material. For the record, this material is made freely available to all upon two firm conditions:
No commercial use of any kind is to be made of any of the images or text posted on this site without my express written consent.
No use of

any

kind, commercial or otherwise, is to be made of any material published in any form on this site without full and open acknowledgement of the source.
Adrian C. Duncan
Coquitlam, British Columbia, Canada