May 2019
From the Editor - May 1st , 2019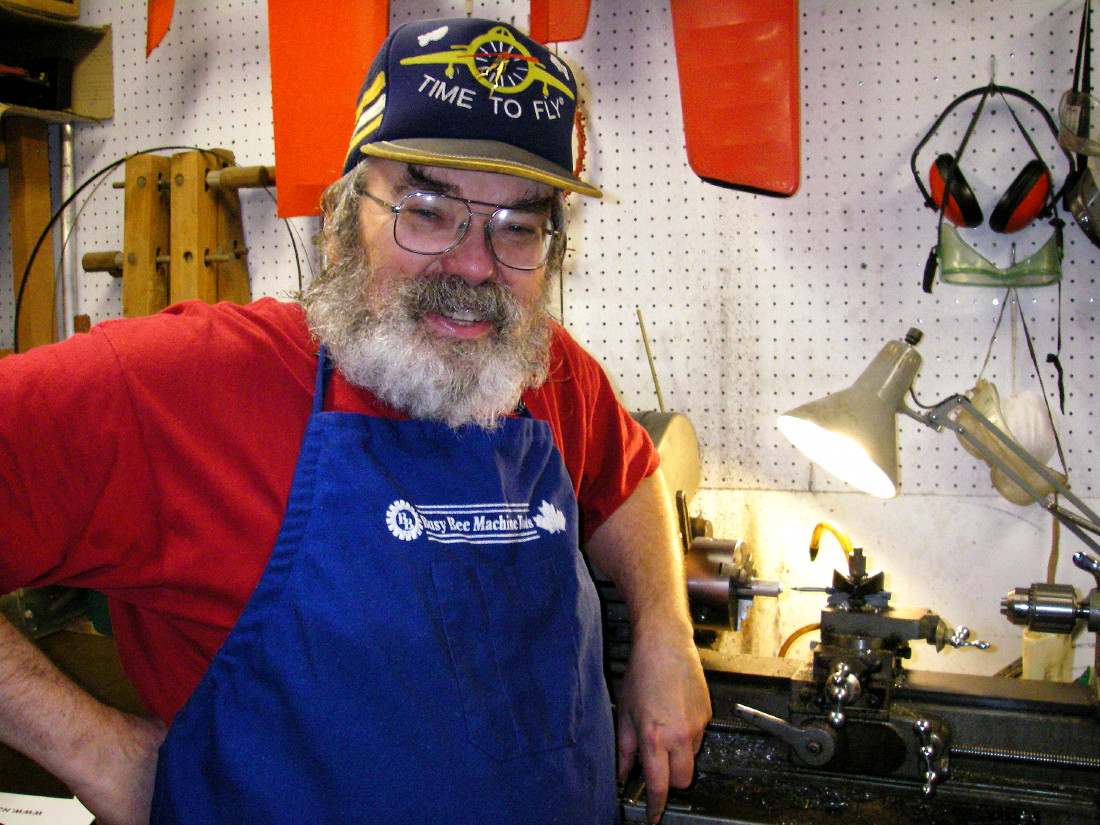 Greetings once more from Canada's West Coast! Break out the old Maypole (actually, on second thought, don't bother - I'm getting too old for that)!! Regardless, yet another edition of my website out on schedule! Don't get too used to this - won't keep happening for ever ..........
In fact, I'll start by reminding you once again that there will be no July issue this year! This is due to the fact that I have a trip to Nova Scotia on Canada's East Coast planned and booked from mid June to mid July, neatly bracketing my usual publication date. Sorry about this, but I do have other lives!
To make up for this omission, I've presented not one but two feature articles in this issue! My thanks go out to my valued Aussie mate Maris Dislers for providing the second article. Not only that, but I'm planning to publish two new articles in the upcoming June 2019 issue as well, once again with an assist from Maris. So my rate of publication of new articles will be unaffected. More details below ............

I'm happy to report that March 2019 (the last month for which complete data are available at the time of writing) saw a continuation of the site's recent high level of activity. Although the data are not yet complete, I can tell you already that April looks like being another banner month for the site.............
During March 2019, the number of hits remained extremely strong, actually setting yet another new monthly record at 687,090 hits for March. It's clear that site visibility is being maintained at a high level and that people are still looking.

Of course, hits are one thing - actual visits are quite another, since they reflect the level of interest aroused among those who do happen to hit upon the site. While the record number of hits during March didn't translate into a record number of actual visits, the March total of 16,872 visits was still a pretty strong showing of interest despite remaining a little down from the record January total of 20,496. The visit/hit ratio for March (the proportion of hits which translated into visits) was down a little from 2.7% for the previous 3 months to only 2.5 %. Still a perfectly reasonable figure - one hit in 40 continued to result in an actual visit. Clearly the site still attracts its share of direct interest from among those who stumble across it!
Of course, the number of visits only tells part of the story - the number of pages accessed is a more representative indicator of the level of interest in the material on this site among those who choose to visit. The good news on that front was the fact that despite the lower number of vsits, the number of pages accessed increased dramatically from February's 110,055 figure to a new record total of 143,773 pages. The average number of pages accessed per visit made a massive jump from the figure of 5.9 pages per visit in February to an impressive total of 8.5 pages per visit in March. Wow!! People still seem to be finding something of interest here - thanks for being a part of that!

Now a note which has unfortunately had to become a regular feature of these Editorials. This one is mostly for new readers - old hands can skip to the following sections.
Despite my repeated admonitions not to do so, people are continuing to try to register on this website. As I've previously stated time and time again, this has absolutely no effect - it's simply an artefact left over from the generic platform's primary intended use as an on-line sales site. Since this is not a sales site, the registration feature is redundant and I make no use of it whatsoever.
So why is it still there?!? Well, before anyone else asks (and quite a few well-meaning souls already have!), I've thoroughly explored the possibility of removing or at least blocking this feature, but it can't be done without extensive (and very expensive) custom modification to the otherwise very useable generic platform which came as a ready-to-use over-the-counter package, thus keeping the costs and complexities manageable. So we're stuck with this feature.
The bottom line therefore remains - please don't bother trying to register! Doing so accomplishes nothing apart from creating unnecessary cyber-clutter, which I definitely don't need! I should add at this point that the regular inclusion of this comment in my Editorials seems to be working - the number of registration attempts has fallen sharply in recent months. Let's keep that trend going, guys!!

Now, back to business! Along with the continued use of this website, the correspondence from my valued contacts around the world has continued to pour in unabated. During the past month I've heard (in no particular order) from Maris Dislers, Chris Stoddart, Peter Valicek, Mats Böhlin, Alan Strutt, Larry Lewin, Neil McRae, Sergio Montes, Claude Dhekaier, Mike Johnson, Kevin Richards, Ken Croft, Jim Conery, Miles Patience,
Andrew Coholic, Geoff Peackock, Peter Rathke, Jesus Ortega Delgado, Steve Webb, De Forest Hill, Ernie Stamp, Goran Milosavljevic, Don Sohn, Mel Reid, Hans Edwards, Luis Petersen, Jens Geschwendtner, Malcolm Davis, Mike Conner and Tim Dannels. Sincere apologies to anyone whom I may have inadvertently missed in the crowd - it can be hard to keep track! The blog site has also continued to justify its existence by generating a fair amount of relevant traffic - thanks for that.
The contact from fellow British Columbia resident Larry Lewin brought some highly unwelcome news - another valued member of our community has left us. This time it's Pat O'Donnell, who passed away quite suddenly in the midst of his family on Monday, April 1st, 2019. Long-time readers of these pages may recall my having mentioned Pat in my August 2018 Editorial. Originally from Townsville in Queensland, Australia, Pat lived in recent years not far from me in White Rock, British Columbia, Canada.
Pat was a regular contributor to the "Home Construction" thread on my blog site, having been building model engines for many years. At the time of our last meeting in June 2018 he had several diesels under construction, including a BJ Cicada from the plans made available on Ron Chernich's "Model Engine News" (MEN) website in December 2012. I had planned to get together with Pat later in 2019 to test some of his productions, but sadly that won't happen now. He will be missed - RIP, mate.
Another talented home constructor who is happily still with us is my fellow Canadian model engine enthusiast Andrew Coholic, who sent along a great video of his latest creation in operation. Hot on the heels of the Sugden Special and Owen Mate diesels which he so kindly sent along to me as reported here earlier, he has now constructed an example of the DJS .049 racing glow-plug engine originally designed and built by Dub Jett and Johnny Shannon. Dub and Johnny were kind enough to re-draw the cylinder porting to allow Andrew to build a version of the engine that will run without a pipe either in open-exhaust or muffler configuration. Upon completion, the revised engine ran extremely well on the test bench. Although it's still running in, Andrew saw 17,000 rpm with a cut-down black Grish 5x4 prop and 16,200 rpm on a small APC 5x5. Well done, Andrew - you're right back into it, mate!!
Maris Dislers got in touch to let me know that Michel Rosanoff has recently added a lengthy post to the forum on his very enjoyable "Retroplane" French-language website covering the subject of the absolutely fascinating Allouchery Turbolid 2.5 cc diesel of 1954. This unique model features a crankshaft-mounted fan designed to turbocharge the crankcase. In some ways it looks back to the Ken 61 of 1945 which has been revewed previously on this website. However, the execution of the idea is completely different. Have a look - I'm sure that you'll find this design to be as intriguing as I did! Just click on the above link and then scroll down the thread to find Michel's new posting. You can use the translation feature to render the text in the language of your choice.

The arrival of a new issue of "AeroModeller" magazine is always
welcome, and the appearance in my mail box of the May issue (no. 984) was no exception! Some visitors to this website may not be aware that a significant proportion of my writing on model engine history appears in that fine magazine and is not duplicated here. To get the full scope of my coverage of this topic, you have to be an AeroModeller subsciber! If you don't have a subscription, you're missing out!

The May issue includes my in-depth illustrated analysis of the reasons why the diesel failed to catch on in America to anything like the same extent that it did elsewhere. There's also a test by Maris Dislers of the Gasparin G160 CO2 engine - a form of powerplant which is beyond the scope of this website but which I nonetheless find fascinating. Don Howie contributes some well-informed commentary on the OK engines from America, including a test of the 1954 OK Cub .049A. One of the free plans which always form part of each issue is a new design by Maris Dislers, his quick-build "Presto" model for 0.25 cc - 0.5 cc engines. Plenty for devotees of classic power modelling to get their teeth into, as always!
Turning now to the subject of updates, another recent acquisition has enabled me to prepare a significant update of a previously-published article. This time, I was fortunate enough to acquire another pristine
example of the very rare MD 2.5 Moscow racing engine from early 1960's Russia. This relatively hard-to-find unit has proved to be a far better powerplant than its contemporary media reputation might suggest. The papers which accompany the new example are date-stamped December 30th, 1961. I obtained it on eBay from a Russian source, who is relatively new to eBay but has turned out to be an excellent seller in all respects. He tells me (in excellent English) that he's a regular reader of this website!

This engine has provided a considerable body of new information regarding the Moscow. For one thing, the newly-acquired example has added significantly to our knowledge of production figures and production series designations. For another, it has confirmed a few of the deductions presented in my original text. Finally, it has clarified the issue of the glow-plugs fitted to the original engines. I've updated the existing article to reflect this new information, along with a number of new images.
I also received a report from Goran Milosavljevic of Australia regarding yet another example of the Mats Böhlin K&B 15-based team race diesel of the 1970's which was the subject of an earlier article here. Goran owns an example of this "special" which bears the engraved number 42. Mats has confirmed that it is indeed one of the engines which he constructed and that it originally belonged to his former team race partner Gösta Bengstar. It was evidently one of a number of these engines which Mats and Gösta disposed of in 1982 after ceasing to use them in competition. I've added an image and some information about this engine to the existing article.

A contact that really meant a lot to me came from reader Mike Johnson of New Zealand. Mike found this website while researching a motor that he had acquired at a very low price from an estate, subsequently getting in touch through the blog site. It was clearly an early ETA 29, but the serial number 29177 represented a notable anomaly in that while that number belongs in the Mk. III numbering sequence, the engine's structure suggests that it is a modified Mk. II.
This example has been fitted with a perfectly-matched spraybar needle valve assembly, but is otherwise a Mk. II with turned-down cooling fins.The cylinder cooling fins and head have been turned down sufficiently neatly and precisely to suggest the possession of a suitable jig, something which a private owner would be unlikely to possess or bother to make.

Only the factory could have appled that Mk. III serial number to a Mk. II crankcase, making it appear that this may be a factory "experiment" to determine the engine's potential as a control-line stunt motor. They are known to have experimented with an FRV version for stunt use, and this may be a related trial of the standard RRV model. The fact that the engine showed up in New Zealand (Ken Bedford's birthplace) may also be significant - the engine may have been sent down to one of Ken's compatriots for field testing away from prying British eyes!
Mike was kind enough to present this intriguing engine to me as a gift, and I've checked it over to confirm that it's all ready for a test run. Although having seen considerable use, it remains in first-class mechanical condition. I've updated my original ETA 29 article to reflect the existence of this unit - the changes appear in the section of the ETA 29 Mk. II. Mike's kindness in making it available for study is very much appreciated!
Last month's article on spark ignition operation seems to have struck a very positive note - I've had numerous expressions of appreciation regarding it. Reader Jim Conery contacted me via the blog site to tell me that SAE 70 oil is still available as Lucas High Performance Motorcycle Oil. The Lucas website confirms this to be true. Jim gets it from R & R Motorcycle in Manchester, New Hampshire, USA but is certain that other motorcycle shops must carry it as well. It is expensive, but evidently does the job very capably indeed. I've added this information to the article, with my sincere thanks to Jim.

In the spirit of practising what I preach, I've continued to have fun testing a number of the long-idle sparkers in my collection. My latest spark ignition test subject was a fine example of the 1946 Mechanair 5.9 cc model from Birmingham, England. Although not particularly powerful, it turned in a very steady performance and was a real pleasure to run. A detailed article and test report on the Mechanair will appear on this website in due course.

Turning now to this month's feature article, I've prepared a follow-up to last month's technical feature on spark ignition operation. Readers of that article will recall that the engine which I chose to use as the inaugural test piece for my newly-constructed spark ignition support systems was a Queen Bee 29 sparker dating from the early post-WW2 era. The Queen Bee range was manufactured to very high standards but in relatively small quanities by an artisan constructor located on Canada's west coast in Vancouver, British Columbia, just a few kilometres west of my present-
day home in Coquitlam. I mentioned this range briefly in my survey of Canadian model powerplants which accompanied my earlier review of the Monarch 600 racing engine.

However, a great deal of new information has since come to light. On top of the example of the Queen Bee 29 sparker which is seen running in the image at the left, I've now been fortunate enough to assemble a complete set of the known spark and glow-plug ignition designs from this manufacturer, including the mega rare prototype .60 cuin. spark ignition and glow-plug models which were developed near the end of Queen Bee production.
Having these engines available for direct examination is extremely empowering in its own right, but what really set this project on the right track was my amazing good fortune in being put in direct contact with Hans "Johnny" Edwards, who is a former teenage employee of the small company which made the Queen Bee range. Although 88 years old at the time of writing (March 2019), Hans remained as sharp as a tack to go along with his willingness to share his many detailed recollections with the rest of us. As a result, I've been enabled to recount the full inside story of the Queen Bee range and its manufacturer for the first time ever. It's an interesting tale with a personal connection, and one which I think you'll enjoy!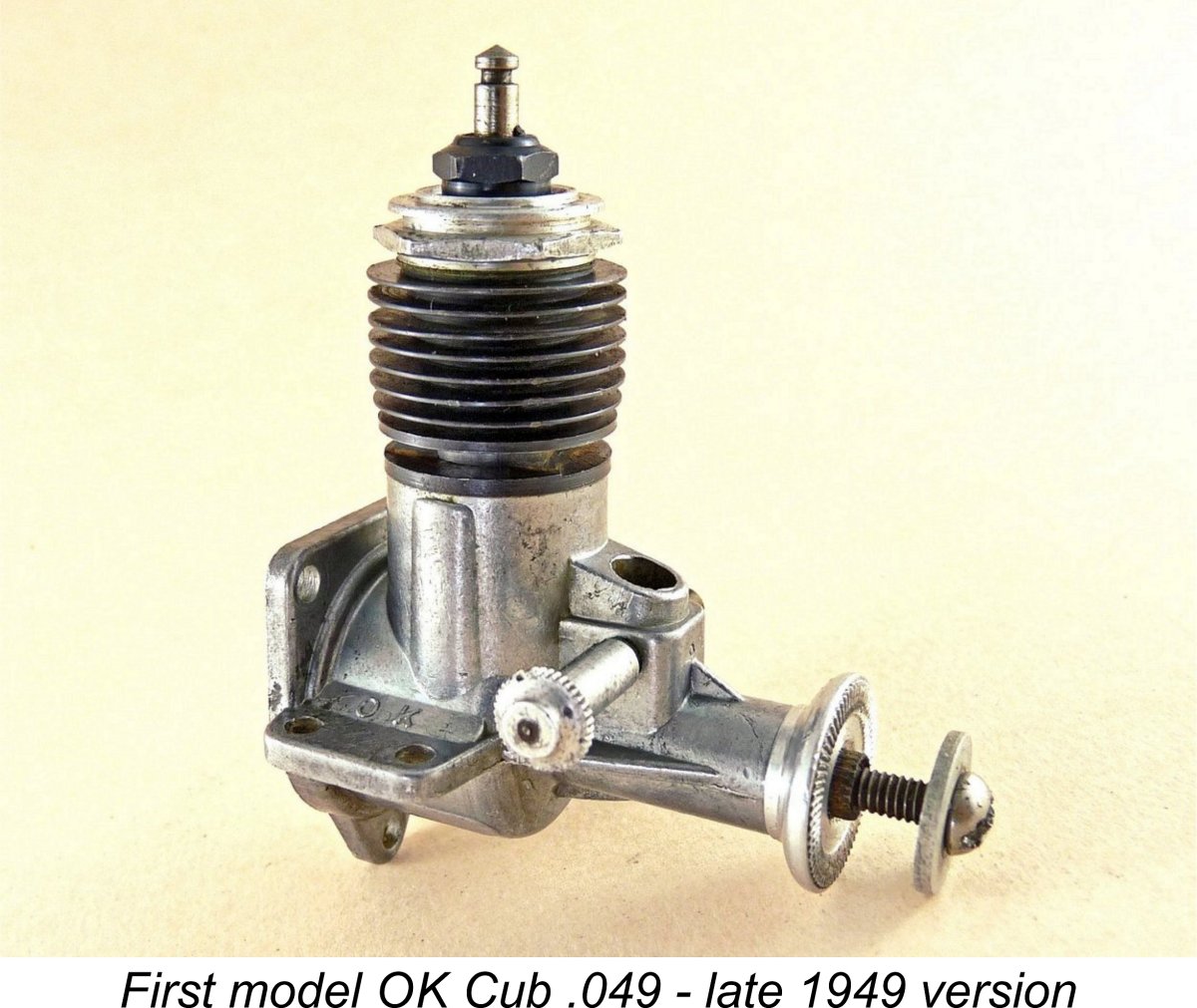 But wait - we're not done yet! The new material continues to pour in almost faster than I can publish it, forcing me to push hard just to keep up. The happy result for my valued readers is that you get yet another double edition this month! This is becoming a habit .....

This time, it's down once more to my good mate Maris Dislers, who has recently been conducting a whole series of tests and experiments with the original 1949 OK Cub engines from America. These very useable little powerplants were among the pioneers of the late 1940's small-engine revolution in the USA which was made possible by Ray Arden's November 1947 introduction of the commercial miniature glow-plug.
The little OK Cubs celebrate their 70th anniversary this year. Despite the passage of the decades, they remain very useful engines today for powering small sport models. They were made in the hundreds of thousands, and the consequent large number of survivors means that they continue to be readily available today at very reasonable prices, greatly alleviating the conservation concerns normally associated with using such old engines. Indeed, certain original factory spare parts remain available from Ted Brebeck at OK Engines.

Maris has thoroughly analyzed the performance characteristics of all three 1949 OK Cubs (.049, .074 and .099), also investigating several approaches to the improvement of their performance for present-day service. I think you'll thoroughly enjoy his article on this topic! Might even encourage some of you to try using a Cub for flying ...........!

Editing Maris's article prompted me to re-read Ted Brebeck's informative little book "They Should Have Kept the Bear", which includes some fascinating inside information on the OK engines story and the Brebeck family who initiated and operated the business.
Since the book remains available today from Ted Brebeck, I've added it to the Publications pages on this website. Check it out!!
For next month's June issue, I plan to present a detailed summary of the excellent model diesels produced in 1950's Germany by Walter A. Frisch of Berlin-Lübars and sold under the WAF label. I've been enabled to do this solely through the kindness of my valued friend Peter Valicek of the Netherlands, who undertook a complete restoration of the now-superb example of the 1 cc WAF 1 model which forms one of my test subjects for this article.
The other test piece is my own long-held example of the extremely rare 3.5 cc WAF 3.5 diesel which was produced in a very short prototype series to test the market but never achieved ongoing production status. I think that, like the Queen Bee saga, the WAF story serves as another excellent illustration of what can be achieved by a single talented and dedicated individual.

But that won't be all! In addition, I plan to make up
for the fact that there will be no July issue this year by including a second feature article in the June issue. Once again I'll be collaborating with my good mate Maris Dislers to present a review and test of the Mite fixed-compression diesel from New York, USA.
This somewhat under-rated engine was years ahead of its time in certain respects despite being hampered by its fixed compression mode of operation along with a poorly-chosen compression ratio. As you'll learn, it was potentially a top performer by any contemporary standard, also being quite well made. It actually exerted a significant influence over certain prominent later designs. Some of you will be quite surprised at a number of the findings presented in this report!

I think that's it for now. I'll be back to you with another issue on or about June 1st, 2019. Meanwhile, my best wishes for continued enjoyment of our shared addiction! Look after that flicking finger, and may the heady aroma of diesel fumes, sparkie smoke or burning nitro assault your nostrils frequently!

Cheers,
Adrian Duncan
Coquitlam, British Columbia, Canada
___________________________________
Note regarding material to be found on this site - unless specifically otherwise noted, all images and text which appear on this site are my own work, and I hereby assert my right to be recognized as the originator of this material. For the record, this material is made freely available to all upon two firm conditions:
No commercial use of

any

kind is to be made of any of the images or text posted on this site without my express written consent.
No use of

any

kind, commercial or otherwise, is to be made of any material published in any form on this site without full and open acknowledgement of the source.
Adrian C. Duncan
Coquitlam, British Columbia, Canada