April 2014
From the Editor - April 2014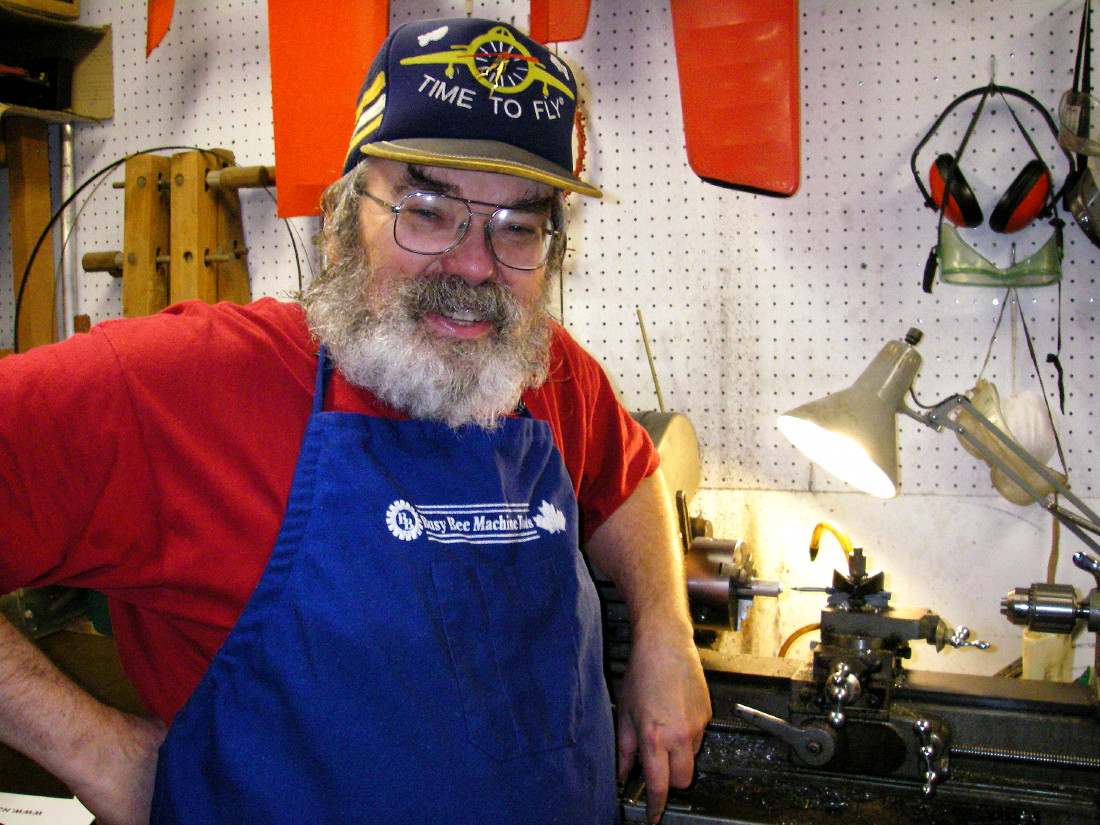 Welcome to Adrian's new model engine history web site! It's my sincere hope that my fellow model engine enthusiasts may find something of interest in the information which I hope to gather on this site as time goes by. It won't happen overnight, but I'll get there!
I'd like to begin by stating that the impetus for the creation of this site arose not from any overwhelming desire to do so on my part but rather through an event which I would give anything to be able to undo. This was the loss due of my dear friend and valued colleague Ron Chernich of Brisbane, Australia. Ron passed away on March 16th, 2014 after a long and courageous fight against the cancer which had bedevilled him for some years, leaving a void which will be extremely difficult to fill. It was this tragedy alone which created what I perceived to be the necessity of establishing my own site. How I wish that this necessity had not arisen ………..
Prior to that unhappy situation arising, Ron and I had enjoyed a warm friendship coupled with a highly productive collegial relationship. From its inception in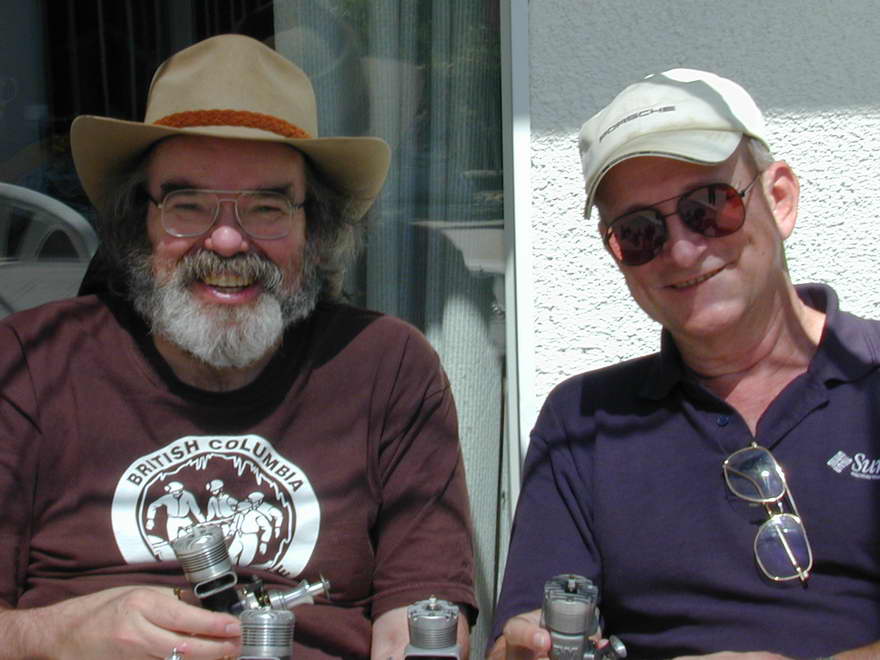 2002, Ron's wonderful web-site "Model Engineering and Model I/C Projects" (more familiarly known as "Model Engine News" (MEN)) had steadily developed into perhaps the single most important on-line resource for model engine builders and collectors worldwide. From October 2007 onwards, I was privileged to be the primary author of the monthly "Engine of the Month" (EOM) series of articles on that web-site. This series focused on the history of the various model engines and manufacturers which were covered.
As a result, the "Engine Finder" section of Ron's web site soon became thickly populated with detailed articles on model engine history written by myself and others. Over time, these became increasingly seen as a valuable source of reference material for model engine collectors and restorers wishing to know more about the engines in which they were interested. No-one was more delighted than myself at the progressive development of this perception - indeed, my main motivation in undertaking my historical research has always been to help to create a comprehensive and freely accessible knowledge database in relation to the history of model engines so as to promote ongoing interest in them. I see this as by far the best approach to ensuring their long-term preservation. No-one's going to collect or even take an interest in a class of objects about which there's no accessible information or any authoritative basis for establishing provenance! If it weren't for all the catalogues, who would collect stamps?!?
The opportunity to post regular EOM articles on Ron's web site met this need perfectly. Moreover, the ever-increasing volume of correspondence which followed the appearance of each article confirmed that the material was both widely read and much appreciated. Most importantly, many of our correspondents provided additional information or suggestions which allowed us to update our articles with full acknowledgement, thus enhancing their authoritativeness. Our readers seemed to be completely in tune with our concept that the preservation of model engine history is a shared responsibility. All of this encouraged Ron and I to continue.
Sadly, this phase of our partnership was ended by the tragedy of Ron's eventually being overwhelmed in early 2014 by the complications arising from the prostate cancer which he had been battling courageously for some years. Ron was a fighter all the way, retaining his positive outlook on life throughout along with his active interest in modelling and model engines and his determination that the information which had been accumulated in the pages of MEN over the years would remain freely available. Happily, this has been accomplished - the pages of MEN remain accessible to all at:
http://modelenginenews.org/left.html
Thanks to Ron's foresight, the material on MEN will remain freely accessible in the foreseeable future. No-one with a sincere interest in model engines can afford to pass up a tour through this fascinating and informative site.
That said, the realization that there would no longer be an opportunity to add new material to the MEN site came as a sad realization to many. In particular, I was personally bombarded with reader requests that I find some means of carrying on with the publication of my series of articles on model engine history. This confirmation that the series has a high perceived value means a lot to me personally, and the creation of this web-site will hopefully be seen as an appropriate response to those requests. The site is hereby dedicated to my mate Ron, in the hope that I may keep part of his legacy not only alive but still growing.
The content of this site will be far narrower in scope that that of MEN. Unlike my immensely talented mate Ron, I am not qualified to provide authoritative commentary on model engineering issues. Accordingly, any material of that kind will have to be submitted by others who are more knowledgeable than I. My own primary focus will continue to be on the history and practical application of the model engines which we all find so fascinating, particularly but not exclusively those from the pioneering and classic eras.
Following a brief period during which I will make an attempt to populate this site quite rapidly to the point where its value as a data-base becomes established, it will be my on-going goal to add a new article to the site on an approximately monthly basis, along with an Editorial commenting on matters which may be of mutual interest. However, I'd like to expressly state for the record that I will not consider myself firmly bound to such a schedule! My advice to those interested is simply to add me to your "Favourites" on your browser and drop in from time to time to see what's new!
Another point that I wish to raise at the outset is that I have no intention of duplicating work that is already available. All of my earlier articles as well as many by others remain freely accessible at MEN, and I encourage readers to explore that site to see what's available there. To facilitate this, the listing of articles on specific engines on this site will include URL's to articles already posted on MEN.
The only circumstances under which a subject which is already covered on MEN will be repeated here will be when the acquisition of significant new information necessitates a re-write of the article. In such a case, reference will always be made in the text to the original article at MEN.
Nor do I intend to attempt the impossible task of competing with my valued friend and colleague Tim Dannels, publisher of the indispensable "Engine Collectors' Journal". Tim's knowledge of American model engines in particular is unrivalled, as witness his outstanding book entitled "American Model Engine Encyclopedia" (AMEE). Required reading for anyone interested in American model engines! These publications are readily available to all by contacting Tim directly at:
http://www.modelenginecollecting.com/
What I will do is continue to explore the less well-documented byways of model engine history, publishing the results of my work on this site. From time to time I will also include commentary on current initiatives which may be of interest to those who share my enthusiasm for classic model engines.
I will also welcome the submission of authoritative articles on model engine history by others provided such material is expressly offered freely for publication without reservation or fee. While I reserve the right to decide whether or not to publish a specific article as well as to apply the Editor's pencil to such submissions, any such articles which are published will be fully and openly acknowledged, with my very sincere thanks.

Unless otherwise noted, all images and text which appear on this site are my own work. For the record, this material is made freely available to all upon two firm conditions:
No commercial use of any kind is to be made of any of the images or text posted on this site without my express written consent.
No use of any kind, commercial or otherwise, is to be made of any material published in any form on this site without full and open acknowledgement of the source.
That said, welcome to my new venture, which I sincerely hope you'll enjoy! Please feel free to contact me through the link provided if you wish to suggest potential improvements to the site or to comment on any of the articles which will appear here as time goes by. I'm also very much open to suggestions regarding particular topics that you'd like to see researched. I can't guarantee to respond to all comments in a timely fashion, but I can assure you that any and all comments will be gratefully received and considered. Moreover, any such information which finds its way into the published material on this site will be fully acknowledged.
Now, down to the main business which will be carried on here! The initial articles to appear on the site focus as usual on a few of the less well-documented model engine marques from the past. I've taken a look at the mega-rare Wilsco 79 diesel from England, the long series of highly original designs from Ira Hassad of the USA and the Atsuta engines from Japan. Hope you enjoy these - many more to come!
So ………. on to the future!! Happy modelling to one and all!
Adrian Duncan
Coquitlam, British Columbia, Canada
April 2014