February 2017
From the Editor - February 1st , 2017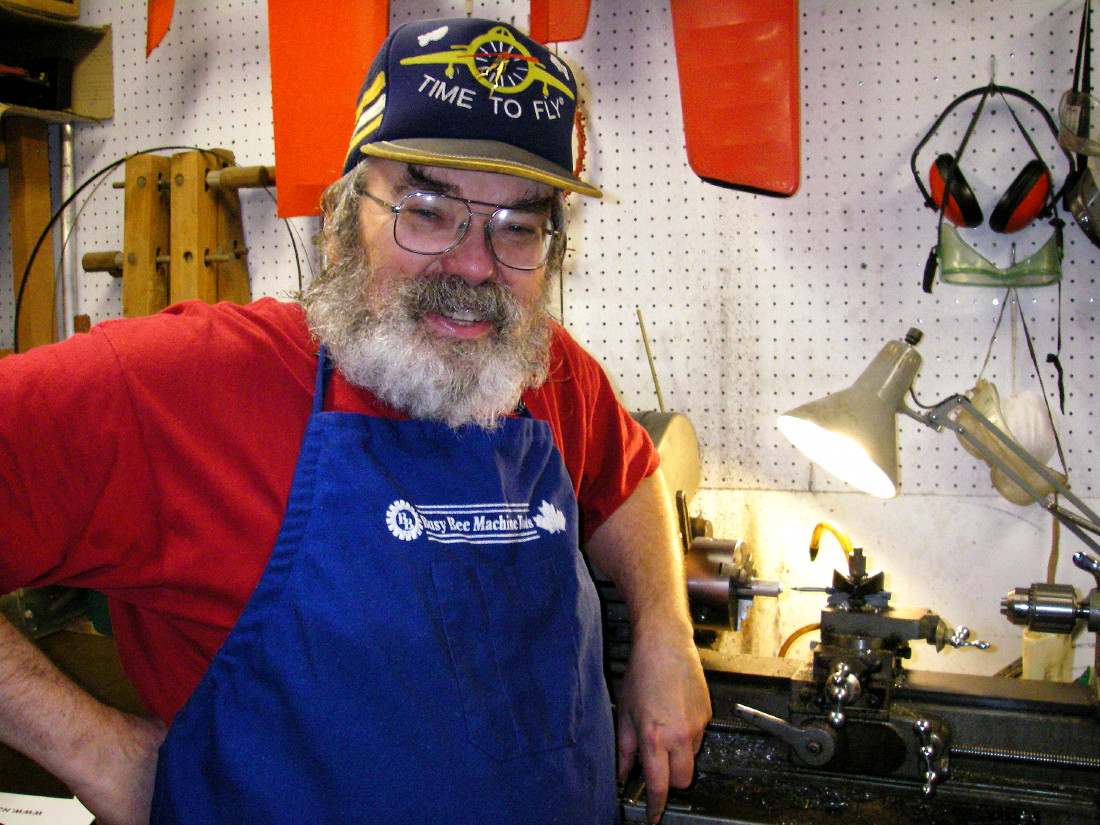 Hello again from Western Canada! So far it's been one hell of a winter, with an unusual amount of snow, the alternative being torrential rain. While the ski hill operators are raking it in, the weather has seriously impeded my engine testing program, since I can only test relatively small low-noise engines here at home. My usual test site was well buried under the white stuff for much of December and January.
I fear that we may have to get used to this. As climate change progresses despite what certain politicians claim to believe, it's inevitable that the extremes will become more extreme in both directions. We just had the hottest summer on record, and now we're experiencing periods of above-average snowfall. Exactly in line with all scientifically-based predictions.
In the politically-unnerving times in which we
live, a sense of humour is a great asset. Thankfully, we seem to have retained a good share of that up here in Canada! The recent snowfall brought out one of the best photographic commentaries on Canada's legendary winters that I've seen in quite a while. I thought that it was well worth sharing - hope you enjoy it as much as I did!
Turning now to the the subject of model engines, this month sees another bonus issue with not one but two feature articles plus the usual mix of news. This being the case, I'd best get down to business!
First, December 2016 set a new high for visitation to this site. There were no fewer than 407,806 hits which translated into 15,416 actual visits during which a total of 84,758 pages were accessed for an increased per-visit average of 5.5 pages per visit. Wow! This puts all previous monthly totals in the shade - must be a few Mills fans out there! Many thanks to all of you for your support. It's that support that keeps me going.
Over the past month, I've had the good fortune to hear from an amazing number of valued contacts from around the world, including Luis Petersen, Jens Geschwendtner, Peter Valicek, Jim Woodside, Paul Rossiter, Maris Dislers, David Burke, Ed Holly, Lou Crane, Miles Patience, Ferenc "Somi" Somogyi, Steve Dyer, Mike Conner, Michael Noakes, Derek Butler, Don Sohn, Peter Rathke, Tim Dannels, Andrew Coholic, Athol Lewin, Vivek Sharma, Rishi Kumar, Mike Grimes and Kurt Håkans. Apologies to anyone whom I may have inadvertently missed in the crowd!
The contact from Luis Petersen highlighted a problem that sadly manifests itself all too frequently in the context of the model engine collectible market - the passing-off of a copy as an original. I've seen a number of CS and Dunham replicas being presented as originals. Now it seems that someone has been offering copies of the famous Bugl team race engines, presenting them as originals and charging accordingly for them. Although they look nice enough to fool an uninformed purchaser, these copies display inferior workmanship to that of the Bugl originals, besides differing in a number of readily-discernable details.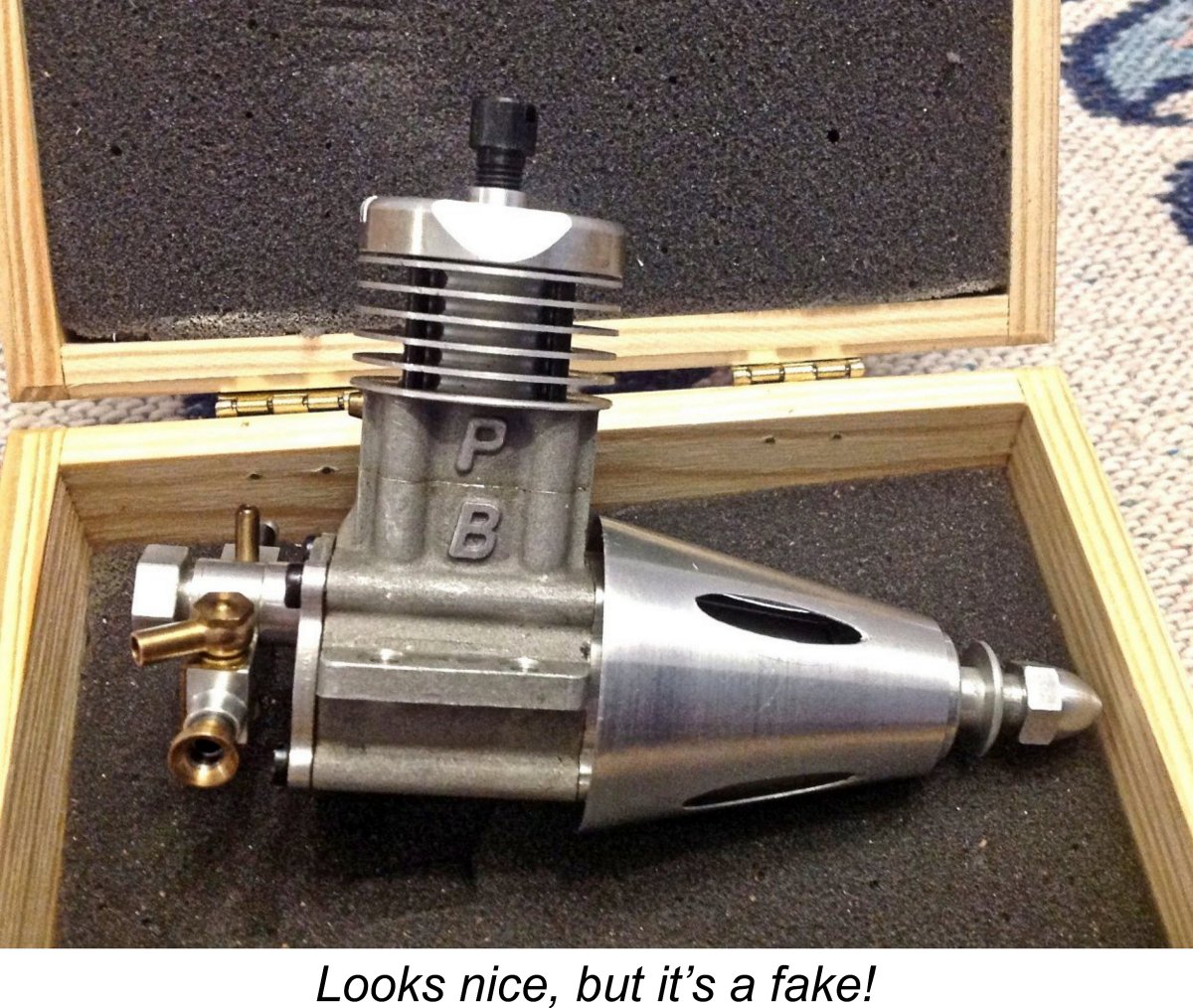 Luis recalls meeting a fellow (who shall remain nameless) at a swap meet years ago who claimed to have inherited the right to manufacture Bugl engines from his father! This is simply untrue - in 1979 Luis's friend and fellow competitor Jens Geschwendtner got together with his brother Hans to purchase the exclusive worldwide manufacturing and naming rights, drawings, tooling, etc., from Paul Bugl's wife Margot following Paul's untimely death. Jens still holds those rights today. In addition, he possesses the complete Bugl production records, hence holding a list of all of the serial numbers etched onto the mounting lugs by Paul Bugl.
Luis suggests that anyone contemplating the purchase of an "original" Bugl engine first authenticate it. He and Jens are willing to do this on the basis of their intimate knowledge of the original engines as well as the production records held by Jens. Anyone wishing to authenticate one of these engines should contact Luis directly.
As my regular readers will know, I have absolutely nothing against replica engines - on the contrary, I firmly believe that they have a very useful role to play in taking the pressure off rare originals and allowing more people to experience a close facsimile of what using an original was like. Where I draw the line is in the presentation of replicas or look-alikes as originals. The result of such irresponsible actions is the over-payment for the engines by unsuspecting buyers as well as the re-writing of history in terms of the engines' quality, design and structural features. This amounts to fraud in my book, and all of us are victims.
On a far more positive note, the contact from Ed Holly of Australia came through the blog site. Ed noted the fact that with the freezing of the late Ron Chernich's wonderful "Model Engine News" (MEN) website, the home model engine construction community had lost one of its main avenues for communication. He made the excellent suggestion that a new discussion thread be started on the blog site to re-open a line of communication between home construction enthusiasts. No sooner suggested than done - the new thread entitled "Home Construction of Model Diesels" is up and running, all ready for the exchange of views and information on this topic to begin! I hope that some of you will use it. Thanks for the suggestion, Ed!
If a specific topic develops within the general subject of home model engine construction, I will establish a separate discussion thread to cover that particular topic. For instance, if a discussion develops which focuses on a specific design or a specific technique as opposed to the subject of home construction in general, I will consider establishing a focused thread on that particular design or technique.
On a personal note, it's not often that I have the pleasure of meeting face to face with one of my overseas readers, but this month provided a welcome exception. My long-time English friend and colleague Miles Patience showed up in my area in mid January 2017 to visit relatives in Richmond, BC, where my own model club's flying field is located. What could be more inevitable than the two of us getting together at the field to run a few engines?!?
Miles had brought with him his own example of the Kemp K4 diesel which is the subject of this month's feature article (see below). Unfortunately, some technical issues arose which prevented us from testing that unit.
However, Miles also brought a really unique engine - a 1.5 cc ETA diesel prototype which was built and evaluated by ETA Instruments in the early 1950's as a potential contender in the 1/2A (1.5 cc) category which was then gaining popularity in Britain. This engine was designed in late 1950 by Ken Bedford's older brother Eric, who played a larger role behind the scenes at ETA than most people realize. It's interesting to note that the engine seems to display a certain degree of stylistic influence from the OK Cub engines from America ..........
ETA Instruments apparently completed a few prototypes, one of which was later submitted to Dennis Allen to assess as a possible subject for licensed larger-scale mass production than ETA were then able to contemplate. However, for reasons which remain unclear the design was not pursued, although Peter Chinn somehow obtained an example much later, publishing a thumbnail retrospective review in the May 1968 issue of "Aeromodeller" magazine. Miles Patience eventually acquired the entire ETA 1.5 project from Eric Bedford's estate, enabling a further nine engines to be completed by others using a mixture of original and replica parts.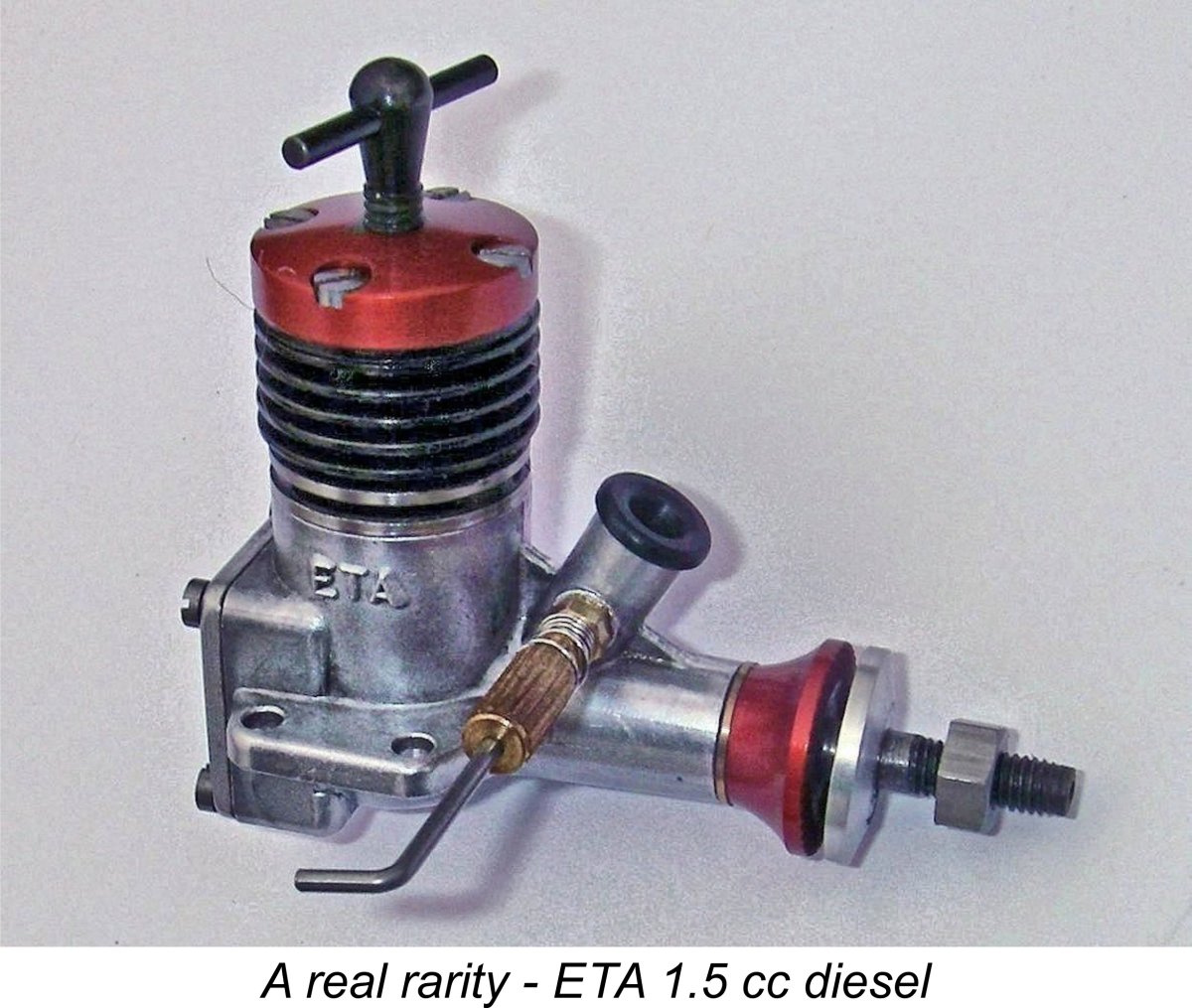 We tested Miles' own example of this engine, finding it to be a good runner having a performance which was well above average for a 1.5 cc diesel of its era. We measured a peak output of around 0.170 BHP @ 13,200 RPM, implying significantly better-than-average torque development for an early 1950's engine of this displacement. However, we also found the engine to be somewhat temperamental to start. Still, an interesting and very well-made unit which showed considerable promise and was well worth experiencing at first hand.
Miles and I also completed tests on several other engines, the results of which will appear in due course both here and in "AeroModeller" magazine. I really enjoyed my all-too brief visit with Miles, and I look forward to more visits of this kind in the future.
The "Wotizit" page has continued to draw a limited amount of attention. Although there have been no new identifications during the past month, I have received several suggestions for engines to be added. However, I was able to identify the engines in question immediately without adding them to the page. At least the corrected email link is obviously working!
The one new addition came from my friend and colleague Peter Valicek, who submitted an interesting diesel of around 3.5 cc - 4.5 cc displacement which has so far defied identification. A number of design features strongly suggest an early post-WW2 Czechoslovakian origin. Hopefully someone out there can put a name to this very impressive unit. Please use the dedicated email link (which is definitely working now!) for this purpose.
As I've indicated previously, I'm currently working on a pair of articles which cover the respective histories of the Sharma engines from Jodhpur, India (which remain available today) and the now-discontinued Aurora model engine range from Calcutta (rendered these days as Kolkata). During the course of my research, I ran across yet another (!!) error in Mike Clanford's well known 1987 book "Pictorial A-Z of Vintage and Classic Model Airplane Engines". The error this time is to be found on page 103, which includes an illustration of a mid-1970's example of the original single ball-race Sharma 2.5 cc diesel. However, this illustration is wrongly captioned as an Aurora K350 3.5 cc diesel along with the comment "So that's where all the old FROG tooling went!".
This image (reproduced at the right) may set the standard for Clanford's very enjoyable but woefully under-researched book - it embodies no fewer than three errors in a single entry! Firstly, the engine is not an Aurora K-series unit - rather, it's unquestionably a Sharma product from the mid 1970's. Secondly, its displacement is 2.5 cc, not 3.5 cc - Sharma never made a 3.5 cc version of this design. And thirdly, neither Sharma nor Aurora ever purchased any dies or tooling from the owners of the FROG marque - apart from the Mills production equipment acquired by Aurora in 1965, all their dies and tooling were created in-house from scratch, although they both freely acknowledge the FROG influence which is readily apparent in their respective ball-race designs.
The identification error most likely arises from the evident fact that Clanford was not aware of the Sharma engines at his time of publication in 1987 - there is no entry for the Sharma marque. Clanford was probably aware of the illustrated engine's Indian origin and simply assumed that it "must" be an Aurora given his lack of knowledge of any Indian alternative. The incorrect displacement merely reflects the fact that he didn't measure the engine to check (or had no opportunity to do so), while the comment about the FROG tooling was pure unsubstantiated (and incorrect) conjecture on his part. Owners of the book may wish to correct their copies ........
It's errors of this nature (as well as numerous dating inaccuracies) that require one to treat any information extracted from Clanford's book with great caution. As I have said many times, the book is a very enjoyable browse, for which Mike Clanford richly deserves our thanks - we're unquestionably far better off with it than without it. However, it cannot be credibly cited as an authoritative reference. Readers of my previous articles will have come across many instances in which I've had to correct Clanford's information, particularly his cited dates.
Mentioning the K-series engines from Calcutta brings me to the subject of one of this month's two lead articles. The article in question deals with a member of the "other" K series from England. There has been some confusion in the past between the two K-series ranges despite the fact that they originated in different countries and at different times. In reality, the Indian and English K-series engines have no mutual connection whatsoever - they simply share a common identification letter derived in both cases from the identical family initials of their respective manufacturers' founders.
This month's first feature article is an in-depth analysis and test of another of the almost-forgotten British model diesel "lumps" from the pioneering era - the elusive 4.4 cc Kemp K4 sideport diesel of early 1947. This was the first model engine manufactured in series by Kemp Engines of Gravesend in Kent. Like the other engines from this manufacturer, it bears the company's "K in a circle" trade-mark.
I was glad to take advantage of this opportunity to record something of the life and work of one of the frequently-overlooked pioneers of British model diesel development - Harold Kemp. A good deal of information relating to Harold Kemp and his engines has already appeared on the late Ron Chernich's now-frozen "Model Engine News" (MEN) website, much of it researched and written by myself. I thought that it was about time that an article featuring Kemp's life and work should appear on the present site. The K4
presented itself as a very suitable vehicle for re-telling the Kemp story given the fact that as far as I'm aware the engine has never previously been the subject of a published test. As you'll see, the results came as something of a surprise!
As noted earlier, this issue features an extra article as a bonus! My mate Maris Dislers has been re-evaluating a rare and almost forgotten classic from his native Australia - Gordon Burford's Glo Chief 45 of 1962. He was good enough to write up his findings and send the report along to me together with a set of his usual excellent images. I hope that you enjoy the resulting article, which embodies an interesting discussion of the effects of compromise upon model engine design and performance. My very sincere thanks to Maris!
For next month I plan to present the first of two articles on the subject of Indian model engines. I'll begin with the history of the Sharma range from Jodhpur in the state of Rajasthan in western India. Thanks to some splendid cooperation from Mr. Vivek Sharma, I'm in a position to set out the complete story to date of this fine model engine range which
originated well over 40 years ago and remains available today. I think you'll find it quite interesting!
In a later edition, I'll present the story of the Aurora model engines from Calcutta (now Kolkata) in West Bengal, best known for their Mills reproductions. Sadly the Aurora engines are no longer in production, but their story is an equally interesting and wide-ranging one, going all the way back to 1955 with a strong British connection. I'm deeply grateful to Mr. Rishi Kumar for his generous assistance in enabling me to set out this story in full and authoritative detail.
I'd also like to remind readers that Aurora is continuing to offer the opportunity to purchase the name rights to the Mills engines along with the original Mills drawings, dies and production equipment. The Kumar family would really like to see these assets returned to the UK from whence they came. If anyone's interested, let me know and I'll put you in touch.
I think that's it for now. I'll be back to you with another issue on March 1st, 2017. Meanwhile, happy flicking, flying and finding...............
Cheers,
Adrian Duncan
Coquitlam, British Columbia, Canada
___________________________________
Note regarding material to be found on this site - unless specifically otherwise noted, all images and text which appear on this site are my own work, and I hereby assert my right to be recognized as the originator of this material. For the record, this material is made freely available to all upon two firm conditions:
No commercial use of any kind is to be made of any of the images or text posted on this site without my express written consent.
No use of

any

kind, commercial or otherwise, is to be made of any material published in any form on this site without full and open acknowledgement of the source.
Adrian C. Duncan
Coquitlam, BC, Canada