Mills replicas
The Mills Replicas - an Overview
By David Owen and Adrian Duncan
This article had its genesis in a post which the late David Owen of Woolongong, Australia submitted to the widely-read R/C Universe forum way back in 2004. As fellow Mills enthusiasts, David and I subsequently worked together on research into a number of facets of the Mills model engine saga.
Prior to David's untimely death in March 2016, we had agreed that there would be value in fleshing out the Mills replica story which David had briefly sketched in 2004 by making a more detailed illustrated version freely available to all interested readers. Sadly, David left us before this plan could be implemented beyond the "rough note" stage. What follows is my attempt to bring this project to its conclusion.
Wherever possible, I have incorporated David's own words into the article, adding my own comments where clarification seemed to be in order or where new information had become available. Consequently, this article is every bit as much David's work as mine. Sadly, it will also be our final such collaboration.
We'll begin by setting the stage ……………
Background
The original Mills diesels were made in Woking, England during the period 1946-1964. The .75 cc and 1.3 cc models were both sideport designs, while the relatively unsuccessful and hence short-lived 2.4 cc model featured disc rear rotary valve (RRV) induction. A full account of the production history of these engines may be found elsewhere on this web-site.
Right from the initial appearance of the Mills 1.3 Mk. 1 Series 1 in mid 1946, the Mills engines proved immensely popular among sport-fliers both in Britain and elsewhere, ensuring them a lasting place in the affections of many aeromodellers. The fact that they appeared right at the beginning of the diesel era in Britain with their combination of high quality of construction together with outstanding handling and running qualities made them perfect ambassadors for the then-new type of model engine. They doubtless contributed greatly to the rapid acceptance of diesels among British modellers, also spreading the word to many other parts of the world.
Like many other early diesels, the design of the Mills sideport models was clearly influenced by that of the Swiss Dyno of 1941, although it also appears to have owed something to the French Allouchery engines. Three sizes were produced in series - 0.75 cc, 1.3 cc and 2.4 cc. The 0.75 and 1.3 models were comprehensively revised after a few years, with a number of further detail changes being made throughout the years of production. The 2.4 departed from the piston-ported layout of the smaller engines by using a rear rotary disc valve. It was not a big seller, consequently being dropped after only a few years in limited production.
The original Mills 1.3 engines were designed by Arnold L. Hardinge, who held patents of somewhat questionable technical validity on the porting system employed. The later .75 and 2.4 models as well as the comprehensively revised 1.3 offering of 1948 were principally designed by Trevor Wooderson, who also designed a 0.2 cc Mills which did not proceed past the prototype stage. There was also at least one prototype of a planned 5 cc MIlls design, but this model too never materialized in production form.
Following the cessation of original Mills production at Woking in 1964, the Mills engines served as sources of design inspiration for many model engineers involved in building their own model diesels. As a result, quite a few one-off replicas and near-replicas remain in circulation and in use today. A number of such engines were produced by various home-builders in the USA who utilized the crankcase castings produced by the late Roger Schroeder.
However, for the purposes of this article we are principally concerned with the commercial replication of the engines. As we shall see, the Mills designs were revived or copied by an impressive number of commercial producers both in England and overseas, at widely varying scales of production. Perhaps somewhat surprisingly, I'm not aware of any commercial Mills replication projects originating in the United States, making America a noteworthy absentee nation in what follows.
The publication of this article provides an opportunity to once and for all clarify an issue which has been the subject of some uninformed debate in connection with the Mills replicas. This is the matter of ownership of the Mills name and associated assets. Over the years there has been some discussion regarding the question of whether the Mills replicas to be listed below were "authorized" or technically illegal!
Already I hear a deafening chorus of "Who the hell cares?!?" arising from among my readership! For the record, I quite agree with you - the engines are what they are, and their legitimacy as replicas or look-alikes is unaffected by any such considerations. However, the issue of ownership of the Mills name and associated assets as well as the fall-out which has resulted from that issue makes a far more interesting story than I was expecting when I began to research this specific topic (on my own, since David had already departed by that time). I found myself becoming quite absorbed in the tale as it unfolded. "Mills the Soap Opera ......"!
Accordingly, for completeness I'll continue by taking time to summarize this issue. If you're interested in this question, by all means read the following section - I think you'll find it unexpectedy interesting. Alternatively, if you really couldn't care less either way (and some won't!), please proceed directly to the subsequent section of the article! As always, it's your choice ………….
The Ownership Debate
In order to understand this issue, which has been the subject of some poorly-informed debate, it's necessary to unravel the recorded ownership history of the Mills model engine marque. An opportunity to do just that arose very recently (in December 2016) when I was put in touch with the son of the Aurora company founder and present owner of the company, Mr. Rishi Kumar. My very sincere thanks are due to Rishi for his unstinting help in clarifying this issue for us. All dated documents cited in what follows remain on file today in Aurora's possession.
Until 1960, all rights to the Mills marque were of course held by Mills Brothers (Model Engineers) Ltd. That company was acquired in 1960 by Ayling Industries, an organization having a far broader scope in terms of their business interests. Naturally, Ayling became the owners of the Mills physical and intellectual property at that point. Mills Brothers (Model Engineers) Ltd. remained in operation as an Ayling subsidiary, continuing to hold all the Mills rights on behalf of the parent company. Production of the Mills engines at Woking continued as before, albeit now as an Ayling subsidiary operation.
However, it's readily apparent from later events that the purchase of Mills Brothers by Ayling was largely driven by a desire to re-direct the former Mills Bros. facilities at Woking into the more lucrative full-sized aviation sub-contract market which had been exploited earlier by the management of their new Mills Brothers subsidiary. For more information on that little-known aspect of Mills Brothers activities, readers are referred to my separate article on Mills production history.
This being the case, it's clear that Ayling had no real interest in continuing their subsidiary company's involvement with model engine production. On the contrary, they were very much open to the idea of selling off their model engine interests to some other party. This situation had apparently become well known in the trade as 1963 rolled around. The writing was definitely on the wall ...............
It was at this point that an Indian businessman and keen model enthusiast, Mr. Suresh Kumar (1922-2010) of Calcutta (as it was then - now Kolkata), entered the picture. Mr. Kumar was already involved in the manufacture of flying model kits in India, having previously secured kit manufacturing rights to certain published Model Aeronautical Press (MAP) designs. In March/April 1963, Mr. Kumar visited England for the purpose of meeting with Henry J. Nicholls of Mercury Models fame to arrange for the expansion of his kit manufacturing business to include the range of Mercury kits.
Either before or during his 1963 visit to London, Mr. Kumar became aware of Ayling's willingness to sell the Mills model engine assets to an interested buyer. In order to evaluate the possibility of Aurora acquiring those assets, a meeting was arranged at Woking during Mr. Kumar's London visit. The initial negotiations which took place at that meeting were confirmed in a letter from Mills Brothers to Mr. Kumar dated May 9th, 1963.
But it didn't stop there! While in London, Mr. Kumar was introduced to Henry J. Nicholls' long-time associate Dennis Allen of Allen-Mercury and Merco fame. This meeting eventually resulted in the granting to Aurora of exclusive Indian marketing rights for the Allen-Mercury (A-M) engines. In addition, Aurora was successful in securing similar rights for certain models in the FROG range. These latter rights were granted by Alan Hales of the A. A. Hales organization which then owned the FROG range.
After Mr. Kumar's return to India (with permission secured from Henry J. Nicholls to manufacture the Mercury kit designs in India), negotiations with Mills Brothers continued throughout the balance of 1963 and the whole of 1964. In the interim, production of the original Mills engines by Mills Brothers continued until mid 1964, when Ayling announced that all Mills model engine manufacture at Woking would be discontinued. Owners of the many thousands of original Mills engines which remained in service were not abandoned – original spare parts for the engines continued to be available through a retail outlet called Woking Models.
The negotiations between Mr. Kumar and Mills Brothers were finally concluded in early 1965. A revenue receipt dated April 24th, 1965 remains in Aurora's files. This receipt confirms the completion of the Mills purchase, including the transfer of title to the Mills name, production tooling, worldwide manufacturing rights, original master drawings, die-casting equipment and residual component stocks. This information sets the record straight regarding the full scope of the Mills assets which Mr. Kumar acquired.
The die-casting equipment had been in the hands of a firm called Stone-Wallwork (Charlton) Ltd. of Woolwich Road, Woolwich, London SE7 which had been supplying the crankcases for the original Mills engines. In a letter dated April 24th, 1965, Stone-Wallwork confirmed that they had forwarded this equipment to Mr. Kumar in Calcutta.
Finally in a follow-up letter dated April 30th, 1965, Mills Brothers formally confirmed the complete cessation of all Mills engine-related activities at Woking. This left the future of the Mills range entirely in Mr. Kumar's hands. He established a new machine shop at Shalimar on Foreshore Road in Calcutta, re-registered his company on February 10th, 1966 as the Aurora Model Manufacturing Co. Pvt. Ltd. and commenced the production of Mills engines soon thereafter using the original production equipment obtained from England. As stated earlier, I'm immensely indebted to Mr. Rishi Kumar for providing most of the above details.
Apart from manufacturing their Mills models, Aurora was also active at this time in marketing a number of the Allen-Mercury (A-M) and FROG engines to which Indian distribution rights had been secured as noted earlier. They did so through a chain of India's Hobby Centre stores which were established at various locations throughout India. It was not until the early to mid 1970's that the company commenced the development of its own crankshaft front rotary valve (FRV) designs in 1.5 cc, 2 cc, 2.5 cc and 3.5 cc displacements. By that time, supplies of the aging FROG and A-M models had doubtless become problematic in any event.
The new FRV models drew to a significant degree from the designs of the earlier A-M and FROG models which had been marketed by Aurora. However, the company incorporated a number of their own design changes which they felt would improve the engines. All dies and tooling for these products were manufactured in India by Aurora - they never purchased any such equipment from either Dennis Allen or Alan Hales.
The engines all carried the K designation in recognition of Mr. Kumar's family name. This has led to some confusion between these engines and the far earlier models produced by the K Model Engineering Co. of Gravesend in Kent, England. The Aurora Mills models were designated as the K.75 and K1.3, while the later FRV designs were designated the K150, K200, K250 and K350. The latter models ran very well (I have used several of them myself) but acquired an anecdotal reputation for breaking crankshafts. I can only comment that I have yet to break one myself ........
In 1969, Mr. Kumar also acquired the name, tooling and manufacturing rights to the Taplin Twin, a number of which were subsequently produced by Aurora. Some of these used certain original components which were acquired in the deal. As with the other Aurora products at this time, quality of these twins was somewhat variable, but a good one was very good.
For the purposes of the present article, our focus is naturally on the involvement of the Aurora company with the manufacture of the Mills reproductions for which they are best remembered today. The tagible outcome of the transaction between Aurora and Mills Brothers was the appearance of the Kumar-manufactured Aurora K-series Mills engines in the mid 1960's. These units were initially marketed within India, but efforts were soon made to promote their export to other countries.
It's at this point that the ownership debate really gets started. Setting aside any hair-splitting distinctions between the terms "replica" and "reproduction" (please!), these Aurora-made engines have been characterized by some (very much including Aurora) as the only authorized and hence "true" Mills reproductions. In Aurora's view, they are Mills engines despite having been manufactured by others. This argument is based on the fact that they alone were manufactured using the legally-acquired original Mills designs, dies, tooling, etc. and they alone legitimately bore the Mills name. More of the engines themselves below in due course.
A review of the documentation cited above, all of which remains on file and can be produced as necessary, surely confirms that Mr. Kumar did indeed aquire the full worldwide rights to the use of the Mills name as well as the designs themselves. Moreover, these rights were assigned exclusively to Mr. Kumar.
The force of this position is confirmed by Aurora's later success in pursuing certain parties whom they felt to be infringing upon their rights. Prior to his untimely death in 2010, Dave Boddington of England had arranged with the CS company of Shanghai, China for the production of a series of "Boddo Mills" replicas, of which more below. The appearance of these engines on the market triggered an immediate response from Aurora, who pursued Dave for infringement of their rights to the Mills name and designs. According to Dave's own account, the eventual settlement of this case allowed him to sell off existing stocks but prevented him from ordering any more from CS.
Rishi Kumar has confirmed that in 2008, after the commencement of the above legal action, Aurora had discussions with Dave Boddington in which they offered Dave the opportunity to acquire the Mills assets outright. This would have left Dave free to continue to have CS manufacture the Boddo Mills engines and to market those engines worldwide. However, Dave had just been diagnosed with the cancer that was sadly to claim him in 2010, hence understandably declining this offer.
As we shall see below, CS did not refrain from manufacturing their Mills replicas on their own account even after the settlement of the Dave Boddington case. Indeed, they had been doing so for some time, designating the engines by the name "Miller", which of course fooled nobody, including Aurora! This had the effect of changing the target for Aurora – having disposed of the "Boddo Mills" threat, they launched a direct legal pursuit of CS for infringement. The only observable result of this was CS dropping any use of the Mills (or Miller) name in connection with the Mills-based NAVO series of engines which they continued to offer on-line for direct sale right up to their leaving the model engine business in late 2015. Again, more of that series below.
Rishi Kumar has confirmed that the Mills assets (which are no longer being utilized by Aurora) remain on offer to interested parties at the present time of writing (December 2016). He would particularly like to see those assets returned to their native England, which is where he feels they belong. If any reader is interested in pursuing this possibility, please let me know and I'll put you in touch ..............
Having established the undoubted legitimacy of Aurora's claim to ownership of the Mills name and designs, we can now return to the early 1970's to take up our main thread once more. It has been argued that since the Australian Doonside Mills project of 1972/73 (of which more below) undeniably utilized both the Mills name and the basic Mills .75 design, doing so without authorization from Mr. Kumar, they were in fact unauthorized or illicit replicas.
It's certainly true that, unlike the earlier case of Mr. Kumar himself, there's no record of the originators of the Doonside project having sought out the owners of the Mills intellectual and physical property (Aurora) to obtain their prior authorization for the use of the basic design and the Mills name. They evidently just went ahead using tooling and dies of their own creation. Given the success of the later actions brought by Aurora against Dave Boddington and CS for what appear to have been identical infractions, we are forced to wonder why a similar action was not brought against the instigators of the Doonside project, namely Ivor F and his associate Gordon Burford.
Some have argued that Ivor and Gordon would have been able to defend such an action by pointing out that the design of the Doonside engines exhibited a sufficient number of changes from the Mills originals that they could
be characterized as "look-alikes" rather than true replicas. However, that would have been a paper-thin defence given the obvious (and indeed intentional) close design similarity between the original and Doonside Mills engines. Moreover, it would be no defence at all against the charge that the Mills name was openly used in connection with the Doonside engines. You'd think that this alone would have been enough to trigger a case ……. there seems to be a mystery here!
Another high-profile company which made Mills replicas without seemingly being challenged was Irvine Engines of London, England. They manufactured these replicas for some years during the 1990's, again without drawing any legal attention from Aurora. This has always lent some credibility to the assertion which has been made (admittedly without documentary supporting evidence) that Irvine did in fact obtain a license from Aurora to produce their replicas. It's otherwise difficult to explain how they could have avoided the same fate as Dave Boddington and CS. More of the Irvine replicas below in due course.
As far as the other Mills replicas to be listed in the following section of this article are concerned, few of them slavishly followed the original Mills designs. Moreover, most were produced in very small numbers – probably too small to trigger any real concern for Aurora. Indeed, they were targeted at a completely different market. In addition, all of them were produced using dies and tooling of their makers' own creation. However, the Mills name inevitably attached itself to them.
Despite this, there is no record of any of these makers being pursued by Aurora for infringement. I have always assumed that the only reason for CS and Dave Boddington being singled out for this honour was the fact that they were marketing their products in quantity using the Mills name in direct competition with Aurora and at comparable price levels.
Happily, thanks to my recent communications with Rishi Kumar, these matters have now been completely resolved. Rishi has confirmed that Aurora was easily able to follow the emergence of the various Mills replicas thanks to the wide range of the modelling media and (later) the Internet. Consequently they became aware of the various offerings more or less as soon as they appeared. The decision not to pursue the Doonside principals was based on the fact that theirs was a limited series based (at least initially) on private subscriptions rather than representing long-term retail competitor for Aurora - they weren't going to be around for the long haul in the retail market. Most of the other replicators (Attachport, Derek Giles, Dave Banks, etc.) operated at production levels and time-scales which offered no threat to Aurora's commercial interests. Hence they too were left unchallenged.
As I had already suspected, the reason for Aurora pursuing Dave Boddington and CS was the fact that they were producing and selling their Mills replicas in quantity on the retail market at prices which did indeed make them significant competition for Aurora. The decision to pursue them with the goal of shutting them down was thus commercially based. The fact that CS continued to sell their engines under the NAVO banner right up to the time of their departure from the model engine field in late 2015 (two years after Aurora themselves ceased production) indicates that this action was only partially successful.
As far as Irvine Engines was concerned, Rishi Kumar has confirmed that Ron Irvine was given verbal permission to manufacture the Irvine Mills replicas in exchange for his agreement to appoint Aurora as the Indian distributor for Irvine Engines. This verbal deal involved Irvine engines being supplied to Aurora at a discount price for resale through their various hobby centre outlets. Apparently Aurora sold quite a few engines under this agreement. Both parties thus benefited.
We can now wrap up this discussion by saying that there's no doubt at all that Aurora has owned the full exclusive worldwide rights to use of the Mills name and designs since April 1965 and still owned these assets as of December 2016. it's also true to say that the only post-Woking Mills engines to be produced using the original Mills dies, fixtures and tooling acquired from Mills Brothers and to utilize the Mills name and designs legitimately were those produced by the Kumar family under the Aurora label.
All of this having been said, I'd like to respectfully suggest that the issue has now passed into the "moot" category – who really cares any more given the declining state of the worldwide model engine market?!? It was all a very long time ago, and none of the engines concerned remain in production today...............
For me, the important thing is that a number of competent individuals having the resources to turn out these units have together kept the Mills engines alive for all practical purposes, in some cases even continuing their development. In my personal view, the strict legalities of these efforts are now beside the point – no-one's been getting rich! What's important is that without their efforts, the Mills engines would now be well down the road towards fading away into the night and fog of private collections, or alternatively being run into the ground (in some cases literally!).
Having (I hope!) disposed of the above issue once and for all, it's time to move onwards into a discussion of the various Mills replicas and "look-alikes" which have seen commercial production since Mills Brothers themselves left the field. What follows is an overview of these commercial productions. For convenience, we've grouped the various producers by the countries in which they operated.
England
Since the Mills engines originated in England, it seems appropriate that we begin with that country. Another reason for doing so lies in the fact that by far the largest number of commercial Mills replica and look-alike productions have originated there.
During the 1990's, Irvine Engines of London built Mills replicas to their usual very high standards in both .75 and 1.3 cc sizes. As stated earlier, this venture grew out of a verbal agreement between Ron Irvine and Aurora, the terms being that Irvine was given free rein to manufacture their Mills replicas without challenge from Aurora, while Aurora was designated as Irvine's Indian distributor and was supplied with engines at a discount price. Evidently both parties benefited from this arrangement.
The Irvine .75 model was made in two distinct series – Mk. 1 and Mk. 2. The 1.3 and the Mk. 2 version of the .75 were re-designed to incorporate a single ball-race located at the rear of the crankshaft, thus departing significantly from the original Mills designs. All were superbly made.
Production by Irvine ceased in the late 1990s, following the rationalisation of the company's engine range. The Mills designs were probably more expensive to produce than Irvine's larger glows, and although they could be sold at a premium price, the Irvine bean-counters evidently won the day!
The Mk. 1 version of the Irvine Mills .75 was closely styled along the lines of the later Mills P.75 model, including the use of a blackened cast alloy crankcase incorporating a bronze-bushed main bearing. By contrast, the Mk. 2 single ball-race version of the engine was housed in a case which was machined from solid alloy and was inspired by the original Mk. 1 Mills .75, which looks like a reduced scale version of the Mills 1.3 Mk. 2. Like that model, its cylinder was attached to the crankcase by four machine screws.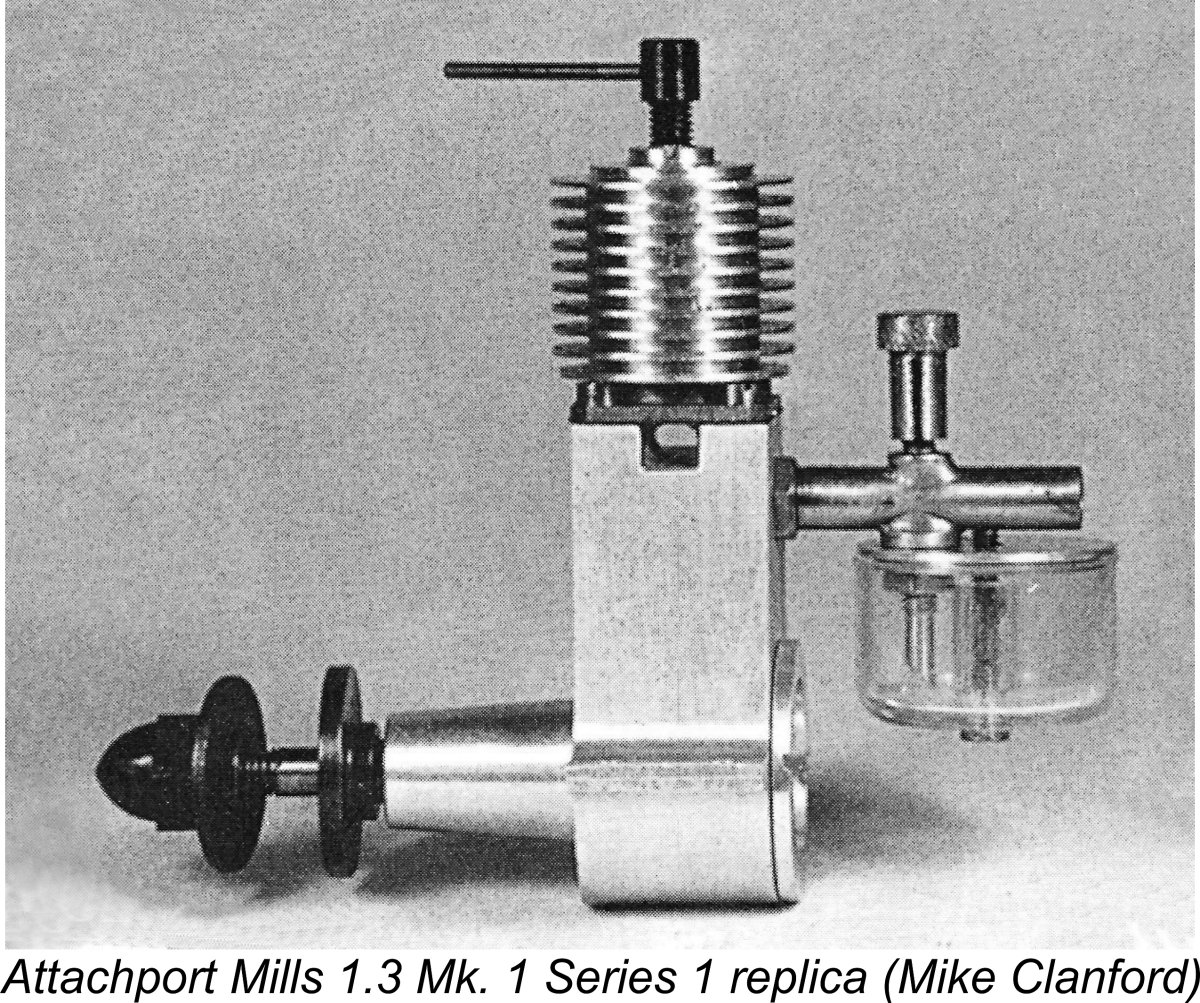 As one might expect, the Mk. 2 Irvine .75 replica ran slightly more strongly than the first version. The second version is far less commonly encountered than the first version. Interestingly, it is possible to put the internals of the first version into the second version's case.
Attachport Ltd. of Leicester built a small number of well-made 1.3 cc engines in around 1983. These were faithful replicas of the early Mk. 1 Series 1 Mills 1.3 models. They are highly prized collectibles today.
Over a period of years, the noted engine builder Derek Giles produced small numbers of beautiful Mills replica and look-alike engines in a range of displacements from 0.2 to 5.0 cc. These included replicas based upon the very rare Anniversary Model of the Mills 1.3 with its twin exhaust stacks. That model is covered in the separate article on Mills production history which may be found elsewhere on this web-site.
Between 1980 and 1990, the highly skilled watchmaker Les Saxby made a small number (around 80 examples) of an exquisitely-crafted 0.13 cc (.008 cuin.) Mini-Mills which became known as the "Saxby Gnat". These jewel-like little engines were based upon the design of the Mk. 1 Series 1 variant of the Mills 1.3 at one-tenth of the displacement! Apart from being superbly made, they run very well indeed on their custom laminated wood props, consequently being much sought after today by collectors.
In January 1977 a new Mills look-alike called the Hobbs .75 made its initial appearance on the market. Designed by Michael Hobbs, the engine was produced by a company called Tracel Ltd. The Hobbs .75 could by no means be characterized as a true Mills replica, since its appearance was inspired by that of the original Mills 1.3 Mk. 1 model rather than by any of the original
Mills .75 offerings. However, it was an unmistakeable look-alike, hence being well worth including in this summary.
Oddly enough, Tracel Ltd. elected to withdraw from the model engine manufacturing field after only a few months. This decision was taken in spite of the fact that the order book was full at the time. Moreover, Michael Hobbs was working on a projected 1.3 cc version of the engine, which might well have been far more of a true replica than the .75 cc version.
The Hobbs .75 was briefly revived in 1995 by a company called Cambridge Precision Instruments Ltd. which had been established by Michael Hobbs' son Richard in partnership with Nigel Rata. This company produced 50 examples of the standard Hobbs .75 and 25 examples of a limited edition Special model having a blue-anodized crankcase with other alloy parts being anodized in pale gold.
Finally, the very talented engine builder Tom Crompton made a small number of Mills replicas. His products included a nice-looking 1.5 cc twin-cylinder model based upon a pair of Mills .75 piston/cylinder assemblies. It was distinguished by its red-painted crankcase. This unit appears to have served as the inspiration for the similar model developed by the CS company of Shanghai, China in later years. More of the CS engines below in their place.
Perhaps somewhat strangely, one English company which specialized in the production of replica engines but which did not manufacture any Mills replicas was Dunham Engineering, best known for their Orwick and Elfin replicas. Odd - we might have expected to see a Mills replica from that source. Presumably they had enough to do keeping up with their established models. They may also have seen the Mills replica market as being somewhat over-subscribed.
India
We visit India next because, as we have already seen, it was to that country that the mantle of the original Mills production was formally passed during 1965.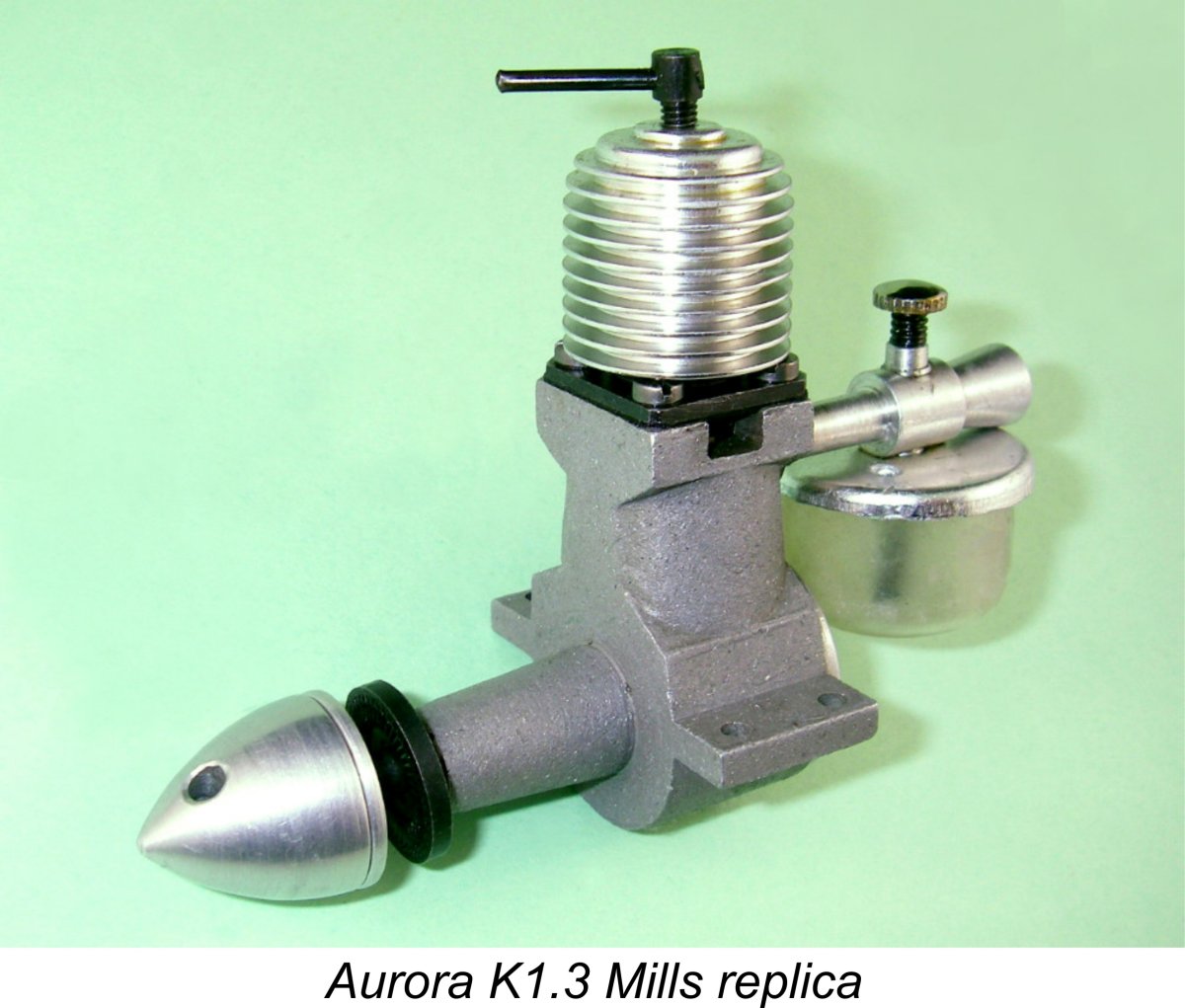 We've noted that after acquiring the Mills name, designs, dies and original tooling from the Ayling subsidiary Mills Brothers, the Calcutta-based Aurora Model Manufacturing Co. Pvt. Ltd. (Mr. Suresh Kumar) resumed production of Mills .75 and 1.3 diesels using the original Mills Brothers production equipment. In addition, the company maintained its model kit manufacturing activities, also under the Aurora name, as it still does today (2017).
Aurora's Mills models were designated as the K.75 and K1.3 models. These were initially marketed in India, but later penetrated the worldwide market under the Aurora trade name. Beginning in the mid 1980's, the company subsequently offered larger 1.0 cc and 1.5 cc versions as well as a few examples of a 3.5 cc version. Replicas of both the 2.4 and the still-born 5 cc Mills prototype were also produced in very limited numbers - so far, the only commercial replicas of those models to appear. In fact, Rishi Kumar informs me that Aurora also made a 6 cc Mills model, although very few of these were manufactured.
As noted earlier, there has been much debate regarding whether these engines should be referred to as replicas or reproductions. There's no question that the K.75 and K1.3 engines bear the distinction of being the only post-Woking Mills models to have been produced using the original Mills dies, tooling and fixtures. The Aurora company naturally took the view that the introduction of these engines represented the resumption of production of the original Mills engines by a different maker using the same equipment. As such, the company strongly advocated the designation of the engines as reproductions rather than replicas.

Setting that question to one side, the engines manufactured by Aurora prior to 1996 are readily distinguishable from the originals due to their natural finish cast aluminium alloy crankcases as opposed to the chemically blackened magnesium alloy cases of the originals. They also have a somewhat rougher external appearance. In 1996 Aurora began to apply a black paint finish to their crankcases, which gave the engines a far more "authenic" appearance.
The defining characteristic of these Indian-made engines was the fact that they were cheap to buy when compared with the prices even then being charged for original Woking-made examples. Quality was highly variable, especially with the first production series which acquired the somewhat derisory handle of "Curry Mills"! Much of the criticism was directed at the mild steel crankshafts, which were readily bent in a crash.
Mr. Kumar absorbed some criticism for this, which I personally consider to be quite undeserved because he was a genuine enthusiast who undoubtedly did his very best to deal with the various issues about which people complained. As a result of his efforts, the later engines were far better made, including the use of superior materials for the crankshafts and conrods. In particular, piston/cylinder fits were generally excellent throughout. As Rishi Kumar so eloquently puts it, the employees responsible for those fits had "golden hands"!
It's worth mentioning in passing that Mr. Suresh Kumar is held in great respect in India as one of the most important figures in promoting Indian aeromodelling, along with fellow Indian model engine and kit manufacturer Anand Swaroop Sharma of Jodhpur. Mr. Kumar's personal
friendship with Henry J. Nicholls, Dennis Allen, Alan Hales and a number of other prominent British aeromodelling figures was highly instrumental in his success in establishing the production of replica Mills and Taplin Twin engines in India. He relied heavily upon feedback from his British friends in improving the quality of the Aurora engines. As an example, Dennis Allen was twice a guest at the Calcutta factory, where he was able to offer many helpful suggestions for improvements.

The main Achilles heel of the Aurora engines was the tendency of their unhardened crankshafts to bend in a crash. However, if you could keep them out of the ground they performed (and still perform!) very well for the most part, particularly if "fettled" by a knowledgeable owner before being run. Consequently, they were well-liked by many users, serving as a much-appreciated and quite effective substitute for the real thing if a genuine Mills was not available. My own "fettled" examples start and run very well indeed - at least on par with the Mills originals. I've been quite happy with them.
Mr. Rishi Kumar, son of the company founder and present owner of Aurora, has confirmed that the company continued to make batches of the Mills replicas up to mid 2013. However, many of the long-time Aurora employees had retired by that time, most importantly those with the "golden hands". All model engine production finally ceased in June 2013, due primarily to an inability to replace the lost expertise which the retired employees had collectively possessed. The Foreshore Road premises at Shalimar in what is now central Calcutta had already been abandoned in 2003 as being well in excess of the company's requirements by that time. Those premises remain intact today (2017) but have been converted into a steel "godown" (warehouse) with Rishi Kumar's uncle in charge.
Company records confirm that over the years Aurora sold some 33,000 examples of their Mills models in total on the export market, In addition, some 1,500 units were sold in India. The total of almost 35,000 such engines manufactured represents nearly 40% of the total combined output of original Mills engines produced over the years at Woking.
As of late 2009 an individual named Paul Nilanjana of Calcutta made a few appearances on the Internet trying to generate some interest in what he described as his own brand of PICO model diesel engines. These included a Mills .75 replica as well as a similar 1 cc model. Rishi Kumar has confirmed that Paul Nilanjana was an acquaintance of his who had been buying Aurora engines in lots, repackaging them and selling them under his own name, most notably in New Zealand. Aurora took action to put an end to this, after which no more was heard of the PICO venture.
I'm advised by Mr. Vivek Sharma of Sharma Model Aero Engines & Propellers of Jodhpur, India that his company recently (in 2016) purchased some machine tools (mainly honing and grinding equipment) from Aurora, although the Mills name, drawings, dies and producton tooling remain in the possession of current Aurora owner Rishi Kumar. As mentioned earlier, Mr. Kumar retains the ambition of seeing the Mills assets repatriated to their native England.
Despite the fact that it's now been over three years (in December 2016) since any model engines emerged from the Calcutta factory, a recent contact with Ed Carlson of Carlson Engine Imports in Phoenix, Arizona revealed that he still has a few New-in-Box examples available. Anyone wishng to acquire a new example of one of these engines is advised to contact Ed without delay at 602–863–1684.
Russia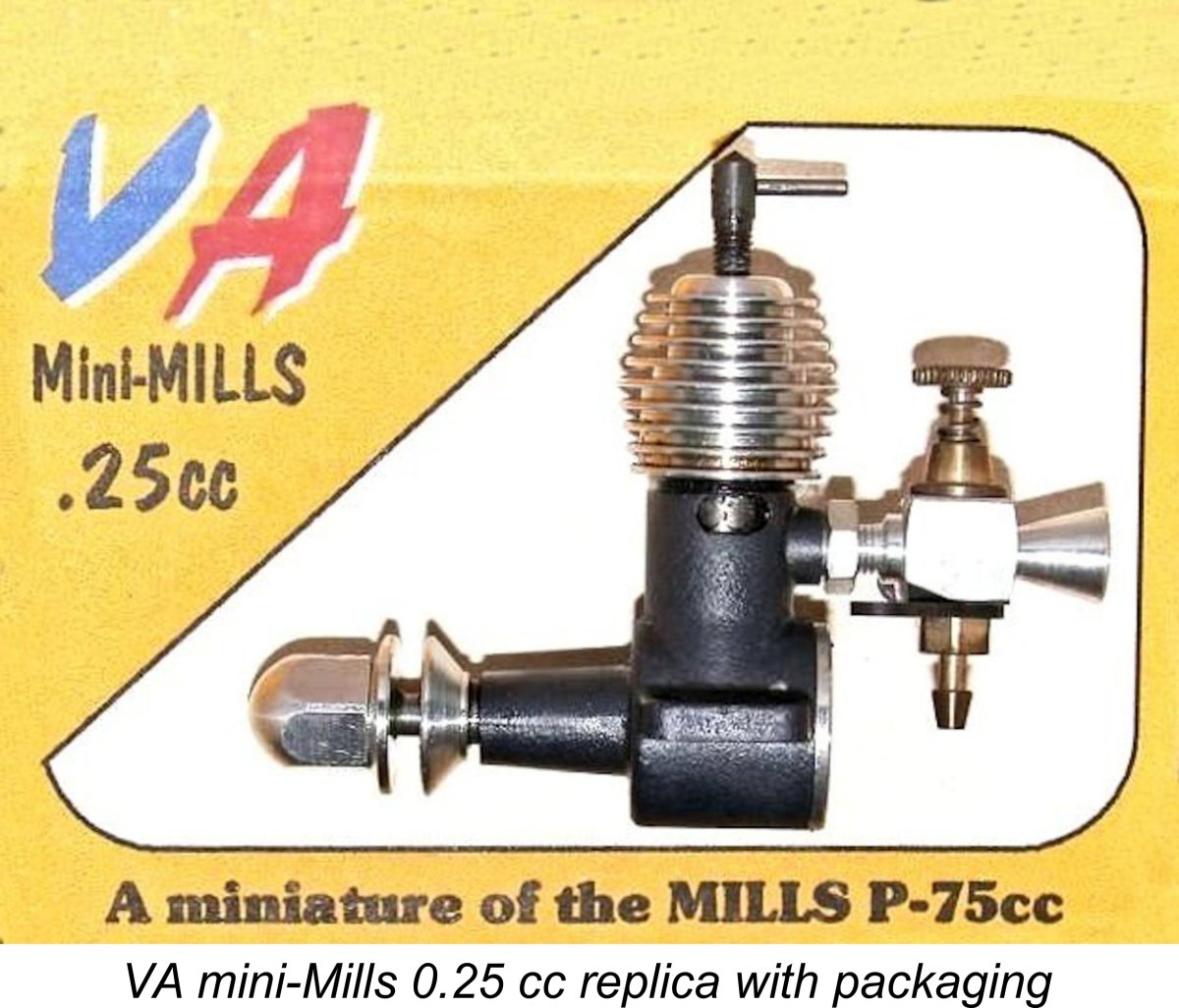 The Russians were involved with the later Doonside engines (see below), but are best known for the 0.25 cc and 0.4 cc Mini-Mills engines produced in small numbers in St. Petersburg by VA (Valentin Aljoshin) during the mid to late 1990's. The same company produced reduced-scale "mini-replicas" of a number of other classic diesels including the E.D. Bee, the Elfin 1.8, the Elfin 50, the E.D. Baby, the Kalper .32 and the Micro diesel from America. All were very well made and performed at most acceptable levels for their size.
The production of these little gems was apparently initiated by Dave Banks of England, who arranged for their manufacture in Russia by Valentin Aljoshin. These fine little miniature diesels remain very much sought-after today. They really started the trend towards small diesel-powered F/F and R/C models. A cautionary note to anyone seeking out any of these motors – they often appear on eBay and elsewhere as "Dave Banks engines" as a result of the close association with Dave's name arising from his excellent packaging and marketing efforts with these engines. However, they're all VA products.
New Zealand
During the early 1990's, a very small number of 0.75 cc Mills replicas were produced by H.P. Engineering in Lower Hutt, near Wellington, New Zealand. The individual behind this efforts was Steve Hainsworth, a keen model enthusiast and member of the local model club. Steve reportedly had big ideas - apart from the Mills .75 replicas, he had plans to do the Mills 1.3, the Kemp Hawk .2 cc and Kalper .32 as well.
Some parts were actually made for the Mills 1.3, but Steve apparently ran out of the required combination of time, inspiration and money. As far as my informant Chris Murphy (a club-mate of Steve Hainsworth) is aware, only 7 Mills .75s were completed before the project died, making this unquestionably one of the rarest Mills .75 replicas of them all. A great pity ...............
The Steve Hainsworth Mills .75 replicas are readily distinguished by the fact that their venturi, carburettor and tank top are all formed in a single casting. No other rendition of the Mills .75 exhibits this feature. My very sincere thanks to Chris Murphy for providing this information.
Reader Steve Thomas subsequently drew my attention to a beautiful Mills 1.3 Mk. I replica which was made in New Zealand in very small numbers by Maurice Poletti, author of the fine book about the Pepperell engines entitled "Those Incredible Pepperells". Maurice is known to have made a few examples of this fine replica, one of which is known to reside in a private collection in New Zealand while another is owned by Maurice's son John and is currently installed in a model. It's unclear how many other examples may be out there, but this too must be regarded as being among the rarest of the Mills replicas.
Australia
Commissioned by Ivor F (his full name – 2001 ABC Eccentric of the Year and a very well-liked Aussie modeller), Gordon Burford and Co. (Taipan) built around 1000 superb Mills .75 cc replicas in 1972-73. These were known as the Doonside Mills engines after the name of the New South Wales community in which project instigator Ivor F lived. Produced in Mk. 1 and Mk. 2 versions, these engines were made to the very highest standards, hence remaining much sought after today. The late David Owen broke the Australian Power Scramble record with a Taipan Doonside Mills, as subsequently did many others!
In designing these engines, Gordon Burford rectified several annoying problems associated with the original English units, notably providing positive cylinder liner location along with a sensible means of retaining the tank bowl. The Mk. 2 engines were sold with a variety of colored heads, hence being particularly attractive. They also featured main bearing housings which were equipped with four stffening webs.
Doonsides sold for A$12.50 when first released, thus representing excellent value. These engines are fully documented in Maris Dislers' indispensable book entitled "Gordon Burford's Model Engines".
In later years, Ivor resurrected the Doonside Mills name and had a further series of replica 0.75cc Mills engines produced in Russia by the manufacturers of the Zeus range (as opposed to VA). These were styled like the Mk. 2 Taipan Doonsides with their webbed main bearing housings, but they lacked the colour anodizing of the Taipan products.
These engines also exhibited widely varying standards of quality. Ivor reportedly hand-started each and every engine prior to clearing it for sale. Many examples were re-fitted by Ivor to deal with some of the problems encountered. The "reject" motors (those that Ivor could not hand-start despite his best efforts) were returned to the Australian agent for Zeus. Despite Ivor's commendable care, some of these "reject" examples eventually found their way onto the market. Caveat empor!!
The specification for the engines commissioned by Ivor included conventional iron-and-steel piston/cylinder assemblies. However, the Russian manufacturers took it upon themselves to produce a batch of engines having ABC set-ups. These ABC engines proved to be particularly challenging to handle. The iron-and-steel examples also had their problems, the greatest of which was a bore finish which was generally far rougher than ideal.
Having his hands pretty full with sorting out the engines, Ivor entrusted the sale and distribution of these motors to his son Tahn Stowe, who dispatched them all over the world. Overall however, the Russian Doonsides acquired a rather chequered reputation, accordingly being rather poorly received. The same fate befell the Elfin 1.49 replicas from the same manufacturer.
That said, a good example runs well if you get lucky. My own example has been tested and found to develop around 0.063 BHP @ 9,600 RPM - actually at the higher end of the reported range for the original Mills .75, with better-than-average torque development. New examples remained available through 2005 from various sources, and they still show up on eBay from time to time.
While they are correctly called Doonsides given their inspiration and are generally offered for sale as Doonside Mills units, these engines should not be mistaken for the Taipan-built engines. Prospective purchasers of any .75 cc Mills replica which is being sold as a Doonside Mills are advised to inquire very closely into the origin of that particular engine. The Russian-made engines are worth nowhere near as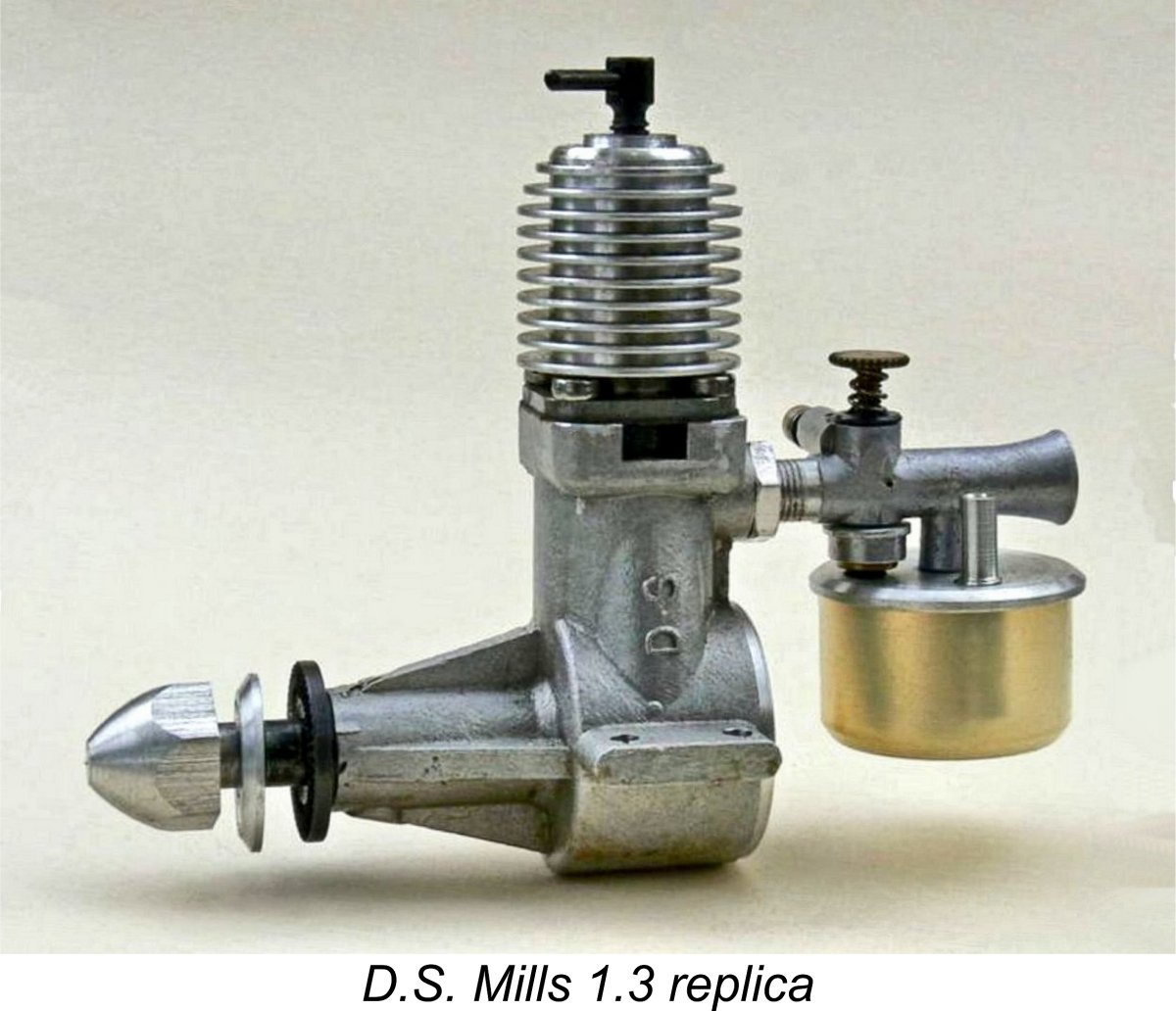 much as the Taipan-built originals.
Another very small series of Mills replicas was produced in the 1990's by D.S. Small Engineering in rural Hurstbridge, a town roughly 30 km north east of Melbourne, Victoria, Australia. Their MIlls 1.3 Mk. II replica was developed by company owner David Strutt. The quality of the castings was "average", but all materials, machining standards and fits were first class. Note the subtle changes, most notably the addition of extended main bearing supporting webs. Note also that the engine is clearly identified on the crankcase as a D.S. product. The illustrated example is engine number 12 of a total production of some 20 engines.
My very sincere thanks go to my valued Aussie mate Derek Butler for bringing this engine to my attention, thus allowing me to correct an omission in the original version of this article.
China
Beginning in the first decade of the present millennium, the CS company of Shanghai, China began manufacturing a series of Mills "replicas" in a variety of displacements. These appear to have originated in a request from Dave Boddington of England that CS undertake the production of a series of such engines. The early examples were marketed by Dave Boddington (always know in the modelling world as "Boddo"), hence becoming colloquially known among modellers as "Boddo Mills" engines.
This attachment of the Mills name to the engines led to trouble, as mentioned earlier. The Aurora company brought a legal action against Dave to require him to cease selling these replica Mills models. This action was motivated by the fact that Aurora were then still selling their own Mills models, for which the CS products represented stiff competition since they were being offered in quantity in the same price category.
The settlement of the case allowed Dave to sell off his remaining stocks but required him to refrain from ordering any more. This naturally left CS without a bulk customer for the engines! Undeterred, they carried right on making their Mills replicas, marketing them directly worldwide through their on-line store.
Given the attention paid to Dave Boddington by Aurora, it's scarcely surprising that their next target was CS. In fact, that company had been selling Mills replicas on their on account since 2007, calling them "Miller" engines in an attempt to get around any name infringement issues. This of course fooled nobody, least of all Aurora, who pursued CS for infringement of their rights to the use of the Mills name and designs.
The outcome of this matter was that CS dropped all mention of the Mills (or Miller) name in connection with these engines. However, they continued to market them under the NAVO trade-name right up to the point in late 2015 at which they finally abandoned the model engine field. Once again, no-one was deceived - one look was all that was required to establish the NAVO models' credentials as Mills replicas! Indeed, by this time the look was so universally familiar that the name was effectively superfluous!
All of the engines in this particular NAVO series were sideport diesels which generally adhered to the design "formula" established by Arnold Hardinge and Mills Brothers over 70 years ago at the time of writing in late 2016. The NAVO engines were marketed in a range of displacements which considerably exceeded that of the original Mills sideport engines, having included models with displacements of 0.375 cc, 0.5 cc. 0.75 cc, 0.8 cc and 1.3 cc.
Although a little inconsistent in terms of quality, these engines ran well for the most part. The examples made during the final few years of CS operation were particularly good. It's actually a great shame in retrospect that CS abandoned the field just as they seemed to have finally beaten the quality control issues that had bedevilled them over the years. I reviewed the NAVO .375 cc model in an earlier article on this site, while a test of the NAVO .75 and 1.3 models now also appears here.
A number of interesting spin-off products were developed by CS at the request of some of their overseas distributors. Notable among these was a well-designed 1.5 cc twin-cylinder model based on the CS version of the Mills .75. Like the NAVO sideport singles, these twins were developed at the request of the late Dave "Boddo" Boddington, who was the English CS distributor at the time. They were made in 2009-2010 just before Dave passed away.
These twins were numbered, with only 300 examples being made before the Aurora legal action shut things down. The twins were supposed to have been exclusive to Dave Boddington. It's possible that a few additional examples may have been produced following Dave's death, but there is presently no firm evidence for this.
According to Dave Boddington's son Andrew (present-day "Aeromodeller" Editor), the performance of these twins varied depending on how accurately the various parts were machined and fitted! Occasional engines did not have sufficient machining of the crankcase fuel/air bypass and suffered accordingly. A good one is about equivalent to a typical "classic" 1 cc diesel, but with a glorious sound!
Prior to their much regretted departure from the model engine manufacturing scene in late 2015, CS was working on the development of a second variant of their Mills-based Twin. My friend and colleague Maris Dislers and I had some technical input into the design of this model. Unfortunately, the new design never advanced to the production stage, although a few prototypes were completed. Regrettably, I never got my hands on one of these.
Conclusion
The above listing of no fewer than twelve commercial producers of Mills replicas, reproductions and look-alikes from around the globe underscores the lasting affection in which these iconic designs are still held by "classic" modellers worldwide, well over half-a-century after their original disappearance from the market. Although somewhat variable in quality from one maker to another, even the least sophisticated of the replicas listed above could easily be made to run very well, providing their owners with a true taste of the "Mills experience". Hats off to all those who worked so hard to keep the Mills engines alive!
I'm sure that between us David and I have missed a few other productions of which we were unaware. It's also likely that there will be more in the future. If any reader out there can provide additional or updated information, please get in touch at any time!
__________________________
Article © Adrian C. Duncan, Coquitlam, BC, Canada
First published December 2016
Updated December 2018