March 2017
From the Editor - March 1st , 2017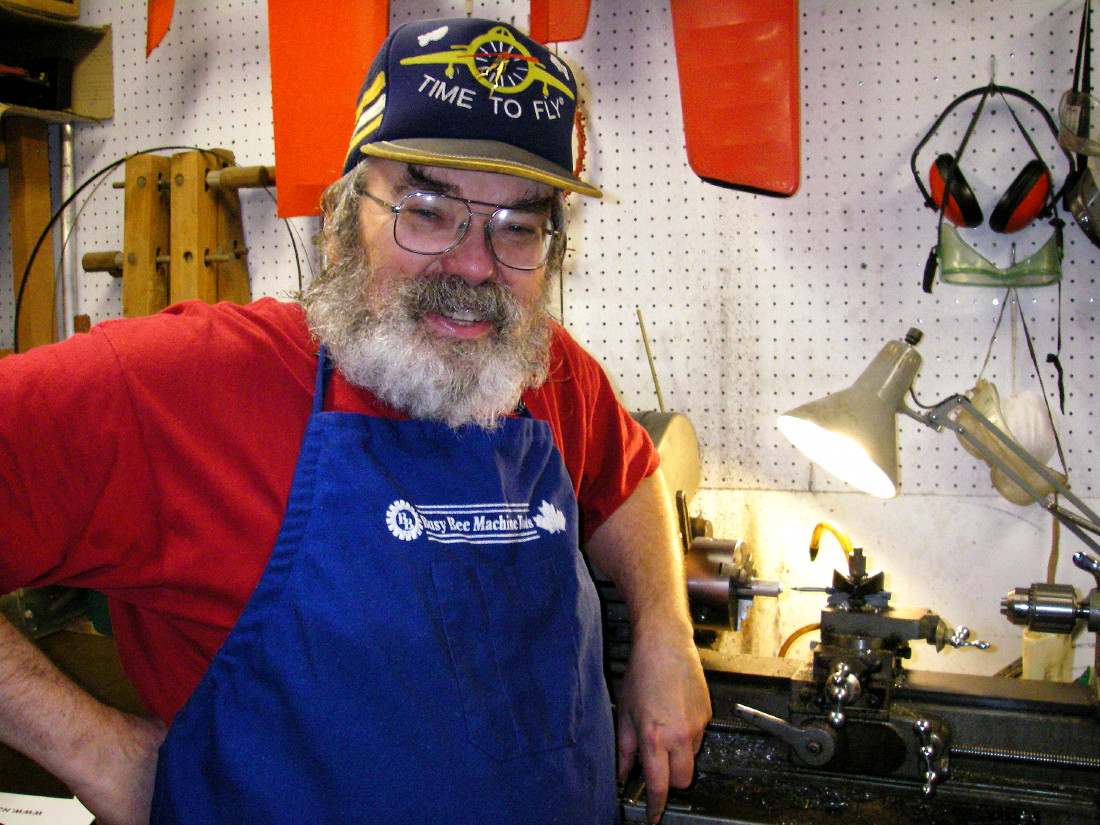 Greetings once more from Western Canada! Our weird weather has continued, with more dumps of snow interspersed with periods of rain. We did briefly see the sun last week, though, so we know that there's some truth in the persistent rumours that it's still there! These is hope for an improvement ............
I'll begin this time with a few housekeeping notes. First, I'd like to comment on an issue which I've discussed before - the matter of "registration" on this site. I've discussed this topic previously, but the inquiries that I continue to receive imply that it's high time to do so again.
To begin with, I keep hearing from people who are wondering what registration actually accomplishes. A fair question, certainly. However, the quick answer is - absolutely nothing!! The registration function is an artefact left over from the intended use of the site's generic over-the-counter platform as an on-line sales venue for companies selling a range of products on the North American market.
Things would be very different if this was indeed a sales site. When you register, an account is established which allows you to access the site, review the listed products and purchase items from the vendor using the "shopping cart" system. It also enables the vendor to contact you and your fellow registrants to promote new products as well as to offer discounts and other incentives to repeat customers.
All very useful features if you're using a site constructed on this generic platform to market a range of products on a commercial basis. However, my "products" are articles, and they're not for sale - they are made freely available to all subject to certain conditions which are clearly set out at the end of each Editorial, including this one. Accordingly, registration on my site has no connection whatsoever with the "business" which I'm conducting here. The system does compile a list of those who have attempted to register, also providing me with the opportunity to send mass emails out to all registered users. It's this function which would be very useful for promotional purposes if I was marketing a range of items.
As it is, I don't use this feature at all - in fact, I almost never look at it! I've actually asked my I/T guy about dumping the registration option in order to put an end to the confusion which it creates, but it seems that it goes with the territory unless I'm willing to pay for extensive custom modifications to the system (which I'm not!). Keeping it is the price that I pay for the convenience and economy of being able to adapt a standard generic over-the-counter (hence inexpensive!) platform for my own specific needs. It seems to be working well, so I'm not complaining!
I also hear from people who have tried to register on the site, only to find that you can only "register" from North America! This is another artefact arising from the intended use of the basic platform as a sales site for North America only. It should be clear from the above discussion that this is not a matter for concern for you non-North Americans because (as already stated) registering on the site has absolutely no effect whatsoever!
Bottom line - don't bother trying to register, since it accomplishes absolutely nothing! I'll go further - in view of the confusion which this feature seems to generate, I won't be activating any future registrations, and I have de-activated those already in place. Please don't take this personally - you still have full access to all the material to be found here by merely clicking on the website URL! Absolutely nothing is hidden, so having your registration deleted changed nothing! Enough said, I sincerely hope and believe..........
The second housekeeping matter which I wish to raise is one regarding which I've had a few understandably hesitant but very sincere inquiries. People remember only too well what happened to my late friend Ron Chernich's wonderful "Model Engine News" (MEN) website following his tragic and most untimely demise in early 2014. Ron was a highly-skilled I/T professional who had his site very well protected behind some state-of-the-art anti-hacker barriers, to which only he held the keys. Sadly, he neglected to pass those
keys along to anyone or even to leave a record of them for others to find. Consequently, the MEN site became "frozen" behind Ron's very effective cyber-locks following his departure. Several attempts were made by suitably skilled individuals to gain access, but to no avail.
Now a few folks have seemingly begun to wonder - could this happen to my site too if I have a one-sided encounter with a bus or fall down a cave sometime?!? Naturally, I've thought about this and have taken steps to ensure that a similar fate doesn't befall this site if anything should happen to me. I won't go into detail other than to say for the record that I have shared full details, including usernames, passwords, operating instructions, etc., with a trusted friend and colleague who is an active and respected participant in the model engine community. This information is of course held in the strictest confidence, so please don't inquire!
In the event of my unscheduled departure, the individual concerned has all the tools required to maintain and (if desired) continue to expand the site or to assist anyone else who may be willing and able to take up the challenge. This would be no problem, because this is actually a very easy site to maintain and update. Heck, even I can do it, and I'm a complete I/T klutz! So ...... no more worries about the site's long-term future! That said, I'm both pleased and flattered that a few people value my efforts sufficiently to express concern regarding this issue.
On a final housekeeping note, I'm happy to report that the momentum stemming from the new high-water mark for site visitation set in December 2016 has carried over into 2017. Evidently some of the new visitors liked what they read! January 2017 actually saw an increase in the number of hits from 407,806 up to a new high of 423,907. Clearly the site's visibility is continuing to steadily increase! These hits translated into 15,101 actual visits, fractionally down from the record figure of 15,416 established in December 2016. However, the total number of pages accessed during these visits increased from December's figure of 84,758 up to a new high of 86,005 for a new record average of 5.7 pages per visit. I can't tell you how much this clear indication of ongoing interest and support means to me! As long as I keep getting this kind of encouragement, I'll carry on!
Over the past month, I've once again had the good fortune to hear from an amazing number of valued contacts from around the world, including Paul Rossiter, Ian Russell, Maris Dislers, Luis Petersen, Jens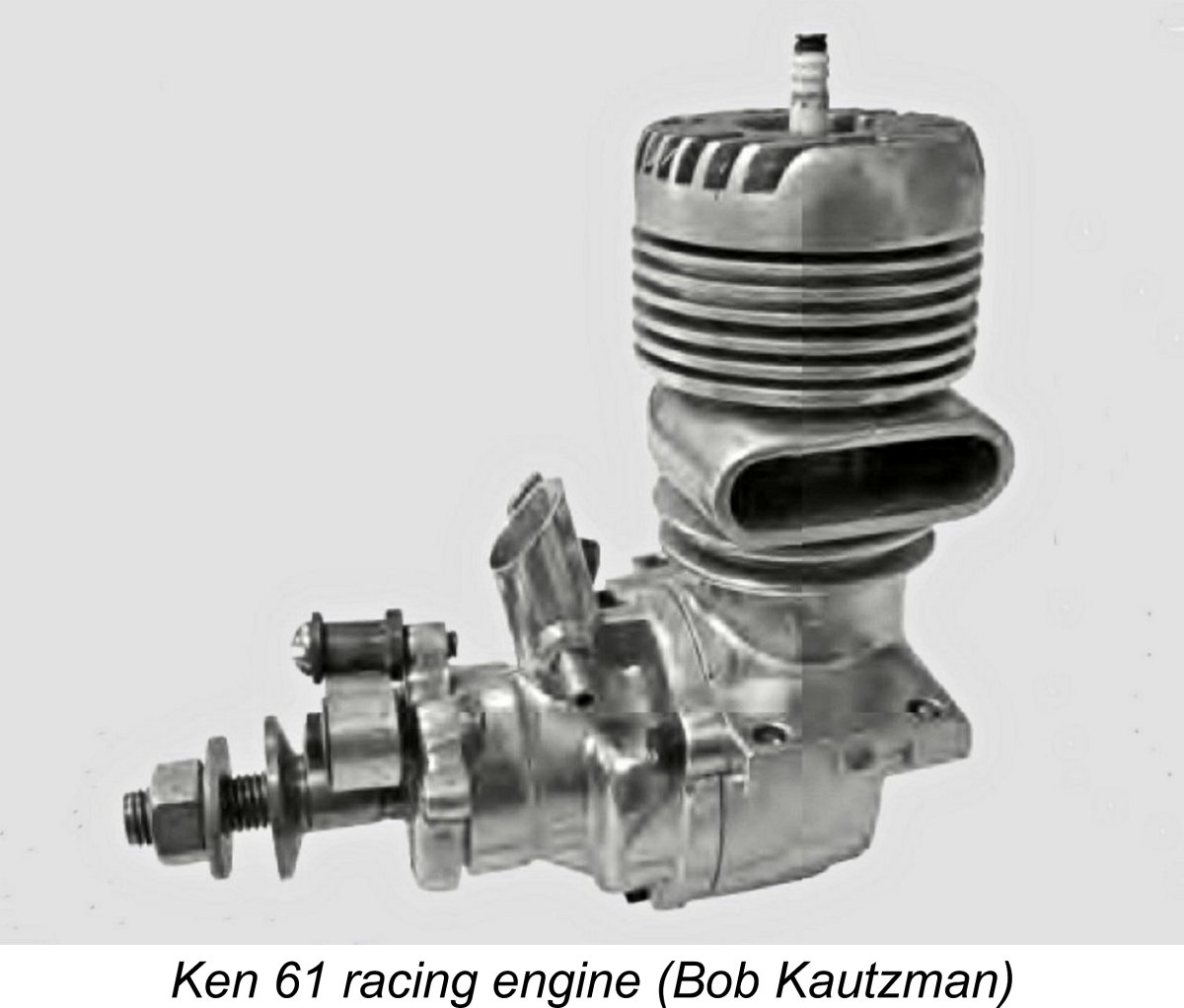 Geschwendtner, Mike Conner, Derek Butler, Don Sohn, András Vella, Tim Dannels, Vivek Sharma, Rishi Kumar, Peter Valicek, Miles Patience, David Burke, Ingemar Larsson, Goran Milosavljevic, Bill Bickel, Bob Kautzman, Mans Hagberg, Rees Jones, Dirk Tollenaar, Andrew Boddington, Dean Clarke and Dan Rawlings. Apologies to anyone whom I may have inadvertently missed in the crowd!
Bob Kautzman has been helping me with the research for an article that I'm developing on the competitively unsuccessful but technically fascinating Ken 61 racing engine from Garden Grove, California. Bob is undoubtedly the world's leading authority on the Kencraft engines, having acquired the entire Ken project some years ago, including parts, castings, dies, tooling, etc. - the works! He advises that the entire project is now for sale to an interested buyer at a quite reasonable price. If anyone is genuinely interested, please let me know either directly or via the blog site and I'll put you in touch. No time-wasters, please!
A welcome arrival in the post was a package containing Parts 1 and 2 of Bill Bickel's invaluable index to Tim Dannel's indespensable "Engine Collector's Journal" (ECJ). Tim's wonderful publication has been going now for many decades and contains information on an amazing variety of model engines from all over the world. More to the point, much of this information, particularly that in the earlier issues, was collected and recorded "back then" when there were far more individuals among us with first-hand knowledge and experience of the engines concerned. Since many of these individuals have since left us, you couldn't collect this information today. This makes ECJ the only authoritative source for a great deal of model engine history - I use it all the time when writing my own articles.
The one downside with ECJ in the context of today's historical researchers or browsers is that it's a hard copy resource. Tim has done us a great service by offering bound volumes which compile multiple issues into durable and extremely useful reference documents. These are obtainable by contacting Tim directly. However, finding a particular engine in the 237 issues which have been published to date is a real challenge. Bill Bickel's Index takes all the pain out of this - you just look up the engine, company or individual of interest, and the Index tells you in which issues of ECJ you should look. I don't know how I ever managed without a copy - it's the ultimate key to unlocking the information so painstakingly assembled collected over so many years in the pages of Tim's wonderful Journal. Anyone interested in obtaining a copy of the Index should contact Bill Bickel directly. At US$25 for both parts, this is a bargain!
On a less happy note, the message from András Vella was very much on the sad end of things - he reported that his father Géza Vella, the last survivor of the original Vella Brothers who made the VT engines from Hungary, died on February 21st, 2017 at the age of 89. Readers of the above-linked article on this site regarding the engines made by the Vella Brothers will need no introduction to the accomlishments of Géza and his brother András (1916 - 1999) in the model engine manufacturing field. I'm sure that I speak for all of us in expressing our deepest sympathy to András and his family. Another pioneer leaves us ..........
Turning back to more positive matters, I was particularly glad to hear from Ingemar Larsson of Sweden, who advised that the latest issue of the outstanding control-line magazine LINA which he edits is now available. This very professionally-produced publication appears around twice per year. Each issue is chock-full of very interesting articles and high-quality photographs relating to control-line aeromodelling.
As always, the latest issue is a hugely informative read for anyone who retains an interest in control-line. This issue includes full reports on all of the events flown at Perth, Australia in 2016 as well as numerous other National and International competitions. There are also a number of excellent technical articles and book reviews. A summary of my own article on the Danish Viking engines, on which I collaborated with Luis Petersen, is included in this latest issue.
Around a third of the content is presented in English. The other articles are in Swedish, but the use of a scanner along with one of the translation programs freely available online renders these instantly comprehensible in any language. The photographs throughout are outstanding. A highly recommendable read! Anyone interested in subscribing should contact Ingemar for details on how to do so.
Another fascinating report relating to the International aeromodelling scene came from my valued friend Mr. Vivek Sharma of Jodhpur, India. Vivek's family company, Sharma Model Aero Engines & Propellers, of which much more in this month's feature article, is a sponsor of India's newly-formed Aero Modelers Association, an associate member organization of the Aero Club of India. This is India's first national aeromodelling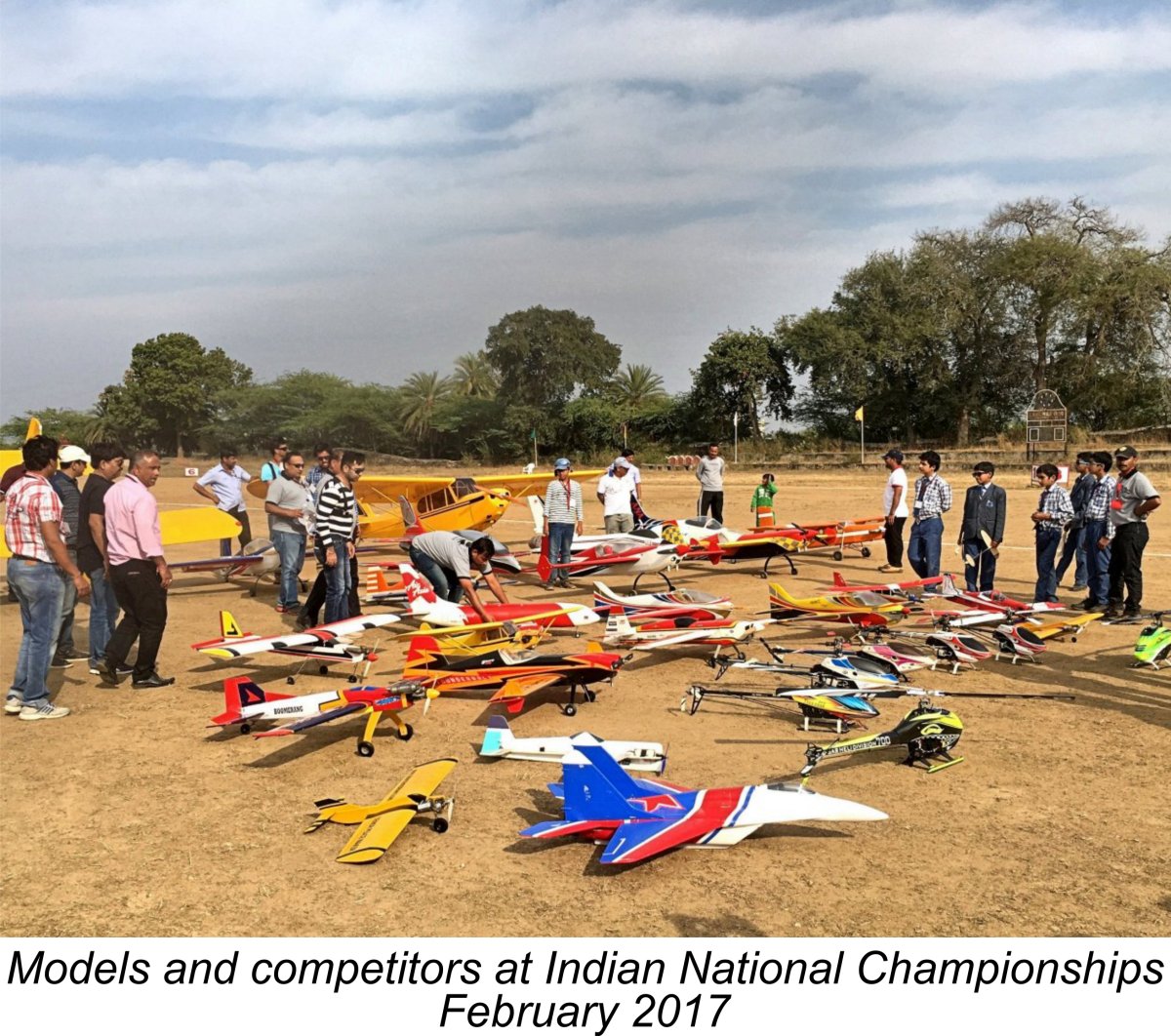 association, which recently sponsored its second National Championship meeting. This event took place at Shikarbadi Airport, Udaipur, Rajasthan from February 2nd through 5th, 2017.
At this meeting, just about every type of R/C and C/L model aircraft imaginable was flown, along with a good number of chuck gliders. Vivek sent me a link to a photographic report of this event, which I'm sure will be of interest to some of my readers. Some very impressive models there! It's always good to remain informed regarding the pursuit of our favourite hobby in different parts of the world. Thanks, Vivek!
I don't know about you, but lately I have been finding it increasingly difficult to obtain glow-plugs of differing heat ranges. Local hobby shops (the number of which has greatly diminished in recent years) just don't pay much attention to this kind of accessory any more given the stampede towards the soul-less (for me, anyway) electric powerplants and ARTF models that now rule the market.
This being the case, I was interested to learn of an Italian company called TCA Srl that specializes in the manufacture of glow-plugs in a variety of heat ranges and for a range of applications. Their high-durability combat plugs appear to be a speciality. I've added them to the "Sources" page on this site, and I plan to give their products a try in the near future. I'll report back later on how their mail order service works out and how I find their products. In the interim, if anyone out there already has experience with these plugs, please get in touch!
Last month I reported a contact from Ed Holly of Australia via the blog site. At Ed's suggestion, I established a new thread on the blog site entitled "Home Construction of Model Diesels". I have to say that this step has been successful beyond my wildest expectations! It's by far the most active thread on the site, and I feel certain that it will result in some interesting home construction articles down the road. It's great to receive confirmation that the home construction of model engines is still alive and well in the push-button era in which we now live!
If a specific topic develops within the general subject of home model engine construction, I will establish a separate discussion thread to cover that particular topic. For instance, if a discussion develops which focuses on a specific design or a specific technique as opposed to the subject of home construction in general, I will consider establishing a focused thread on that particular design or technique. As the ultimate response to interest in a given design, it would be possible to include home construction articles with photos and links to pdf drawings on the "Technical Topics" page on my main site. I'm wide open to suggestions and contributions along those lines.
Speaking of the "Technical Topics" page, during February I added a new article to the range of subjects covered there. This time it's the issue of loosening rusted nuts, bolts and working components. My good friend Derek Butler of Queensland, Australia drew my attention to some data recently published in "Machinist's Workshop" magazine which compared the relative performances of a number of commonly-used penetrating bolt
loosening fluids. There were two surprises - one, the widely-used WD-40 was the least effective material tested; and two, the most effective by far was a home-brewed mixture of readily-available and inexpensive ingredients! Take a look .........
The "Wotizit" page has continued to generate a certain amount of activity. Although there have been no new identifications during the past month, I have added another engine which was submitted by my good friend Tim Dannels. This is an obvious copy of an Allen-Mercury (A-M) design from mid 1950's England. We initially thought that it might be either an early Aurora product from India or a previously unrecorded Sharma design from the same country. However, direct contact with both manufacturers has confirmed that neither company produced this engine. Over to you, dear readers - can anyone put a name to this one? If so, please use the dedicated Wotizit email link for this purpose.
Speaking of Indian model engines, this month's feature article is the first of two forthcoming pieces on that particular subject. I've begun with the history of the Sharma range from Jodhpur in the state of Rajasthan in western India. Thanks to some splendid cooperation from Mr. Vivek Sharma, I found myself in a position to set out the complete story to date of this fine model engine range which originated well over 40 years ago and remains available today. I think you'll find it quite interesting! The article also includes tests of a number of Sharma engines past and present.
In a later edition, I'll complete the record of model engine production in India by presenting the story of the Aurora model engines from Calcutta (now Kolkata) in West Bengal, best known for their well-known and widely-used Mills reproductions. Sadly the Aurora engines are no longer in production, but their story is an equally interesting and wide-ranging one, going all the way back to 1955 with a strong British connection. I'm deeply grateful to Mr. Rishi Kumar for his generous assistance in enabling me to set out this story in full and authoritative detail.
I'd also like to remind readers once again that Aurora is continuing to offer the opportunity to purchase the name rights to the Mills and Taplin Twin engines along with the original drawings, dies and production equipment. The Kumar family would really like to see these assets returned to the UK from whence they came. If anyone's sincerely interested, let me know and I'll put you in touch. You can use the Aurora thread on the blog site for contact purposes.
For next month, we'll return to China for a close-up look at one of the more obscure products of that country during the hard-line Command Economy era of the late 1970's. This is the very attractive T.Y.C. 2.5 cc diesel from Chongqing in central China.
This very well-made engine turned out to have a performance which was well above expectations. However, despite its many worthy qualities, it doesn't seem to have made much impression upon the world model engine market outside China. This is a great pity, because the engine richly deserved a better fate! Perhaps the publication of this article will scare a few more examples out of the woodwork........ some more serial numbers would be greatly appreciated!
I think that's it for now. I'll be back to you with another issue on April 1st, 2017. Meanwhile, happy flicking, flying and finding...............
Cheers,
Adrian Duncan
Coquitlam, British Columbia, Canada
___________________________________
Note regarding material to be found on this site - unless specifically otherwise noted, all images and text which appear on this site are my own work, and I hereby assert my right to be recognized as the originator of this material. For the record, this material is made freely available to all upon two firm conditions:
No commercial use of any kind is to be made of any of the images or text posted on this site without my express written consent.
No use of

any

kind, commercial or otherwise, is to be made of any material published in any form on this site without full and open acknowledgement of the source.
Adrian C. Duncan
Coquitlam, BC, Canada