April 2017
From the Editor - April 1st , 2017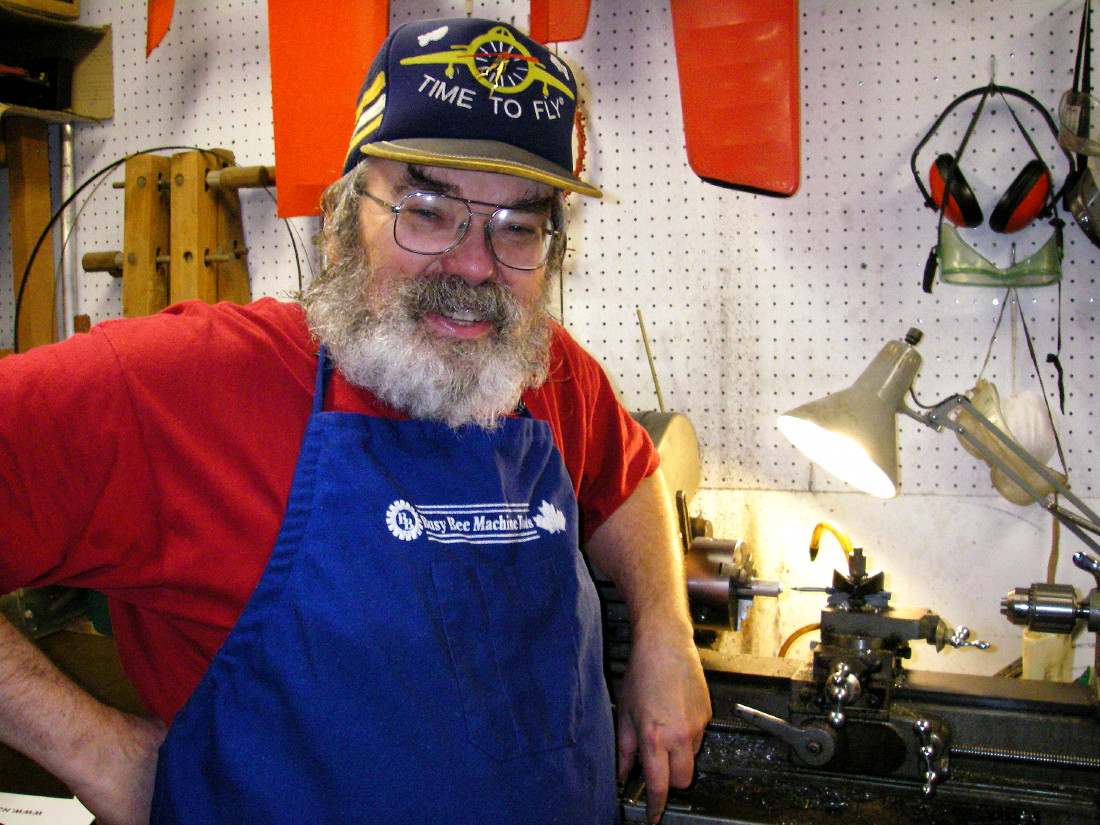 Greetings once more from Western Canada! March came in with a real blast of resurgent winter - even when staying down by the ocean on Vancouver Island near normally sunny Victoria, British Columbia, we ended up driving back to the mainland ferry in a blizzard! To say that this is unusual in early March is an understatement!
At the same time, our fellow Canadian citizens in the Toronto area were experiencing record high temperatures. That's usually Canada's deep freeze at this time of year, but not in 2017! Weather patterns just keep on getting crazier.............
This time I have a bit of a bonus issue for you - two new engine articles for the price of one! Full details to follow later in this Editorial.
But first, a piece of news of potential interest to those of us who still fly models in addition to messing about with engines! Model fliers in Canada have just received yet another reminder of the impact upon their community which the flying of drones by irresponsible members of society is having. Virtually all of the adverse interactions between "model aircraft" and full-sized aviation as well as such activities as forest firefighting and law enforcement have been caused by the irresponsible operation of these things.
Now I have absolutely nothing against drones themselves - in fact, I see them as useful tools as well as potentially fun things to operate. My fellow cavers use them routinely these days to seek out new cave entrances without the need for an arduous and potentially hazardous overland trek in rough terrain. No, it's a seemingly significant number of drone operators that drive me crazy!! In Canada at least, they have caused endless disruption to airfield operations, firefighting efforts, law enforcement response actions and the like. They are also routinely used to encroach upon people's privacy. It's no wonder that they have finally attracted the full force of the law.
Unfortunately. the Model Aeronautics Association of Canada (MAAC) to which I belong made what I personally considered to be a fatal error by recognizing drones as "model aircraft" (which they're not) without distinction, subsequently inviting drone fliers to join. Of course, a few of them did so, mainly (I suspect) to get the insurance coverage, but many haven't, and the irresponsible behaviour is continuing. The change is that now some of those irresponsible individuals are MAAC members. Sadly, in the eyes of officialdom and the public at large their conduct reflects upon all of us.
The Association's reward has been that the flying of model aircraft in Canada (including both drones and conventional models) has just been placed under very significant restrictions by Transport Canada. The wording makes it crystal clear that these measures are specifically directed at drones - they are frequently mentioned by that name. Unfortunately the over-arching wording makes no distinction between drones and other "model aircraft". Hence the new rules apply to all model aircraft, regardless of type. They severely limit the conditions under which one may fly model aircraft in Canada. Once again, the actions of the irresponsible few have restricted the freedom of action of the responsible majority.
Thankfully, there are provisions for MAAC clubs to seek exemptions for their own established fields. If my own British Columbia club is successful in this regard, I can foresee an invasion of our C/L field by drone operators ...... we've already had a few adverse interactions. Our field is owned by the City of Richmond, and our use agreement specifically excludes drones - it's a condition of our tenancy. However, the fact that their presence threatens our tenancy doesn't seem to resonate with all too many drone (and ARTF R/C) operators. The underlying problem is that most drone operators are not aeromodellers - they're simply people who are getting kicks out of operating just another push-button high-tech device in which they've invested no development or building time. There's no passion invloved. A meeting of the minds is not easy under these circumstances - we're talking about two very distinct mindsets.
Given the high incidence of problems involving drone fliers, I can foresee a significant erosion of MAAC's former proud safety record along with an increase in insurance claims. This being the case, I wonder how long it will be before MAAC's insurance position comes under review. By becoming the national organization for drone fliers, MAAC has placed itself directly in the firing line. Not a wise move in my personal opinion, at least until the vast majoriy of drone operators smarten up. I'm well aware that many already have, but the rest need to follow. It only takes a few bad apples ............
Oh well, on to happier things! Over the past month, I've once again had the good fortune to hear from an amazing number of valued contacts from around the world, including Paul Rossiter, Maris Dislers, Luis Petersen, Jens Geschwendtner, Mike Conner, Derek Butler, Don Sohn, Michel Rosanoff, Jim Woodside, Tim Dannels, John Dixon, Steve Thomas, Vivek
Sharma, Rishi Kumar, Bob Kautzman, Ingemar Larsson, Peter Valicek, Steve Dyer, Rob Jenkins, David Burke, Ed Holly, Bill Bickel, Luke Roy, Bernic de Waal, Dave Ellis and Andrew Boddington. Apologies to anyone whom I may have inadvertently missed in the crowd!
The contact from Luke Roy fell into a category which is becoming all too common as time slips by - another pioneer has left us. This time it's Bill Husted (1934 - 2017), the "H" of the legendary H&R (Husted & Roy) speed team which established a host of AMA records during its hey-day as well as producing the outstanding H&R Rattler 5 cc speed engine along with a number of high-quality speed accessories.
Luke recalls that there was no better needle man than his friend Bill back in the pen bladder era when the perfect needle setting was always somewhat elusive. Bill also developed his unique hand-launching technique for speed models which freed the H&R team from the need to use a dolly for take-off. The complete H&R Rattler story may be found in the main article which is linked here.
In recent years Bill had suffered a series of strokes as well as slipping into the grip of dementia. His passing was therefore not entirely unexpected, but the loss of yet another ounstanding member of the aeromodelling and engine building communities still hurts. Our sympathies go out to Bill's wife Kathy.
On a far happier note, I was delighted to receive a couple of engines which have been superbly restored by my valued friend Peter Valicek, a native of the Czech Republic now resident in the Netherlands. Peter does some really amazing work in his home workshop, ably assisted by his feline sidekick Felix, who keeps the swarf-rats out of the shop! He was kind enough to sort out two very interesting engines - an old Super Atom from the former Czechoslovakia and a MOVO-D2 from early post-war Italy. Both of these will be featured in future articles on this site. Peter also made a couple of excellent replica boxes for these two engines. It's very difficult for me to express my appreciation of his efforts. Thanks, mate!
Peter tells me that our mutual friend Ferenc "Somi" Somogyi of Hungary has once again been quite ill, but happily is recovering somewhat at the present time. Somi contributed immensely to the articles to be found on this site regarding the various classic model engines manufactured in Hungary. He's both a great friend and a valued colleague. I'm sure you'll all join me in wishing him well.
The new thread on the blog site entitled "Home Construction of Model Diesels" has continued to be the most active thread on the site. I'm very much hoping that one of the participants on that thread may eventually get around to developing a construction article with photos that can be published in the "Technical Topics" section of the main website. Come on, guys - here's your chance to really promote your favourite activity!
Although not a diesel, I simply have to share a recently-acquired example of home construction with you! This is a superb re-creation by my friend Don Sohn of Oshkosh, Wisconsin, USA of Ira Hassad's legendary one-off barstock special .60 cuin. racing engine. The unquestionable existence of this historic expression of Ira's talents is confirmed by a handful of photographs of the original unit. However, the present whereabouts of the original engine are unknown.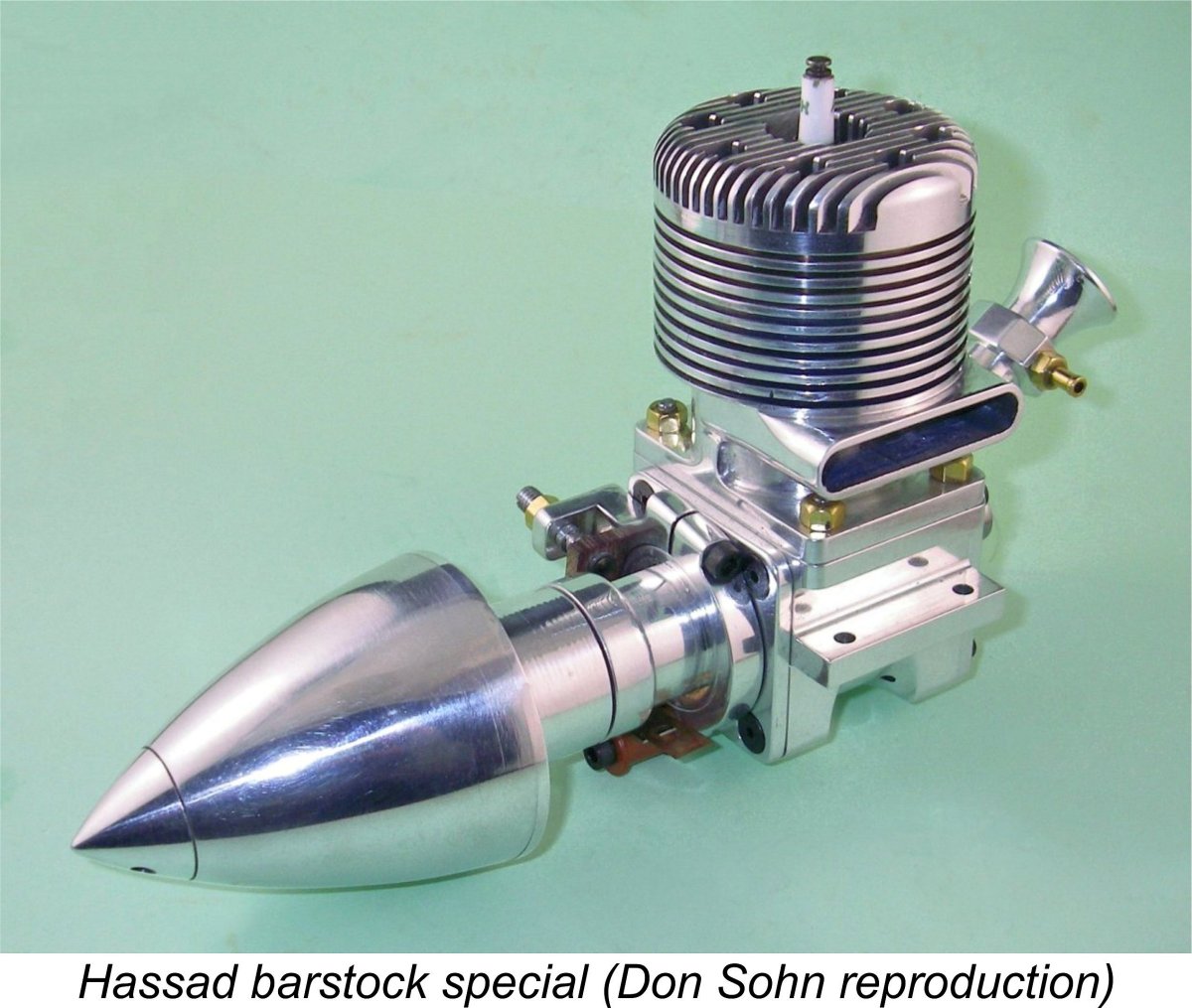 That didn't stop Don - working in his home machine shop, he did a masterful job of re-creating this engine to external dimensions which were painstakingly scaled off from the surviving photos. All aluminium alloy components are machined from bar stock, in keeping with the original. Although its internal details are of course unconfirmed, the resulting unit is an exact visual duplicate of the engine seen in the original photos. The quality of its construction is simply sublime - as much art as an expression of machining skill. Well done indeed, Don! I've included a full report on this fabulous re-creation as a bonus feature in this issue.
The "Wotizit" page has continued to generate a certain amount of activity. Several proposed additions have been submitted - I just haven't had time to mount them as yet. I will get around to it ......... meanwhile, I hope that eventually a few more of these unknown engines will be recognized by someone!
Speaking of Wotizit candidates, I have an identification issue at the moment which I hope some kind reader can resolve. On page 59 of the first edition of his very interesting pioneering book "Diesel Model Engines", Col. C. E. Bowden included images of two pioneering Italian diesels which he neglected to name! One is obviously an Elia 4.2 cc model, but the other lies outside my own experience. The image is reproduced at the right. Looking at it very closely, it seems to have "Super B" or "Super 6" stamped on the front of the case, with "Made in Italy" on the end of the left mounting lug.
Since we're talking about an image rather than an actual engine here, I didn't feel that this belonged on the "Wotizit" page. However, I still need a name for it - can anyone enlighten me??
Last month I mentioned having found a potential source of quality glow-plugs in various heat ranges from an Italian company called TCA Srl. I added them to the "Sources" page on this site, after which I set about giving their services a fair trial, placing an order by email and paying through PayPal. I was very pleased to receive the plugs remarkably quickly following confirmation of my order. So far, so good ........ the plugs look great!
I ordered two complete sets of the company's "sport" plugs (the kind that "classic" fliers like me are most likely to use) in no fewer than nine distinct heat ranges from very hot to ultra-cold. This opens up the possibility of trying something that I've long thought about - testing the performance effect of different heat range plugs upon the same engine and fuel. I'll get to that project when time permits (and when the weather picks up!) and will report back once I have some data. Meanwhile, it appears that I've found a very good source of quality plugs in various heat ranges. I will be ordering more ............
OK, back to engines! I already mentioned the bonus article for this issue on the subject of the Hassad barstock special. This month's regular lead article returns us to China for a close-up look at one of the more obscure products of that country during the hard-line Command Economy era of the late 1970's. This is the very attractive T.Y.C. 2.5 cc diesel from Chongqing in central China. This very well-made engine turned out to have a performance which was well above expectations. However, despite its many worthy qualities, it doesn't seem to have made much impression upon the world model engine market outside China. This is a great pity, because the engine richly deserved a better fate! Perhaps the publication of this article will scare a few more examples out of the woodwork........ some more serial numbers would be greatly appreciated!
In next month's edition, I'll complete the record of model engine production in India by presenting the story of the Aurora model engines from Calcutta (now Kolkata) in West Bengal, best known for their very widely-used Mills reproductions. Sadly the Aurora
engines are no longer in production, although the company remains active in the model kit business. Their story is an interesting and wide-ranging one, going all the way back to 1955 with a strong British connection. I'm deeply grateful to Mr. Rishi Kumar, younger son of company founder Mr. Suresh Kumar, for his generous assistance in enabling me to set out this story in full and authoritative detail.
I'd also like to remind readers once again that Aurora is continuing to offer the opportunity to purchase the name rights to the Mills and Taplin Twin engines along with the original drawings, dies and production equipment. The Kumar family would really like to see these assets returned to the UK from whence they came. If anyone's sincerely interested, let me know and I'll put you in touch. You can use the Aurora thread on the blog site for contact purposes.
I think that's it for now. I'll be back to you with another issue on May 1st, 2017. Meanwhile, happy flicking, flying and finding, and may the heady aroma of diesel fumes assault your nostrils soon...............
Cheers,
Adrian Duncan
Coquitlam, British Columbia, Canada
___________________________________
Note regarding material to be found on this site - unless specifically otherwise noted, all images and text which appear on this site are my own work, and I hereby assert my right to be recognized as the originator of this material. For the record, this material is made freely available to all upon two firm conditions:
No commercial use of any kind is to be made of any of the images or text posted on this site without my express written consent.
No use of

any

kind, commercial or otherwise, is to be made of any material published in any form on this site without full and open acknowledgement of the source.
Adrian C. Duncan
Coquitlam, BC, Canada