July 2017
From the Editor - July 1st , 2017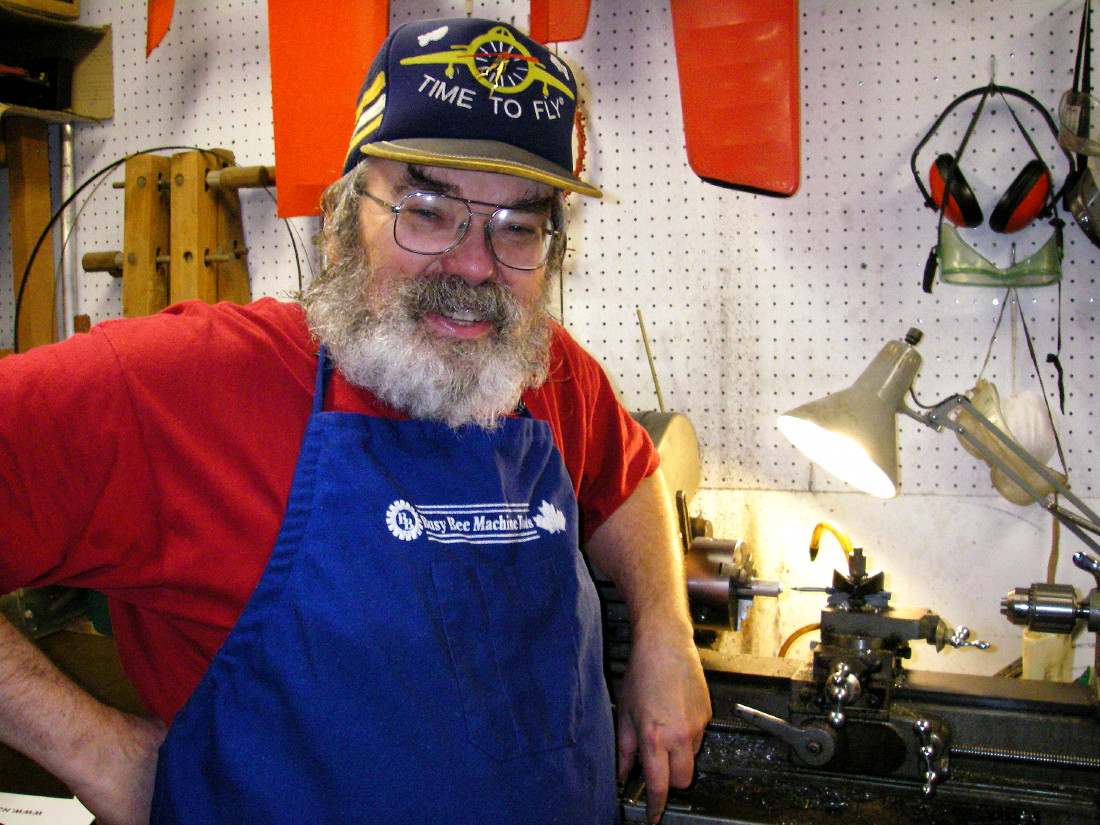 Greetings from Canada's West (or should that be Wet?!?) Coast! While other areas of the Continent as well as parts of Europe have been suffering through heatwaves, we've continued the unseasonable pattern of cool temperatures, clouds and rain interspersed with the odd sunny break. So far, Summer remains more of a rumour than a reality........... no wonder our weather service has christened this past month Junuary!! There have been recent hints of an improvement, but so far they've fallen into the "teaser" category!

This month's issue is coming to you a day early due to my impending absence over the July 1st weekend on a foray into the Great Outdoors, of which we thankfully still have a fair bit in our part of the world. I thought that it was better to be early rather than late, so here it is!!
I'm very happy to report that despite the extended hours of daylight opening up more alternative ways for Northern Hemisphere residents (which seems to include the majority of my readers) to spend their time (like actually flying models!), visitation to this web-site has actually recovered significantly from the modest decline which was observed in April. The number of hits in May was back up to 482,946, only a little below the record total of 497,885 set in March 2017. This certainly confirms an ongoing high level of visibility in my possibly biased view.
These hits translated into a total of 11,514 actual visits - again somewhat below the record March total of 14,268 but back up substantially from the April figure. The total number of pages accessed in May rebounded to 100,544 for a per-visit average of over 9 pages - actually slightly better than the previous record March average. It's clear that visitors to the site are continuing to find plenty to engage their interest. Thanks to all of you for being a part of that.

Over the past month, I've once again had the good fortune to hear from an amazing number of valued contacts from around the world, including Paul Rossiter, Maris Dislers, Ian Russell, Miles Patience, Paul Venne, Luis Petersen, Jens Geschwendtner, Lars Gustafsson, Mike Conner, Derek Butler, Tim Dannels, Michael Diamond, Bob Kautzman, Andrew Boddington, Ken Sheppard, Jim West, David Burke and Luke Roy. Sincere apologies to anyone whom I may have inadvertently missed in the crowd!
My fellow Canadian Jim West from Ontario advises that after reading my article on the Sharma engines from Jodhpur, India, he purchased a new 3.2 cc model direct from the manufacturer. He is extremely satisfied with the engine, citing its excellent performance as well as its highly acceptable standard of material selection and machining. Nice to have helped to spread the word on those excellent engines!
Maris Dislers sent me an amusing reminder that pesky critters come in all shapes and sizes depending on where in the world you live. Up here, we get bears, racoons and squirrels (try evicting one of those after it moves in, as we recently had to do!). Things are different Down Under - check out this image of a recent vistor to the workshop of Dave Putterill, one of Maris's fellow Aussie modellers! The pesky koala only left after stomping all over the Dornier 217 K-2 fuselage that was in a jig being repaired at the time!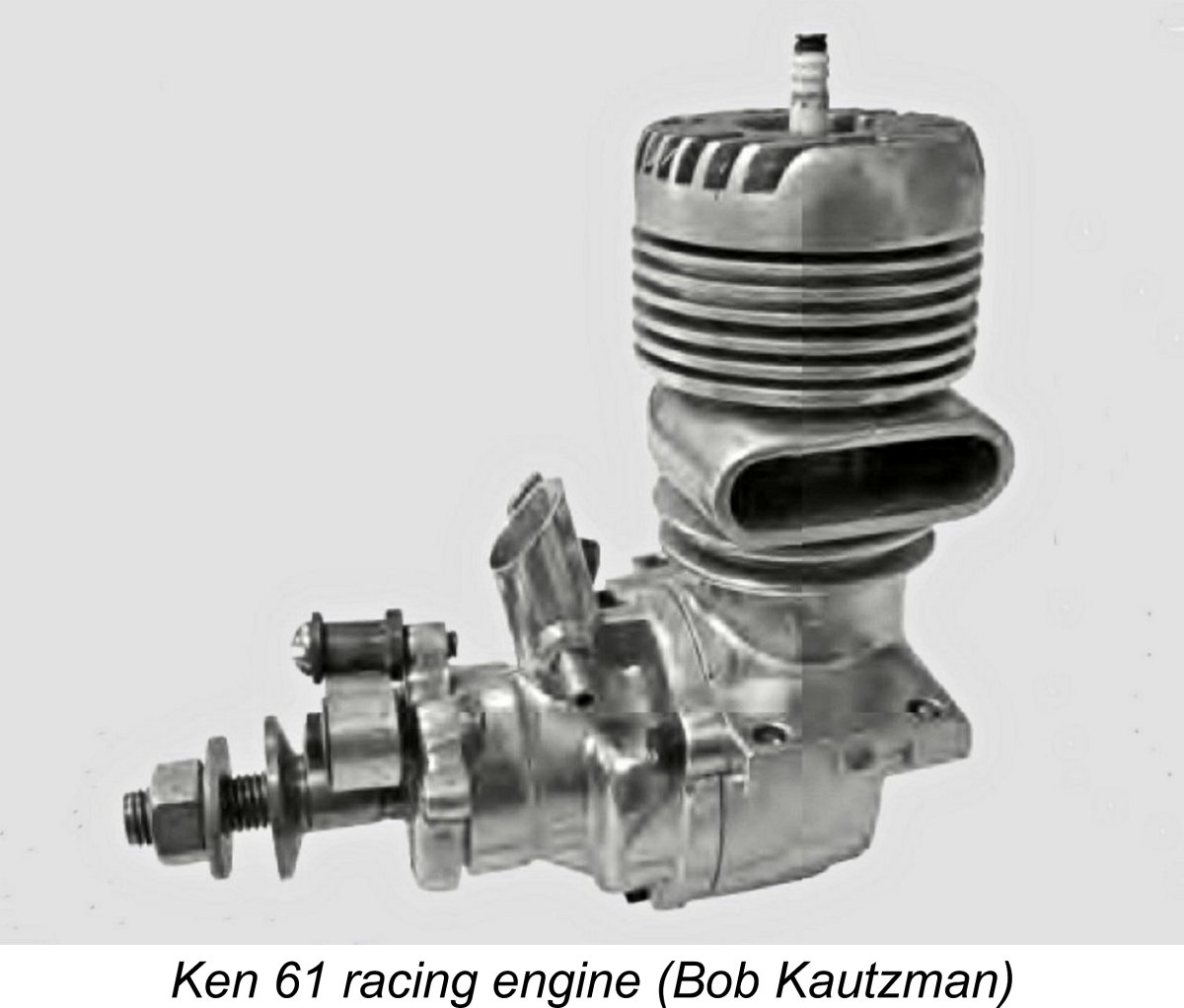 Regular readers may recall that in my March Editorial I mentioned that my valued colleague Bob Kautzman was assisting me with the preparation of an article on the unique 1946 Ken 60 racing engine from California, USA. I also mentioned that Bob was offering the entire original Ken project for sale. I'm happy to report that there has been excellent progress on both fronts - the article is complete, and the Ken project has a new home. We'll see what (if anything) comes of that. Meanwhile, my piece on the fascinating story of the Ken 60 will appear in due course on this website - watch for it!!

I've mentioned on several occasions in the past that all of the articles on this website remain works in progress even after their initial publication. That's because there's always more to learn about these little mechanical marvels that give us so much pleasure. I do my best to assemble all of the available information so that no-one else has to do so in future, but I'm bound to miss a few points here and there - time is limited and nobody's perfect, while new information can turn up at any time. This is why all of my articles remain open to correction or expansion at all times. Any updated information is invariably credited to whoever may provide it.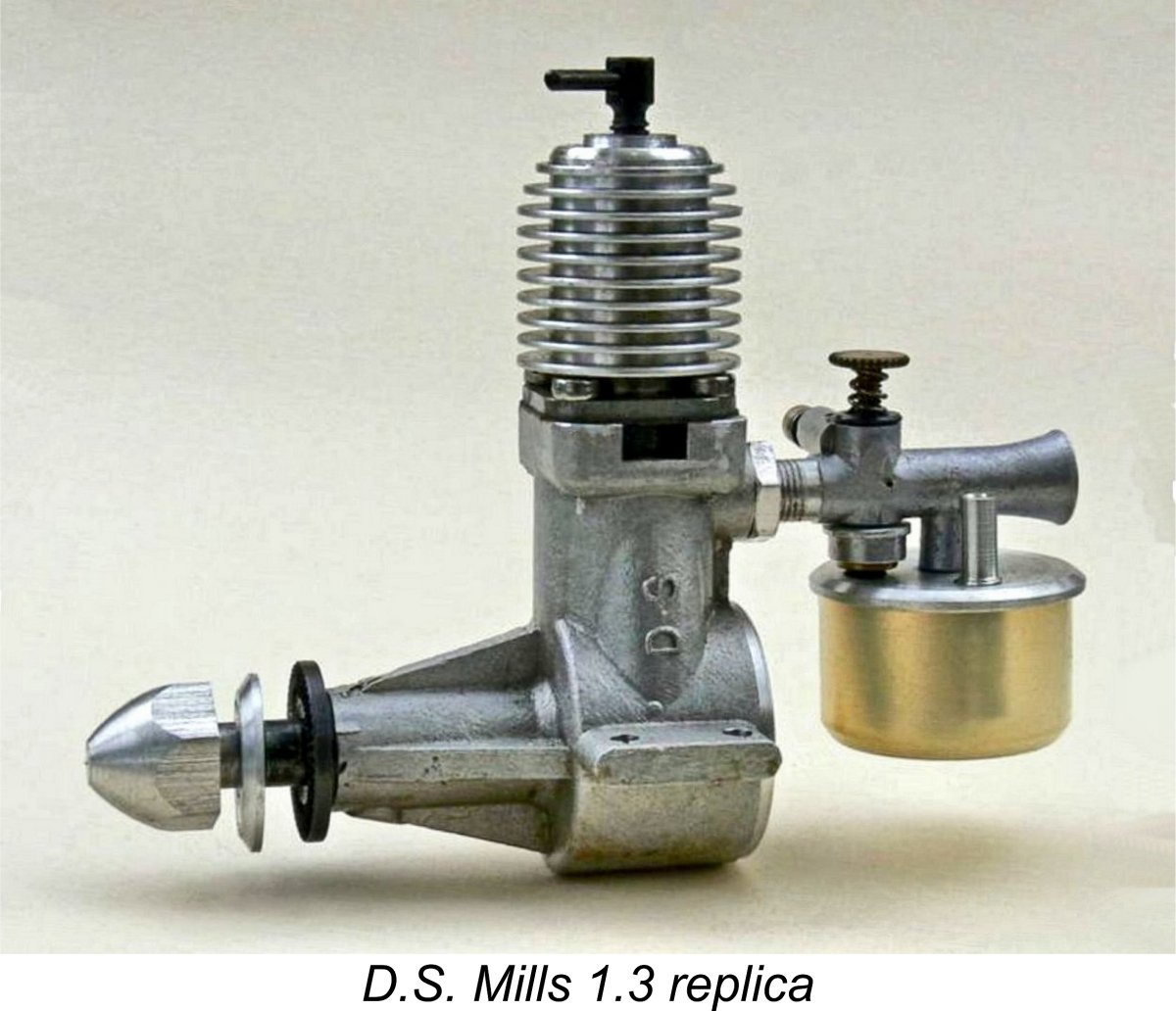 A case in point arose in June, when my valued Aussie mate Derek Butler contacted me to draw my attention to an engine that I'd missed in my article on the Mills replicas. This was the D.S. Mills 1.3 replica which was manufactured in very small numbers during the 1990's by D.S. Small Engineering in rural Hurstbridge, a town roughly 30 km north east of Melbourne, Victoria, Australia. I've added such information as is available on this very rare engine to the earlier article, with my very sincere thanks to Derek.
This website is extremely easy to manage, even for a total cyber-klutz like me! Accordingly, updating existing articles is very quick 'n easy indeed. Knowing this, please by all means get in touch if you have additional information or corrections relating to any of the articles to be found here - it's easily added. My overriding concerns are to get it right and get it all, and to do that I'll always need help!
The contact from my good friend Luke Roy was also very welcome indeed. Luke is the "R" of the fabled H&R speed team with which he participated so memorably with the late Bill Husted, setting a host of AMA control-line speed records during the 1960's. The story of this team and the amazing H&R Rattler 0.29 cuin. (5 cc) engine which they developed has been told in an in-depth article which may still be found on the late Ron Chernich's wonderful "Model Engine News" (MEN) website.
Readers of that article may recall that although the H&R team's greatest successes came courtesy of their famous .29 cuin. Class B engine, they also made prototypes in both .15 cuin. and .60 cuin. displacements. Luke was kind enough to send me a few photos of the only complete set of Rattlers in existence - the 15, 29 and 60 models all together. To quote Luke's own words: "They may not look like much in today's world, but in their day folks paid attention".
In a perfect world I would have added these images and their associated story to the existing article on MEN. However, that site became frozen following Ron Chernich's untimely death. Accordingly, I've chosen to present it here with a link from the relevant Gallery entry for convenience. I'd like to express my sincere thanks to Luke for this valuable addition to the H&R story.
The illustrated 15 is the only cast engine of that displacement that the team ever made. Note that it did not carry the usual H&R identification letters. Luke tells us that the engine ran reasonably well, but a well-prepared K&B Torpedo 15R Series 64 ran somewhat better. The team therefore used the K&B to establish their 15 speed record.

The very best 15 that the team ever built was a barstock case version. The AMA National record for the 15 category was then around 153 MPH. On its first test flight, this engine flew the team's Class A model at upwards of 160 MPH. On the second test flight, Luke (who was piloting as usual) saw the stab roll down and
fly away. The pan (an early Tatone item) had snapped just ahead of the stab. Next thing that Luke saw was the remains hitting the ground under full power at a 90 degree angle! Needless to say, this did the motor no favours at all!
This incident led Jim Clary (who made the Tatone pans) to put some more beef into the back end of the 15 and 29 pans, after which there was no more trouble of this kind. Pity about that wonderful engine ...........Luke still has fantasies about what might have been!

The 60 is also the only one that the team ever completed. The story was basically the same as that of the cast 15 - the Rattler 60 ran well, but the Rossi 60 was a tad better. The team used the Rossi to set their two 60 class records, although their own engine did match the Rossi's best speed later.

The illustrated 29 is what Luke calls the "House Engine". It is probably the best example of the Rattler 29 that the H&R team ever made. They ran all of them prior to their entering service, and all ran pretty much the same apart from this one, which had a special feel to it. The team therefore kept this one for their own use, using it to set at least 5 records in the 29 class.

Luke recalls that the team worked most with the 29 program. The 15 and 60 engines were built "just because". Luke and Bill took them to the contests, got their flights in and brought them home to sit on the shelf until the next contest. Apart from fixing things that broke on the 15 and 60 models, all of their time went into the 29.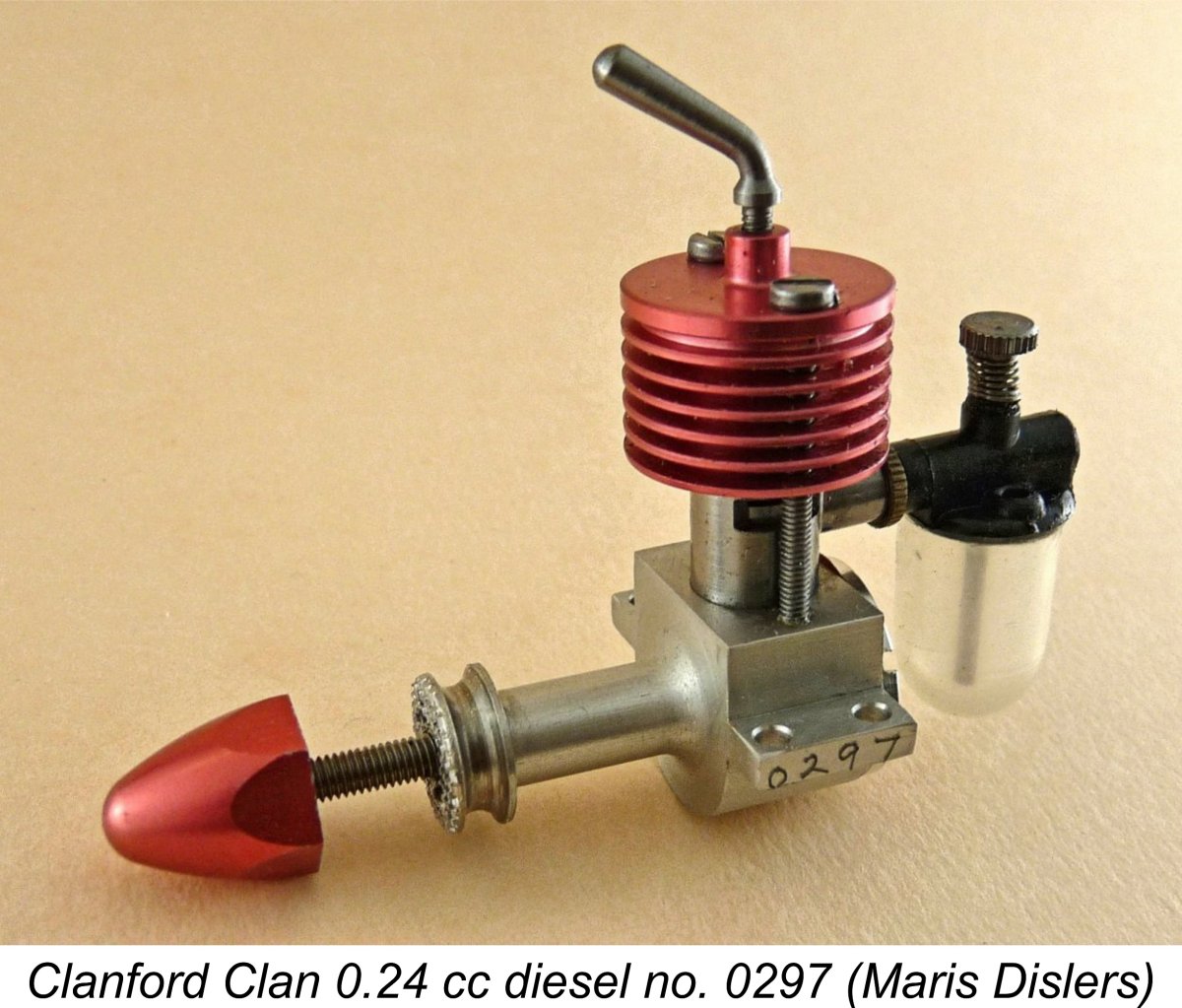 And speaking of time, it's now time to turn to this month's feature articles! Yes, I did say articles plural - there's both a main article and a bonus piece this month! Last month I indicated my intention to present an article about the FROG 1.5 cc models. I've followed through with that intention, but what I did not know at the time was that my good mate Maris Dislers would come through with yet another article of his own to add to the material on this website. Maris was kind enough to send me a summary of his own testing of an example of the original Clanford Clan 0.24 cc diesel from England.
This neat little engine has long been saddled with a less than stellar reputation thanks in large part to a somewhat lacklustre review which appeared in "AeroModeller" magazine in 1992, shortly after its initial release. Maris's recent test of a New In Box example which came his way forces a re-appraisal of this view of the engine, which turned out to be a very acceptable performer. I may add that my own experience of the engine has been equally positive. Maris's effort to set the record straight is this month's bonus article. Thanks for the input, Maris - much apprciated, mate!
As I said last month, my other valued Aussie mate Derek Butler recently reminded me that I shouldn't ignore the more common "mainstay" model engine ranges of yesteryear with which most model enthusiasts and collectors have some direct familiarity. One such range is the series of 1.5 cc model engines manufactured in Britain during the 1950's and early 1960's by International Model Aircraft (IMA) as part of their FROG range. Like Derek, I have very fond personal memories of these very useful little engines. Time to give them their due!
Accordingly, this month's feature article is an in-depth history of the FROG 1.5 cc series from 1951 through to 1966, with a side-trip to look at the closely-related 1 cc FROG models of that era. Hope you enjoy it!
Looking back, I find that it's now been a few issues since I last featured an American engine. I'd never want to ignore the products of a nation from which
such a significant proportion of my readership is drawn! Accordingly, the feature article for next month will be a detailed examination of a true American classic - the unexpectedly excellent 1947 Micro Diesel from Detroit. My aforementioned friend Derek Butler was kind enough to lend me his original example for test, and I was also able to try my own example of the CS replica of this engine. The Micro Diesel turns out to be one of the better model diesels of its era, regardless of from where you take your standards.

An objective review of this engine serves as a reminder of how easily America could have become a world leader in the design and development of diesels if Ray Arden's late 1947 introduction of the commercial miniature glow-plug hadn't so quickly and comprehensively diverted the attention of US manufacturers and modellers away from diesels. The American industry was poised to become one of the world's
leading sources of high-quality model diesels before that event. I hope you'll enjoy my look at a representative example of the truly excellent diesels which flew off American drawing boards during the early post-WW2 period.
Next month will also see a bonus article. When he lent me the original Micro Diesel which formed the basis for next month's feature article, Derek Butler was kind enough to include his example of the very rare Aurora K500 "Big Mills" 5 cc diesel for my examination and test. Having recently written up the start-to-finish history of the Aurora model engine range, I was only too pleased to take full advantage of this opportunity. My very sincere thanks to Derek for making next month's bonus article possible!
I think that's it for now. I'll be back to you with another issue on August 1st, 2017. Meanwhile, happy flicking, flying and finding, and may the heady aroma of diesel fumes or burning nitro assault your nostrils soon............... !
Cheers,
Adrian Duncan
Coquitlam, British Columbia, Canada
___________________________________
Note regarding material to be found on this site - unless specifically otherwise noted, all images and text which appear on this site are my own work, and I hereby assert my right to be recognized as the originator of this material. For the record, this material is made freely available to all upon two firm conditions:
No commercial use of any kind is to be made of any of the images or text posted on this site without my express written consent.
No use of

any

kind, commercial or otherwise, is to be made of any material published in any form on this site without full and open acknowledgement of the source.
Adrian C. Duncan
Coquitlam, BC, Canada