October 2018
From the Editor - October 1st , 2018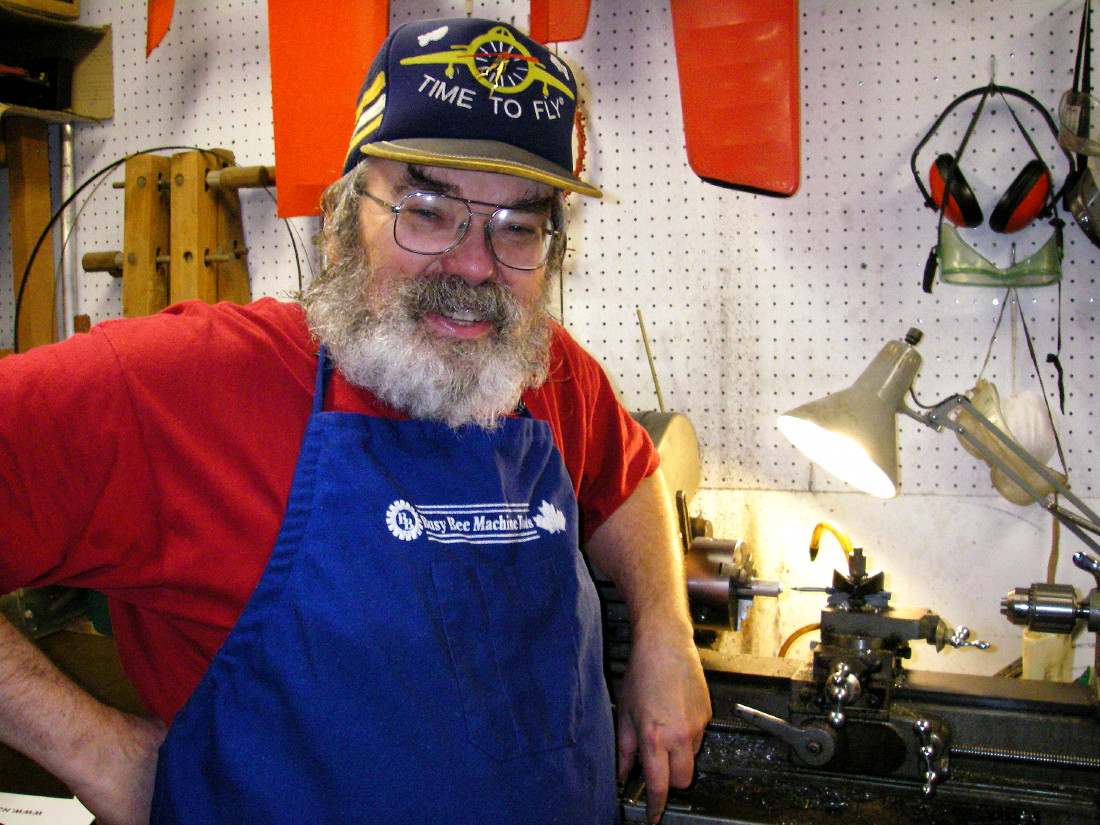 Greetings once more! Yet another edition out on time - I'm on a roll! Hopefully I can keep this up for a while now.........

This month sees me reach my 71st birthday - a sobering thought! How did that happen ........only yesterday I was young!! I've pretty much grown old right along with my beloved diesel engines, which first appeared in commercial form in 1938 with the ETHA models from Switzerland. I came along only nine years later during a period in which the model diesel was in a very rapid development and expansion phase. I was born in Australia in 1947, only one year after the first British commercial diesels, the Mills 1.3 and the Owat 5 cc models, appeared on the market.
As if this wasn't enough, I was born in the very year (almost the very month) in which the commercial miniature glow-plug made its appearance courtesy of Ray Arden. After my family moved to Britain in late 1952, I soon became fascinated with flying model aircraft. I started my first diesel at age 10 in 1958 (60 years ago - how time flies!) and have never stopped sniffing the ether since. After 71 years and counting, I'm actually amazed at how many of the engines about which I write are as old as I am, or even older - it seems like only yesterday that ! was a young modeller who was using them regularly rather than collecting them! Time does indeed have a way of flying by ...............

Coming back to the present, the extreme heat which we experienced this summer in Western Canada has finally come to an end. Along with the lower temperatures and increased precipitation has come the long-awaited relief from the worst forest fire season in British Columbia's history. It's nice to be able to view the mountains from my back patio instead of merely looking at smoke ..........
A very welcome consequence of the change in conditions has been the resumption of my engine testing program. While the summer heat was at its unaccustomed height, it was just too brutally hot to spend the hours out in the sun that go along with the very considerable amount of test running that I have to do in order to produce my monthly articles. Moreover, no engine will produce its best performance under such conditions. I was actually using articles which I'd prepared some time ago and kept on the shelf for such situations. Nowhere near as much fun ..... but now the enjoyable business of testing has resumed, allowing me to finish new articles once more.

On another positive note, I'm glad to report that the level of reader engagement with this site has held up well despite the competing diversions of summer in the Northern Hemisphere, where the majority of my readers live. In August 2018, the last month for which complete data are available at the time of writing, the number of hits rebounded strongly from the July figure of 458,957 to 570,591 in August. This is actually a new record, slightly topping the previous mark of 566,607 set in May of 2018. It's clear that site visibility is being well maintained!

The best news was that this translated into a total of 17,361 actual visits in August. This established yet another new record for monthly visitation, easily beating the previous mark of 15,206 set in July 2018. Clearly those hits translated into a considerable level of direct interest.

The increased visitation in turn translated into a commensurate increase in the number of pages viewed. The total number of pages accessed rebounded sharply, rising quite significantly from 68,983 in July to 92,036 in August. While still some way below the current record of 111,033 set in May 2018, this nonetheless confirms a significant level of interest in the information to be found here. The net result was that the average number of pages accessed per visit rebounded from the July figure of only 4.5 to a far more encouraging 5.3. Thanks for being a part of that!

Despite my repeated admonitions not to do so, people are continuing to try to register on this website. As I've previously stated repeatedly, this has absolutely no effect - it's simply an artefact left over from the generic platform's intended use as an on-line sales site. Since this is not a sales site, the registration feature is redundant and I make no use of it whatsoever. Before anyone else asks (and quite a few already have!), I've thoroughly explored the possibility of removing or at least blocking this feature, but it can't be done without extensive (and very expensive) custom modification to the otherwise very useable generic platform which came as an over-the-counter package, thus keeping the costs manageable. So we're stuck with this feature. The bottom line remains - please don't bother registering! Doing so simply creates unnecessary cyber-clutter, which I don't need! This message clearly needs to remain a regular feature of these Editorials...........
Along with the continued use of the website, the correspondence from my valued contacts around the world has continued to pour in unabated. During the past month I've heard from Maris Dislers, David Burke, Steve Thomas, Rhodri Dafis, Jesus Ortega Delgado, Nigel Tarvin, Michael Diamond, Steve Webb, Peng Han, Steve Hainsworth, Per Byrgen, Peter Rathke, Jim Woodside, Max Tenet, Luis Petersen, Peter Valicek, Paul Rossiter, Mike Conner, Steve Archambault, Tim Dannels, Jim Hassad, Dirk Tollenaar, Miles Patience, Kevin Richards and Walter Barbui. Sincere apologies to anyone whom I may have inadvertently missed in the crowd - it can be hard to keep track!
The blog site has also continued to justify its existence by generating a fair amount of traffic - thanks for that. However, there was one source of annoyance arising from that site this month. A reader sent in some photos, for which I was grateful but to which I was slow to respond. After a while, a further comment appeared implying dissatisfaction with the lack of a response. Well, I suppose it's time for a minor rant here! I doubt that any reader has the slightest idea of how much time, effort and money it takes to keep this site going. To be honest, it takes everything that I have to keep up, and I'm well aware that responses to specific contacts can be slow or even non-existent. I make no apology for this - I do the best that I can with the time and resources that I have, and if at times I fall short of expectations, well so be it!!
I do try to get around to dealing with all correspondence, but I'm not at the beck and call of my readers, greatly valued though they are! My first priority is to get the monthly upates ready for the end of each month. This being the case, I'm bound to come up short on some correspondents' expectations at times. Anyone who is dissatisfied with my efforts has a remedy - start your own site!! End of rant ..............!!

On a far happier note, the contact from Rhodri Dafis was particularly welcome. As regular readers will know, the most highly-valued contacts that come my way are from those who read my articles and are able to correct errors or add information from their own personal knowledge. This is a case in point - Rhodri is the nephew of Hefin Davies (his younger sister's son), hence having a good deal of "inside" information relating to my previously published history of the Davies-Charlton enterprise.
The article as it presently appears on this site was largely compiled through first- or second-hand contacts with a number of former business partners and employees of Davies-Charlton. These individuals obviously had their own perspectives upon the personalities involved and the path which the company's business affairs followed. What was lacking was any first-hand information from the standpoint of the Davies family itself.
I always saw this as a serious weakness, hence stating in the article that I would welcome the opportunity to present the family's side of the story. It now appears that I'm going to have the chance to do so! It will
take some time for this information to be compiled since Rhodri is very busy at present dealing with other family matters, but in due course I expect to be able to present a corrected and updated version of the article. Stay tuned ............

In the same vein, I was delighted to hear from Jim Hassad, son of the legendary model engine builder Ira Hassad, about whom I've written here at length. Jim was very complimentary about the website and expressed the desire to add some further detail to the in-depth articles about his Dad's engines. Naturally, I was all for this, and I've already been able to expand upon the Ira Hassad story, with hopefully more to come in due course. I'll keep y'all posted ........
A significant item of information that Jim was able to add concerned the magnificent barstock special which Ira created and which my good friend Don Sohn successfully re-created in 2016 - 2017. Until Jim made contact, we had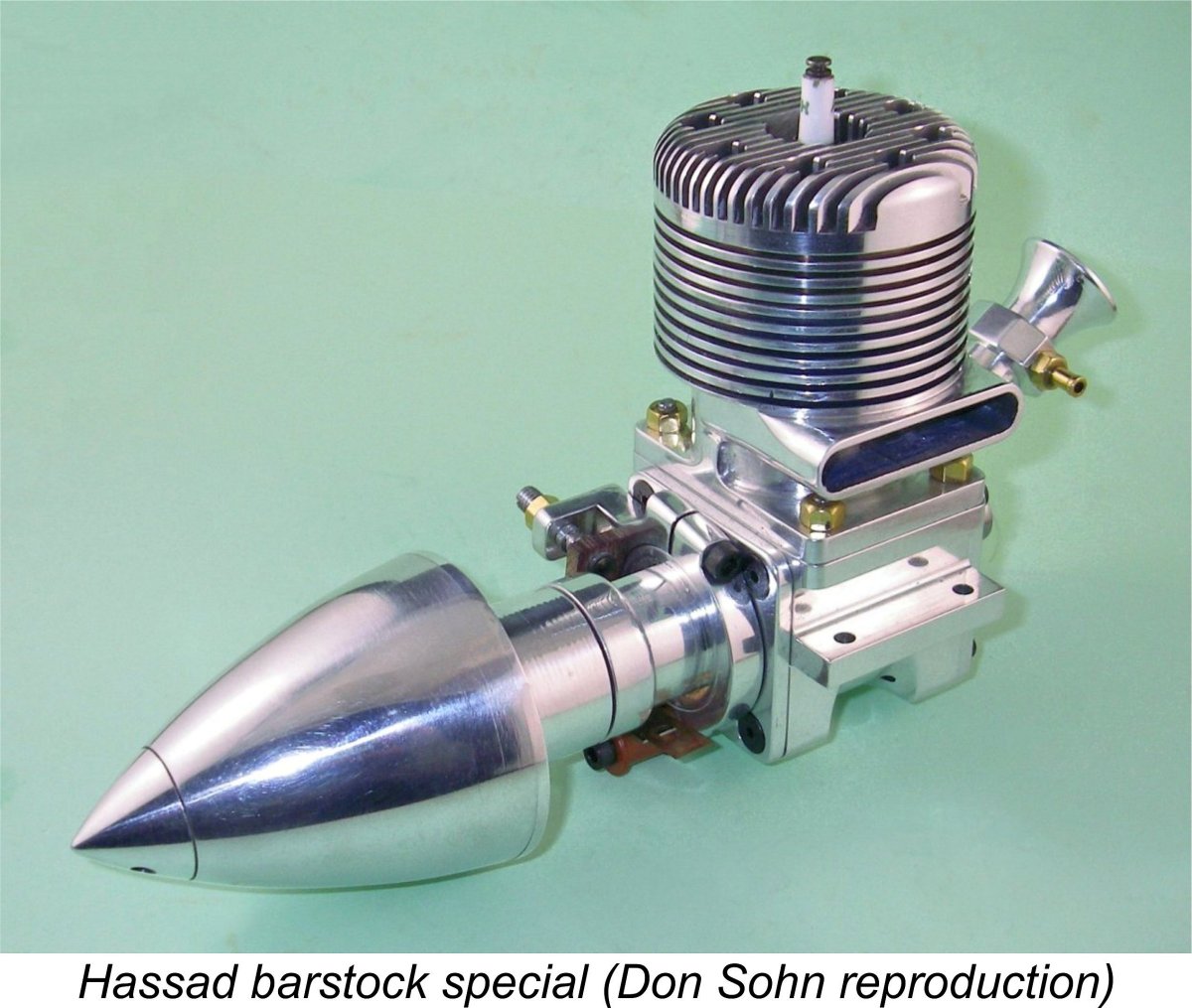 no definite information regarding the date of construction of the sole original example of this superb unit. Jim was able to confirm that his father built this one-off prototype in the late 1940's, just before he established his own expanded machine shop and went into the full-sized hot rod business. Jim also contributed some invaluable anecdotes and background information to the story.
As a result, I've now been able to refine my original Hassad Barstock Special article into something which is far more complete and authoritative. It's hard for me to express my gratitude to Jim for his kind assistance!
After slipping behind a little, I've finally managed to get caught up with a few housekeeping issues relating to the upkeep of this website. I've added a few previously-missing Gallery entries and have also added a few "Wotizit" items that have been submitted over the past few months but never got added to that page.
For readers' convenience, I've also re-sorted the Wotizit entries to make it easier to find the newest ones. The most recently-posted entries now appear at the top of the page (reading by rows from left to right), while the identified items (and there are a few of them now!) are to be found right down at the
bottom, with the continuing unidentified entries in between. Hopefully this will help you to find any new items which may have been added since you last looked. There are three such new items in the top row this month - check them out and see if you can help!
Regular readers of this site will recall that some time ago I published an article by Maris Dislers about the Pepperell engines fron New Zealand. A major source of information regarding those engines was cited as a book by Maurice Poletti entitled "Those Incredible Pepperells" (ISBN 0-437-09990-X). This book is now long out of print, but Maris was kind enough to let me know that the author's son John has recently made around 50 new and unread copies of the book available for sale at a price of US$24.00 plus postage. These may be purchased on eBay through this link. My own order went in right away! The book covers the full history of the Pepperell engines together with the people involved and the tools and techniques used to make the engines. Should be a great read for any motorhead!

Last month I noted the very welcome return of the CS company to the model engine manufacturing field with their new UNICORN marque which is primarily directed at the collector market. Company owner Peng Han (known to his International colleagues as Hans) has contacted me once more to let me know that the first prototype of his fascinating valved 2-stroke glow-plug design is now complete and is in the process of being tested as I write. He was kind enough to send along a photo of the almost-complete engine.

T
his long-stroke unit has a displacement of 9.6 cc (0.586 cuin.). It's apparently somewhat on the heavy side, but that's to be expected given the design complexities involved. The technology is based upon that which has been widely employed on full-sized 2-stroke marine diesels, which feature valved exhausts. The arrangement promotes excellent scavenging and higher than normal levels of torque development by 2-stroke standards. it will be facinating to see how this technology works out at model scales. Full marks to Hans and his colleagues for having the vision to give this a go!
Assuming that the results of the prototype testing are favourable, the production of a limited number of examples of this fascinating powerplant is planned for this Fall. All being well, the first production examples will likely be completed by mid to late October.
In response to a suggestion which I put forward, Hans and his engineering colleagues have been considering the feasibility of developing a diesel version of this design. It has been determined that a diesel version is indeed practicable, and Hans tells me that once the glow-plug version is launched, the intention is to work on creating a diesel conversion kit for the engine.

Any reader interested in obtaining an example of this fascinating unit can contact Hans by email at shuiguan@hotmail.com to register such an interest.

Turning at last to this month's feature article, we make a return to Eastern Europe duing the Iron Curtain era to take a look at the Tono range of model engines produced in Czechoslovakia (as the Czech Republic was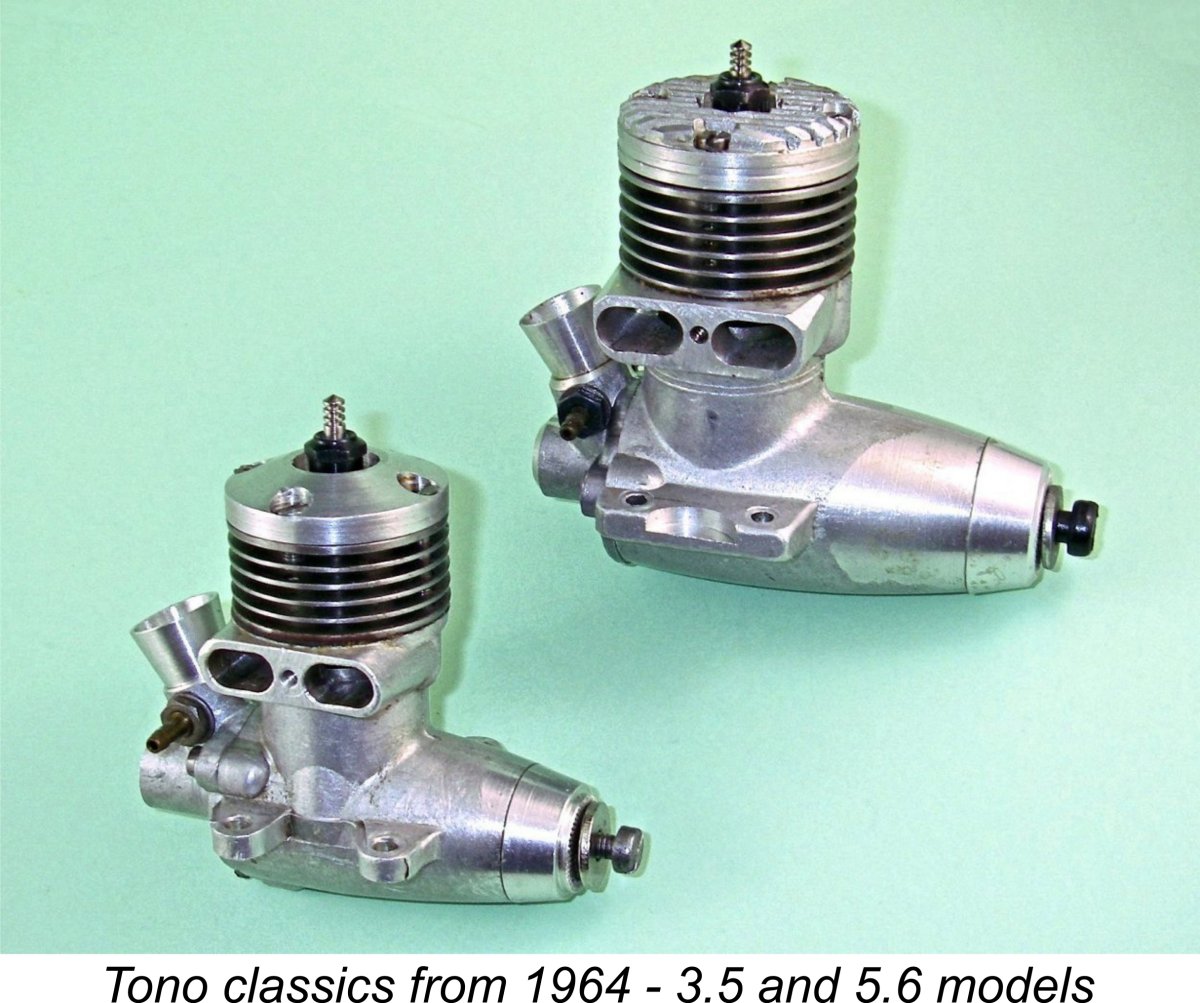 then) at the instigation of František Starý and Velké Ćermné of Vysoké Mýto, a town in the present-day Pardubice Region of the Czech Republic. Manufactured from the late 1950's through to the mid 1960's, these excellent engines never made much of an impact upon the international marketplace since they were never exported in any quanitity. However, their qualities are such that they richly deserve an honoured place in the history of model engine manufacture in their country of origin. This month's feature article will amply back up that claim!
But wait - there's more! My valued Australian friend David Burke of Adelaide Aeromotive has recently been gathering information on the OK model engine range which was manufactured in America from the late 1930's to the mid 1960's by the Herkimer Tool & Model Works of Herkimer, New York. David has collected a wide range of material regarding this once-iconic range, which he has kindly assembled into a very informative pdf presentation.

Although the OK brand-name was once a household word among American modellers as well as many users in other countries, the passage of time has tended to dilute knowledge of this range among today's model engine enthusiasts. This is a pity, because the range included some very interesting technical innovations as well as a brave attempt to re-popularize model diesels in America through the mid-1950's introduction of the company's neat little OK Cub .049 and .074 cuin. diesels. I've written about those models in a separate article which is still to be found on the late Ron Chernich's very informative "Model Engine News" (MEN) website.
I hope that you'll find David's compilation to be of interest. I'd like to express my very sincere thanks to David for his efforts - much appreciated, mate!!
Turning now to next month, I plan to continue heading east to examine yet another 2.5 cc racing engine from the "classic" era, this time one manufactured in early 1960's Russia behind the then-impenetrable Iron Curtain. I'll be
reviewing and testing the MD-2.5 Moscow, a pretty unabashed copy of the outstanding MVVS 2.5R/58 from Czechoslovakia (as the Czech Republic was then).

In taking an established 2.5 cc racing engine as their prototype, the Russians were continuing a policy that they had begun in 1957 with the 5 cc MD-5 Kometa, a direct copy of the 1954 Super Tigre G.21/29. I've written about the Kometa in an earlier article to be found on this site. Now it's the turn of its smaller relative, the MD-2.5 Moscow. While coming nowhere near matching its MVVS progenitor, my example of the Moscow turned out to be a far better engine than its rather sorry reputation in the contemporary modelling media would suggest. I think you'll enjoy making its acquaintance as much as I did!
I think that's it for now. I'll be back to you with another issue on or about November 1st, 2018. Meanwhile, best wishes for continued enjoyment of our shared addiction! Look after that flicking finger, and may the heady aroma of diesel fumes or burning nitro assault your nostrils frequently.............. !

Cheers,
Adrian Duncan
Coquitlam, British Columbia, Canada
___________________________________
Note regarding material to be found on this site - unless specifically otherwise noted, all images and text which appear on this site are my own work, and I hereby assert my right to be recognized as the originator of this material. For the record, this material is made freely available to all upon two firm conditions:
No commercial use of any kind is to be made of any of the images or text posted on this site without my express written consent.
No use of

any

kind, commercial or otherwise, is to be made of any material published in any form on this site without full and open acknowledgement of the source.
Adrian C. Duncan
Coquitlam, British Columbia, Canada