Davies-Charlton history
The Rise and Fall of Davies-Charlton
Here I'll trace the fortunes of one of the more recognizable British model engine manufacturers of the second half of the 20th century - the Davies-Charlton company, aka D-C Ltd. From its beginnings in 1947, this manufacturer's D-C range was destined to enjoy a relatively long period of success in the British model engine marketplace. However, for a number of reasons it fell on hard times as the second half of the century drew on, finally succumbing in the mid 1980's as we shall see in due course.
As far as I'm aware, the full start-to-finish story of the Davies-Charlton enterprise had never been summarized in a single published article prior to the mid 2010 appearance of my earlier article on the subject on the late Ron Chernich's wonderful but now frozen "Model Engine News" (MEN) website. Although now somewhat out of date and in error in certain aspects, that original article may still be accessed through the above link.
Portions of the story had certainly been told, and in fact the outlines of the company's golden years were reasonably well documented due to the regular ongoing coverage of the range in the British modelling media during its hey-day. However, the early and later periods had been relatively veiled by comparison prior to the appearance of our earlier article. There was also a considerable amount of unreported behind-the-scenes activity which did much to add human interest to the story.
In preparing the original article, I was assisted immeasurably by a number of individuals who remain richly deserving of acknowledgement. Firstly, I owe an immense debt of gratitude to the late and much-missed David Owen, latter-day model engine manufacturer and former Australian D-C distributor. Prior to his untimely death from cancer in March 2016, David was most generous in sharing his first-hand recollections of the latter years of the Davies-Charlton enterprise as well as reading through the original text and offering some excellent suggestions.
Secondly, I'd like to express my gratitude to Jim Woodside for making me aware of a number of facets of this saga from his own personal knowledge. It's this kind of background detail that really breathes life into these studies of early model engine history!
The late and much-missed Ron Moulton was good enough to add a few details from his extensive store of first-hand knowledge about English modelling matters during the period in question. In addition, former D-C Managing Director Bill Callow was kind enough to correct a number of errors in our original text relating to the later years of the company. Bill was also able to fill in a number of other fascinating details which had escaped our notice.
It's a great pleasure to acknowledge the very generous contribution of Mrs. Christina "Chris" Crosby, who worked in the Davies-Charlton office for several years during the mid 1950's. After reading this article in its original form, Chris was kind enough to provide us with a number of first-hand recollections which did much to add interest and authority to this essay.
In the five years since the initial publication of this article on MEN, a great deal of additional information has come to light, due in large part to the kindness of various readers in pointing me towards potentially
useful sources of such information. It was the sheer volume of this information as well as the consequent revisions to some of my earlier understandings and deductions that led me to the conclusion that the publication of a comprehensively-revised article was not only warranted but necessary.
First and foremost, I owe a great deal to the kindness of Alan Allbon's sons Kenneth and Derek for generously sharing their inside knowledge of the interactions between Alan Allbon and Hefin Davies of Davies-Charlton during the period 1952-55. The inclusion of this information was made possible solely through the efforts of reader Geoff Peacock, whose kind assistance in this regard is gratefully acknowledged. It was largely the considerable body of new information resulting from this contact that created the need to publish this updated article on this site.
I'd like to acknowledge a particular debt of gratitude to Kenneth Allbon for kindly painting a portrait of his
father specifically for inclusion on this web-site. This portrait was based in large part upon one of the very few suviving photographs of Alan Allbon - his 1935 wedding portrait. Most of the Allbon family photographs were destroyed through a tragic misunderstanding, making this a very important component of the record. We owe Kenneth a great deal for applying his considerable artistic talents to this project. The portrait appears in a later section of this article.
Another latter-day source of first-hand information materialized in 2014 through the publication in SAM35 Speaks of an article by Brian Waterland on the subject of Davies-Charlton. The catalyst for the preparation of Brian's article was the suggestion by John Moore, one-time D-C employee and eventual owner of the ME model engine range, that Brian would do well to seek an interview with Arthur Firth, who worked for D-C Ltd. from 1948 through to
1970 with a short break during which he found alternative employment. A fit and active 91 year old when Brian interviewed him in December 2013, Arthur retained many very clear memories of his time with D-C Ltd. which he was happy to share. I'm immensely grateful to both Arthur and Brian for sharing this information with us.
Lastly, I cannot proceed with this updated article without as ever acknowledging the immeasurable assistance and encouragement provided to me by my late and much-missed mate Ron Chernich during the preparation of the original article in 2010. Without Ron's wholehearted support and enthusiastic participation, the project would never have gone anywhere. Indeed, it's Ron's example that continues to encourage me in my ongoing search for a greater understanding of the model engine industry as it existed in its golden era. Thanks, mate!
OK, onwards into our story ……………..
Origins
Nothing definite was known of Hefin Davies' origins until we heard from Mrs. Christina Crosby following the initial publication of this article on MEN in mid 2010. Although then 82 years old, Chris retained some very clear recollections of her time with Davies-Charlton which she was kind enough to share with us.
As far as Chris could recall from her conversations with him, Hefin Nathaniel Davies came from a small community in the vicinity of St. David's in South Wales. He remained very proud of his Welsh heritage throughout his life. He was also a dedicated Freemason. One interesting recollection of Chris's which adds human interest to our story is the fact that Hefin Davies was always known as "Efyn" (pronounced Evan) to his colleagues and employees. Presumably this was simply an Anglicized corruption of Hefin, which is pronounced as Hevin in the Welsh language. Chris's comment is somewhat at variance with the stated recollections of Arthur Firth, who recalled that the D-C workforce on the shop floor referred to Davies behind his back perhaps somewhat irreverently as "Taffy"!!
The original production facilities of the Davies-Charlton enterprise were established by Davies in 1947 at an address on Rainhall Road in the eastern Lancashire town of Barnoldswick (colloquially known as "Barlick" and its inhabitants as "Barlickers"). At first sight, this would appear to be a rather odd location for a model engine manufacturer! Barnoldswick was a cotton mill town until the late 1950's, being served both by a branch line of the Midland Railway (since closed) and by the Leeds & Liverpool Canal. However, the town was (and is) less well served by road. With a population (in 2015) of some 11,000 people, it remains the largest town in the British Isles not served by any A-roads. To make up for this, a Roman road still serves the area, as it has for almost 2000 years!
It comes as something of a surprise to learn that despite the town's relatively small size, cotton mill background and seeming isolation, Davies-Charlton were by no means the first precision engineering firm to be located in the community. Beginning in June 1941, the now-defunct Rover automobile company had taken over a disused cotton mill in Barnoldswick and converted it into a hush-hush aero engine development facility. This move was prompted by the fact that Rover had become involved in the initial development of the turbojet engine in association with Frank (later Sir Frank) Whittle. The first test engines built at Barnoldswick by Rover to Whittle's design were completed and subjected to iniial testing in October 1941 - very quick work!
Increasingly strained relations between Rover and Whittle led to an agreement being reached in January 1943 whereby no less a company than Rolls-Royce would take over the jet engine program from Rover, who would in turn assume responsibility for the production and further development of the Rolls-Royce Meteor tank engine, a derivative of the famous Merlin aero engine. Under the terms of the deal, Rover took over the Rolls-Royce tank engine factory in Nottingham, surrendering their Barnoldswick jet engine plant to Rolls-Royce in exchange. The official hand-over date was April 1st, 1943. Rolls-Royce immediately established their own jet engine design center at the site. Rolls-Royce have remained a major employer in the town ever since, having relatively recently (2010) completed a new plant there to manufacture a range of specialized jet engine components.
According to the late Ron Moulton, Hefin Davies got his start during the war years by working for Rolls-Royce at Barnoldswick as an apprentice, becoming a skilled toolmaker through that experience. One outcome of Davies' early experience with Rolls-Royce was a firm commitment to the proper training of his own employees. Speaking many years later to Bill Callow after the latter had become the Production Manager for Davies-Charlton Ltd, Davies recommended that if a former D-C apprentice ever appeared at the door seeking employment, Bill should hire him because he would know that the individual had been properly trained!
Ron Moulton characterized Davies as being a somewhat "fiery" individual, which fits with the bulk of our later knowledge of his interactions with others. By all accounts, he had a rather volatile temperament which could make him a difficult individual to work with. This may have an influence on the fact that, whether by choice or due to a falling-out with his Rolls-Royce colleagues, Davies parted company with Rolls-Royce in 1946 to branch out on his own, thus becoming his own boss.
Chris Crosby confirmed that Davies did indeed have a somewhat incendiary personality. However, in her recollection his energy and enthusiasm were contagious. Although she was by no means immune from being yelled at by Davies in one of his more "excitable" states, these moods apparently did not last and left no scars, at least as far as Chris was concerned. Chris always liked him very much despite this tendency.
However it came about, the year 1946 found Davies working on his own account from retail premises on Rainhall Road in the town, at the back of which he soon set up a very basic workshop and design office. Arthur Firth had first-hand knowledge of this because it was at this very time, at the age of 24 years, that he began working in Barnoldswick as the foreman of a bakery after serving in the Royal Navy during the war years as a cook on minesweepers. Arthur recalled that at this time Davies appeared to be living very much on a shoestring – he evidently used to take meals at a café run by Arthur's sister, who commented sympathetically that Davies must be rather hard up because he wore shoes which were patched with pieces of cardboard!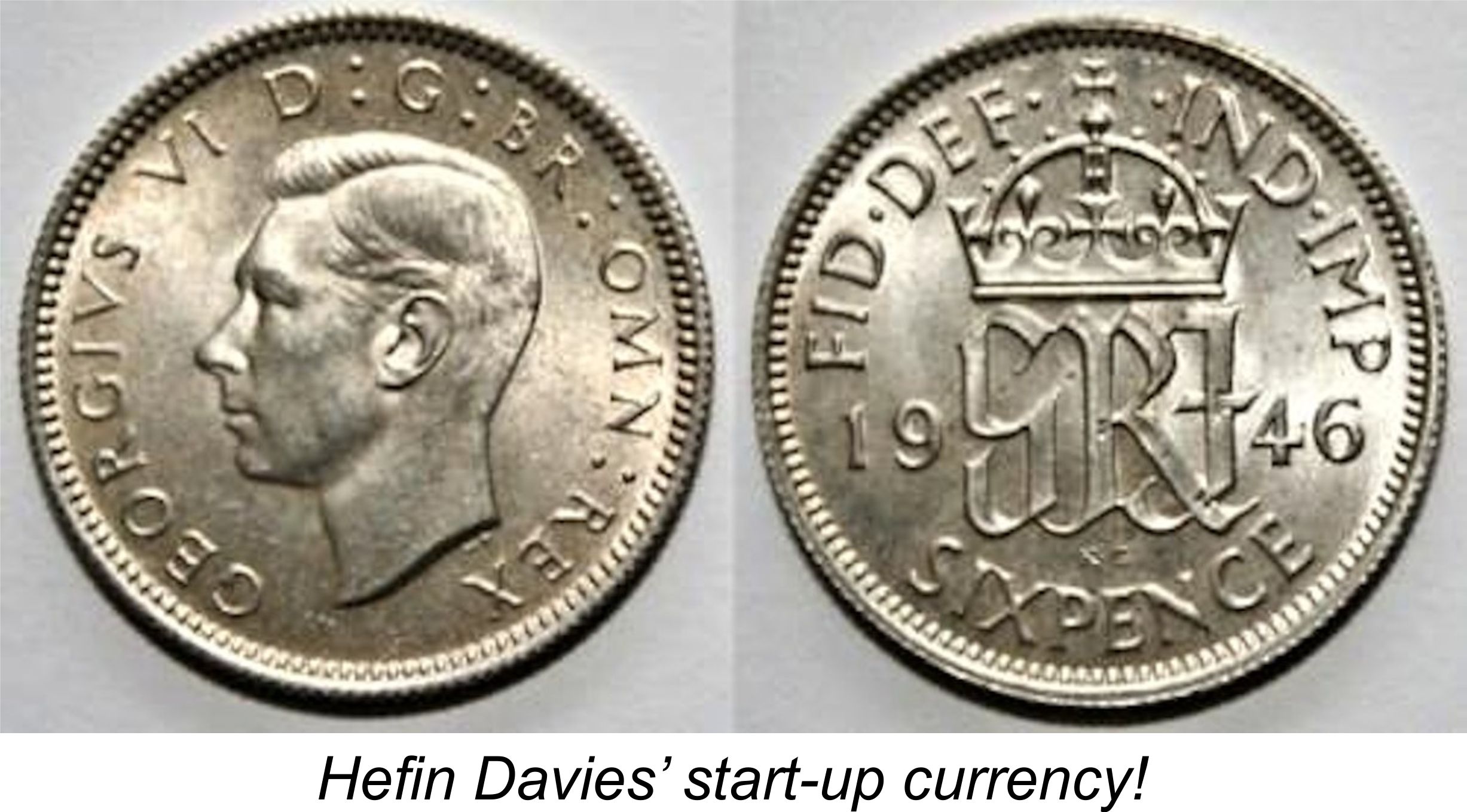 This is consistent with Bill Callow's recollection of Davies telling him many years later that his start-up capital for his original Barnoldswick venture amounted to a princely £40 which he had saved up entirely in the form of silver sixpences (2½ p). A total of 1600 sixpences - quite a collection! Mind you, this amount of capital was somewhat more than it might sound – it would be equivalent to at least $3,000 today (2014).
Apart from his retail activities, the details of which were not recalled by Arthur Firth, Davies ran a small design office from his premises in Barnoldswick. Whatever his character flaws, he appears to have been a genuine model engine enthusiast all along, and his initial focus was on providing support services to the model engineering community. At the outset, he produced drawings for the use of home constructors, but soon expanded his range of services to include sets of castings and machined components for the featured designs. These materials were produced by others at this stage. The Mk. I Wildcat diesel was one of the designs offered for sale in this form, along with a hot air (Stirling cycle) engine.
In 1947, Davies somehow managed to finance the purchase of his first lathe and immediately commenced the small-scale in-house production of his designs, still working from premises on Rainhall Road. He also adopted the company name of Davies-Charlton Ltd. at this time. A revised Mk. II version of the Wildcat was an early product of the D-C venture.
The name of the company would appear to imply the involvement of an individual named Charlton. However, with a single exception to be discussed below, years of intensive research and close inquiry have failed to turn up any evidence whatsoever of the actual existence of a partner by that name. As we shall see in a later section of this article, it now appears most probable that Davies simply attached the name Charlton to his own to move the perception of his company up-market given the enhanced social status implied by the use of double-barreled names in England.
In enhancing the status of his company name in this manner, Davies may have simply selected the name of one of his former associates at Rolls-Royce. It's also possible that someone by the name of Charlton provided short-term financial assistance to enable Davies to acquire the equipment necessary to commence in-house production in 1947. If the latter was the case, Davies presumably paid back the loan early on without Charlton ever becoming a partner. In this case, the application of the name would simply be a way of recognizing the timely assistance provided at a key moment in Davies' career.
Hefin Davies' former secretary Chris Crosby remains the sole individual who has ever claimed to have first-hand knowledge that there was indeed a Mr. Charlton. As far as I'm aware, the reality of Charlton's existence has never been asserted by any other individual on the basis of authoritative first-hand knowledge. Chris stated her sincerely-held belief that Charlton was a former associate of Hefin Davies at Rolls-Royce who left that company in 1947 to join Davies in starting the Davies-Charlton enterprise. She recalled meeting Charlton at the company offices on a number of occasions.
As we shall see later, a considerable body of persuasive evidence gathered since 2010 is entirely consistent with the notion that the individual recalled by Chris Crosby as Charlton was in fact none other than Alan Allbon! We shall examine this probability in detail in a later section of this article.
Returning now to the early years of the company, Arthur Firth recalled that the big break for Hefin Davies came in 1948 when he was pursuing the expansion of his manufacturing activities, which naturally required him to take on additional staff. He was successful in persuading the talented production engineer Walter Kendall, the future founder of Marown Engineering and the ME model engine marque, to leave Rolls-Royce for the purpose of joining him at D-C Ltd. It seems possible that Chris Crosby was confusing the mysterious "Charlton" with Walter Kendall when recalling that Davies had a colleague who left Rolls-Royce in 1947 to join him at D-C Ltd.
Quite apart from bringing his engineering talents to the venture, Kendall also just happened to be engaged to (and subsequently married) the daughter of the sub-contract manager for Rolls-Royce! From that point onwards, Kendall's father-in-law routinely passed the pick of the sub-contract work to D-C Ltd., thus laying a firm foundation for the company's later success.
It appears that Hefin Davies had always seen the undertaking of custom precision engineering work for Rolls-Royce and others under contract as a cornerstone of his company's broader long-term portfolio. He became increasingly successful in this area of endeavor once he commenced the development of his own in-house manufacturing capabilities in 1947 and subsequently began to benefit from the influence of Walter Kendall's family connection. Indeed, this type of activity was destined to occupy a substantial proportion of the company's technical resources over much of its active lifetime. Bill Callow later recalled that during its heyday Davies-Charlton was one of the most successful aero-space sub-contracting companies in the whole of the UK.
The model engine manufacturing which was carried on from the outset soon became a secondary albeit important source of revenue for the company during this period. The fact that this subsidiary activity was maintained throughout despite the ever-growing pressures of other work undoubtedly reflects Hefin Davies' personal passion for model engines which lasted throughout his lifetime, as clearly recalled by Bill Callow.
We might expect that Barnoldswick would have provided Davies with a sizeable pool of skilled workers from which to staff his company as the scope of its activities expanded over time. The successive presence of Rover and Rolls-Royce would have ensured that as of 1947 the town was home to a significant pool of highly skilled precision engineering personnel, a few of whom might have been surplus to Rolls-Royce's immediate requirements or might have been persuaded to make a change. Alternatively, skilled workers might have been enticed there by the prospect of subsequently being taken on by the prestigious Rolls-Royce company on the basis of their experience with Davies-Charlton.
However, it appears from Arthur Firth's recalled experiences that Davies did not always follow established practises when hiring workers. One talented individual who was living in Barnoldswick at the time and working for D-C Ltd. was none other than George Fletcher, later to become chief engine designer for both International Model Aircraft (IMA – FROG) and (briefly) Electronic Developments (E.D.). Fletcher was a friend of Arthur Firth's and suggested to him that he could do worse than ask for a try-out at D-C Ltd. as a cylinder honer.
Arthur did so and quickly found that he had a real knack for this simple and repetitive but exacting process. Having demonstrated his ability to Davies' satisfaction, he was quickly offered a job at a princely £12 per week – an above-average pay packet at the time and a significant increase over Arthur's former £7 per week income as a bakery foreman! Arthur recalled that he was able to hone some 120 piston/cylinder sets per working day.
Arthur's recollection provides very interesting and rather unexpected evidence of Davies' willingness to look outside the engineering field for talented workers to fill specialized positions, at least during the start-up years. Arthur Firth had been a baker, while fellow early D-C employee John Moore (later to found Moore Engineering and take over the ME range) had been a carpenter and builder, although he had spent some time as a technician in the RAF during the war. At this early stage, Davies appears to have been quite happy to employ anyone from any background as long as he could capably perform whatever specialized task he was assigned to. Moreover, he paid such people fair wages, not downgrading their pay scales on the basis of their lack of previous direct experience. As long as they could do the job well, Davies seems to have been happy to pay them accordingly.
In this somewhat unusual fashion, Davies progressively built up his workforce to meet the increasing volume of business now being generated. Now that he was set to become financially secure, Davies clearly felt himself to be in a position to start a family. It must have been at around this time that he married his wife Anne, also a former Rolls-Royce employee. The marriage was apparently very successful, surviving until Davies' death in 1980.
Once Davies was in a position to commence in-house manufacture of model engines in 1947, the first Davies-Charlton model engine to be manufactured at this location was an updated Mk. II version of the 5.3 cc D-C Wildcat diesel, a bulky but well-made and dependable sideport unit with a useful "sports" performance by the standards of its day. The Wildcat appeared in three successive variants over a period of several years, with a glow-plug conversion kit also being developed. The company recommended that the use of this kit be restricted to engines which had been well used previously in diesel configuration. The Wildcat was notable for the excellent quality and finish of its castings.
It's worth mentioning at this point that throughout the
company's existence the engine castings used in the manufacture of D-C engines were invariably produced by outside suppliers rather than being cast in-house. The sole exceptions to this rule as far as Arthur Firth could recall were the D-C engine test stand introduced in May 1954 and the D-C adjustable control-line handle which appeared in 1957. Both of these items were apparently cast in-house.
Returning to 1948, it was during this period that Davies-Charlton first entered the flying model kit market. They did so with a control-line stunt model designed expressly for the Wildcat diesel and sharing the "Wildcat" name. As far as the record shows, this was the only kit produced by the company during the early years. It's unclear whether or not this kit was actually manufactured by D-C Ltd., but it seems rather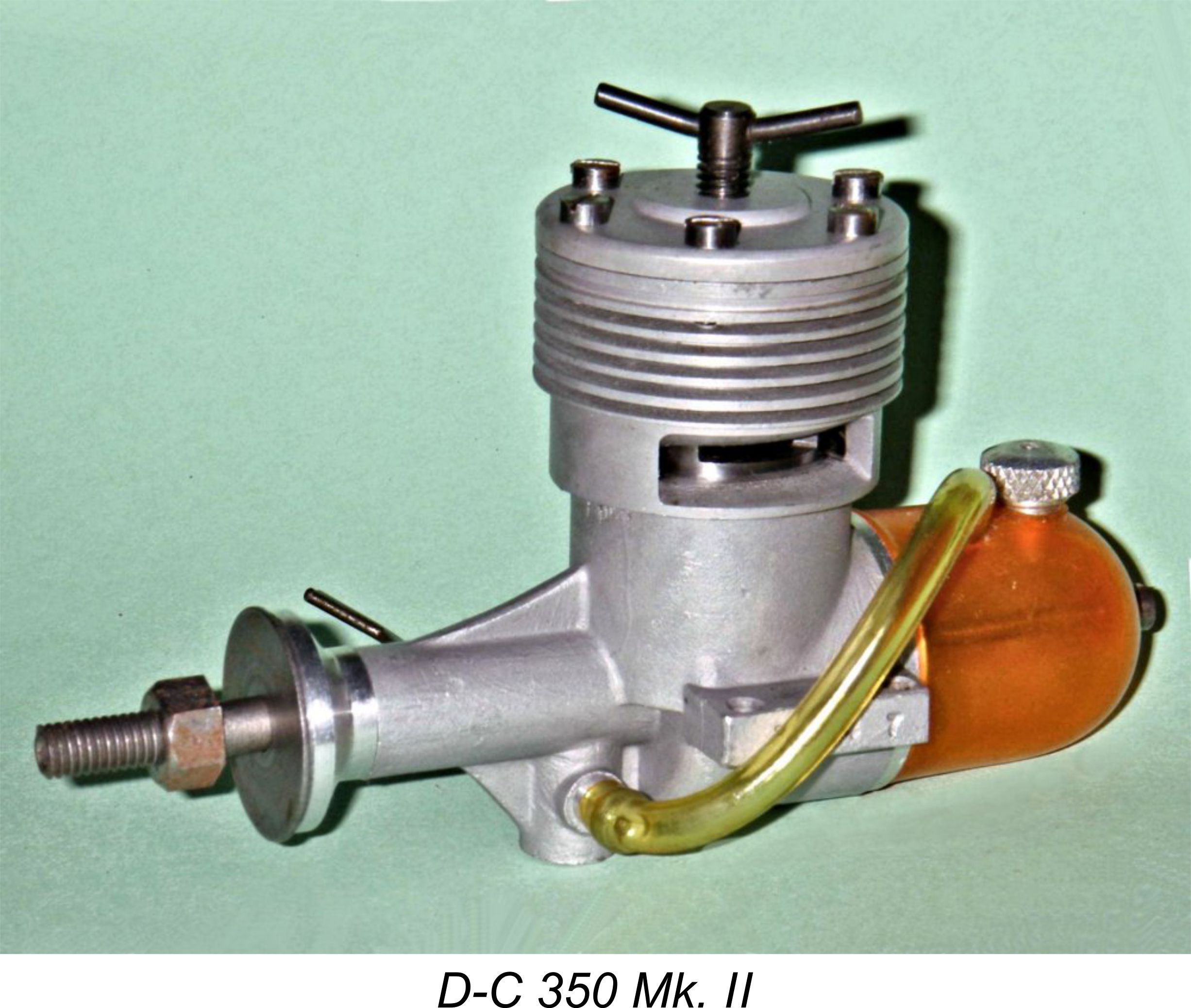 unlikely - wooden kit manufacturing and precision metal machining are somewhat incompatible activities under the same roof! The kit's tenure on the market appears to have been relatively short.
After a production run of the better part of three years which earned the company a good reputation among modellers, the trusty Wildcat was replaced in 1950 by the far more up-to-date and equally well-made 3.44 cc D-C 350, which again appeared in several variants and was offered in both diesel and glow-plug versions. It attracted very favourable media reviews, resulting in its being well received by the modelling public. Consequently, it was destined to enjoy a comparatively long production run. As far as we know, these early products were designed primarily by company founder Hefin Davies.
Meanwhile, the scope of the company's sub-contract work for Rolls-Royce and others was still growing rapidly. This soon began to create difficulties for Davies, forcing him to look around for creative solutions.
Amalgamation
During the early 1950's the company's expanding and very lucrative involvement with contract work through Rolls-Royce and others began to take up an increasingly disproportionate amount of Hefin Davies' time, deflecting him away from the design of further new model aero engines. This situation prompted a significant change in 1952 when Davies-Charlton progressively joined forces with Alan Allbon, who had been marketing his own rather more diverse engine line since early 1948.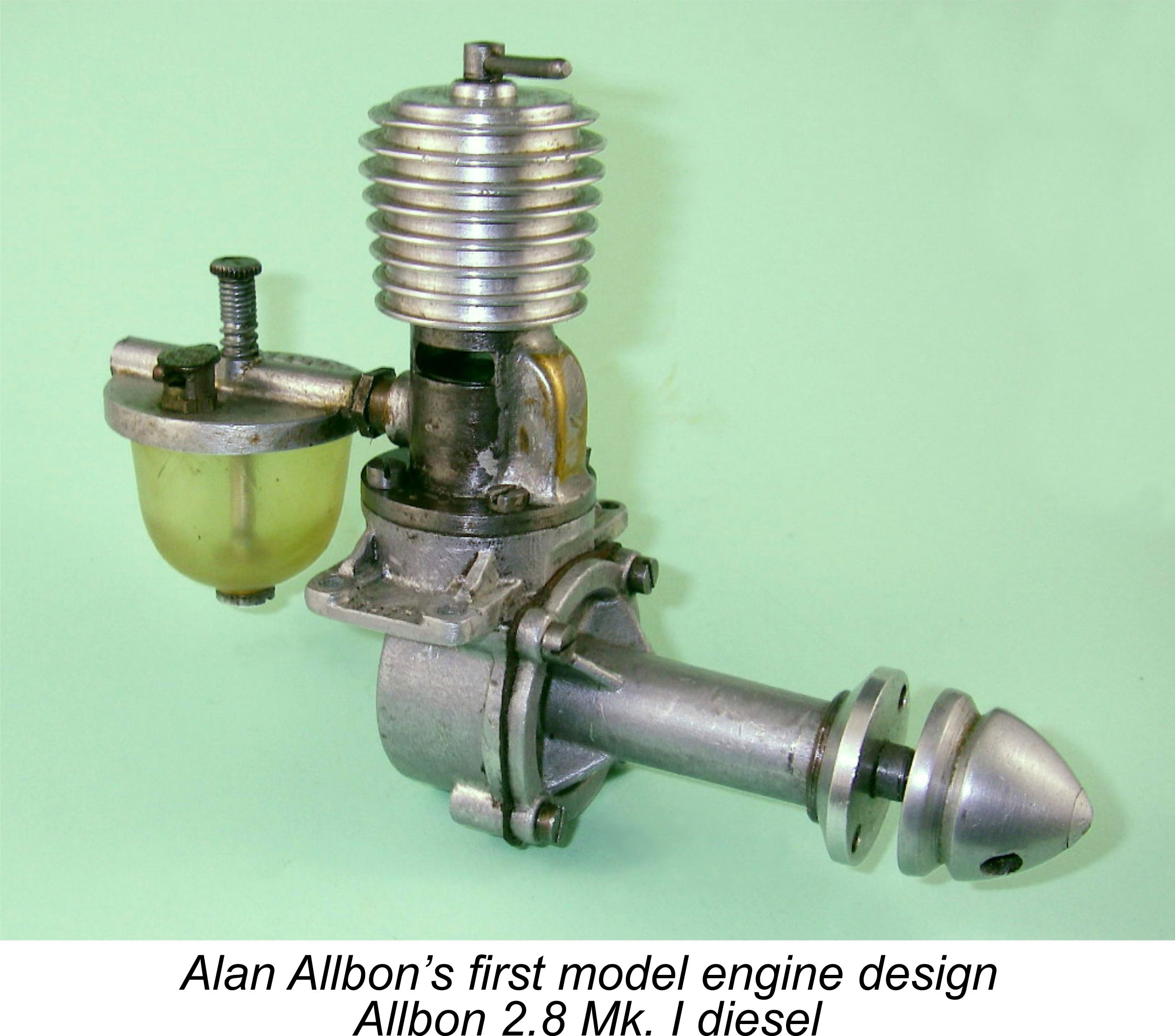 An updated biography of Alan Allbon which includes a great deal of input from his sons Kenneth and Derek may be found elsewhere on this web site. To summarize the main points, Allbon got his start in the model engine business with three successive variants of a very workmanlike 2.8 cc sideport diesel. Later models included the 1.5 cc Arrow glow-plug motor (October 1949), the 1.5 cc Javelin diesel based on the Arrow (February 1950) and the 0.55 cc Dart diesel (October 1950), basically a reduced-scale version of the Javelin.
The Allbon engines were initially manufactured at a plant located at 51a Thames Street, Sunbury-on-Thames, Middlesex (later transferred to Surrey), just to the west of London. This was nowhere near Barnoldswick but was very close to the successive haunts of the E.D. company at Kingston-on-Thames, West Molesey and Surbiton, and not all that far from the International Model Aircraft (IMA) plant just to the east at Merton, where the FROG range was manufactured and where early D-C employee George Fletcher was later to become chief model engine designer after a brief period working with Alan Allbon at Sunbury. The Mills Bros. workshops at Woking were also comparatively nearby. The model engine industry was a significant employer in south-west London in 1948! Think of the craic in all those engine-maker's pubs ………….
The Allbon Dart was introduced in October 1950, achieving immediate and overwhelming popularity. This in itself would undoubtedly have forced Allbon to make alternative production arrangements, but another factor intervened before Allbon had time to react to the production demands imposed by the Dart's success. This was the outcome of the infamous purchase tax test case, which upheld the April 1948 government decision to impose a whopping 331/3% purchase tax upon all manner of modelling goods, including engines.
This October 1950 decision by the Court left British model engine manufacturers facing either a massive bite out of future profits, which were already very much on the marginal side by normal precision engineering standards, or the imposition of a significant price increase upon a relatively cash-starved market. They also faced a major book-keeping headache. Worse yet, those firms which had not paid taxes while the test case was before the courts now faced a very substantial government bill for two years' worth of unpaid back taxes. Ouch .....!!
Sadly, Alan Allbon had been among those who had not paid tax while the case was before the Court. Worse, he had failed to make adequate financial provision for the possibility of an unfavorable outcome of the test case, a result which came as a major surprise to everyone involved in the model trade. The fall-out from this came close to driving Allbon out of business at the very time when his product line was reaching its peak of its popularity. In order to meet his tax obligations, he was forced not only to sell his house in Sunbury but also to relinquish his Sunbury workshop along with much of his machine tooling. This ended model engine manufacture at Sunbury.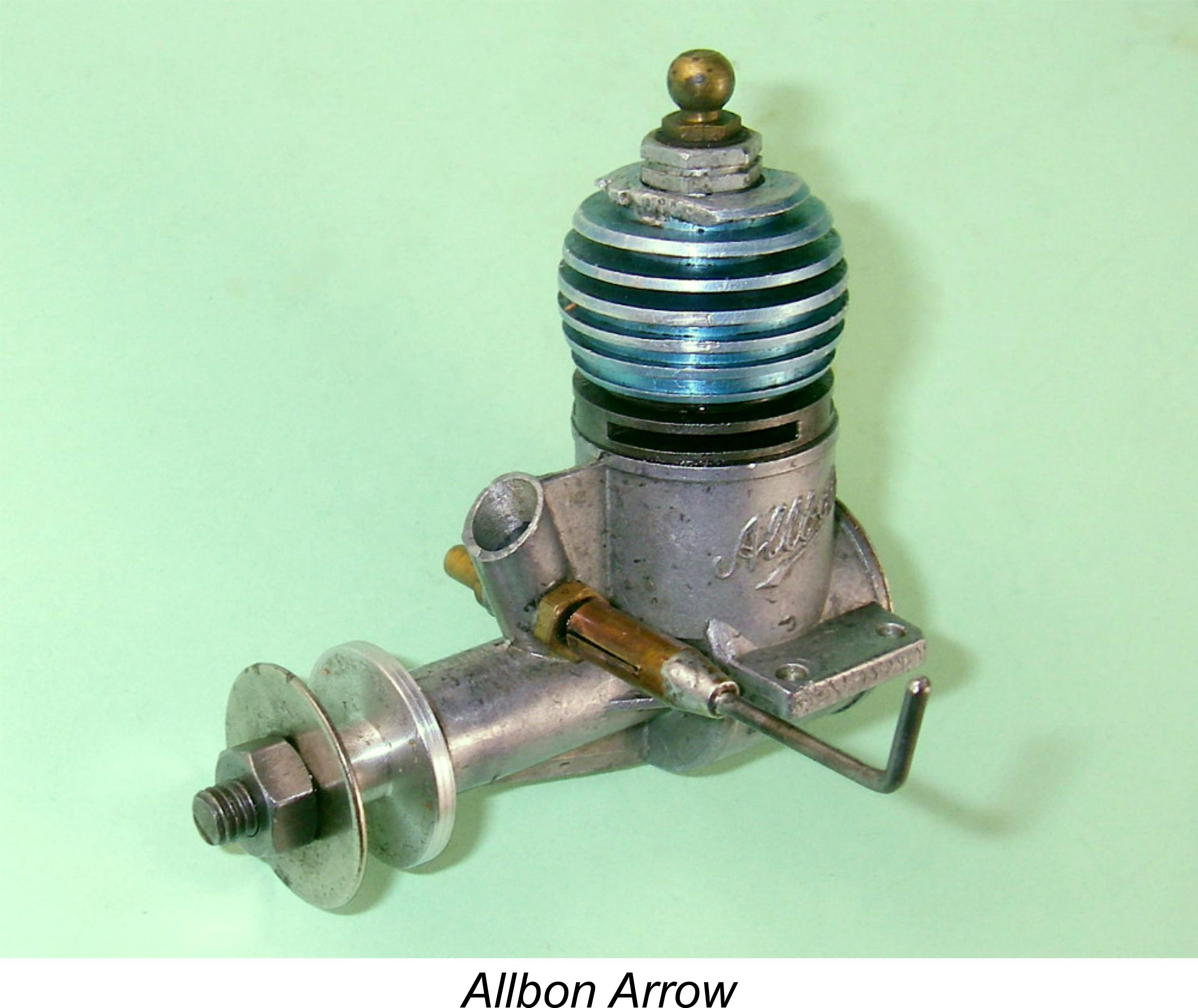 Having lost his source of income, Allbon was compelled to move his family up to Bedford to live there with his wife's parents while getting his affairs sorted out. After a brief period of non-availability of the Allbon range, he soon re-established a much-reduced manufacturing operation in an old forge building at the nearby village of Cople in Bedfordshire, using a limited inventory of machine tooling which he had managed to save from the tax disaster. However, the ongoing demand for the Dart and the Javelin far outstripped Allbon's ability to produce them using the reduced facilities at Cople. Production of the not-too-successful Arrow seems to have been terminated quite early on during the Cople era, but even this step did little to relieve Allbon's problem.
As a result, by mid 1951 Allbon found himself faced with a significant challenge - he had an extremely successful product line but was unable to produce the engines at a rate which matched the demand. This situation appears to have been the primary catalyst in prompting Allbon to enter into discussions with Hefin Davies regarding the possible mutual benefits of some level of cooperation.
It appears that D-C Ltd. had weathered the tax crisis more or less unscathed. Certainly, their production of model engines was unaffected. Either they had prudently made provision against the possibility of a negative outcome to the case, or the fact that their primary source of income was by now the high-tech subcontracting work for Rolls-Royce and others cushioned the blow.
Either way, their sub-contract business was still growing, leaving Hefin Davies in urgent need of well-qualified assistance on the model engine design and manufacturing fronts. He must have been anything but reluctant to enter into discussions which could bring a designer of the calibre of Alan Allbon into the D-C model engine venture. These discussions proved sufficiently fruitful that a move towards eventual amalgamation was soon initiated.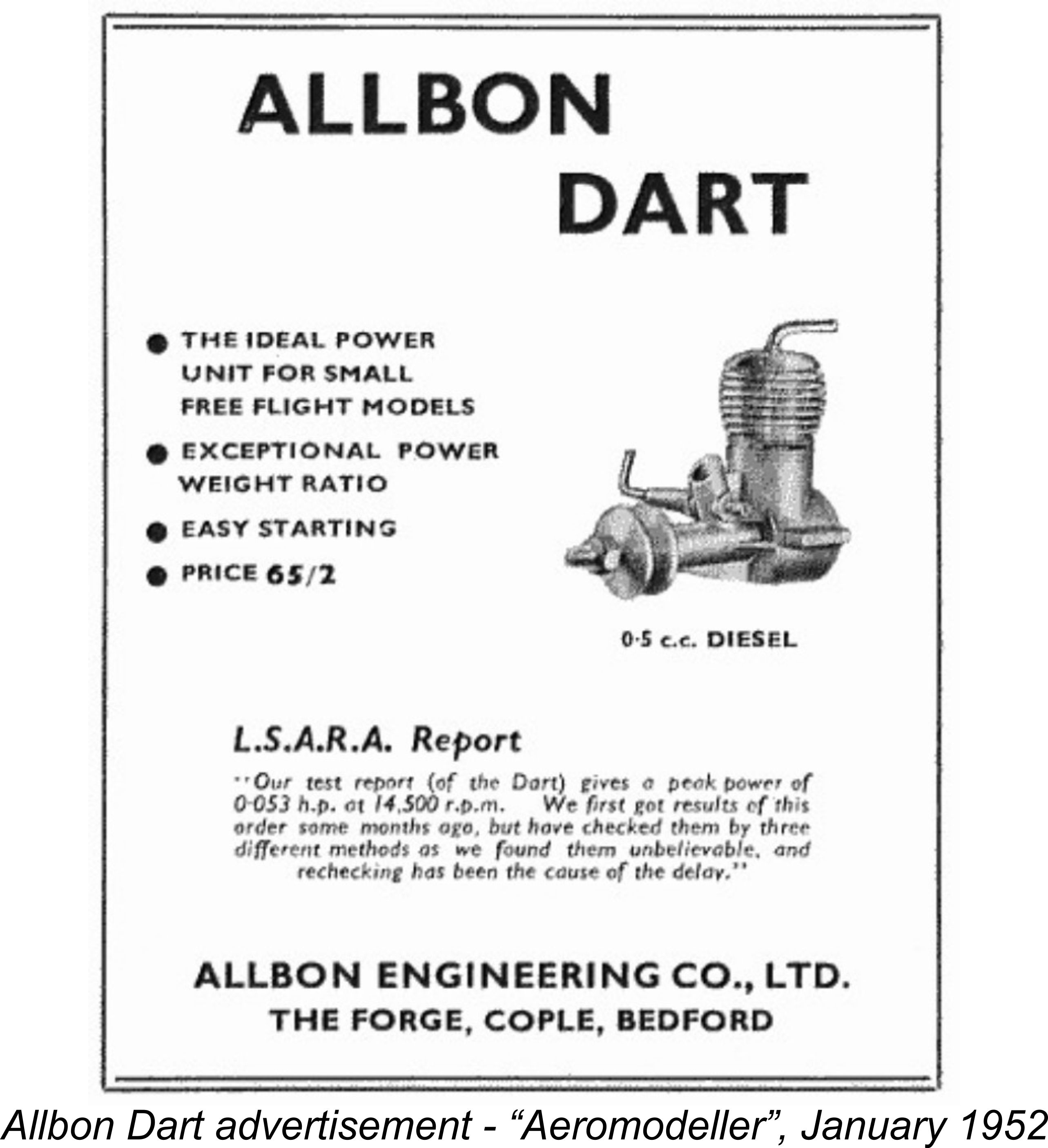 The first indication that change was in the wind was another brief period of non-availability of the entire Allbon range in the latter part of 1951. Notices to this effect appeared in several advertisements from major retailers at this time. This hiatus presumably represented the transition of production from Cople to Barnoldswick. However, the Dart quickly re-appeared in late 1951, being advertised by Allbon from his Cople location with no mention of any involvement on the part of Davies-Charlton (who continued to advertise separately). This created an impression that the Allbon engines were still being independently manufactured by Allbon Engineering at Cople.
However, in his "Accent on Power" column in the April 1952 issue of "Model Aircraft" (probably written in late February 1952 given the editorial deadlines involved), the always well-informed Peter Chinn gave the game away by letting slip the fact that the manufacture of the Dart had actually been taken over by Davies-Charlton. The fact that Allbon continued to advertise independently from his Cople location under the Allbon Engineering banner while Davies-Charlton in turn continued to advertise their own distinct range from the Barnoldswick address clearly implies that at this stage no actual merger of the two companies had taken place. In all probability, Allbon had simply taken advantage of Davies-Charlton's previously-mentioned willingness to undertake contract work for others by contracting out the manufacture of the Dart to Davies-Charlton. Hence the relationship at this stage was almost certainly purely contractual.
It's also significant to note that the only Allbon model advertised during most of 1952 was the Dart. This implies that Allbon had ceased to manufacture the Javelin at Cople, evidently preferring to recoup his heavily depleted fortunes by simply collecting his agreed share of the proceeds from sales of the very popular Dart. He may have manufactured a few examples of the Javelin at Cople just to keep it before the modelling public on retail shelves, but we have no firm evidence for this apart from the fact that the Javelin did appear in the advertised lists of a few major national retailers during 1952.
This arrangement must have worked out well for both parties, since the next step towards a full merger was the combination of the distribution arrangements for the Allbon and D-C ranges. This was a logical move given the fact that the Dart was in reality being manufactured by Davies-Charlton despite Allbon's ongoing reluctance to openly admit this fact. By mid 1952, Allbon's advertisements were confirming that the distribution (as opposed to the manufacturing) of the Dart had been taken over by Davies-Charlton, although Allbon still continued to advertise separately from his Cople location and still stopped short of crediting Davies-Charlton with the manufacture of the Dart.
Allbon was still advertising the Dart independently from his address at Cople in October of 1952, but the distribution of both the Allbon and D-C ranges had then been taken over by E. Keil & Co. This arrangement was to continue for some time following the completion of the merger.
The amalgamation of the two companies was apparently completed prior to the end of 1952, since Kenneth Allbon informs us that it was at that point in time that Allbon moved his family up to Barnoldswick. During his time at Barnoldswick, Allbon lived with his family at the nearby village of Salterforth. No more was heard of either Allbon Engineering or the Cople location from this time onwards. As of December 1952, production of the Allbon engines by that name was openly consolidated at Davies-Charlton's Barnoldswick plant along with that of the continuing Davies-Charlton models.
Unfortunately but quite understandably given the fact that they were still at school during this period, neither Kenneth nor Derek Allbon retain any knowledge regarding the terms of the agreement between their father and Davies-Charlton. What is known for certain from other sources is that Allbon's name was never added to the registered company title, implying that the arrangement had either a contractual or an employer/employee basis. In regard to the latter possibility, it's significant that Chris Crosby did not recall ever preparing or even seeing any wage/salary statements for Alan Allbon while she was the clerk/typist at Davies-Charlton. This implies that his remuneration took the form of some kind of periodic dividend or royalty payment based on the number of his engine designs sold.
Regardless of the actual form which it took, the merger allowed Davies to continue to lead the increasingly lucrative sub-contract work while Allbon assumed primary responsibility for the subsidiary model engine development and production programs. It also allowed the expansion of the Allbon range at production levels which could be tailored to meet demand. Hence there were clear benefits for both parties.
It was during this period that Christina "Chris" Crosby was employed at Davies-Charlton. Her presence in Barnoldswick resulted from her engineer husband being recruited to assist Rolls-Royce in their ongoing experimental jet aero engine program. While her husband worked for Rolls-Royce, 25 year old Chris found employment with Davies-Charlton as a clerk/typist and general factotum to Hefin Davies from 1953 until 1955. Among other things, she was responsible for maintaining the wage records. She recalled preparing wage statements for at least 20 people, thus providing us with a good estimate of the workforce at this time (Arthur Firth thought that the number of employees at Barnoldswick might have reached a peak of 30 to 40 individuals). However, she could not recall Alan Allbon's name ever appearing among those for whom such statements were prepared.
Chris recalled that the office staff during this period consisted only of herself, a book-keeper and a semi-retired man who packed and posted shipments of the company's products. All of the other employees worked in the various technical fields with which the company was involved.
The Charlton Mystery
We mentioned earlier that Chris Crosby was alone in expressing a very definite view regarding the much-debated issue of the existence or otherwise of a Mr. Charlton as a partner in the Davies-Charlton enterprise. Arthur Firth had no recollection of any actual individual by that name. By contrast, Chris Crosby informed us that there was indeed a Mr. Charlton, although his first name was not recalled. Her stated understanding was that like Hefin Davies, Charlton was a former Rolls-Royce employee who left that company in 1947 to join Davies in establishing the Davies-Charlton enterprise. We included this information in the revised text of our original MEN article on the history of Davies-Charlton, citing it as an established fact.
However, that was before I gained access to the first-hand evidence of Arthur Firth, who had no recollection of any actual person by the name of Charlton. Perhaps even more importantly, at that time I had not yet been put in touch with Kenneth and Derek Allbon, from whom I received confirmation that Alan Allbon actually relocated to Barnoldswick following the commencement of his association with Davies-Charlton in late 1952. This now-confirmed fact throws a real spanner into the works as far as the existence or otherwise of an individual called Charlton is concerned!
The key point to note in this context is that Chris Crosby specifically claimed to have no recollection of ever meeting Alan Allbon despite the fact that he was undoubtedly living in Barnoldswick and working at Davies-Charlton during the whole of her time there. She confirmed that she was of course familiar with Allbon's name from its appearance in connection with many of the engines which they were then manufacturing, but could not recall ever seeing him at the company offices where she worked. However, she did recall seeing "Charlton" on a number of occasions, characterizing him as a "quiet, studious and gentle man", in direct contrast to the "fiery" Hefin Davies. In her recollection, Charlton kept a very low profile while collaborating with Davies on the design side and acting as works superintendent. She recalled in particular that when he was not on the shop floor in his supervisory role he spent most of his time working in a design office located on the outskirts of town quite separate from the main D-C factory.
The amazingly low profile which Charlton somehow managed to maintain over an extended period of time has long been one of the enduring mysteries surrounding the history of the Davies-Charlton enterprise. I was expecting that Kenneth or Derek Allbon would be able to shed some light upon this elusive character, since if he was still an active participant in the company when their father worked there, as suggested by Chris Crosby, they must surely have encountered him. They certainly recalled meeting Hefin Davies on a number of occasions in his capacity as their father's business associate, so why not Charlton?
However, neither Kenneth nor Derek could recall ever meeting anyone by the name of Charlton! Nor did Arthur Firth recall having met anyone of that name. This is really odd, because if Charlton was in fact the works superintendent, he would have had daily supervisory contact with Arthur.
Still hoping to settle this vexing matter once and for all, Geoff Peacock went so far as to return to Barnoldswick in 2013 and again in 2015 to speak with a number of older long-time residents, many of whom claimed to have heard of Charlton but none of whom ever actually met him! Perhaps the most persuasive evidence collected by Geoff in this regard was his conversation with a former Rolls-Royce department manager from the 1950's and 1960's who had never met or even heard of any actual person named Charlton despite his firmly expressed certainty that he would have done so if such a person had actually existed. In fact, the only person who has ever claimed to have actually encountered Charlton was Chris Crosby.
At this point, it's necessary to pause for a moment to review the implications of this odd situation. The fact that no-one apart from Chris Crosby seems to have had any direct contact with Charlton at any time has always appeared very difficult to accept. If he was an active participant in the Davies-Charlton enterprise during the mid 1950's, surely others (including Arthur Firth, who would have worked under his direction) would have met him and someone would remember him? In particular, surely Alan Allbon would have had sufficient contact that his family would remember Charlton as well as they do Hefin Davies? After all, Allbon's association with Davies-Charlton would have made Charlton just as much his partner as Davies.
In fact, Chris's story would make far more sense if the individual to whom she referred as Charlton was in fact Alan Allbon!! It seems quite possible that the passage of some 55 years might have been sufficient to confuse some of Chris's memories. This is a hypothesis that warrants testing …………..
And indeed, as soon as we substitute Alan Allbon for Chris Crosby's "Charlton", the whole thing falls neatly into place! We now know from his two sons that Allbon was living and working in Barnoldswick throughout the entire period of Chris Crosby's employment there. We also know that he was placed in charge of the model engine design program, also taking responsibility for overseeing the ongoing production of the engines as works manager. These are precisely the duties which Chris assigned to the mysterious "Charlton"!
Allbon surely couldn't have carried out these duties without spending at least some time at the office discussing design and production issues with Hefin Davies. This after all was what had motivated Davies to bring him on board in the first place. This being the case, surely Chris Crosby must have seen him in the office at some point, and more than once at that? It now appears that in fact she did so, but somehow gained the impression that he was Charlton rather than Allbon!
Chris's description of "Charlton" as a "quiet, studious and gentle man" is completely consistent with what we now know of Alan Allbon's character from his immediate family – that is exactly how Kenneth and Derek objectively characterize their father. His reported activities as Davies' design collaborator and works superintendent are equally consistent with the roles that Allbon was undoubtedly brought on board to fulfill.
This view also makes perfect sense of Chris's additional comment to the effect that the company's design/drawing office was maintained in separate premises on the outskirts of Barnoldswick, some distance from the main workshops and business offices which were located near the centre of town on Rainhall Road. The design/drawing office is precisely where we would expect Alan Allbon to have spent much of his time. And indeed, Chris recalled that "Charlton" spent much of his time at this location, away from the centre of the company's activities (and perhaps away from the vagaries of Hefin Davies' temperament!).
Once again, if we substitute Alan Allbon for "Charlton", this makes complete sense. Although Kenneth Allbon was certain that his father did not do his design work at the family residence in Salterforth, Allbon may very well have done most of that work at a separate office near his home away from the distractions of the main factory and the head office. This would place the design office on the outskirts of Barnoldswick, just as Chris recalled.
It's actually quite likely that Allbon took such premises on his own initiative to provide himself with a working environment free from outside distraction. If his relationship with Davies-Charlton had a purely contractual basis, as seems not unlikely, he would have been completely free to do so.
Taking all of these comments into account, the conclusion becomes almost inescapable that the "quiet, studious and gentle man" recalled by Chris Crosby as having a key role in the design program as well as the supervision of the manufacturing operations was none other than Alan Allbon! Any other view would imply that there were two individuals (Allbon and Charlton) concurrently sharing exactly the same responsibilities and personal characteristics! Moreover, one of them appeared periodically at the company offices, while the other was never seen there at any time. It's really difficult to see how such a situation could have arisen or been sustained.
Now that we know for sure that Allbon both lived and worked in Barnoldswick during the period of his association with Davies-Charlton, I for one find this argument compelling. It's no discredit to the 82 year old Chris Crosby that her recollections might have become a little blurred well over half a century on - I have the same problem with memories which are far less old than that!! However, it does seem to be the case that there has been some transference of identities in this instance. Another such example would appear to be Chris's recollection of the identity of Davies' fellow Rolls-Royce employee who laft Rolls-Royce in 1947 to join him. It seems almost certain that this was Walter Kendall rather than "Charlton" as recalled by Chris.
Which unfortunately brings us right back to the original questions which we had for a time believed to have been answered - was there a Charlton; what was his role; and (assuming that he really existed) why did no-one other than Chris Crosby ever actually see him? Our new insights set out above force us to go back and review some of the previously-identified possibilities in light of the new information now available.
One such possibility is that Charlton did exist and that Chris's previously-stated understanding of his role in helping to found the company in 1947 was substantially correct. If this was so, there's a ready explanation for the seeming disappearance of Charlton from the scene at an early stage. Given Hefin Davies' unquestionably difficult character as a colleague, it would be quite understandable if Charlton (assuming that he existed) quickly found himself unable to work with Davies and either got out or was bought out. No-one else seems to have managed to work collegially with Davies for more than a few years at a stretch - why should Charlton have been any different? It's entirely possible that he simply stepped aside and slipped into the role of a sleeping partner, as suggested by Derek Allbon.
It's also possible that someone named Charlton may have provided some financial assistance to Davies during the start-up phase in the form of a loan which Davies repaid early on without ever making Charlton a partner. In such a case, the use of the name would simply be a way of recognizing Charlton's assistance, while also moving the company name up-market as a bonus. At this distance in time, we're highly unlikely to uncover any evidence of such a transaction if it took place.
However, Kenneth Allbon came down firmly in support of the third alternative possibility that Hefin Davies simply added the Charlton name to his own to impart a more "up-market" aura to the company name. Double-barreled names were a strong indication of elevated social stature in Britain during this era. There were a number of documented precedents for the creation of such company names.
In support of his belief, Kenneth shared a clear recollection of quizzing his mother on this very point and being told that the name "Davies-Charlton" was that of Hefin Davies' own solely-owned company. She clearly conveyed her understanding that the additional name had been chosen by Davies, possibly from among those of his former associates at Rolls-Royce, simply to move the company's profile up-market. This hypothesis has always seemed eminently credible to me, to the extent that Chris Crosby's affirmation of Charlton's reality as a partner in the business actually took me very much by surprise.
As matters now stand in the light of Kenneth's evidence, and unless someone comes forward with compelling evidence to the contrary, I personally believe that the mystery of "Mr. Charlton's" reality or otherwise is solved - he was an "invention" on the part of Hefin Davies as opposed to being a partner in the business. Geoff Peacock need look no further!!
Unhappy Interlude at Barnoldswick
Kenneth Allbon recalled that the relationship between Davies and his father began quite cordially. Had this not been the case, it's unlikely that Allbon would have consummated the merger in the first place. However, all sources who knew him agree that Davies was a very pushy individual with a short fuse who liked to be on top of everyone and everything at all times. He also acquired a legend for being very "careful" with money! As time went on, he apparently displayed these aspects of his character to an ever-increasing extent in his dealings with Alan Allbon. Kenneth recalled meeting him on several occasions during this period and taking an instant dislike to him due to his brash "in yer face" personality! A very direct contrast to the reported character of Alan Allbon, in fact.
Over time, Davies' bulldozer style began increasingly to grate upon the quiet and even-tempered Allbon. This did not prevent Allbon from producing a number of very successful new designs for production by Davies-Charlton under the Allbon name. There were the previously-mentioned Mk. II versions of the Dart and Javelin which were announced in December 1952 as well as the Mk. I version of the 1 cc Spitfire, which appeared in June 1953 and became one of the all-time classic beginner's engines. The well-established 350 models (diesel and glow) remained in production under the D-C banner throughout this period, as they were to do for some time to come. Allbon of course had had nothing to do with their inception and design since they pre-dated his involvement.
In June 1954 Allbon's famous Bambi 0.15 cc diesel appeared. This was the smallest-displacement model engine ever to enter series production up to that time, a record which it probably still holds today. Arthur Firth, who by this time was D-C Ltd.'s most experienced and capable cylinder honer, characterized
the Bambi as "a bugger to get right!" Far smaller engines have been offered on a special order basis - the truly amazing sub-miniatures of Ronald Valentine come immediately to mind. However, these individually hand-made units cannot legitimately be viewed as series production models.
Chris Crosby recalled that the management and staff at Davies-Charlton were very proud of this groundbreaking little model. Our previous article on the story of the Bambi may still be found on MEN.
Also in 1954, Allbon began work on a design which was quite distinct from that of his previous models, being intended from the outset to be constructed at minimal cost. The defining characteristics of what was to become the "classic" Davies-Charlton small-engine design were sturdy and ultra-simple construction allied to low production costs. The first manifestation of this new design approach appeared in October 1954 in the
shape of the instantly popular Allbon Merlin of 0.76 cc displacement.

However, behind the scenes all was far from well. Kenneth Allbon tells us that Hefin Davies' grating personality had led to an increasing degree of friction between him and Alan Allbon, with the result that by early 1955 the relationship between the two men had broken down completely. Given Allbon's well-attested ability to get along with almost anyone, responsibility for this unhappy outcome must surely be laid firmly at Davies' door. It only took just over two years..........
As 1955 came around, Allbon thus found himself in an increasingly untenable situation. It cannot be doubted that Hefin Davies found the situation highly unsatisfactory as well. Fortuitously, the opportunity to end this predicament lay only just around the corner.
Relocation and the Glory Years
The amalgamation of the D-C and Allbon ranges must have severely taxed the existing model engine production facilities at Barnoldswick. Moreover as mentioned earlier, by mid 1954 plans were well advanced for the introduction of several new models to augment the existing ranges. All of this must have underscored the need for expanded production capacity.
The introduction of the instantly popular Allbon Merlin in October 1954 was apparently the final straw. It just so happened that the resulting production crisis coincided with a number of initiatives on the part of the government of the Isle of Man (IOM) to attract industry to the island in order to alleviate a chronic unemployment problem there. Hefin Davies was quick to sense his opportunity.
The IOM is part of the British Isles but is not part of the United Kingdom, having its own laws and government under the ultimate authority of the British Crown. It is in fact legally defined as a self-governing British Crown Dependency. At the time in question, the Manx government was making a determined effort to attract investment and jobs to the island, and we may be sure that in his discussions with them Hefin Davies took full advantage of the various available incentives. From later conversations with Hefin Davies, Bill Callow understood that Davies did receive a grant from the Manx government of the day to help finance the re-establishment of the company on the IOM.
Upon the successful conclusion of negotiations with the Manx government, a move to the Isle of Man was quickly put in hand. The company continued to advertise from their Barnoldswick location through the early part of 1955, but by June of 1955 the move to the company's modernised factory at Hills Meadow, Douglas, Isle of Man was evidently complete. All subsequent Davies-Charlton model engines were manufactured at the new location, including their Allbon designs.
This was one of the instances in which Hefin Davies displayed what Arthur Firth characterized as his "utter ruthlessness". He had built up a valuable company as a result of the dedicated work and skill of his employees in Barnoldswick, who might have expected him to show some loyalty towards them in return. However, the deal with the IOM government stipulated that their support for the venture was conditional upon Davies providing work for existing IOM residents rather than bringing his own experienced workforce to the Island. The fact that he would have to cast adrift many of the very workers who had loyally contributed to his success presented no dilemma for Davies – he jumped at the opportunity without a backward glance.
Under the terms of the agreement with the IOM government, Davies was allowed to bring only three of his experienced shop floor workers with him. One of these was Arthur Firth, by now seen as an indispensable member of the D-C workforce. Three IOM residents were sent over to Barnoldswick in advance of the move to receive training from the very workers whom they were going to displace. It may well be imagined that D-C Ltd. was a rather unhappy workplace during this period............
Chris Crosby was another employee who was offered the opportunity to relocate to the IOM with Davies. However, she and her husband declined this opportunity, remaining in Barnoldswick and starting their family there. This ended her direct involvement with Davies-Charlton. Once again, our sincere thanks to Chris for so generously sharing her most interesting recollections.
The few employees and associates who made the move with Davies were allocated housing near the location of the new Hills Meadow factory, which was still under construction at the time of the move. One of these was Alan Allbon, who still retained some connection with D-C Ltd. at this stage – he was assigned a house in Laxey. Arthur Firth recalled that while construction of the Hills Meadow factory was being completed, the first engines manufactured (or at least assembled) on the IOM were completed in a temporary facility which took the form of a shed in a corner of a property occupied by a company called Vulfix which made (and still makes!) high-end shaving brushes! Back to the basics, at least temporarily!
The housing situation provided another example of Davies ruthless opportunism which was recalled by Arthur Firth. Apparently upon Davies' arrival on the Island, most of the factory employees were immediately put to work carrying out renovations and re-decorating work on both Davies' house and that assigned to Alan Allbon! As noted earlier, Davies was reportedly a bit "careful" about money, going so far as to install a punch-card machine in his own house to confirm that the employees were putting in the required hours while giving his home a make-over!
Another example of Davies' "frugality" came a few years later when, after starting to feel frustrated and undervalued, Arthur Firth told Davies that he was leaving D-C Ltd., with a request that he be paid off for work already done. Davies did not react well to this news – he responded by immediately locking Arthur's severance pay-packet in his safe! Arthur actually had to retain the services of a solicitor to finally get his hands on the money that he was owed.
After relating this sorry incident, it's rather astonishing to record the fact that after Arthur had been working for his new employer, the Dowty undercarriage manufacturing firm, for only some three months, Davies evidently recognized the vacuum in D-C Ltd.'s production capabilities which Arthur's departure had created. This led to Davies approaching Arthur, all sins forgiven, with an offer of a substantial pay raise and a job as milling superintendent for Arthur's son Kevin if he would return!
Arthur accepted this offer, subsequently remaining with D-C Ltd. until 1970, when he left again to go to work for the Marown Engineering firm owned by his former D-C workmate Walter Kendall, who had established the rival ME range in 1960 but had by 1970 sold that range to Moore Engineering. Even so, Arthur kept his hand in by heading over to Peel from time to time to assist another former D-C colleague, John Moore, with the honing work involved with the ongoing production of the ME range at Moore Engineering. It may be doubted that Arthur's stature in the eyes of Hefin Davies was enhanced by this move to a rival company!
Returning now to 1955, one individual who did not remain long with the company following the move to the IOM was Alan Allbon. He was no doubt keenly aware of the desire of the Manx government to encourage the development of high-tech industry on the Island. Kenneth Allbon did not know how this came about, but there's no doubt that the Manx government quickly offered Allbon the independent use of a vacant factory located in Douglas on the condition that he provide employment for a certain number of Manx residents. Given the irreparable breakdown of his relationship with Davies, Allbon was more than happy to accept this offer.
It was accordingly at this point in mid 1955, far earlier than had previously been widely believed, that Allbon formally terminated his direct association with Davies-Charlton, setting up his own independent precision engineering operation at the Douglas facility. During the following three-year period, Allbon and his family continued to live in Laxey, some eight miles to the north of Douglas. Allbon's place as works manager for D-C Ltd. was taken by one Ted Saunders, with whom Allbon was to become closely associated down the road when he and Saunders formed the Allbon-Saunders company in 1959.
It might appear at first sight that the move from Rolls-Royce's back yard in Barnoldswick to the somewhat remote environs of the Isle of Man must have rendered Davies-Charlton's ongoing contract work for Rolls-Royce somewhat more problematic from a logistical standpoint given the fact that the two companies were no longer co-located. However, it turns out that the Barnoldswick factory remained in operation at a somewhat reduced scale for some years after the move, presumably to facilitate the ongoing sub-contract work for Rolls-Royce. It was of course no longer involved with model engine production, but it was used for a time as a centre for the production of the model engine fuels marketed by Davies-Charlton.
Moreover, there were other high-tech aviation-related industries located on the Isle of Man at this time, including Ronaldsway Aircraft, Manx Engineers, the Dowty undercarriage-making firm and the Martin-Baker company which made ejection seats for the RAF and others. There have been credible suggestions that Davies-Charlton (and probably Alan Allbon) undertook contract work for local firms such as these, which may have taken up some of the slack for a time at least.
Regardless, there are clear indications that it was from this time onwards that model engine manufacturing began to assume a greater relative importance in the affairs of Davies-Charlton. It is certainly true that following the completion of the move to the Isle of Man, the company acted quickly to expand both its model engine range and its line of associated products.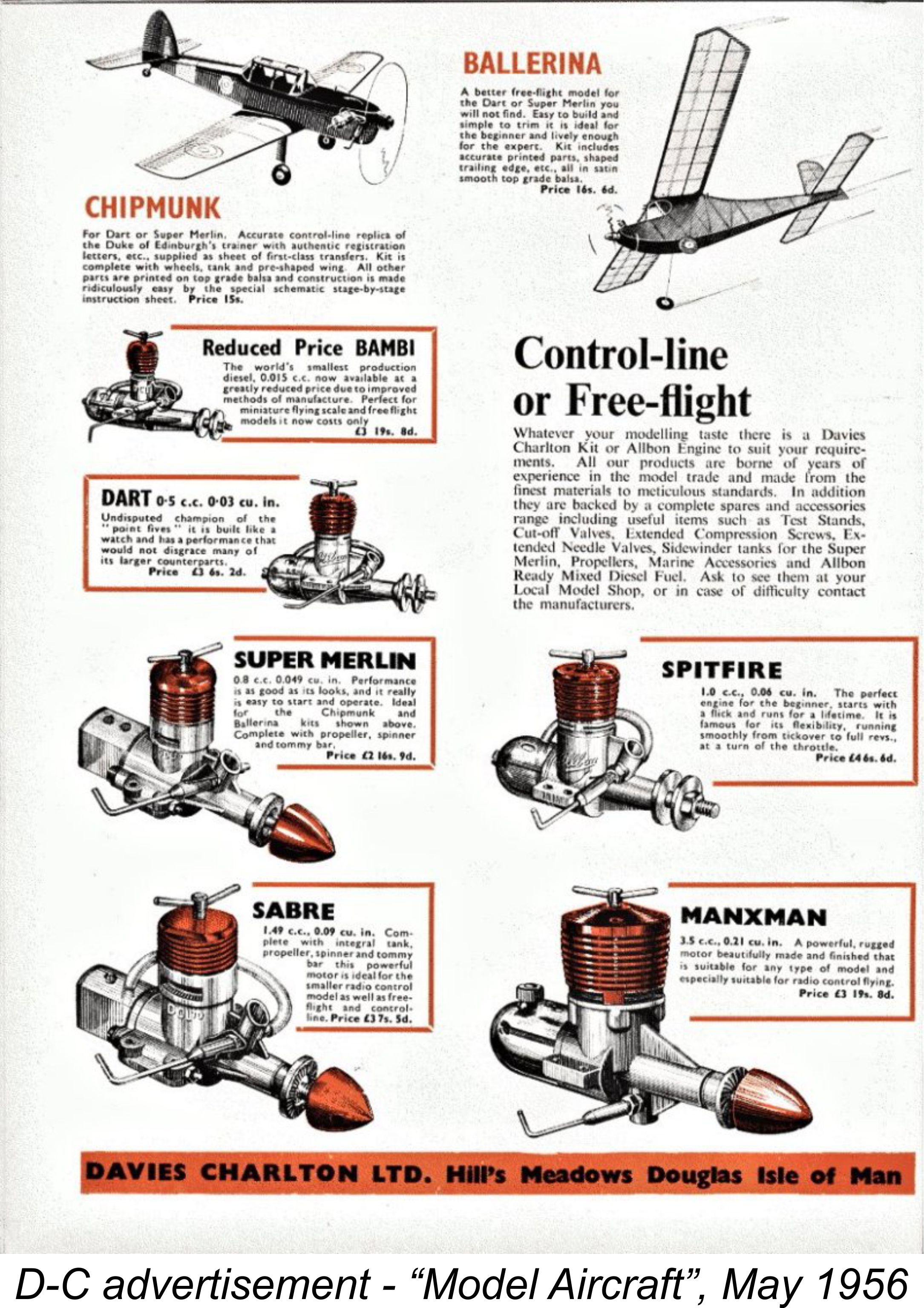 Despite Alan Allbon's departure in mid 1955, the success of the Allbon Merlin model soon prompted the release of other expressions of the same basic design in the form of the 0.76 cc Allbon Super Merlin (July 1955), the 1.5 cc Allbon Sabre (November 1955) and the 1 cc Allbon Spitfire Mk. II (February 1957). It's important to recall that Allbon had left the company prior to the release of all three of these models, which nonetheless bore his name for marketing purposes.

The appearance of the Sabre actually marks something of an often-overlooked turning point in the history of the D-C range and indeed of the British model engine manufacturing industry as a whole. In the opinion of many (including myself) the Javelin Mk. II had been a significantly better engine, and one which had considerable development potential waiting to be exploited.
Thanks in large part to its being built down to a price, the Sabre displayed a number of rather negative characteristics, most notably the ridiculously heavy piston which played havoc with vibration and con-rod life; the simplified cylinder porting which forced quite inappropriate port timings on the design (exhaust period 170 degrees, transfer period 90 degrees); a totally inadequate con-rod; and the excessive clearance between the cooling jacket and cylinder which pretty much guaranteed overheating of the cylinder liner. All of these factors were directly related to the obvious goal of minimizing production costs, regardless of the impact upon performance and longevity.
To make matters worse, the engine actually weighed
almost 50% more than the Javelin Mk. II for more or less the same power output. It's clear in the glaring illumination of hindsight that the advent of the Sabre marked the first manifestation of an over-riding focus on cost, as opposed to quality and performance, on the part of Davies-Charlton. Since others were forced to follow suit in order to survive, this was eventually to contribute significantly to the decline not only of the D-C range but the British model engine industry as a whole. The appearance of the Sabre may now be seen as the starting point of this decline.
It's important to note that none of this was down to Alan Allbon, who had left the company well before either the Sabre or the Spitfire Mk. II made their appearances. He would undoubtedly have seen at once that the scaling up his excellent 0.76 cc design would necessarily have to be accompanied by some design changes. For example, it's highly unlikely that he would have gone along with the absurdly heavy pistons used in these two engines. Moreover, he would probably have developed a far more sturdy con-rod and (in the case of the Sabre) a beefed-up crankshaft. The scaling-up of Allbon's smaller design was unquestionably down to Hefin Davies.

Regardless, Davies-Charlton's re-entry into the kit manufacturing field followed immediately in December 1955. Their first two kits were the Chipmunk semi-scale control-liner and the Ballerina free flight model, both specifically tailored to the Super Merlin. The D-C Bipe control-line biplane kit, again designed for the Super Merlin, was added to the range in August 1956, and finally the Wimpie control-line trainer for the same engine appeared in November 1956. The latter kit was not a success and didn't last long on the market. However, the others all survived for some years.
It's presently unclear whether or not the kits were actually manufactured by Davies-Charlton at their IOM facility. They were after all set up as a speciality precision metalworking concern, and the manufacture of wooden kits was a highly distinct business line requiring quite different tooling. Moreover, woodworking and precision metalworking don't mix well in the same premises due to the oil 'n sawdust factor…………It seems entirely possible that the kits were manufactured by others under contract, perhaps by KeilKraft, with whom Davies-Charlton had been closely associated only a few years previously. If anyone knows more about this, please speak up!!
The company also produced a neat and very practical engine test stand as well as fuel tanks, radial mounts, fuel cut-outs, airscrews and an adjustable control-line handle. There was also the Allbon diesel fuel, which was tailored to the company's engine range. Another interesting product of the company during these years was their hot air (Stirling Cycle) stationary engine, which sold for 30 shillings and was
advertised as the "Hot Air Engine for boys of all ages"! These intriguing engines are much sought-after collector's items today among aficionados of commercial stationary engines.
Having recounted the history of the company's early years in the IOM, it's necessary now to highlight a less happy issue which reportedly arose during this period. We've seen in the above account that despite the formal parting of the ways with Alan Allbon, Davies continued to sell Allbon's engine designs (some of them by that name), also freely applying the highly respected Allbon name to his line of accessories and diesel fuels. Even engine designs which were released after the split, such as the 3.5 cc Manxman (March 1956), were initially sold under the Allbon banner - reader Bill Wells advises that he has a boxed example of the Manxman, the box for which is clearly labelled as containing an "Allbon Manxman", also recommending the use of Allbon diesel fuel. I have heard presently-unsubstantiated eports that the 2.5 cc Rapier of February 1957 was also initially marketed under the Allbon name.
As far as the surviving members of the Allbon family are concerned, Davies had no legal right to continue to do this without Allbon's agreement and without compensation given the fact that
the dissolution of the original association had extinguished Davies' right to do so without alternative arrangements being made. However, as far as Kenneth and Derek Allbon are aware based on discussions with their father, Alan Allbon was never compensated in any way either for Davies' continued marketing of his engine designs, which continued beyond Davies' death right up to 1982, or for the on-going use of the respected Allbon name for promotional purposes, which continued into 1958, almost three years after the end of the association.
No doubt surviving members of the Davies family would tell a different version of this story. If any of them read this article, they are hereby cordially invited to do so for the record - I have no axe to grind and will gladly present their side of the issue. However, as matters stand, I am only able to comment on this matter on the basis of the Allbon family's view of the affair.
Whatever the truth, it's clear from my personal interactions with them that this seemingly unethical behaviour has left some lasting scars among members of the Allbon famiiy – I can confirm that Kenneth and Derek Allbon both still bear those scars today. Derek went so far as to characterize Davies as "a bit of a shyster who ripped my father off mercilessly through their "partnership""! Ouch!! Presumably Alan Allbon lacked the financial resources to fight Davies on this issue. Or perhaps he simply decided that life was too short and Davies wasn't worth it ..........there were other fish to fry.
After working in Douglas on the IOM for three years, the 52 year old Allbon returned to the English mainland in late 1958 to join forces with former D-C works manager Ted Saunders in entering the light engineering business on his and Saunders' own account. The new Allbon-Saunders partnership relocated to Milton in Berkshire, where they introduced the excellent little Allbon-designed 0.55 cc A-S 55 diesel in late 1959.
Mainly as a result of the increasing preoccupation of the British model engine marketplace with cost as opposed to quality and performance, (for which British modellers were to pay dearly), this fine little unit was at best a rather modest seller. Not being prepared to join the race to the bottom which had developed in the British model engine manufacturing sector, the company became increasingly preoccupied with the provision of precision engineering services to such clients as Mike Hewland of Hewland gearbox fame and the nearby National Atomic Energy Research Establishment at Harwell, near Didcot in Berkshire. Only some 2200 examples of the A-S 55 were manufactured before Alan Allbon abandoned the model engine field entirely. Readers interested in learning more about this excellent little motor are referred to our earlier article on MEN.
After retiring from Allbon-Saunders in 1970 at age 64, Alan Allbon died prematurely and most unexpectedly of a heart attack at Ilkley in Yorkshire in 1978 at the age of 72 years. The full story of the life and work of Alan Allbon may be found in a separate article on this website.
Returning now to the Davies-Charlton story, the decade following their relocation to the IOM proved to be the golden age of Davies-Charlton as model engine manufacturers, since it was during that period that the range established itself as one of Britain's most popular and recognizable model engine marques. Although the company's smallest-ever design, the 0.15 cc Allbon Bambi, was only modestly successful in sales terms, serving more as a "manufacturer's statement" than anything else, their other sports diesels such as the 0.76 cc Allbon Merlin (in standard and "Super" formats), the 1.5 cc Allbon Sabre and the Sabre-derived 1 cc Spitfire Mk. II (February 1957) quickly established themselves as sport-flier's favourites. In September 1957 the company also entered the popular model boating field in a big way by introducing marine versions of their entire model engine line-up from 0.55 cc to 3.5 cc. Both the range and the market scope were expanding, and business was good!
There were of course disappointments along the way. The 3.5 cc Manxman diesel which replaced the trusty old D-C 350 in March 1956 was an extremely well-made and attractive
engine, but it seems to have enjoyed rather limited sales success, being phased out relatively quickly as a result. To make up for this, the 2.5 cc twin ball-race Rapier which appeared in February 1957 alongside the Spitfire Mk. II was somewhat better received, remaining in production for some time. It was a really nice engine - I still fly a modified example regularly today.
In 1958 a small batch of Rapiers was produced with red-anodized heads, but otherwise identical to the original green-head model. Very few of these were produced - a former employee of the company suggested around 200 in total. Most likely this was more a case of saving a few bob by adding some Rapier heads to a red-anodizing batch ofcomponents for other models than a conscious effort to produce a
"limited edition" version of the engine.
Although the Dart, the Merlin and the Spitfire and Sabre "twins" were all initially marketed under the Allbon name, that name was progressively dropped from 1956 onwards, seemingly disappearing entirely in 1958 after lingering for a while on the company's diesel fuel labels. Soon thereafter, the staff of Davies-Charlton was strengthened by the addition of Harry Hundleby, a former editor of "Aeromodeller" magazine who was then resident in the IOM.
Meanwhile, Davies-Charlton maintained their prominent position in the British model engine industry in addition to continuing their contract precision engineering work for Rolls-Royce, among others. In mid 1958 Hefin Davies decided that Davies-Charlton would re-enter the glow-plug field. With this in mind he
undertook an extensive tour of the USA to study American production methods. Since Davies-Charlton was not seen in America as a competitor, he was apparently welcomed by the manufacturers whom he visited. The fact that Davies took the time and spent the money to undertake this trip is another indication of the increasing importance of the company's model engine manufacturing activities.
The immediate result of this initiative was the December 1958 introduction of the innovative and technically very successful Tornado Twin 5 cc glow-plug motor. This simultaneous-firing opposed twin used a pair of rotary valves which were fed by a single carburettor. The use of a one-piece crankshaft required the con-rod big-end bearings to be split, very much along "full sized" lines. The design also placed a premium on the accurate fitting and alignment of the crankshaft bearings at front and rear. D-C Ltd. made a fine job of overcoming these manufacturing challenges.
In my personal view, and speaking as a former user of this outstanding engine, this was Davies-Charlton's finest achievement in the model engine field. It was quickly followed in late 1959 by the far more mundane but commercially successful Bantam 0.76 cc glow-plug motor, which was a derivative of the Dart diesel model.
There was also talk of a high-performance 2.5 cc glow-plug motor based on the Tornado cylinder unit, and a prototype of such an engine did surface in later years. However, this bar-stock prototype may in fact have been part of the developent program for the Tornado Twin, since it would have represented an inexpensive means of testing different port timings for the Twin. The surviving example clearly doesn't represent an actual production prototype since the vestigial mounting lugs are only sufficient to allow for mounting in a test stand. This adds credibility to the notion that it may have been a test-bed for the Tornado cylinder. According to the engine's owner following its re-discovery, it ran very well.
No single-cylinder D-C glow-plug unit based on this prototype ever materialized in production form. However, the recent eBay appearance of an original D-C triangular box labelled for a 2.5 cc engine named the Comet sheds some light on this project The indisputable existence of this box clearly implies that some form of 2.5 cc glow-plug project did progress at least to
the stage where a few boxes were produced in anticipation. It's also evident that the resulting engine would have been named the Comet. The box in question had been re-labelled for a Merlin through the use of stickers, but the original printing was still preserved underneath the stickers. My thanks to reader Derek Butler for pointing me towards this interesting piece of the puzzle!
The Tornado Twin was an outstanding technical achievement which richly deserved to succeed, but it must have cost a great deal to develop and in all likelihood never repaid its development costs. It didn't find that many buyers and only lasted a few years in rather limited production. It seems likely that this experience had its effect upon Davies-Charlton's appetite for the development of new models, since such development appears to have stalled for quite a few years following the demise of the Tornado. In fact,
as events were to prove, the golden days of product development at Davies-Charlton were effectively over as of 1960, although this was not apparent to the average aeromodeller (like myself) at the time …………….
One experiment which did reach the prototype stage at around this time was an upgraded version of the Rapier. This was constructed around the Rapier crankcase and backplate, but featured a screw-in cylinder having comprehensively revised cylinder porting arrangement. The engine employed twin opposed exhaust ports at the sides and twin opposed transfer flutes fore and aft. It was built in both diesel and glow-plug configurations. According to the owner of the surviving example of this prototype, the diesel version had a performance which approached that of the contemporary Oliver Tiger model. However, nothing ever came of this seemingly promising development project.
1959 saw the introduction of what was in my personal view one of D-C's less praiseworthy ideas - the Quickstart spring starting system. This consisted of a coil spring which was secured at its inner end by the spraybar and wound around the front of the main bearing. It had an arm at the front end which engaged with the tips of a "cam" made from aluminium alloy plate which was sandwiched between the airscrew and the prop driver. The idea was to enable owners to start their engines without having to learn to "flick" them! You simply engaged the arm with the tip of the "cam", wound the engine backwards over compression and then let go!
The presence of the pointed cam behind the prop hub made hand-starting a pain (literally!). In any case, the ends of the cam soon wore away or broke, forcing owners to bend the outer arm of the spring to engage with the actual airscrew. This generally ended up with the spring breaking or at the very least gouging chunks out of the rear of the airscrew. The coil spring also marred the surface of the main bearing quite fiercely. You can see this on the main bearings of many D-C engines encountered today.
But the really aggravating thing about the Quickstart device was the fact that it was quite unnecessary - provided there were no base compression leaks, the D-C engines were actually very easy starters using
conventional methods. Moreover, reliance upon the Quickstart device did nothing to teach new owners the correct approach to hand-starting a model engine - their real education only began once the dratted spring set-up finally failed! Many owners (including myself) found this silly device to be more a source of annoyance and unnecessary dead weight than anything else, hence generally discarding them straight out of the box.
Finally, the latter part of 1959 saw the introduction of Davies-Charlton's unique triangular box, along with the adoption of the "Quickstart" label for their engines and fuel. The box was inspired by the three-legged emblem of the Isle of Man with its associated motto "Whichever way you throw me, I stand". It was doubtless relatively costly to produce and was only used for a few years before the company reverted to the use of more conventional cubical boxes.
The Bantam achieved great popularity despite being a less-than-stellar performer, ushering Davies-Charlton into the 1960's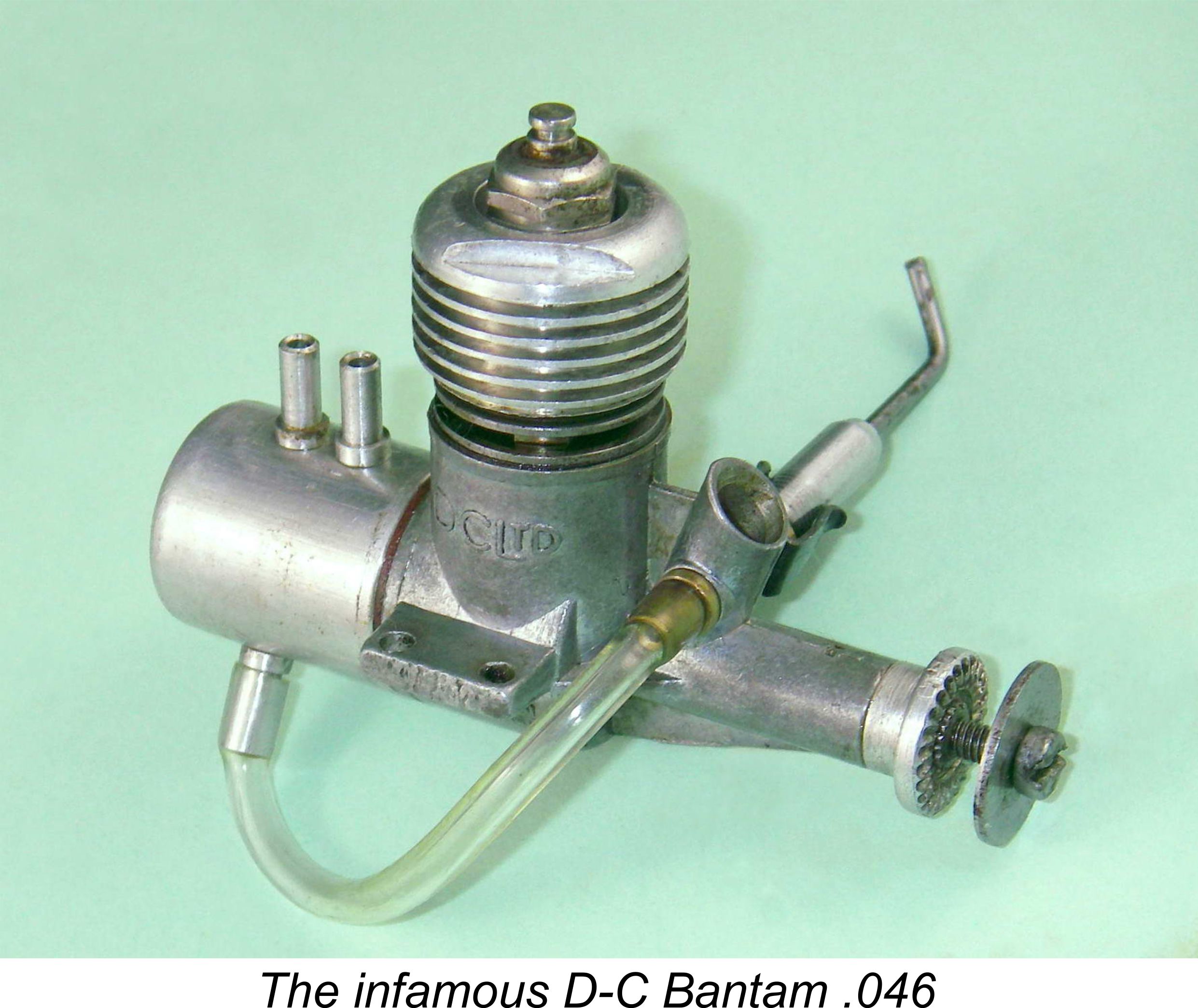 on a very positive note. It was in fact Britain's top-selling engine for a number of years, outlasting all of its British ½A glow-plug competitors. Readers interested in learning more about the somewhat controversial career of the Bantam are referred to our earlier article on MEN.
Along with the Bantam, Davies-Charlton maintained production of the sports diesels for which the firm had become well-known during the 1950's, and these continued to sell well also. In 1963 they also took over the manufacture of the FROG range of engines on behalf of the A. A. Hales organization, who had taken over the FROG line following its discontinuation by Lines Brothers and their IMA subsidiary in 1962. This is perhaps another indication that Davies-Charlton's involvement with outside contract work had entered a decline, leaving them with more resources to devote to model engine manufacture.
Production of the original 2.5 cc Rapier had been somewhat sporadic after 1959 and appears to have ended entirely when Davies-Charlton took over the manufacture of the FROG line on behalf of A. A. Hales. This was likely due to the fact that they were now manufacturing the somewhat superior Frog 249 BB for A. A. Hales. Production capacity considerations doubtless underscored the undesirability of continuing to manufacture what were in effect two competing 2.5 cc models side by side. Happily, the Rapier was to gain a new lease on life in later years, as we shall see in due course.
In June 1960, some serious local competition for Davies-Charlton appeared in the form of the ME engines which were manufactured by a new company known as Marown Engineering located in Glen Vine on the Isle of Man. This venture was established by Walter Kendall, who had previously been a long-time associate of Hefin Davies in the Davies-Charlton business. The ME engines were extremely well-made sports units, hence undoubtedly representing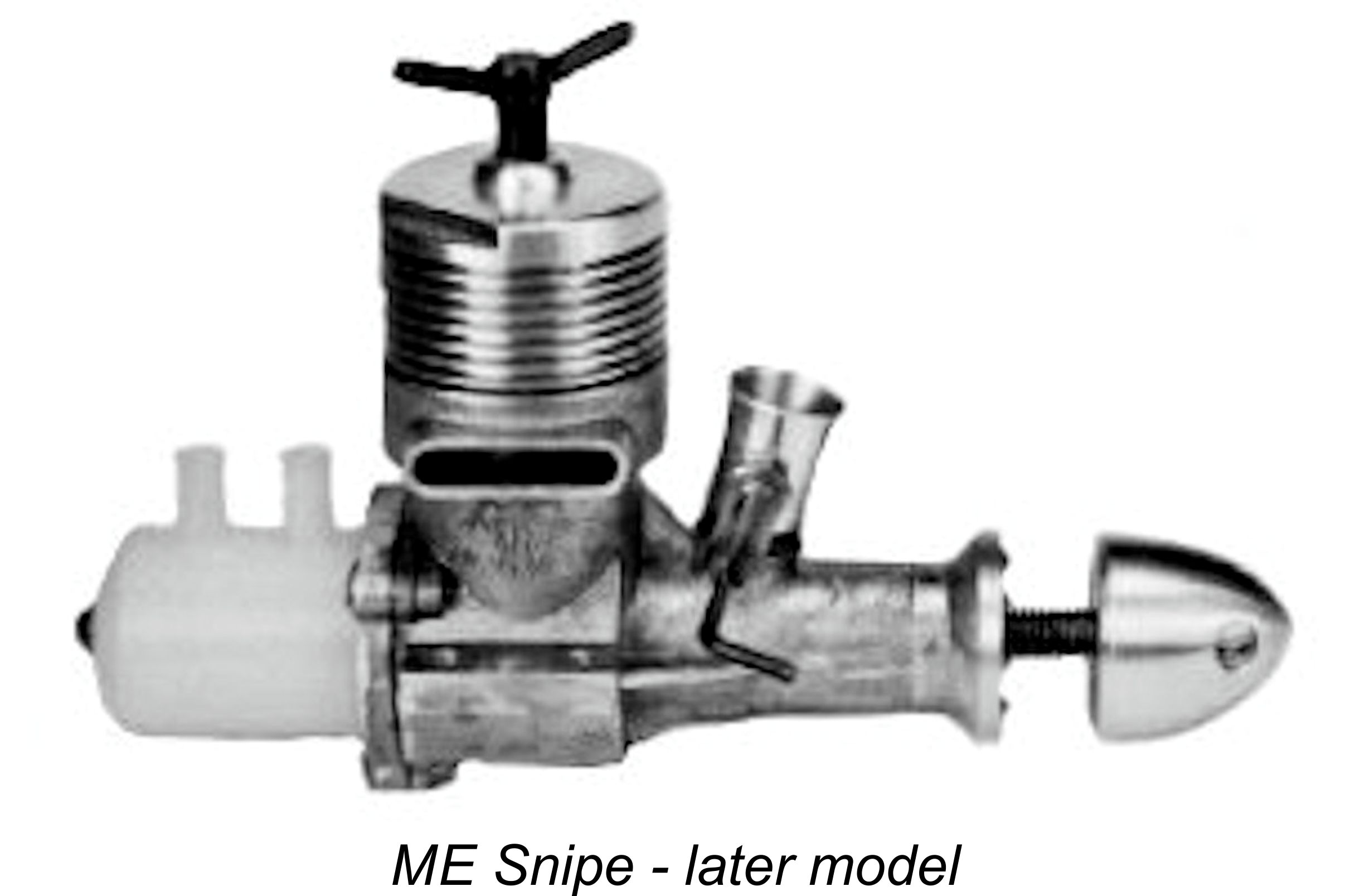 significant local competition for Davies-Charlton.
We may well imagine that Davies was not best pleased with this development, particularly given the fact that the design of the ME engines displayed clear evidence of their D-C ancestry! Not only that, but to add insult to injury, in early 1963 the Marown Engineering company relocated to expanded premises in nearby Union Mill, thereafter becoming Davies-Charlton's direct competitor in vying for a share of the lucrative aero-space subcontracting work from Rolls-Royce and others!
Stagnation
Throughout the 1960's Davies-Charlton continued to maintain their position in the model engine marketplace with their established D-C and FROG line-ups (although the manufacture of the FROG range for A. A. Hales ended in the latter half of the 1960's). Bill Callow began his career with D-C Ltd. during this period, starting as an engineering apprentice in 1968 and advancing to the position of charge-hand on the grinding section before leaving for a period of 5 years to work for others as a Rolls-Royce approved inspector. Bill estimated that the company's workforce at its peak may have totalled as many as 120 individuals.
During this busy period, the company had no fewer than three distinct facilities in operation. Firstly, there was the main Hills Meadow factory near Douglas, which was fully occupied with the aero-space sub-contracting work as well as the production of the FROG and D-C engine components. There was also a second IOM facility housed in an ex-WW2 Nissen hut a few hundred yards away from the main factory on the Hills Meadow estate. This included the company's model engine assembly, testing, packaging and warehousing operations as well as the gravity die-casting and painting operations involved in the production of D-C's well-known and very popular adjustable control line handles and test stand.
The Barnoldswick plant also remained in operation at some level well into the 1960's, although it was eventually closed down later in the decade and sold for other uses. From that point onwards, all of D-C Ltd.'s activities were concentrated in the IOM.
It should be clear from the above account that the company had entered the 1960's as a major player in the British model engine industry. However, new models signally failed to appear as the decade of the swinging '60's wore on, with the result that as the 1970's began the FROG range was history and the D-C range was falling increasingly behind the times. In addition, people were beginning to notice that quality control was undeniably suffering…………..
The slow but steady decline in manufacturing standards at Davies-Charlton probably commenced relatively soon after Alan Allbon's departure in mid 1955. Allbon was reportedly a very even-tempered individual who got along well with everyone except Davies, making him the ideal kind of person to be in charge of the production program. He had of course fulfilled this role for the final few years at Barnoldswick, thus serving as a buffer between Davies and his employees. He seems to have been the type of character who would naturally command loyalty among the workforce under his direct control, thus inspiring them to make their best efforts.
A story which Allbon related to his later Allbon-Saunders colleague Bernie Bowler is perhaps indicative of the relative importance attached by Davies to cost as opposed to quality. At some point during the period in which Alan Allbon was still involved with the company, Davies apparently noticed Alan examining a batch of engines prior to boxing and spending a considerable time checking one of them very closely. When Davies asked what Allbon was doing, he replied that this particular engine seemed to be low on compression. Davies' retort as recalled by Alan?!? "We're not selling f*****g compression, we're selling engines! Put it in the box!!"
This incident further underscores the widespread recollection that Hefin Davies was not at all an easy man to work for. It might be thought that anyone finding it difficult to work for Davies would have an option - go to work for someone else. However, it wasn't as simple as that. The number of high-tech industries on the IOM was relatively small and although there were undoubtedly opportunities for employee mobility between these firms, few individuals would have been willing to risk being in effect "black-listed" by the doubtless close-knit group of engineering firms on the Island.
This gave such employers a considerable amount of collective "leverage" over their employees. Once freed from any moderating influence which the presence of Alan Allbon might have represented, all accounts from ex-employees agree that Hefin Davies exercised the resulting domination over his own "captive" work force to the full. In consequence, former employees have generally characterized Davies-Charlton as a somewhat unhappy workplace. Under such circumstances, a diminished level of attention to the quality issue might be expected - an unhappy workforce never delivers its best work.
In fact, it may have gone even further than that! In later discussions with David Owen, IOM resident O. F. W. "Peter" Fisher of Performance Kits fame intimated that employee sabotage of engines was not unknown. Fisher went so far as to express his personal conviction that this took place with the full collaboration of the engine testing and quality control staff, the result being that some faulty D-C products were quite deliberately sent out to unsuspecting buyers.
Looking back on this period, I may have been a victim myself! I actually recall buying a new Super Merlin in the mid 1960's that wouldn't start for love nor money. When I checked, I found that the spraybar had not been cross-drilled for the jet holes! At the time, I assumed that this was merely an incidental error, and one which I was easily able to fix myself. However, I'm not so sure now ……… David Owen has parallel recollections from his time as a D-C distributor in Australia. Overall, the impression was that the quality of the D-C engines marketed during the 1960's was noticeably inferior to that of the company's 1950's offerings.
This is of particular interest given Arthur Firth's clearly-stated recollection that during his time at D-C Ltd. (up to 1970 with a three-month hiatus in the late 1950's) all engines were tested prior to despatch to his certain knowledge. There's no way that my Super Merlin could have passed a test run, implying that it could only have been sent out to the hobby shop from which I bought it with the active connivance of the engine testing staff, as implied by Fisher. Either that, or it was nobbled following its test…………..
If such activity was indeed going on, it must surely be obvious that it could only have been motivated by a significant disconnect between Hefin Davies and his employees. There is some evidence to suggest that
Davies became acutely aware of the existence of such a situation. At some point in the early 1960s, Davies wrote to Gordon Burford (left), the late and much-missed Australian maker of the respected Taipan range. This letter was hand-written and was mailed by Davies from his home address as opposed to the company office. Indeed, Davies specifically mentioned that it had not passed through his office, indicating that it was very much an "under-the-table" initiative undertaken by Davies personally without the knowledge of his associates. It appears that Davies' willingness to consider abandoning his employees, as he had done in 1955, remained unaffected by the passage of time! A further indication of the sensitivities surrounding this letter was the fact that Davies stopped short of actually signing it.
In the letter, Davies suggested to Gordon that collaboration between Taipan and D-C might be of value to both parties and further, that if things worked out well he (Davies) might even re-locate to the "colonies" to set up a joint venture with Gordon. Such a suggestion made without the knowledge of anyone at the factory certainly reflects an awareness on Davies' part of a degree of disquiet at Davies-Charlton and a ruthless willingness to take drastic steps to deal with this - if you can't beat 'em, ditch 'em!! In effect, Davies may have seen himself as being at war with his own employees…………
Davies' somewhat imperious attitudes are further reflected by his rather condescending suggestion that he might start the ball rolling by sub-contracting some parts to Taipan, namely prop-drivers, backplates and needle valve assemblies. If those parts proved to be within Taipan's capabilities, they might move on to more complex components! This despite the fact that Taipan manufactured engines which were then widely recognized as being superior both in design and execution to those of Davies-Charlton! Not surprisingly, Gordon had no interest in pursuing a liaison with Davies, and the matter went no further.
This was not the only instance of Hefin Davies' relations with his Australian contacts being less than satisfactory. Former Australian D-C distributor David Owen also recalls Davies' dismissive refusal to deal appropriately under warranty with the issue of a batch of flawed crankshafts which were fitted to a number of examples of the D-C Sabre. Maris Dislers had personal experience of the fall-out from this sorry situation. At the time in question he was working on Saturdays at John Martin's department store in Adelaide, South Australia. He recalls the store taking delivery of a stock of ready-to-fly "real balsa" Mustang C/L trainers which had been completed in a "sheltered workshop" (for people having disabilities) using the locally-produced Aero Flyte kit as a basis. These models were fitted with brand-new D-C Sabre powerplants. However, following their sale to the public most of these models came back almost immediately with broken crankshafts.
As a result of Davies' refusal to honour the warranty, those broken cranks from the Aero Flyte trainers were never replaced. As far as Maris can recall, the Sabres were replaced with less powerful but more dependable Japanese .099 glow-plug motors, probably Fuji's as far as his recollection goes. Maris still retains some like-new crankcases and other parts from the Aero Flyte Sabres which he thought might come in handy one day. He's still waiting for the opportunity..........
Davies' refusal to deal with this issue under warranty basically arose from his stated opinion that D-C crankshafts were well made and didn't break, and that if they were breaking in Australia it was down to the collective incompetence of their "colonial" users! David Owen recalls that such matters were handled far more amicably when Bill Callow returned to D-C Ltd. as Production Manager in the mid 1970's.
Meanwhile, back at Hills Meadow ................the glow-plug motor and the R/C field were now very much in the ascendant, but Davies-Charlton stubbornly continued their reliance upon the "standard" small diesel as the mainstay of their D-C range. Their problems with quality control also persisted. Their cause was not helped by the previously-noted departure of their resident honing expert, Arthur Firth, in 1970. To rub salt in that particular wound, Arthur left to go to work for former D-C employee and now bitter rival Walter Kendall at Marown Engineering. One can only speculate on the effect of this move on Hefin Davies' blood pressure ………….
In 1971 D-C Ltd. finally came up with a new design – their first for over ten years. This was the D-C Wasp, an updated .049 glow motor which replaced the .046 cuin. Bantam. The vastly improved performance of the new model (0.061 BHP @ 16,100 rpm according to Peter Chinn) confirmed that this was a good and indeed long-overdue move. However, the ½A glow-plug boom had passed by this time, and although the Wasp was a very good little engine which did enjoy a period of some popularity, it was not the massive seller that it would have been a dozen years earlier, when it could and therefore should have been released. A sad case of opportunity lost …………….
According to Bill Callow, it was at this point that Davies-Charlton finally abandoned the aero-space sub-contract work which had up till then been a major facet of their business. Instead, they now began to focus solely upon their model engine manufacturing activities. Given the declining status of the D-C model engine range at the time, this decision requires some explanation.
The main event which precipitated this change appears to have been the 1971 entry of Rolls-Royce into receivership and subsequent Government ownership, followed by the separation of their aeronautical and automotive components. This change appears to have created a state of chaos for all of Rolls-Royce's sub-contractors, including D-C Ltd. Hefin Davies evidently decided at this juncture that thenceforth the company would cease to place any reliance upon outside contracts and would instead live or die on the basis of its self-directed involvement in the model engine industry.
This being the case, it would appear obvious (to me at least) that the over-riding imperative at this point should have been recognized as an urgent need to bring D-C's range forward into the 1970's from the mid-1950's time-warp in which it had stagnated for a dozen years or more. It should surely have been obvious that the range as it stood could not survive in the long term - new updated models were urgently required. The Wasp was a good start, but it should have been clear that it was by no means enough.
However, this need was evidently not recognized. Instead, Hefin Davies embrarked upon a major program of investment to improve the company's ability to make even more of the same increasingly dated designs. In support of this change in focus, Davies made a considerable investment in new equipment which allowed the application of updated manufacturing processes. An example of this was a major change in the method of producing the critical piston/cylinder fits. A number of very precise CNC grinding machines were acquired which eliminated the former manual skill-based individual honing process using relatively inexpensive machinery in the hands of the likes of Arthur Firth in favour of a largely automated grinding process. Another improvement was the addition of an aqua-blasting process for finishing the crankcases. Bill Callow recalls that the equipment upgrading process took some six years to complete at a total cost of some £500,000.
There's no doubt that an investment of this magnitude represents a very strong statement regarding Hefin Davies' commitment to the future of his company. However, I have to say that as one of the steadily decreasing number of still-loyal users of the resulting products at the time, I never noticed any improvement in the quality of the fits in the later D-C engines - in fact, I formed the personal opinion that if anything the manufacturing standards had further declined somewhat. The new equipment may have reduced unit production costs even further and certainly did result in the achievement of some truly excellent piston/cylinder fits, but the badly-designed con-rods and gudgeon pins plus poor fits elsewhere continued to let the engines down. Overall, major quality improvements were not apparent at the consumer level. Discussions with my contemporaries show that I am far from being alone in holding this perception.
In keeping with my earlier comments, it actually seems a great pity in hindsight that some of the funds expended on new equipment were not directed instead towards the development of new models. In my personal view, this would have done far more to extend the life of the company than the changes in production methods applied to the existing out-dated designs appear to have done.
Regardless, while these production changes were being pursued, the company still had to pay its way. Davies-Charlton tried to earn a few bob by releasing several cosmetically re-packaged versions of some of their old stand-by's. Beginning in 1973, several further revised versions of the Rapier were released, using a re-designed cylinder with only three sets of ports instead of the previous four. One of these variants had a blue head and a muffler, while the other sported a green head sans muffler. The former was well down on power and tended to run hot, but it was so quiet with the muffler fitted that you could run it in your back garden without bothering anyone! The latter was intended as a "collector's replica" of the original 1957 Rapier, but the fact that the cylinder had only three exhaust ports hiding behind the four exhaust slits of the green cooling jacket was a dead giveaway!
These re-issued greenhead engines were supplied with
both green spinner nuts and conventional prop nuts as well as alternative long and short needle valves. The compression screws were equipped with brass end caps similar to those fitted to the original Rapier. As true replicas of the original, these engines were quite unconvincing, although they were very nice engines in their own right and are legitimate collectibles today. David Owen sold some 15-20 examples in Australia and recalls that whilst the piston/cylinder fits on these latter-day Rapiers were quite good, several were let down by very poorly fitted races and shafts. My own example is very well-made in all respects.
In the mid 1970's Bill Callow returned to D-C Ltd. to assume the position of Production Manager. His brief was to advance the company's production - a somewhat strange assignment in view of the steadily falling sales which were by now becoming apparent. If Bill's efforts had been applied to the manufacture of new and up-to-date models, this would have made sense, but as it was .......
Regardless, Bill was successful to the extent that by 1980 production capacity had reached the impressive figure of almost 1000 engines per day! Bill claimed that every engine was still tested before being packaged - an impressive challenge by any standard! However, one is forced to wonder who was buying all those engines at this stage …………
In the latter part of the 1970's the firm introduced a revised version of Alan Allbon's old Merlin design, which by then dated back around a quarter-century to 1954. The original Merlin was un-anodized, did not have a tank and featured a plain prop-nut, but its late 1970's replacement had light green fins and a turned metal tank, albeit still with a plain prop nut. It was supplied in a green box. The old Super Merlin continued to be offered with its red head, but there was in fact very little difference between the two models apart from the use of a spinner nut and a red box for the Super Merlin. Internally, the two models were identical.
These moves were purely cosmetic in nature and did not represent any real attempt by the company to update its range in keeping with the changing marketplace. The firm did undertake some experiments with a 1 cc version of the Wasp, including one which was Schnüerle-ported and had a tuned pipe, but unfortunately these never amounted to anything in a production sense. In addition, it must be said that the quality of the firm's later products was in no way comparable to that of their earlier efforts. All of these factors combined to create a steady ongoing erosion of Davies-Charlton's market position.
Decline
As 1980 came around, the company was beginning to struggle. The FROG range had long disappeared and the D-C range was steadily losing ground. Thanks to Bill Callow's success in advancing the production, supply was beginning to outstrip demand by an ever-increasing margin. And there was worse to follow - in late 1980 Hefin Davies died following a period of illness. Whatever his other faults, it had been largely his energy and commitment (or just plain stubbornness?!?) that had kept the company going as long as it had, and now that asset was lost.
Bill Callow recalls that the future of the company was very much on Davies' mind during his final weeks. Almost right up to the day of his death, he continued to work to ensure the continued viability of the company after his demise. He had always been very devoted to his children, and one wish that he expressed to Bill Callow was that his son Graham should eventually work for the company. This wish was later fulfilled when Graham spent several summers away from his university studies working in the office at Hills Meadow.
The premature death of Hefin Davies was clearly a major blow to the company. His most sincerely-expressed wish during his last few weeks was that the D-C range should continue after his death, and his wife Mrs. Anne A. Davies and the rest of the family agreed that a serious effort should made to fulfill this desire. The role of Managing Director was assumed by former Production Manager Bill Callow, who was tasked with the consolidation of the company's production while the remaining D-C wholesalers focused on the sales side.
In order to sustain the company through this difficult period, Bill Callow applied for and received a grant of some £80,000 in operating funds from the Manx Government. This amount was repaid in full when the company was wound up a few years later.
In 1981 the re-organized company produced a second version of the green-head Merlin. This was basically a cosmetic revision of the same engine, sporting a dark green head and an opaque cream plastic tank. This model was supplied in a flimsy white box with a label overlay - even the packaging was going downhill.
Another proposal which received considerable attention at this time (early 1981) was a planned revival of the 0.15 cc Bambi, which had been dropped from production way back in 1959. Doubtless the company was hoping to take advantage of the revival of interest in the engine among the growing model engine collecting community. In fact, Bill Callow later indicated his very sincere belief that the survival of the company might best have been assured by focusing on a revival of some of their vintage designs to tap into the growing nostalgia market which was developing at the time and which continues to this day.
From surviving correspondence between Bill Callow and David Owen, it appears that the company did manage to produce some prototypes of the revived Bambi, even going so far as to make a new mould for the gravity die-casting of prototype crankcases at their own facility. However, they were advised by their outside pressure die-casting contractor that the long-disused Bambi pressure dies had suffered water damage and needed refurbishing at a cost of over £1500. Considerations of the consequent unit manufacturing cost along with less-than-optimistic sales projections combined to make the project appear uneconomic, causing it to be shelved in early 1982. Bill Callow recalled that he would also have liked to re-introduce the old Stirling cycle hot-air engine, but that this idea failed too due to the dies for that model also requiring costly re-furbishment.
Despite this, it appears that a few examples of the "Mk. II Bambi" such as the one pictured in Mike Clanford's "A-Z of Model Engines" and the example illustrated on Tim Dannel's "Model Engine Collecting" web site were produced later by others, apparently using some of the gravity die-cast prototype castings.
The Dav-Cal Era
By the middle of 1982, it must have became obvious to all concerned that the days of mass-production of engines by Davies-Charlton were a thing of the past. Unsold inventory had grown to problematic levels and a major proportion of the staff had been laid off. Hard though it must have been, Mrs. Davies and the rest of the family came to the decision that the time had come to wind up Davies-Charlton and dispose of the company's assets, thus releasing the considerable amount of family capital tied up in the business.
Bill Callow recalled that the wind-up of the company was handled in a manner that fully respected the interests of the few remaining employees. All staff were found alternative employment prior to the closure taking effect, and they all received redundancy pay in addition. In consequence, many of the affected employees remained (and still remain) on the best of terms with Bill.
Despite the decision to wind up the Davies-Charlton enterprise, there was a general desire to do what could be done to keep the D-C model engine range alive, at least for a time. To this end, Bill Callow established a new company to be known as Dav-Cal (thus maintaining a name match with the initials cast onto the crankcases of the engines). Under an agreement with Mrs. Davies, Bill's new company took over the engine designs and considerable existing stock of the former Davies-Charlton company as well as elements of the company's manufacturing facilities. The agreement took effect on November 1st, 1982, at which point Davies-Charlton Ltd. ended its 35 year period of existence.
The financial terms of this deal were in two components. Firstly, payment at one agreed level was to be made for the sales of any existing engines by Dav-Cal. Secondly, a reduced payment was to be made for the sale by Dav-Cal of any engines which were completed by them following the sale. In effect, this was a form of licensing agreement.
Some possible clarification of this issue came to light many years later when I was researching my in-depth article on the work of Dunham Engineering. At around the same time as when Dav-Cal was taking over the D-C range, Dunham Engineering was developing a wonderful little ¼-sized 1.3 cc miniature version of the old D-C Wildcat diesel. Two prototypes of this beautiful little engine were constructed, after which plans were made to put it into limited production. Before acting upon this intention, Alan Holmes of Dunham Engineering did the honorable thing as always – he approached the Davies family to seek their endorsement of the project.
Unfortunately (and somewhat unexpectedly given the relatively small stakes and the age of the Wildcat design), it proved impossible to secure the permission of the Davies family to manufacture this little gem without payment of an exorbitant license fee. The rationale for this position escapes logical analysis - given the relatively small numbers in which Dunham normally manufactured their engines, there was little money to be made by the Davies family and much to be gained through the publicity which would have rubbed off on the D-C range. Be that as it may, the license fee requirement made the Dunham project uneconomic, forcing its abandonment with no benefit whatsoever to the Davies family – a great pity. It would appear that the spirit of Hefin Davies was still alive and well ...............
It appears highly likely that Dav-Cal was saddled with a similar financial hurdle. Indeed, John Goodall has recorded some unsubstantiated reports from the Isle of Man to the effect that the Davies family charged a royalty of £1 per engine to Dav-Cal - this at a time when the engines sold on the retail market for prices in the £3 range! Talk about a millstone around the neck!! If such figures represent reality, the Dav-Cal project was doomed from the start.
Apart from the model engine range itself, the disposal of Davies Charlton's overall assets was both complex and interesting. We are most grateful to Bill Callow for clarifying this matter. Some of the machinery was sold to other engineering firms on the IOM, while the remainder was shipped to the UK mainland to be sold. The Hills Meadow property itself was divided into three distinct segments. Part of it was leased to the Manx Government for the purpose of establishing the island's first engineering training centre. Some of the former D-C equipment and machinery remained on site for use in this venture.
Secondly, the main factory area was leased to a car sales company, which set up motor vehicle sales and servicing facilities there. Finally, Dav-Cal Ltd. leased a section of the premises, which were modified to give all three lessees their own power supply systems, entrances, etc. The Dav-Cal lease included sufficient machinery to manufacture all parts required to construct model engines, as well as the anodising facilities required to produce the coloured components. However, this equipment did not include the latest CNC internal grinders or top-range centreless grinding machines which had been introduced by Hefin Davies, but rather some of the old faithful equipment which had been used to manufacture parts prior to the CNC era. A mere handful of staff were retained to use this equipment.
Dav-Cal also took over approximately £100,000 worth of inventory, which comprised a sizeable number of unsold complete engines plus many thousands of crankcases, piston/contra piston sets, shafts, etc., all in various stages of manufacture, but enough stock to continue producing the standard range of engines for many years to come. Bill Callow was able to fund the Dav-Cal venture by drawing upon funds which were due to him in consideration of his efforts in disposing of Davies-Charlton's assets, negotiating leases with the new site occupants, etc.
D-C engines were now sold either by the "Model Engine Section" of Dav-Cal Ltd. or by another business entity named "Quickstart Products", which in reality was simply another Dav-Cal Ltd. division. These two entities both listed their addresses as Lake Road, Douglas and shared the same phone number (0624 74224).
One of Dav-Cal's customers was the aforementioned O. F. W. "Peter" Fisher, who had them make a number of engines to his own specifications. These were being marketed as of February 1984 as the PK range of engines, but they were basically just "tarted-up" D-C engines with darkened (anodised?) cases and polished fins. The range included the PK Z-12, a 1.2cc engine in standard and deluxe versions; the PK F-80 (0.8cc) and PK F-100 (1.00cc); the PK 0.55 cc Dart Special; and the PK 2.5 cc Rapier Special. Coincidentally, despite the extra attention lavished on the PK range, it sold for exactly the same price as the former D-C range. Fisher's efforts notwithstanding, the range did not last long on the market.
Bill Callow recalled Fisher as being a less-than-satisfactory customer. He only ordered engines in small quantities, basically as many as he could quickly turn over for a profit and thus avoid any inventory build-up. Typically he ordered no more than 10 engines at any one time.
None of the above measures was sufficient to stem the tide, and the manufacture of the D-C engines at Hills Meadow ceased altogether at some point in mid 1983, after which the site was turned over in its entirety to the other uses mentioned above. As far as can be ascertained, the final advertisement for the Davies-Charlton engines appeared in the May 1983 issue of "Aeromodeller" magazine.
Dav-Cal continued for some time to offer engines for sale, but it appears that these were assembled from existing parts in a former car garage at a location known as The Loop in a run-down part of Douglas. Even this activity ceased as soon as the supply of any one part for a given model became exhausted, since the company no longer had the capability of making (or contracting for) additional parts.
At the time in question, David Owen had a continuing interest in importing Davies-Charlton engines into his native Australia. In response to his inquiry, Dav-Cal Ltd. wrote to David on January 14th, 1984 stating that although Dav-Cal was a distinct company which was under no legal obligation to honor agreements reached formerly by the now-defunct Davies-Charlton company, they intended to do their very best to maintain good relationships with former D-C customers. The letter also introduced Mrs. D. J. Risker, who was now acting as Dav-Cal's Export Sales Manager working from an address at Ballasalla on the Isle of Man.
During a subsequent visit to the Isle of Man in early March of 1984, David Owen visited the Hills Meadow site in the company of Peter Fisher, who appeared to be privy to much of what had transpired in previous years. Model engine production at Hills Meadow had long ceased by that time, and the only surviving evidence of Davies-Charlton's former presence was a faded display of engine boxes in a glass case on the office wall.
David also visited the above-mentioned location in Douglas at which Davies Charlton engines were then still being assembled. There he encountered an elderly chap (name not recorded) who was assembling D-C engines from barrels of parts. This worthy told David that certain engines were no longer available because specific parts for them had run out and there was no source of supply for replacements. This confirms our earlier statement that as soon as any one part for a given model was exhausted, that was the end of the line for that model.
Dav-Cal wrote to David once again on the 14th of March, 1984 referring to David's visit to their "Workshop Department" earlier in the month. This could not have been a reference to the Hills Meadow factory, which was clearly no longer in any way connected with Dav-Cal, so the letter must have been referring to the previously-mentioned former car garage at which engines were then still being assembled from existing parts.
EWDEC Enters the Picture
Although it had originally been formed expressly to continue with the Davies-Charlton model engine range, Dav-Cal management quickly found that this alone would not suffice to keep the company in business. Accordingly, during 1983 the company had begun to undertake a range of sub-contract engineering production for various local companies. This included tool manufacture using plastic injection moulding, automated production of small components for garden sprinklers, a considerable amount of work for Horton Crossbows (most of which were sold into Canada at that time) and metal components for an electronic sound mixer unit used by the BBC / ITV and most other TV companies.
More significantly in the context of this article, Dav-Cal also undertook contract work for a company called EWDEC. This was a newly-founded venture on the Isle of Man which had been established by the inventor of an underground pipe relining system. The company was now engaged in the design of robotic units to cut side entry holes in those pipes once relined.
It seems that EWDEC were favourably impressed with Dav-Cal's contribution to their efforts, since in 1984 they bought a controlling interest in Dav-Cal from Bill Callow and then proceeded to invest heavily in new equipment. Their activities were initially centred upon the Lake Road location, but soon expanded into two other sites in addition. EWDEC had a number of business lines, the model engine division being only one of these. In fact, this was a very minor element of EWDEC's business portfolio, employing only a handful of staff.
Soon after taking control of Dav-Cal, EWDEC made a surprise move by converting their business loans into shares in the parent company. At this time, they made an offer to Bill Callow to purchase his remaining shares in Dav-Cal. Bill's acceptance of this offer gave EWDEC 100% ownership of Dav-Cal Ltd. as well as the license held by Dav-Cal with respect to the D-C engines. From that point on, Bill Callow had no further involvement with the D-C engines.
EWDEC continued for some time to offer D-C engines, trading from the former Lake Rd. address and with the same phone number as before. Their main claim to fame was the fact that they sold the notorious gold head Darts, many of which broke their crankshafts after a short run. It was this situation which encouraged Progress Aero Works (PAW) to make a run of Dart crankshafts for the open market, a venture which ultimately led to the development of the PAW 55. It also spelled the end of attempts to resuscitate the Davies-Charlton range.
The Curtain Goes Down........
We mentioned previously that a few of the gravity die-cast prototype Bambi crankcases somehow managed to appear in the form of completed "Bambi Mk. II" engines. It appears that Peter Fisher may have had some involvement in this matter. Both David Owen and fellow Motor Boy Ken Croft recall being shown a few crankcases for the proposed new product by Fisher, but there were no remaining Bambi cases in Fisher's estate sale following his death in April 2005. A very few engines did appear under the EWDEC banner, but it is not known when or by whom these were assembled.
It's perhaps a little ironic to consider the fact that Fisher undoubtedly had the resources to finance the resumption of Bambi production by Davies-Charlton or one of its successor companies. Had he done so, the resulting engines would have constituted a great legacy! Too bad it didn't happen...............
So as of late 1984 the last vestiges of the Davies-Charlton range which had started with such great promise in 1947 were no more. A sad end for a company that did so much for British aeromodelling, but all things must pass, as they say...........................
___________________________________
Article © Adrian C. Duncan, first published March 2015