Alan Allbon
The Life and Work of Alan Allbon
In a number of articles on the late and much-missed Ron Chernich's invaluable "Model Engine News" (MEN) website, Ron and I covered various aspects of the work of Alan L. Allbon, one of England's foremost model engine designers from the middle years of the 20th century. During his fifteen-year career in the commercial model engine field, Allbon was famously associated with such then well-known names as Davies-Charlton Ltd. and Allbon-Saunders in addition to producing a number of highly-regarded engines under his own name. Several of his designs were sufficiently popular that they remained in production for decades.
Those interested in the technical aspects of the Allbon engines are recommended to consult our earlier article on MEN, since the present piece will be more biographical in nature - no sense re-inventing the wheel! I will include appropriately-placed links to other articles in what follows.
At the time when the original articles were published on MEN, absolutely nothing of substance had been learned about Alan Allbon himself. His engines were quite well documented, but the man himself remained a complete enigma. A search of British genealogical records did turn up some very basic information on a certain Alan L. Allbon who seemed to fit the broad profile of the model
engine designer of that name. However, we had no firm evidence to back up this very tentative identification, nor did we possess any details of this individual's life.
Thankfully, that situation no longer applies! Solely due to the kind assistance of MEN reader Geoff Peacock, a former resident of Barnoldswick in Lancashire, I was granted access to a wealth of authoritative first-hand personal information on Alan Allbon. This came about because Geoff Peacock was a school-friend of one of Alan Allbon's sons, Derek Allbon, during the period in which Allbon lived and worked in Barnoldswick in partnership with Hefin Davies of Davies-Charlton Ltd. Although he had lost touch over the years,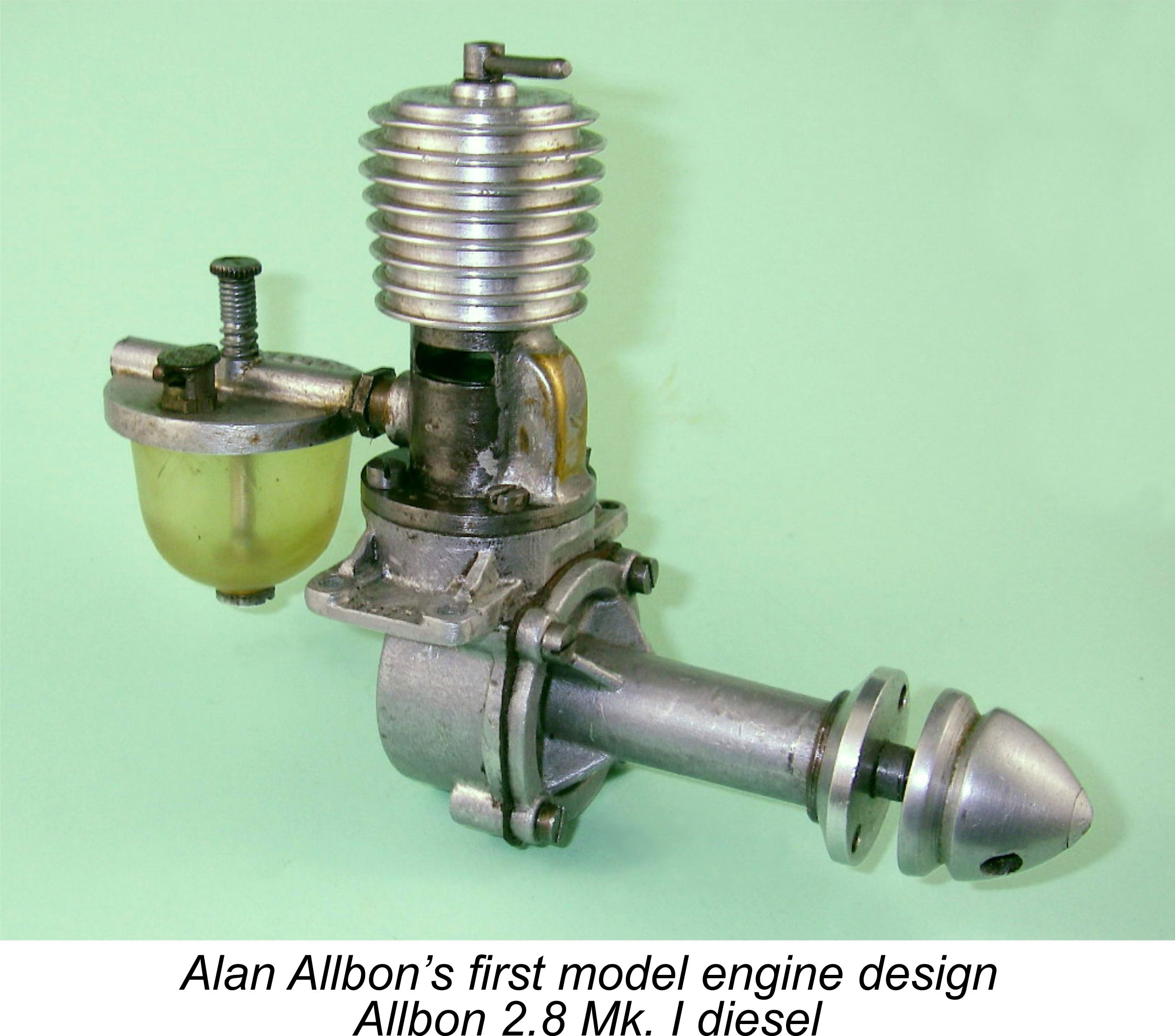 Geoff spent some time tracking down his old school chum Derek, finally locating him still living at Dursley in Gloucestershire, England.
Our debt to Geoff for his sterling efforts in achieving this happy result cannot be overstated. It is this kind of assistance and support from among the readership of these articles that encourages me to continue with my efforts.
Derek remembered Geoff very well, accordingly being very happy that contact had been re-established. He was glad to help fill in some of the details about his father's life and work, although he recommended that contact be made with his older brother Kenneth Allbon, who was also still alive and well and living at Seaford in Sussex, England. Derek felt that Kenneth would know far more than he did. Regardless, Derek has our very sincere thanks for his contribution to this article.
Thanks entirely to Geoff's efforts in establishing direct contact with the Allbon family, I was privileged to speak at great length with Kenneth Allbon, who did indeed retain a great deal of knowledge about his father's life and work which he was happy to share.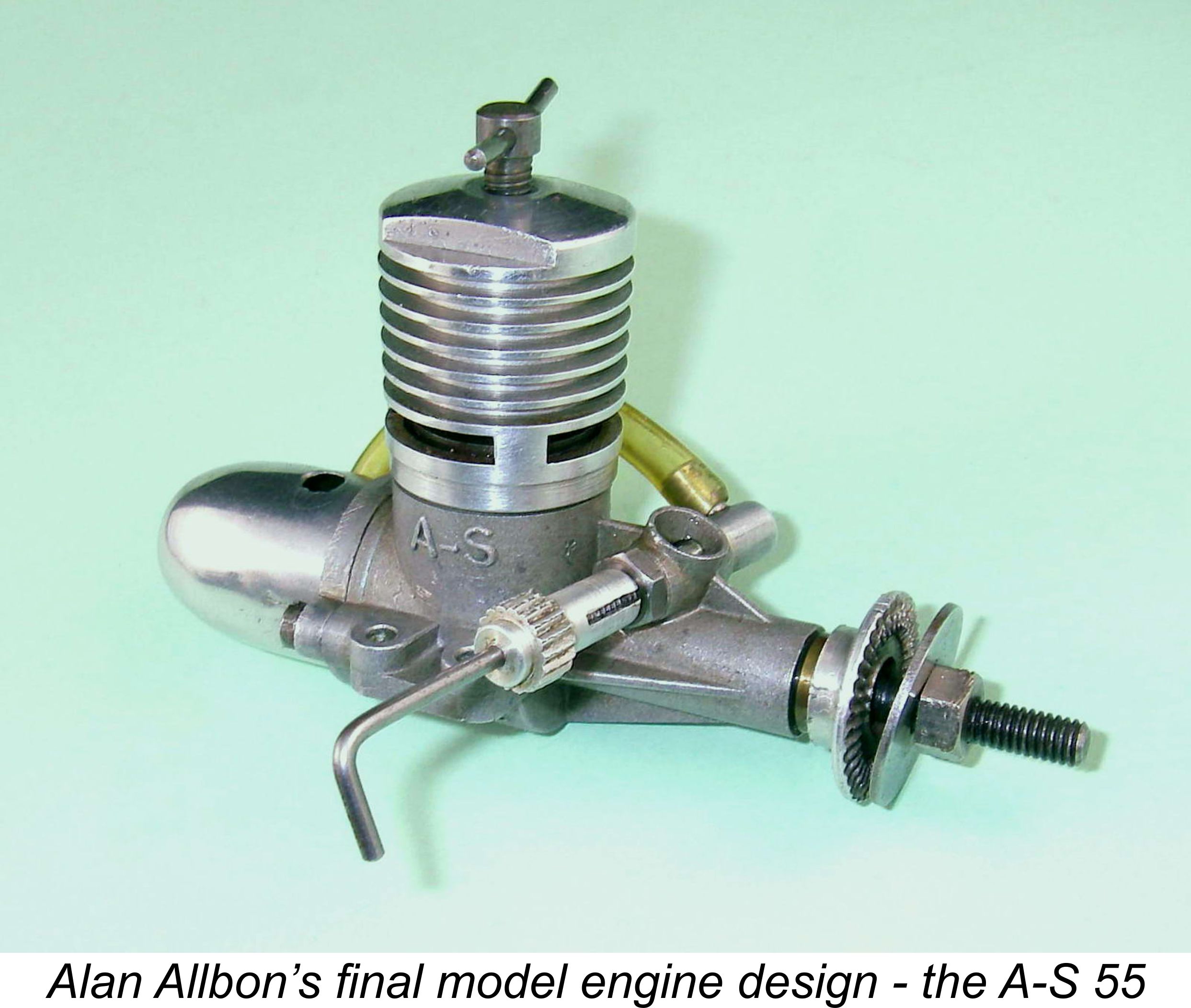 This article summarizes my new and far more authoritative knowledge regarding the full inside story of one of England's most respected model engine designers and manufacturers. I'd like to take this opportunity to extend my very sincere thanks to both Kenneth and Derek for their key roles in making this possible.
I'd also like to add a word of appreciation to Bernie Bowler, who was Alan Allbon's employee and later partner during his final working years. Bernie came across this article in April 2016, over a year after it was first published. He immediately contacted me not only to express his appreciation for the article about his old "gentleman partner" but also to bring to my attention a considerable amount of additional information regarding those later years at Allbon-Saunders, when Bernie was personally involved. There can be no finer reward for the effort involved in putting a story like this together than to hear from one who was "there". My very sincere thanks to Bernie!
Although the article which follows is a synthesis of information obtained from many sources in addition to the hands-on experience gained through a modelling lifetime spent using engines designed by Alan Allbon, I must stress that the responsibility for any errors or omissions in what follows rests solely with myself.
Now, on with our story ......
The Early Years
It's always very satisfying to receive confirmation that one's earlier deductions based on rather marginal evidence were actually correct! In this case, we now have unimpeachable corroboration of the fact that the individual with whom we are concerned here was indeed the same Alan L. Allbon who was cited in our earlier articles as the most likely candidate to be our subject individual.
Alan Leslie Allbon was born on July 4th, 1906 at Hitchin, a small market town in northern Hertfordshire. He had two brothers named Norman and John (the latter always known as Jack). Kenneth Allbon has told us that as youths both his father and Uncle Jack were mad about all things mechanical, notably motorcycles and cars. Kenneth characterized them both as "incorrigible petrol-heads"! As might be expected from a chap having an interest in technical matters, young Alan also built models of various kinds.
Given his technical bent, it comes as no surprise to learn that upon leaving school Alan moved to London to attend the famous Regent Street Polytechic institution there. During this period, he lived in London in the vicinity of Holloway Road, later to become the location of Henry J. Nicholls' famous model shop at 308 Holloway Road. Allbon commuted to the Polytechnic each day on a no. 29 tram.
Allbon's time at the Polytechnic constituted the primary element of his formal technical training, a matter on which we had no previous information. Although his studies at the Polytechnic did not make him a formally-trained mechanical engineer, Allbon became a fully-qualified and highly skilled engineering design draftsman, subsequently working in that capacity. As any engineer (like myself) with roots in the pre-CAD era will know, the skilled engineering draftsman was the backbone of the engineering profession at the time.
By the early nineteen-thirties, Allbon was to be found working in Bedford for an old-established company named Cryselco, which manufactured a range of electrical lighting products. One of the secretaries at this firm was a certain Miss Elsie Milnes, to whom Allbon was very much attracted. In 1935 at the age of 29, Alan
Allbon married Elsie Milnes in Bedford. The attached wedding photo is the sole surviving image of Alan Allbon from the period with which we are concerned – Kenneth Allbon told me that the bulk of the Allbon family photos were tragically destroyed through a misunderstanding. The portrait of Alan Allbon which appears at the start of this article was painted by the very talented Kenneth Allbon using this photograph as a basis.
Two sons (Kenneth b. December 1939 and Derek b. July 1943) resulted from this union. Interestingly enough, the Cryselco company remained very much in business at the time of writing (2017), over 120 years after its establishment in 1895.
Alan and Elsie both left Cryselco soon after their marriage, moving south to Sunbury-on-Thames where Allbon established himself independently in premises at 51a Thames Street. Their new hometown was then located in the county of Middlesex, although it was later incorporated into the county of Surrey as part of the 1965 county boundary reorganization resulting from the work of the Royal Commission on Local Government in Greater London.
Kenneth Allbon recalled that the Thames Street premises were actually a former retail shop located on what was then the main street of the community. Allbon ran a precision engineering business at this location, being joined for at least some of his time there by his equally mechanically-minded brother John. Kenneth Allbon recalls that his "Uncle Jack" was an engaging personality who was a bit of a "ladies' man", an aspect of his character of which Kenneth's rather straight-laced mother Elsie did not approve!
During his time in Sunbury-on-Thames, Allbon lived with his family in a detached house located at 6 Darby Crescent. This was a quiet residential street which was situated within easy walking distance of the workshop at 51a Thames Street. As of 2015 it still retained this character. Kenneth Allbon was uncertain regarding whether or not his father also owned the Thames Street premises, but thought it likely that he did so. The building in question is the one on the corner to the left of the lane in the accompanying Webcam view.
In September 1939, war broke out. 33 year old Alan Allbon was exempted from military service due to his being in what was considered a reserved occupation. Individuals in this category were officially considered to contribute more to the war effort by remaining at their posts than by joining the ranks of the military. Accordingly, Allbon worked in his Sunbury premises throughout the war on government-initiated technical projects in support of the war effort.
After the war, the forty year-old Allbon continued working at Sunbury in the general precision engineering field, presumably for the most part under contract to others. However, it's clear that by 1947 he was ready for a change in focus. His long-standing mechanical interests had combined with his parallel interest in
modelling to make the prospect of entering the then-developing field of model engine manufacture seem very attractive. Naturally, his engineering design skills and long experience in the field of precision engineering equipped him admirably to undertake the design and manufacture of model engines. He had also built up a good inventory of machine tooling which could be applied to this venture.
Allbon's active involvement in aeromodelling doubtless gave him ample opportunity to examine the products of some of the manufacturers with whom he would be competing. He must surely have been familiar with such pioneering model diesels as the Majesco engines from Parkstone in Dorset, the E.D. 2 cc sideport models from Kingston-on-Thames, the Mills 1.3 from Woking, the FROG range manufactured by International Model Aircraft (IMA) at Morden and the Kemp range from Gravesend in Kent. These models must have given him much to think about when considering his own designs.
Another factor that doubtless stood Allbon in good stead was his ability to get along with other people. Kenneth objectively characterized his father as a "very nice chap" having an unusually even temperament and
an ability to get on well with others, even under trying circumstances. As a result, he was always very approachable in addition to being well-liked by his employees and associates. We will have occasion to recall this summarization of Alan Allbon's character when discussing his later involvement with Davies-Charlton Ltd. (see below).
From the beginning of his model engine manufacturing career, Allbon traded under the company name of Allbon Engineering Co. (Sunbury) Ltd., working from the Thames Street address in Sunbury-on-Thames. It's possible and perhaps even likely that he had been operating under this company name all along, but we don't know this for sure.
Interestingly enough, Sunbury-on-Thames is located in an area of south-west London in which a number of competing model engine manufacturers conducted their business. Sunbury lies just across the River Thames from the successive haunts of the E.D. company at Kingston-on-Thames, West Molesey and Surbiton, and not all that far from the IMA plant just to the south-east at Merton, where the FROG range was manufactured. The Mills Bros. workshops at Woking were also relatively nearby. The model engine industry was a significant employer in South-West London in 1948! Think of the craic in all those engine-maker's pubs ………….
Independence - the Sunbury Era
The Allbon workshops at the Thames Street premises in Sunbury were very small by comparison with those of their major rivals from across the river. Kenneth Allbon has recalled that to maximize the efficient use of floor space, the entire second floor of the former shop premises had been removed, creating a ground floor of twice the original height. This was very convenient for the accommodation of the machinery used by the company.
A flight of wooden stairs led up to a small elevated cubicle-style office which was located at the former second floor level in one corner of the building. This was Alan Allbon's design and business office. This "suspended office" arrangement saved some space on the main floor, which could thus be used in its entirety for manufacturing purposes.
Thames Street has moved well up-market since Allbon's time there. Many of the buildings on the street have since been converted into riverside flats, restaurants or office space. The modest red brick building at 51 Thames Street, which may well be the one formerly occupied by Allbon, was occupied at the time of writing (2015) by a branch office of A. A. Telecom Ltd.
There's no doubt that the Allbon enterprise began quite modestly in terms of production capacity. Based upon reported serial numbers for the early products, the production figures achieved at this stage were seemingly comparable with, say, those for the Kemp workshops in Gravesend, Kent, which operated with a staff of three full-time employees (including owner Harold Kemp) plus one part-timer. It's always appeared doubtful that staffing levels at Allbon Engineering were any greater. Indeed, Kenneth Allbon has confirmed that to his certain knowledge his father never employed more than four additional workers at this location at any time. At the outset, staffing levels were doubtless even less.
As a boy, Kenneth Allbon used to spend time hanging about the workshop during this period. He particularly recalled two of his father's employees who were both named Mickey. One was always quite cleanly turned out, while the other invariably presented a grimy face and a grubby appearance to the world. Young Kenneth cheekily called them "Clean Mickey" and "Dirty Mickey" respectively! Apparently "Clean Mickey" promised to make Kenneth a model tram but never delivered, a slight which Kenneth still recalled when interviewed almost 70 years later in 2015!
The Allbon model engine range got its start with three successive variants of a very workmanlike 2.8 cc sideport diesel, the first variant of which appeared in January 1948. This well-made and fine-running engine proved to be quite popular, with some 1800 examples being sold over an approximately 20 month period if serial number data is any guide. Full details of the various forms in which the Allbon 2.8 appeared, as well as information on the other models manufactured at Sunbury, may be found in our earlier article on MEN.
At some point during this period, Allbon was joined at Thames Street by future Allen-Mercury manufacturer Dennis J. Allen. There can be no doubt that Allen was a valuable asset since he knew model engines very well indeed, both as a practical user and on account of his previous employment with the engine repair service operated by Henry J. Nicholls as an adjunct to his famous shop at 308 Holloway Road in London. Since Nicholls' Mercury Model Aircraft Supplies division had been the distributor and servicing agent for the Allbon 2.8 since its introduction at the beginning of 1948, Allen already had a close working familiarity with that engine.
Initially, Allen remained an employee of Henry J. Nicholls Ltd., being in effect "loaned" to Alan Allbon to assist him in the ongoing production of the 2.8 and the development of potential new models. However, it turned out that the proportion of Allen's time required to meet Allbon's need for assistance soon made this arrangement impracticable. The result was that Allen became a full-time employee of Allbon Engineering during the latter part of 1949, joining the others already working there.
In this capacity, Allen was closely involved in the ongoing development and manufacture of the company's various products which appeared over the course of the following year. There is always a synergistic effect when two talented individuals join forces to work towards common goals, and there can be little doubt that both Allen and Allbon gained immensely from their collaboration in terms of their grasp of the challenges inherent in model engine design and manufacture.
Kenneth Allbon recalled that after Dennis Allen joined his father at Thames Street, the two of them used to travel up to London fairly regularly to meet with Henry J. Nicholls at "308". Presumably these trips were undertaken at least in part to deliver batches of engines and spare parts, since Nicholls continued to be the Allbon distributor and servicing agent at this time. Kenneth actually recalled accompanying his father on a number of these trips.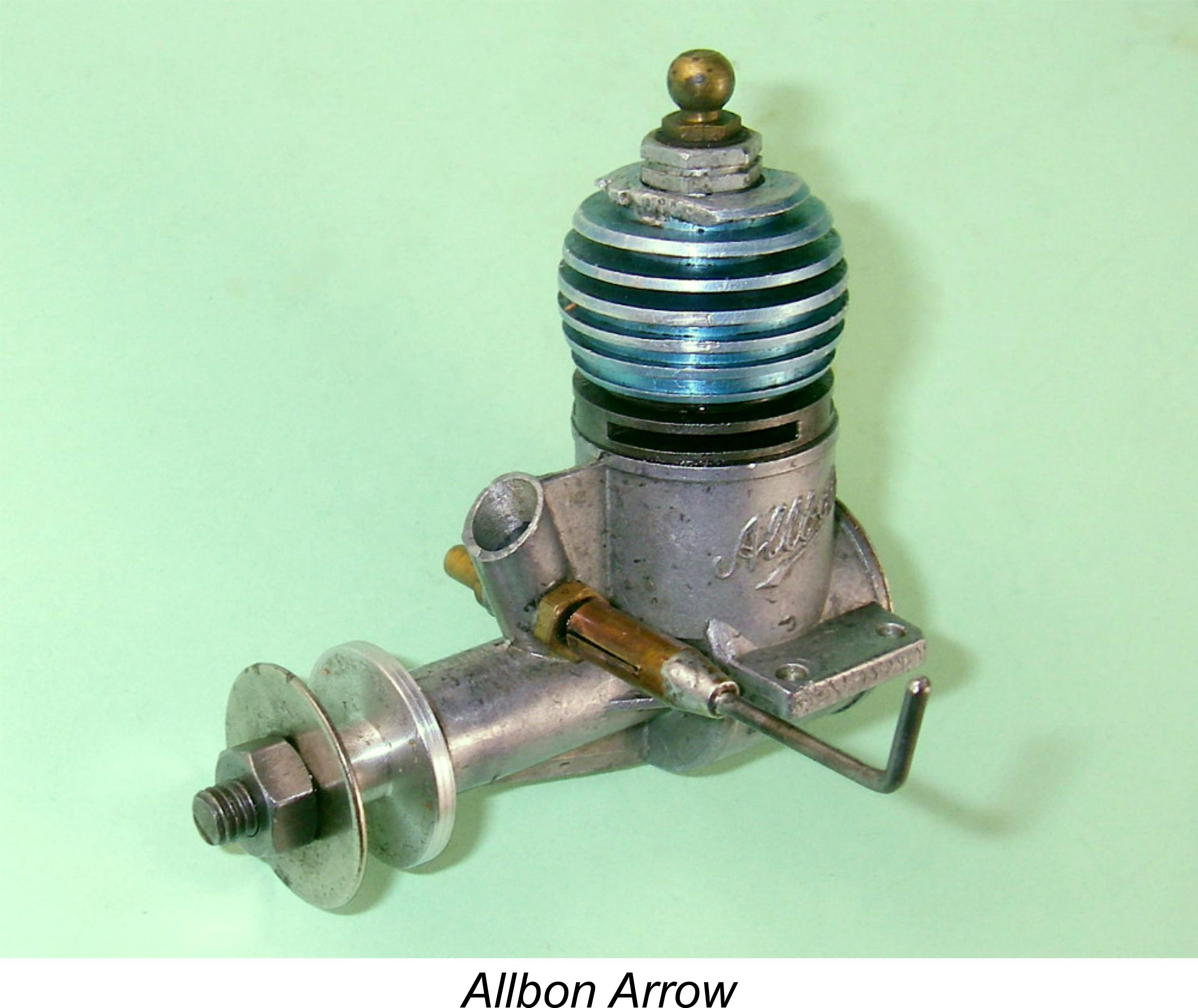 By October 1949, change was in the wind. In that month the Allbon 2.8 disappeared from Allbon's advertising, being replaced by an all-new model, a 1.5 cc crankshaft front rotary valve (FRV) glow-plug motor called the Arrow. We have discussed the Arrow in detail in the previously-referenced article to be found on MEN.
The first advertisement for this engine that I could find appeared in the October 1949 issue of "Aeromodeller" magazine. Interestingly enough, the Arrow was claimed to be "Britain's first entry into the small glow-plug engine field". Given the fact that their 1.66 cc FROG 160 glow-plug model had been on the market and selling well for over a year at the time, one wonders what IMA made of this statement!
Unfortunately, the Arrow proved to be perhaps Alan Allbon's sole error of judgment during his distinguished model engine design career. Although it was a well-made, very light and good-looking motor having excellent handling qualities, its performance fell well short of meeting expectations for an engine of its displacement, particularly in light of the fanfare with which it was introduced. As a replacement flagship product for the highly regarded but admittedly outdated 2.8, it was never in the running. Sales were not totally dismal - serial number evidence suggests that a total of some 2,200 examples were made over the following 16 months or so. However, the engine never overcame its reputation as a chronic under-performer.
Alan Allbon clearly recognized this immediately. Unless something was done very quickly, the Arrow's performance shortcomings could have had very negative consequences in terms of the ongoing perception of the Allbon range in the marketplace. To his credit, Allbon didn't waste any time wringing his hands over what can really only be regarded as a set-back. He needed to act quickly to restore his reputation as a designer and manufacturer!
His response was both immediate and effective – with the assistance of Dennis Allen, he quickly came up with a diesel version of the Arrow. Since this shared many of the same components and much of the tooling for the Arrow, it could be put into production with minimal delay. In fact, the first advertisement for the new model, christened the Allbon Javelin, appeared in the form of an insert in the full-page Mercury Models placement in the February 1950 issue of "Aeromodeller" magazine, only 4 months after the introduction of the Arrow. The engine was touted as "the Diesel version of the famous Allbon Arrow 1.49 Glow-Plug".
Several published tests of the Javelin quickly confirmed that it was one of the best-performing engines in its displacement category then available to the British modelling public, outperforming the Arrow by a substantial margin. It was also very well made, like all Allbon products. British power modellers agreed completely with this assessment, consequently lining up to buy the engine in substantial numbers. At one fell swoop, the Javelin had restored the Allbon name to its former high status in the eyes of the British modelling community. The Arrow continued in production, but the flagship role had been decisively assumed by the Javelin.
So life was good at Allbon Engineering during this period! Despite the mounting pressure of work resulting from the popularity of the Javelin, Alan Allbon and Dennis Allen found time (or made time) to continue their work on potential future designs. Notable among these were the nice-looking 2.5 cc FRV diesel prototype seen at the right and a series of quite handsome 5 cc glow-plug prototypes, the last of which is illustrated below. Both of these designs look to have had considerable commercial potential if they could have been put into series production. There was also a prototype 10 cc spark-ignition twin, although this was probably seen more as a challenge to be met than as a serious candidate for future series production.
As if this wasn't enough, Alan Allbon also somehow managed to find time to continue his modelling activities as a member of the Bushy Park club which flew at the nearby Royal Park of that name. Try flying a power model at Bushy Park today ......... regardless, Allbon achieved some contest success, actually winning the free flight power competition at the 1950 West Essex Gala held at Fairlop Aerodrome near Ilford in Essex. Amazingly enough, this was the first major contest that Allbon had entered!
The development of the prototypes mentioned above appears to confirm that the overwhelming success of the Javelin had provided strong encouragement for Alan Allbon and Dennis Allen to begin looking ahead once more to the further expansion of the range. They were joined by future IMA chief engine designer George Fletcher at around this time - quite an array of talent under one roof! Fletcher had previously been working for D-C Ltd. at Barnoldswick in Lancashire. One gets the impression that Alan Allbon was staffing up to facilitate a considerable expansion of his company's activities .............
The initial result of their joint deliberations was the October 1950 introduction of an all-time classic - the 0.55 cc Allbon Dart. The name of the new model preserved the Allbon tradition of naming their FRV models after various types of missile! Once again, the model engine testers of the day fell over themselves to praise the new product, the result being that Allbon Engineering suddenly found themselves with a far greater level of demand for their products than they were able to meet with their small 5-man workshop and limited machine tooling.
The examples of the Dart and other models that were manufactured at Sunbury may be distinguished today by the fact that they bore serial numbers. These numbers were hand-engraved on the underside of the crankcase. The highest such number reported to date for the Dart is my own illustrated engine number 295, although there were likely considerably more than this.
However, events were unfolding which would terminate production at Sunbury before the Dart had time to really get into its stride in sales terms. We'll never know how the firm might have responded to the sudden massive overall increase in the demand for their engines created by the immediate success of the Dart combined with the ongoing demand for the Javelin, because another far more serious factor was about to cast a very long shadow over Allbon's activities. This was the infamous purchase tax case, of which more in the following section.
The Purchase Tax Case and its Impact
At the time when I wrote my original article on the early years at Allbon, I had yet to make contact with the surviving members of the Allbon family. I was therefore unaware of the full circumstances surrounding Allbon's abandonment of his Sunbury-on-Thames workshop. Based on the information provided by Kenneth Allbon, we now know that this was far more complex than I had believed. The underlying factor was the infamous purchase tax case.
To understand the issue of the purchase tax case and its impact upon Allbon's fortunes, we have to go back to April 1948, at which time Allbon was just getting started as a model engine manufacturer. Prior to that date, the Government of the day had been undertaking a review of the application of purchase tax to various classes of goods manufactured in Britain. In April 1948 the Commissioners of Customs & Excise announced their decision with respect to modelling goods.
Up to that point in time, kits and accessories of a constructional nature were classified under "Toys and Games", a category of products considered to have some educational value and hence being exempt from purchase tax. The Government announcement in April 1948 stated that thenceforth model aircraft parts and accessories, including "power units of all kinds" would be classified as "Amusements" under the Purchase Tax Schedules, thereby discounting any educational value and making them subject to taxation.
This change in policy had the immediate effect of imposing a whopping 331/3% purchase tax upon modelling goods of all kinds. The tax was calculated not on the retail price but on the manufacturer's wholesale price, presumably making them primarily responsible for collection, reporting and payment. Generously, nuts and bolts were exempt!
Manufacturers now had only two choices, neither of them palatable - they could absorb the tax themselves, thus further eroding an already marginal profit picture, or they could pass the tax on to their customers in the form of dramatically increased over-the-counter prices. The first course would significantly reduce any financial incentive to continue in the model manufacturing business. As for the second course, such a drastic increase in retail prices would be bad news indeed in the context of the cash-starved post-war British economy given the inescapable fact that the model trade relied totally upon the discretionary spending capacity of its customers.
Not surprisingly given these considerations, the British model trade came together and decided to fight back. Arguments quickly assembled and presented by trade representatives were successful in reversing this decision on kits, but the Commissioners maintained that all parts and accessories, including engines, propellers, spinners, wheels, and in fact every identifiable accessory that could be used in conjunction with a model should be subject to tax.
To fight this Government decision, the model trade leadership banded together to form a sub-committee comprising Eddie Keil (KeilKraft), Jack Ballard (E.D.), Arnold L. Hardinge (Mills Bros.) and Alan Allbon's associate Henry J. Nicholls (Mercury Model Supplies Ltd.). The sub-committee received legal advice to the effect that a challenge stood a good chance of success and that the best strategy would accordingly be for at least one of their members to withhold the payment of purchase tax, thus forcing the raising of a test case by the Government. Eddie Keil volunteered his company, E. Keil & Co. Ltd., to act in the recommended manner. In the event, it appears that a number of other model trade participants rolled the dice by adopting this course also, one of them being Allbon Engineering.
Primarily at the instigation of Eddie Keil, trade participation in the effort to reverse the tax decision was coordinated through the formation of a new organization called the "Federation of Model Aeronautical Manufacturers and Wholesalers" (FMAMW), the membership of which was open to any and all firms involved in the model trade in any capacity. This was in effect a lobby group which allowed individual companies to combine their voices in joint support of the campaign to get the 1948 purchase tax decision reversed for all classes of modelling goods, not just kits.
It's not known whether or not Allbon Engineering joined this group. Certainly, they never displayed the Federation's logo on their advettisements, unlike both E.D. and Yulon. However, it's likely that they were in fact members, since their distributor Henry J. Nicholls was centrally involved in the Federation's efforts. It's difficult to see how Alan Allbon could have stood aside from the issue.
Be that as it may, the FMAMW took up the test case on behalf of its members and the model trade in general. As agreed by the sub-committee, E. Keil & Co. Ltd. were named as the defendants of record, with the Commissioners of Customs & Excise as plaintiffs. Based upon legal advice received, it was widely anticipated that the test case would result in the handing down of a favorable decision on the tax issue by the Court. Such a decision was expected to be backdated to January 1, 1949. Nevertheless, prudence would appear to have dictated that adequate provision be made by potentially affected parties to address the financial consequences of an adverse decision. Unfortunately as things turned out, many did not. One such firm was Allbon Engineering.
The test case dragged on for the better part of two years, finally ending on October 23rd, 1950 with the court quite unexpectedly upholding the Government position. To add insult to injury, the court re-instated kits along with the rest of the taxable modelling goods. As a result, British model engine and kit manufacturers approached 1951 facing either a whopping bite out of future profits, which were already very much on the marginal side by normal precision engineering standards, or the imposition of a massive price increase which would doubtless drive many customers away. They also faced a major book-keeping headache. Worse yet, those firms which had joined E. Keil & Co. in not paying taxes while the test case was before the courts now faced a very substantial government bill for two years' worth of unpaid back taxes. Ouch .....!!
Sadly, Alan Allbon was one of those who had not made adequate provision for the payment of back taxes in the event of this outcome. The consequent impact upon his financial situation was both disastrous and immediate. The tax bill that was presented to Allbon Engineering by the Government immediately following the failure of the test case was of such magnitude that in late 1950 Allbon was forced to sell his house in Sunbury to cover the bill.
This of course was a disaster for the family. Kenneth Allbon has told us that in the short term the family moved into rented accommodation on Nursery Road in Sunbury, some distance to the north-west of the Thames Street workshop. In Kenneth's recollection, this situation quite understandably created considerable tension between Alan Allbon and his wife Elsie, to the extent that Allbon apparently lived separately for a time at the Thames Street workshop while trying to maintain some level of production and hence income. It's pleasant to be able to record that he and Elsie did eventually reconcile and move on from this episode.
As far as Kenneth could recall in 2014, his father continued to work at Thames Street for a time while living there, but was soon forced to surrender that property as well along with some of his machine tooling in order to get clear of his tax bill. This effectively ended the production of the serial-numbered versions of the Dart just as the engine was getting into its stride in sales terms. It was probably in production at Sunbury for only two or three months at most. The Javelin and Arrow were of course similarly affected. Crucially, Allbon seems to have retained ownership of some of his key machinery and tooling despite this setback.
Once production at Thames Street ended, Allbon was left without an income, hence lacking the financial means to purchase or even continue to rent a replacement home for his family. Moreover, he no longer had any business premises which tied him to remaining in Sunbury. These circumstances forced him to return with his family to Bedford in early 1951 to live with his wife's parents. Although imposed upon the family by circumstances, this cannot have been a comfortable situation for anyone involved.
However, Alan Allbon appears to have been nothing if not resilient. We saw in the case of the Allbon Arrow that he was not a man to allow a set-back to get the better of him! He immediately began to explore options for re-establishing his business in the Bedford area. After all, he had a very successful product line in the form of the Allbon Dart and Javelin. He also had the assets of the machinery, dies and tooling that he had been able to salvage from the tax disaster. There was far too much commercial potential in these assets to simply walk away from the opportunity that they represented.
It's interesting to note that Allbon understandably went to some lengths to keep the details of his predicament out of the modelling media. It can't be doubted that the enforced termination of production at Sunbury must have created an immediate backlog of orders for the very popular Dart and Javelin models. This situation could not have excaped the notice of either the model trade or the aeromodelling community at large, hence obviously requiring some kind of explanation for public consumption.
An announcement in the "Over the Counter" feature of the April 1951 issue of "Model Aircraft" (clearly written some time previously to met Editorial deadlines) confirmed that Allbon Engineering had been compelled to temporarily suspend production. However, the reason for this was given as a need to move to "larger premises", thus putting a positive public relations spin on the situation. The announcement went on to state that "with improved facilities they will be producing more motors as from March and should soon catch up with any backlog of orders". This of course confirmed that such a backlog had quickly developed as a result of the enforced closure of the Sunbury workshop.
There can be little doubt that the sharp increase in production pressure resulting from the immediate success of the Dart would have required Allbon to make other production arrangements in any case. However, the insertion of the purchase tax issue into the broader picture undoubtedly constrained Allbon's options very severely. Indeed, it's likely that this situation had a dramatic effect upon the course of Allbon's entire subsequent career, as we shall see in the following sections of this article.
The Cople Interlude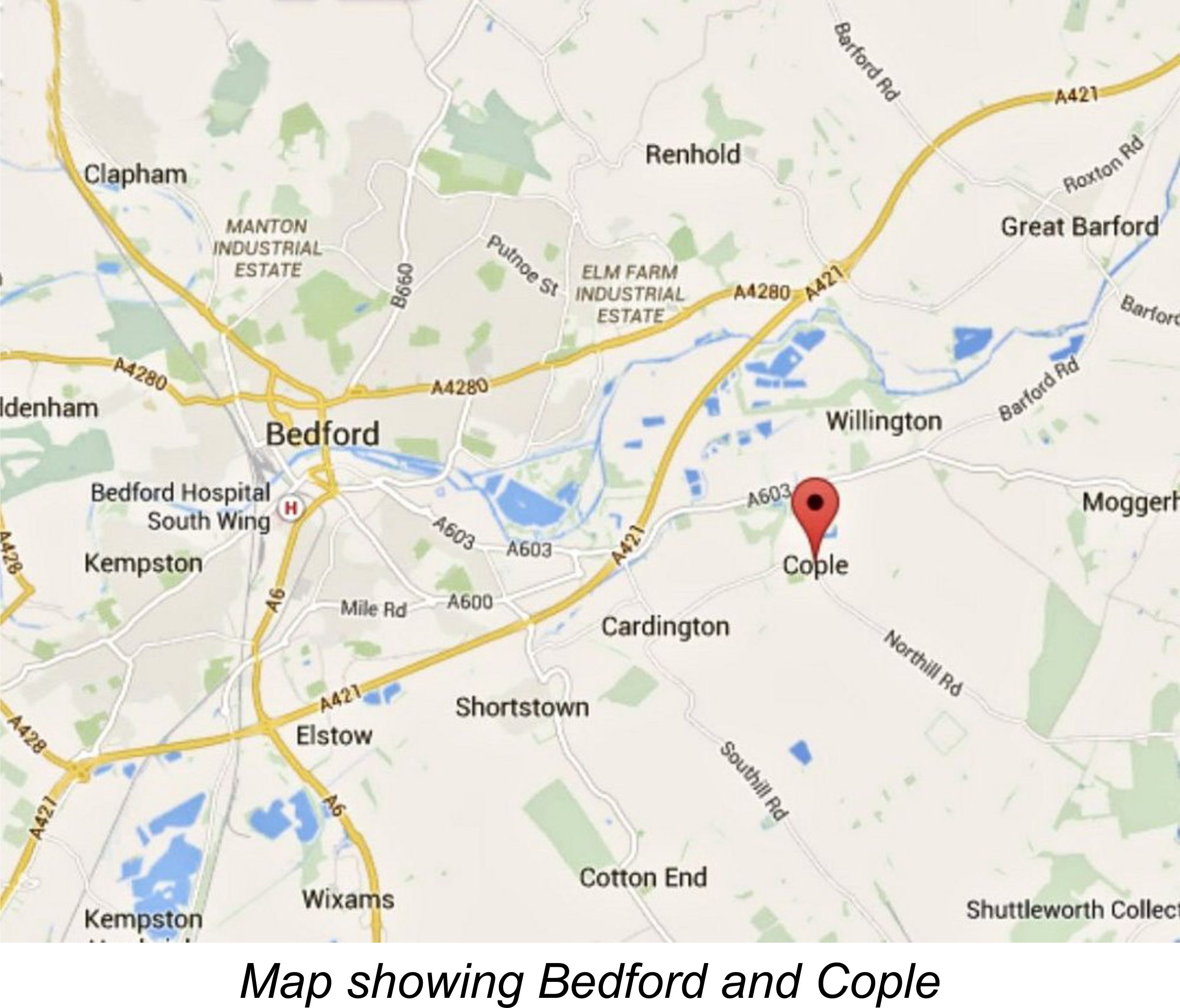 Allbon's search for a suitable workshop location in the Bedford area soon led him to a somewhat ramshackle old forge building in the small rural community of Cople, a few miles to the south-east of Bedford. Kenneth Allbon recalled that this facility was very much on the primitive side, being in effect little more than a large shed. Its main redeeming feature was apparently the presence of the "Five Bells" public house immediately opposite! Kenneth advised that both the pub and the old forge building were still there as of 2014, although the forge building had been considerably upgraded since Alan Allbon's time.
Although somewhat rudimentary, the old forge structure provided sufficient space to set up the limited machine tooling which Allbon had been able to salvage from the tax disaster. After a transition period of a few months during which no production took place, Allbon resumed work at the Cople location, albeit with a much reduced machine tool inventory and a far smaller staff. As far as Kenneth Allbon could recall, his father did much of the work himself, never having more than one or two assistants at the Cople location. So much for the "larger premises" and "improved facilities" to which the "Model Aircraft" article had referred!
Still, Allbon was back in business remarkably quickly despite the purchase tax set-back. During this period, financial circumstances forced him to continue to live with his family at his in-laws' residence in Bedford. Kenneth Allbon recalled that he commuted to Cople each day from Bedford by car.
However, Allbon had simply exchanged one problem for another. He had a couple of model engine designs which were in great demand - in fact, the trade could absorb many more than he could make. The trouble was that using the diminished resources at the Cople location, he simply couldn't make that many! It's an interesting indication of the production pressures under which Allbon was working at this time that the practise of applying serial numbers to his engines appears to have ended with the relocation to Cople. This almost certainly reflected a need to cut manufacturing time and effort to the bone.
The examples of the Dart produced at Cople were essentially identical to those manufactured at Sunbury apart from the omission of serial numbers, which eliminated one manufacturing step. The unnumbered
examples of the Arrow and Javelin Mk. I which turn up from time to time also most likely date from this period, although production of the somewhat lacklustre Arrow seems to have been terminated very soon after the move to Cople. It's quite likely that the un-numbered examples of the Arrow were simply assembled from parts already on hand.
Even with the elimination of the Arrow from the production program, deliveries of the Dart and Javelin still fell well short of meeting demand, forcing many prospective buyers to go looking for alternatives. For a manufacturer wishing to retain a leading position in the model engine field, Allbon's inability to meet demand was not a good situation - nothing that forces potential buyers to look elsewhere can be viewed positively.
This situation was exacerbated by the fact that alternatives were readily available to those who found themselves unable to acquire an Allbon product. In the 1.5 cc category, the Javelin already faced stiff competition from the very successful 1950 Elfin 1.49 PB model from Liverpool. Although
this engine exhibited some well-documented variations in quality, a "good" example was if anything superior to the Javelin in performance terms. To make matters worse, IMA joined in the fun in June 1951 with their well-publicised and up-to-date 1.5 cc FROG 150 diesel. Allbon was quite unable to produce the Javelin at a rate which would allow it to stave off this competition effectively. The result was that prospective buyers were being pushed into the wide-open arms of the competition.
Things were even worse in the ½ cc displacement category. Noting the success of the Dart, and perhaps sensing that Allbon was not then in a position to meet demand, no fewer than three other competing manufacturers (Aerol Engineering (Elfin), IMA (FROG) and E.D.) quickly followed Allbon's lead by developing ½ cc
diesels of their own. This gave rise to the British ½ cc diesel "revolution" of 1951/52. It also resulted in the rapid saturation of the British market for miniature diesels. It looked as if Allbon was in danger of losing his best chance of capitalizing upon his outstanding design work.
Given his highly compromised financial capacity at this time, Allbon's options in the face of this unsatisfactory situation were very limited. The chief constraint was his lack of the necessary capital to make a further personal investment in expanded production facilities, which would have allowed him to meet demand while retaining full ownership and control of the business. It's likely that he would have pursued this course either at Sunbury or elsewhere if the purchase tax crisis had not intervened.
As matters stood, Allbon was left with only two remaining alternatives. On the one hand, he could seek an outside investor who would put up the required additional funding at the cost of the surrender of Allbon's autonomy in terms of controlling the future of the business. On the other hand, he could enter into some form of working arrangement with an established precision engineering firm which might be willing to take on the task of producing his engines at levels which would match demand. The latter approach would at least allow Allbon to retain control over the evolution of the Allbon range.
In the event, Allbon elected to follow the second of the above alternatives. During the latter half of 1951, while still doing his best to meet the demand for his engines through limited ongoing production at Cople, he entered into discussions with Hefin Davies of the well-established firm of Davies-Charlton Ltd. of Barnoldswick in Lancashire regarding the possible mutual benefits of some level of cooperation.
Davies-Charlton were very experienced and capable model engine manufacturers, having been in the business themselves since 1947. Moreover, at the time in question they were not in direct competition with Allbon since their very limited model engine range was confined to a pair of 3.5 cc models which did not correspond to the displacement of any Allbon products.
One of the main reasons for the very limited scope of the D-C range during this period was the fact that Hefin Davies' time was increasingly being diverted away from the model engines which were always his first love towards the very lucrative high-tech sub-contract work for Rolls-Royce and others which formed the mainstay of Davies-Charlton's growing business at the time. The fact that D-C Ltd. appears to have been largely unaffected by the outcome of the purchase tax test case in late 1950 may well have been due to the model engine side representing more of a minor sideline than anything else at this time. It's also likely that the company's growing income from sources other than model engine manufacture had placed Davies in a position to make financial provision for an unfavorable outcome of the test case.
Whatever the reason, D-C Ltd. remained very much in the model engine business as of 1951, albeit with a far smaller range than Davies would have liked. Whatever his personality flaws (of which more below), Davies was unquestionably a genuine model engine enthusiast at heart. If a way could be found to allow the expansion of D-C Ltd.'s model engine manufacturing activities without deflecting Davies away from his lucrative sub-contract work, no-one would be better pleased than he!
Accordingly, Davies was doubtless very much open to the concept of what would amount to a merger with Allbon on the model engine side. The ability to tap into the expertise of an experienced model engine designer and manufacturer like Allbon would allow the development of the new model engine designs which Davies wished to market but lacked the time to develop himself.
The ensuing discussions between Allbon and Davies clearly proceeded well enough that some kind of agreement was eventually reached. At this stage, the agreement was evidently purely contractual. Although the specific terms are not known, it appears from what followed that the original agreement covered only the manufacture of the Dart by Davies-Charlton.
Like the true reason for Allbon's abandonment of his Sunbury facilities, this agreement was kept very much under wraps at this stage, at least as far as the modelling public was concerned. The sole indication of a major change in the wind was a further temporary period of non-availability of the Allbon range in the latter part of 1951 - the second such occurrence in less than a year. This was mentioned in several contemporary model trade listings in the modelling media, more or less in passing. It seems certain that this represented a late 1951 hiatus in production separating Allbon's abandonment of Dart production at Cople from Davies-Charlton's commencement of Dart manufacture at Barnoldswick.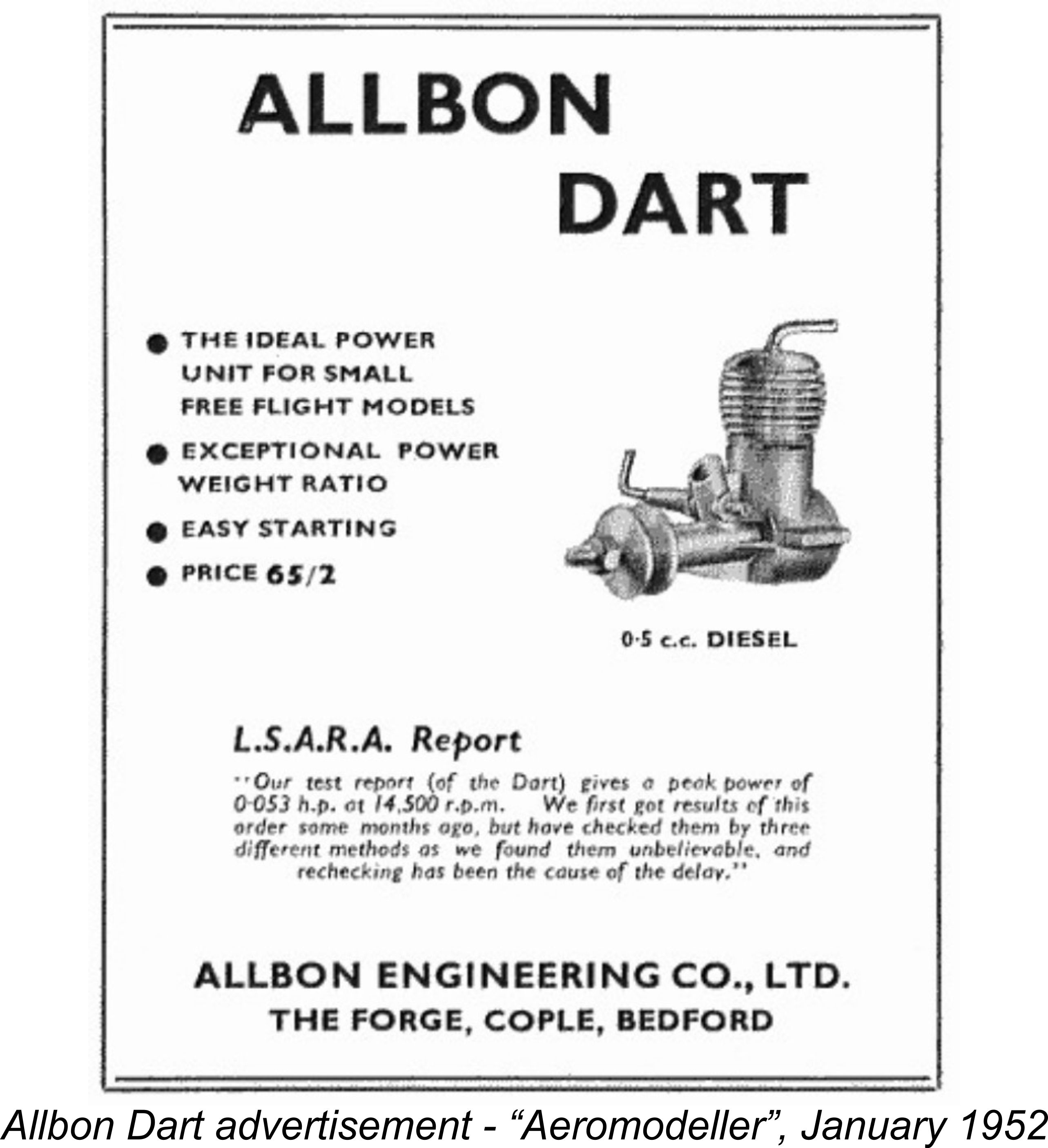 As matters turned out, the Dart would quickly re-appear, while the rest of the Allbon range would remain largely dormant for most of 1952. Throughout almost the whole of 1952 Allbon continued to advertise the Dart from The Forge in Cople, Bedfordshire, giving the clear impression that he was still manufacturing the engine at that location. However, in his "Accent on Power" column in the April 1952 issue of "Model Aircraft", the always well-informed Peter Chinn gave the game away by letting slip the fact that the manufacture of the Dart had already been taken over by Davies-Charlton.
The fact that the Dart was the only advertised Allbon model during most of 1952 would seem at first sight to imply that the manufacture of both the Mk. I Javelin and the Arrow had been suspended. New Old Stock examples of both the Javelin Mk. I and the Arrow which had been manufactured by Allbon Engineering remained available from specific retailers during this period, but there's little or no doubt that the production of the somewhat lacklustre Arrow was never resumed following the wind-up of Allbon's Cople operation.
However, the same does not seem to be true of the Javelin Mk. I. Australian reader Bob Allan has kindly provided irrefutable evidence for the fact that at least some examples of the Javelin Mk. I were manufactured by D-C Ltd. at Barnoldswick. This evidence takes the form of a Mk. I Javelin box which expressly states that the manufacturer
was D-C Ltd. It would appear that as the stock of Mk. I Javelins which had been manufactured at Cople ran out, Allbon understandably wished to maintain some level of supply for that very popular model, hence contracting with D-C Ltd. for the manufacture of an unknown number of examples of the Javelin at Barnoldswick.
That said, the fact that the Javelin was not advertised at all by Allbon during this period clearly implies that the primary focus was on maintaining the supply of the Dart. The number of Javelin Mk. I's manufactured at Barnoldswick was likely quite small. It seems not unlikely that those engines were based upon unused crankcase castings which were left over from the earlier Cople interlude.
The fact that the two companies continued to advertise independently clearly implies that at this stage no actual merger had taken place. In all probability, Allbon had taken advantage of Davies-Charlton's well-known willingness to undertake contract work for others by simply contracting out the manufacture of the Dart to Davies-Charlton on a trial basis. Hence the relationship at this stage was probably purely contractual.
This arrangement must have worked out well for both parties, since the next step towards a full merger was the combination of the distribution arrangements for the Allbon and Davies-Charlton ranges. This was a logical move given the fact that the Dart was in reality being manufactured by Davies-Charlton despite Allbon's ongoing reluctance to openly admit this fact. By mid 1952, Allbon's advertisements were confirming that the distribution (as opposed to the manufacturing) of the Dart had been taken over by Davies-Charlton, although Allbon still continued to advertise separately from his Cople location and still stopped short of crediting Davies-Charlton with the manufacture of the Dart.
Allbon was still advertising the Dart independently from his business address at Cople in October of 1952, but the distribution of both the Allbon and Davies-Charlton ranges had by then been taken over by E. Keil & Co. This arrangement was to continue for some time following the completion of the merger.
The amalgamation of the two companies was apparently completed prior to December 1952, when advertisements for the Mk. II versions of the Dart and Javelin began to appear together with the open identification of Davies-Charlton Ltd. as the manufacturers of both models. Kenneth Allbon has informed us that his father moved the family from Bedford to Barnoldswick in late 1952, a move which made complete sense given the new business arrangements. The family actually lived in the nearby village of Salterforth, a former mill community which was in effect a suburb of Barnoldswick.
The end result of all this was that manufacture of the Allbon engines by that name was now openly consolidated at Davies-Charlton's Barnoldswick plant in Lancashire along with that of the continuing Davies-Charlton models. This marked the beginning of a seven-year hiatus in Alan Allbon's career as an independent model engine manufacturer.
An interesting sidebar matter is the fact that Allbon appears never to have got around to formally dissolving his old company! A notice published in the London Gazette for November 22nd, 1974 served three month's official notice that Allbon Engineering Co. (Sunbury) Ltd. was about to be struck off the British Company Register unless reasonable cause was shown why this step should not be taken. This notice was published pursuant to Section 353 of the Companies Act (1948) which permitted removal if the Registrar of Companies had unchallenged reason to believe that the company in question was no longer in business. Clearly, Allbon did not bother to present any arguments to counter this decision, which accordingly took effect on March 14th, 1975 through the publication of a further notice in the London Gazette of that date.
Returning now to late 1952, it's readily apparent that on the surface this merger conferred clear benefits upon both parties. Hefin Davies was now free to put most of his energies into leading the doubtless-lucrative contract work for Rolls Royce and others which was a mainstay of Davies-Charlton's business plan at this time. For his part, Allbon assumed primary responsibility for the subsidiary model engine development and manufacturing programs. The arrangement neatly solved Allbon's production problems, allowing the development and expansion of the Allbon range at production levels which could be tailored to meet demand.
Neither Kenneth nor Derek Allbon (who were still at school during this period) retain any knowledge regarding the terms of the agreement between their father and Davies-Charlton. There does seem to be some significance in the fact that Hefin Davies' former secretary Chris Crosby, who was kind enough to share her recollections of her time at Davies-Charlton with us, did not recall ever preparing any wage/salary statements for Alan Allbon despite his undoubted presence in Barnoldswick throughout the time when she was there. This implies that his relationship with Davies-Charlton did not extend to his becoming a salaried employee - rather, his remuneration must presumably have taken the form of some kind of dividend or royalty payment schedule under the terms of a contract of some kind.
It seems most probable that Allbon entered into a contract with Davies-Charlton Ltd. under the terms of which he would lead the engine design and production efforts, with a condition of the contract being the attachment of his name to the designs which he produced along with some kind of periodic royalty payment on the basis of the number of engines sold. A somewhat arms-length arrangement in other words, which allowed Allbon to retain a degree of independence.
So far, so good. However, as had happened to Allbon before, there were clouds gathering on the horizon. This time, the issue had far more to do with personalities than with financial matters.
But before we look into that aspect of the story, it's necessary to finally clear up a mystery which has been the subject of a good deal of speculation over the years – the involvement or otherwise of an individual named Charlton.
Allbon or Charlton?
We are very fortunate indeed that Mrs. Christina "Chris" Crosby, Hefin Davies' former secretary, was good enough to share her reminiscences of her time at Davies-Charlton, which more or less exactly coincided with the period from late 1952 through mid 1955 during which Alan Allbon also worked at Barnoldswick. One matter regarding which Chris shared her recollections was the much-debated issue of the existence or otherwise of a Mr. Charlton as a partner in the Davies-Charlton enterprise.
Chris informed us that there was indeed a Mr. Charlton (first name not recalled), a fact which had never been previously asserted from a position of first-hand knowledge. Chris's stated understanding was that like Hefin Davies, Charlton was a former Rolls-Royce employee who left that company in 1947 to join Davies in starting the Davies-Charlton enterprise which was to make their fortunes.
Now it gets a bit weird!! Chris claimed to have no recollection of ever meeting Alan Allbon despite the fact that he was undoubtedly working at Davies-Charlton during almost her entire time there. She was of course familiar with Allbon's name from its appearance on the engines which they were then manufacturing, but could not recall ever seeing him at the company offices where she worked. However, she did recall seeing Charlton on a number of occasions, characterizing him as a "quiet, studious and gentle man", in direct contrast to the somewhat volatile Hefin Davies. In her recollection, Charlton kept a very low profile while collaborating with Davies on the design side and acting as works superintendent. He reportedly spent much of his time working in the design office, which Chris recalled as being located separately from the company's main Rainhall Road location in Barnoldswick.
The amazingly low profile which Charlton (assuming he existed) somehow managed to maintain over an extended period of time has long been one of the enduring mysteries surrounding the history of the Davies-Charlton enterprise. I was expecting that Kenneth or Derek Allbon might be able to shed some light upon this elusive character, since if he was still an active participant in the company when their father worked there, as suggested by Chris Crosby, they must surely have encountered him. They certainly recalled encountering Hefin Davies in his capacity as their father's business associate, so why not Charlton?
However, neither Kenneth nor Derek could recall ever meeting anyone by the name of Charlton! Still hoping to settle this vexing matter once and for all, Geoff Peacock went so far as to return to Barnoldswick to speak with a number of older long-time residents, all of whom claimed to have heard of Charlton but never actually met him! In fact, the only person who has so far claimed to have actually met Charlton was Chris Crosby. In a relatively small and somewhat isolated community like Barnoldswick, it's really hard to imagine how Charlton could have remained so invisible to so many people.
At this point, it's necessary to pause for a moment to review the implications of this odd situation. The fact that no-one apart from Chris Crosby seems to have had any direct contact with Charlton at any time has always been very difficult to accept. If he was an active participant in the Davies-Charlton enterprise during the mid '50's, surely others would have met him? In particular, surely Alan Allbon would have had sufficient contact that his family would remember Charlton as well as they do Hefin Davies? After all, Allbon's association with Davies-Charlton would have made Charlton his partner just as much as Davies.
In fact, Chris's story would make far more sense if the individual to whom she referred as Charlton was in fact Alan Allbon!! It seems quite possible that the passage of some 55 years might have been sufficient to re-arrange some of Chris's memories. This is a hypothesis that warrants testing …………..
And indeed, as soon as we substitute Alan Allbon for Chris Crosby's "Charlton", the whole thing falls neatly into place! We know from Alan Allbon's two sons that Allbon was living and working in Barnoldswick more or less throughout the period of Chris's employment there. In addition, we know that he was placed in charge of the model engine design program, also taking responsibility for overseeing the ongoing production of the engines. These are precisely the duties which Chris assigned to the mysterious "Charlton"!
Allbon surely couldn't have carried out these duties without spending at least some time at the office discussing design and production issues with Hefin Davies. This after all was what had motivated Davies to bring him on board in the first place. This being the case, surely Chris Crosby must have seen him in the office at some point, and more than once at that? It appears that in fact she did so, but somehow gained the impression that he was Charlton rather than Allbon!
Chris's description of "Charlton" as a "quiet, studious and gentle man" is completely consistent with what we now know of Alan Allbon's character, as recorded earlier. "Charlton's" reported activities as Davies' design collaborator and works superintendent are equally consistent with the roles that Allbon was undoubtedly brought on board to fulfill.
This view also makes perfect sense of Chris's additional comment to the effect that the company's design/drawing office was maintained in separate premises on the outskirts of Barnoldswick, some distance from the main workshops and business offices which were located near the centre of town on Rainhall Road. This is surely a rather odd arrangement if the design office was in fact an element of the company's premises. Be that as it may, the design/drawing office is precisely where we would expect Alan Allbon to have spent much of his time. Chris recalled that "Charlton" spent most of his time at this location, away from the centre of the company's activities (and perhaps away from the vagaries of Hefin Davies' temperament!).
Once again, if we substitute Alan Allbon for "Charlton", this makes complete sense. Although Kenneth Allbon was certain that his father did not do his design work at home in Salterforth, Allbon may very well have done most of that work at a separate office near his home, away from the distractions of the main factory. This would place the design office on the outskirts of Barnoldswick, just as Chris Crosby recalled. If the relationship between Allbon and D-C Ltd. was purely contractual as suggested earlier, then Allbon naturally remained free to set up his own design office at any location of his choosing.
Taking all of these comments into account, the conclusion becomes almost inescapable that the "quiet, studious and gentle man" recalled by Chris Crosby as having a key role in the design program as well as the supervision of the manufacturing operations was none other than Alan Allbon! Any other view would imply that there were two individuals (Allbon and Charlton) having exactly the same responsibilities and personal characteristics! Moreover, one of them appeared periodically at the company offices, while the other was never seen there at any time. It's really difficult to imagine such a situation being sustained over a period of years.
Now that we know for sure that Allbon both lived and worked in Barnoldswick during the period of his association with Davies-Charlton, a fact which was not firmly established prior to my contacts with Geoff Peacock and Kenneth Allbon, I for one find this argument compelling. It's no discredit to the 82 year old Chris Crosby that her recollections might have become a little blurred over half a century on - I have the same problem with memories which are far less old than that!! However, it seems to be the case that there has been some transference of identities in this instance.
Which unfortunately brings us right back to the original questions which we had for a time believed to have been answered - was there a Charlton; what was his role; and (assuming that he really existed) why did no-one other than Chris Crosby ever actually see him? Our new insights set out above force us to go back and review some of the previously-identified possibilities in light of the new information now available.
One such possibility is that a person named Charlton really did exist and that Chris's previously-stated understanding of Charlton's role in helping to found the company in 1947 was substantially correct. If this was true, there's a ready explanation for the seeming disappearance of Charlton from the scene at an early stage. Given Hefin Davies' unquestionably difficult character as a colleague, it would be quite understandable if Charlton (assuming that he existed) quickly found himself unable to work with Davies and either got out or was bought out. No-one else seems to have managed to work collegially with Davies for more than a few years at a stretch - why should Charlton have been any different? It's also possible that he remained involved but stepped aside and slipped into the role of a sleeping partner, as suggested by Derek Allbon.
However, Kenneth Allbon came down firmly in support of the alternative possibility that Hefin Davies simply added the Charlton name to his own to impart a more "up-market" aura to the company name. Double-barreled names were a strong indication of elevated social stature in Britain during this era. There were a number of documented precedents for the creation of such company names out of thin air.
In support of his views on this matter, Kenneth actually retained a very clear recollection of his mother commenting that the name "Davies-Charlton" was that of Hefin Davies' own solely-owned company and that the additional name had been chosen by Davies, possibly from among those of his former associates at Rolls Royce, simply to move the company's profile up-market. This hypothesis has always seemed eminently credible to me, to the extent that Chris Crosby's affirmation of Charlton's reality as a partner in the business actually took me very much by surprise.
I suppose it's also possible that someone named Charlton may have provided some financial assistance to Davies during the start-up phase in the form of a loan which Davies repaid early on without ever making Charlton a partner. In such a case, the use of the name would simply be a way of recognizing Charlton's assistance, while also moving the company name up-market as a bonus. At this distance in time, we're highly unlikely to uncover any evidence of such a transaction if it took place.
As matters now stand in the light of Kenneth's evidence, and unless someone comes forward with compelling evidence to the contrary, I personally believe that the mystery of "Mr. Charlton's" reality or otherwise is solved - he was an "invention" on the part of Hefin Davies as opposed to being a partner in the business. Geoff Peacock need look no further!!
Unhappy Times at Davies-Charlton
As of late 1952 when Allbon moved to Barnoldswick, the Davies-Charlton enterprise was enjoying a boom. One of Hefin Davies' primary ambitions upon leaving his former employment as a skilled toolmaker at Rolls-Royce's Barnoldswick plant in 1946 to establish his own business had been to undertake sub-contract work for Rolls Royce on his own account rather than as an employee. In this he had been very successful, perhaps even exceeding his own expectations.
This success initially came about as a result of Davies employing the future founder of Marown Engineering and the ME model engine marque, Walter Kendall, who was first engaged and then married to the daughter of Rolls Royce's sub-contract manager! Apart from bringing his considerable engineering talents to the D-C venture, Kendall's marital relationship led to his father-in-law steering a great deal of lucrative sub-contract work towards D-C Ltd. Handy!
We have already seen that the result of this situation was that by 1952 the company's ongoing involvement with sub-contract work for Rolls Royce and others had grown to the point at which it was taking up an increasingly disproportionate amount of Hefin Davies' time. The fact that this was deflecting him away from the design of further new model aero engines was clearly not a situation which he relished – whatever else he may have been, Davies was unquestionably a genuine model engine enthusiast. He had managed to find time to maintain his own very limited model engine range, but that aspect of Davies-Charlton's work had become very much a sideline by the time in question. It was doubtless his desire to increase the company's involvement with model engines that had made Davies very receptive to the notion of joining forces with Alan Allbon.
Over the years, there have been consistent reports from a number of independent sources to the effect that Hefin Davies was a very difficult man with whom (and for whom) to work, also having a notably parsimonious side to his nature. Generally speaking, the majority of former employees of the company who have shared their recollections with various researchers (including myself) over the years have tended to remember Davies-Charlton as a somewhat unhappy work-place. The name of Hefin Davies invariably comes up in the context of such recollections.
Chris Crosby was one of the relatively few exceptions. She confirmed that Davies was indeed a somewhat volatile individual. However, in her recollection his energy and enthusiasm were contagious. Although she was by no means immune from being yelled at by Davies in one of his more excitable states, these moods apparently did not last and left no scars, at least as far as Chris was concerned. Chris always liked him very much despite this tendency. In this, the comments of others imply that she was very much in the minority. According to former employee Arthur Firth, the workers on the shop floor generally referred to Davies rather irreverendly behind his back as "Taffy", a reference to Davies' Welsh ancestry, of which he was very proud.
Kenneth Allbon recalled that the relationship between Davies and his father began cordially enough. Had this not been the case, it's most unlikely that Allbon would have consummated the merger in the first place. However, Davies was undoubtedly a very pushy individual with a short fuse who liked to be on top of
everyone and everything at all times - all sources agree on this point. As time went on, he apparently displayed these aspects of his character to an ever-increasing extent. Kenneth Allbon (then still a teenager) met him several times during this period and recalled taking an instant dislike to him due to his brash "in yer face" personality! A very direct contrast to the character of Alan Allbon, in fact. It's scarcely to be expected that two such divergent personalities would get along well.
Over time, Davies' bulldozer style began increasingly to grate upon the quiet and even-tempered Allbon. This did not prevent Allbon from fulfilling his side of whatever bargain had been struck by producing a number of very successful new designs for production by Davies-Charlton under the Allbon name. There were the previously-mentioned Mk. II versions of the Dart and Javelin which were announced in December 1952 as well as the Mk. I version of the 1 cc Spitfire, which appeared in June 1953 and became one of the all-time classic beginner's engines.
Then in June 1954 Allbon's famous Bambi 0.15 cc diesel appeared. This was the smallest-displacement model engine ever to enter series production up to that time, a record which it probably still holds today. Far smaller engines have been made on a special order basis - the truly amazing miniatures of Ronald Valentine come immediately to mind. However, these cannot legitimately be viewed as series production models.
Chris Crosby recalled that the management and staff at Davies-Charlton were very proud of this groundbreaking little model. Our previous article on the story of the Bambi may still be found on MEN.
Also in 1954, Allbon began work on a design which was quite distinct from that of his previous models, with minimal production cost seemingly being the primary design objective. The defining characteristics of what was to become the "classic" Davies-Charlton small-engine design were sturdy and ultra-simple
construction allied to low production costs.
The first manifestation of this new design approach appeared in October 1954 in the shape of the instantly popular Allbon Merlin of 0.76 cc displacement. This was a good engine to use - I certainly had a lot of fun with mine - but in many ways it represented a retrograde step from Allbon's earlier models in design terms. The very loose fit of the cylinder in the cooling jacket which compromised cylinder cooling was doubtless a consequence of the push for lower manufacturing cost, as was the design of the needle valve assembly. The push for lower costs almost certainly came from Hefin Davies, who was embarking on a price war at this time. British modellers were to pay dearly for this in later years.

The Merlin was an immediate sales success, but behind the scenes all was far from well. Kenneth Allbon stated that Hefin Davies' grating personality and ruthlessly opportunistic business attitude had led to an increasing degree of friction between him and Alan Allbon, with the result that by early 1955 the relationship between the two men had broken down completely. Given Allbon's well-attested ability to get along with almost anyone, responsibility for this unhappy outcome must surely be laid firmly at Davies' door. It only took just over two years ..........
A recollection from this period which Alan Allbon shared years later with his then-colleague Bernie Bowler during the Allbon-Saunders era (see below) perhaps best typifies the yawning gulf between the respective approaches of the two men to their business. Alan recalled an occasion on which Davies became impatient with him as he was slowly working through an inspection of a batch of engines and was spending a lot of time on one in particular. "What's the problem, Alan?" asked Davies. "Well, this one is a bit low on compression, and I'm wondering why" replied Alan. Davies' retort?!? "We're selling engines, not f.....g compression - put it in the box!!"
Thus it may well be imagined that as 1955 came around, Allbon found himself in an increasingly untenable situation. Fortuitously, the opportunity to escape from this predicament lay only just around the corner.
Relocation to the Isle of Man
The introduction of the very popular Allbon Merlin in October 1954 apparently created something of a crisis at Davies-Charlton Ltd. It would appear that the model engine production capacity of the company had been approaching its limit even prior to this event, and the immediate demand which developed for the Merlin was apparently the final straw. The development of new production facilities had now become an urgent necessity.
Fortuitously enough, this requirement coincided with a series of initiatives on the part of the government of the Isle of Man (IOM) to attract industry to the Island. Politically speaking, the IOM is something of an anomaly - it is part of the British Isles but is not part of the United Kingdom, having its own laws and government under the ultimate authority of the British Crown. It is in fact legally defined as a self-governing British Crown Dependency.
At the time in question, the Manx government was responding to a serious unemployment problem by making a determined effort to attract investment to the island. Hefin Davies was one of those who found the incentives being offered by the Manx government at this time to be very enticing. Relatively soon after the onset of the production capacity crisis triggered by the appearance of the Merlin, Davies commenced the negotiations with the Manx government which were to lead directly to the relocation of a significant proportion of Davies-Charlton's operations to Hills Meadow, near Douglas on the IOM. One-time Davies-Charlton Managing Director Bill Callow later informed us of his understanding that Davies received a grant from the Manx government of the day to help finance the relocation of the company to the IOM.
This was one of the instances in which Davies displayed what former long-time D-C employee Arthur Firth characterized as his "utter ruthlessness". He had built up a valuable company as a result of the dedicated work and skill of his employees in Barnoldswick, who might have expected him to show some loyalty towards them in return. However, the deal with the IOM government stipulated that their support for the venture was conditional upon Davies providing work for existing IOM residents rather than bringing his own experienced workforce to the Island. The fact that he would have to cast adrift many of the very workers who had contributed to his success presented no dilemma for Davies – he jumped at the opportunity without a backward glance.
Under the terms of the agreement with the IOM government, Davies was allowed to bring only three of his experienced shop floor workers with him. One of these was Arthur Firth, who was seen as an indispensable member of the D-C workforce on account of his expertise at cylinder honing. Three IOM residents were sent over to Barnoldswick in advance of the move to receive training from the very workers whom they were going to displace. It may well be imagined that D-C Ltd. was a rather unhappy workplace during this period.
Despite such shenanigans, the move was completed by June 1955. All subsequent Davies-Charlton model engines, including the Allbon designs, were manufactured at the new location. It might appear at first sight that this move would have rendered Davies-Charlton's ongoing contract work for Rolls Royce somewhat problematic from a logistical standpoint given the fact that the two companies were no longer co-located. However, it turns out that the Barnoldswick plant remained in operation with a reduced workforce for some years after the move, presumably to facilitate the ongoing sub-contract work for Rolls Royce. It was also later used for a time as a centre for the production of the model engine fuels marketed by Davies-Charlton.
As a result of the Manx government initiatives, the IOM had by this time become something of a major centre for high-tech aviation-related industries. These included Ronaldsway Aircraft, Manx Engineers, the Dowty undercarriage-making firm and the Martin-Baker company which made ejection seats for the RAF and others. Other such firms were to appear on the Island as time went by, including Marown Engineering, which was established in early 1960 by none other than Hefin Davies' former employeee Walter Kendall. This firm and its successor Moore Enginering were to provide serious competition to D-C Ltd. in the form of their ME diesel range.
Alan Allbon had made the move to the IOM along with Davies and the three transferred workers from Barnoldswick. However, there's no question at all that by this time he definitely wanted out. He was doubtless keenly aware of the desire of the Manx government to encourage the development of high-tech industry on the Island. Kenneth Allbon did not know at whose instigation this came about, but confirmed that immediately following the more to the IOM, the Manx government offered Alan Allbon the independent use of a vacant factory located in Douglas on the condition that he provide employment for a certain number of Manx residents. Given the irreparable breakdown of his relationship with Davies, Allbon was more than happy to accept this offer. It's actually not unlikely that Allbon commenced the negotiations leading to this offer even before the move to the IOM was accomplished, otherwise it's hard to see why he would have gone along with the move as matters stood.
It was accordingly at this point in mid 1955, far earlier than had previously been believed, that Allbon formally terminated his agreement with Davies-Charlton, setting up his own independent operation at the Douglas facility. During the following four-year period, Allbon and his family lived in Laxey, some eight miles to the north of Douglas. Score up yet another family move ………the fourth in five years.
According to Bernie Bowler, Alan Allbon's later business partner and ultimately successor, Alan was replaced as works manager at D-C Ltd. by a certain Ted Saunders, of whom we shall hear much more later on. Although he lacked Alan Allbon's engineering expertise, Saunders had apparently managed a team of unskilled munitions assembly workers during WW2, hence having some relevant management experience to bring to this position. The precise point in time at which Saunders joined D-C Ltd. is now unknown.
Alan Allbon's new venture had nothing to do with model engines - instead, he took on a variety of government sub-contract work, in common with many of the other small-scale industries which had been attracted to the IOM by this time. Kenneth Allbon recalled that his father employed some four or five men during this period, thus fulfilling his commitmnt to the IOM government.
Following Allbon's departure, Hefin Davies continued to develop and market additional expressions of the basic Allbon design which had been introduced in 1954 with the Merlin. These took the form of the 0.76 cc Allbon Super Merlin (July 1955), the 1.5 cc Allbon Sabre (November 1955) and the 1 cc Allbon Spitfire Mk. II (February 1957). It's important to note that Alan Allbon had left the company prior to the release of these models. It's unclear whether or not Allbon's engineering sensibilities would have allowed him to approve the upsizing of the basic Merlin design without significant design improvements, particularly in the 1.5 cc Sabre with its ridiculously heavy piston and undernourished crankshaft and conrod.
Be that as it may, this brings us to one of the least happy episodes which form part of this tale. Despite the formal parting of the ways with Allbon, Davies continued to sell Allbon's engine designs and their successors by that name, also freely applying the highly respected Allbon name to his line of accessories and diesel fuels. Even engine designs which were released after the split, such as the 3.5 cc Manxman (March 1956), were initially sold under the Allbon banner - reader Bill Wells advises that he has a boxed example of the Manxman, the box for which is clearly labelled as containing an "Allbon Manxman", also recommending the use of Allbon diesel fuel. I have heard presently-unsubstantiated eports that the 2.5 cc Rapier of February 1957 was also initially marketed under the Allbon name.

Of course, Davies had no legal right to continue to do this without Allbon's agreement and without compensation given the fact that the partnership had formally ended, thus extinguishing any rights which Davies may have had to the Allbon name. However, as far as Kenneth and Derek are aware based on discussions with their father, Allbon was never compensated in any way either for Davies' continued marketing of his engine designs (which continued past Davies' death in 1980) nor the ongoing use of the Allbon name for promotional purposes, which the record proves to have continued well into 1958, some three years after the end of the partnership.
No doubt surviving members of the Davies family would tell a different version of this story. If any of them read this article, they are hereby cordially invited to do so for the record - I am reporting these assertions entirely without prejudice and will gladly publish any further insights received from that side of the issue!
Whatever the rights and wrongs of this matter, it's an inecapable fact that from the perspective of the Allbon family this seemingly unethical behaviour left some lasting scars – having spoken with them, I can personally attest to the fact that Kenneth and Derek Allbon both still bear those scars today. Derek went so far as to characterize Davies as "a bit of a shyster who ripped my father off mercilessly through their "partnership""! Presumably Alan Allbon lacked the financial resources to fight Davies on this issue. Or perhaps he simply decided that life was too short and Davies wasn't worth it ..........
Readers who require further detail on the history of Davies-Charlton both before and after the interlude with Alan Allbon are referred to our companion article on that subject which appears elsewhere on this web-site.
Enter Allbon-Saunders
By the middle of 1958, Alan Allbon had been operating successfully from his Douglas premises for some three years. However, it was at this time that the winds of change began to blow once more …………
Here we become very much indebted to Allbon's later employee, partner and eventual successor Bernie Bowler for a great deal of clarification. Bernie was naturally far more directly involved with Alan Allbon's business affairs than Kenneth Allbon, hence being able to supply a lot of details that were understandably unknown to Kenneth and his brother Derek.
Allbon's next career move was prompted not by any specific initiative on his part but rather as the end result of a series of meetings at Allbon's Laxey home with a former colleague, the previously-mentioned D-C works manager Ted Saunders. Kenneth Allbon clearly recalled these meetings, which evidently centred upon the possibility of the two men going into the light engineering business on their own account, initially at least with a focus on model engine manufacturing. These meetings must have taken place in 1956 or 1957, because Saunders (who was a few years younger than Allbon) subsequently left D-C Ltd. and "retired" to (of all places!) Gibraltar in company with a woman whom he had met on the Isle of Man while working for D-C Ltd.
However, Bernie tells us that Ted quickly became "fed up" with retirement (translation - soon began to run low on funds!). This led him to renew contact with his former colleague Alan Allbon to reiterate his proposal that the two of them should go into business together. Ted evidently saw himself as the promoter and business manager of the prospective partnership, with Alan providing the technical expertise.
Although Bernie Bowler had no specific knowledge of this, Kenneth Allbon clearly recalled his father telling the family that Saunders never at any time envisioned the new company's portfolio as being strictly focused upon model engine production. Rather, Saunders had early ambitions to secure the new venture's involvement with high-tech contract work for such clients as the National Atomic Energy Research Establishment at Harwell, near Didcot in Berkshire. For his part, Alan was apparently ready to move back to the south-central English mainland where his and his wife's family roots lay, hence being receptive to the idea of such a relocation.
Accordingly, it was agreed that the two prospective partners would meet to look around together for suitable premises in the English Midlands, preferably (according to Kenneth Allbon) somewhere near Harwell. Bernie Bowler understood from later conversations with the two individuals that Alan Allbon met Ted Saunders at Heathrow Airport in the latter part of 1958, after which the two of them drove to the area in which they wished to locate. After driving around in circles for a while, they came upon a derelict
sawmill on Pembroke Lane in the village of Milton. This was in receivership, hence presumably being available at a competitive price. According to Kenneth Allbon, who knew both locations, it looked not unlike Alan's former premises at the old forge in Cople, hence presumably meeting their needs in his eyes.
Having agreed on this location, the two partners secured temporary lodgings in the area. Alan Allbon stayed at a local pub in Abingdon called the Warwick Arms (which remains in business today). It was from this address that he applied in January 1959 to the Abingdon Rural District Council for a permit to use the Pembroke Lane premises for light engineering purposes. A copy of the Council's acknowledgement dated January 29th, 1959 survives in Bernie Bowler's records and is reproduced here.
Once the required permit had been secured, the partners in what was thenceforth to be known as Allbon-Saunders Ltd. took the necessary steps to become established on Pembroke Lane. It seems that Allbon and Saunders had reached an agreement whereby Allbon would secure the premises, which Saunders would then equip. In strict accordance with this agreement, Alan Allbon secured these premises and their associated freehold, but did so under his own name rather than that of the company. As a result, the property never at any time became an asset of the Allbon-Saunders company. This was to have ramifications down the road.
During this period, Alan Allbon's family had continued to live in the Isle of Man. However, this was soon to change. Kenneth Allbon recalled traveling to Milton with his father in early 1959 to inspect the new premises and also look for a place to live. Yet another family move in the offing …….. Allbon found suitable accommodation for his family in the small village of Upton, some three miles south of nearby Didcot and quite close to Harwell.
For his part, Ted Saunders apparently established his home in nearby Blewbury, immediately adjacent to Upton. Kenneth Allbon recalled that Ted Saunders was a somewhat controversial character from a social standpoint, since although he was unmarried he "lived in sin" in Blewbury with a female partner! Kenneth recalled that his rather straight-laced mother Elsie did not approve of the somewhat risqué Mr. Saunders, any more than she had approved of the footloose and fancy-free Uncle Jack from years gone by ……….However, Alan Allbon evidently got along fine with his new partner, at least initially.
Whatever ambitions Ted Saunders may have harboured, the fact seems to be that at this stage he had no contacts within the Harwell nuclear research establishment, or anywhere else for that matter. Accordingly, Alan Allbon was given the green light to proceed with development of the first of what was intended to be a range of A-S model engines.
However, this took time. Ted Saunders apparently became impatient and began pressing Allbon for his ideas on alternative forms of production which could be implemented in the shorter term. It was at this stage that Alan apparently recalled a former employee of his who had shown himself to be an exceptional craftsman while working for Alan in his pre-Isle of Man days (whether at Allbon Engineering or at D-C Ltd. is not now clear). This was none other than Mike Hewland, who had established his own small gear-cutting business at Maidenhead in 1957 and by 1959 had entered the competition gearbox field for which the Hewland company remains famous today.
Contact was evidently made, as a result of which Allbon-Saunders negotiated a contract under which they would produce gear blanks for Mike Hewland. Since this was a production issue rather than an engineering challenge, Ted Saunders apparently siezed it with both hands, considering it as "his" area from that point onwards.
Having found Ted Saunders something to do, Alan Allbon remained hard at work drawing up the design for the first of what he intended to be a range of model engines to be marketed under the Allbon-Saunders name. This was the A-S 55, a superb little 0.55 cc diesel engine which became very highly regarded by its users. The engine bore the very clear imprint of its Allbon heritage, being constructed in many ways along the lines of the iconic Allbon Merlin while sharing the bore and stroke measurements of Alan's ground-breaking Dart.
The initial announcement of the A-S 55 appeared in the "Motor Mart" feature of the November 1959 issue of "Aeromodeller" magazine, together with a photo of the engine. The introductory advertisement appeared in the December 1959 issue of the same magazine, just in time for the Christmas rush.
The selling price of the engine was £2 15s 6d (£2.77 in modern money) inclusive of all taxes. This was quite a bit more than the cost of a number of contemporary competing models,
particularly the new breed of British-made ½A glow-plug motors which were appearing more or less concurrently. Presumably Alan Allbon was hoping that the engine would recommend itself on merit regardless and/or would dissuade many diesel fanciers from switching their allegiance to glow.
As events were to prove, Allbon's confidence was justified to a degree. The A-S 55 was viewed very favourably by the more discerning mmbers of the modelling public, being widely considered to be the best ½ cc model that had ever entered series production in Britain up to that time. Two very positive published test reports by Ron Warring and Peter Chinn could only have helped the cause, resulting in the engine becoming a steady if not spectacular seller despite its higher-than-average price.
However, there was a downside to all of this. The basic problem was that Allbon had chosen the wrong displacement category in which to launch his new model engine range. Thanks to the influx of a number of British-made ½A glow-plug models as well as the 0.81 cc E.D. Pep diesel at around the same time as the arrival of the A-S 55, the British marketplace was suddenly flooded with low-priced small engines. Moreover, this situation coincided with what may be seen in hindsight as the commencement of a steady decline in the demand for engines in general and small engines in particular among British modellers.
As a result, the A-S 55 was launched into a shrinking market for small engines at the very time when that market was becoming saturated with low-cost domestic offerings. As events were to prove, the only long-term survivors of this period were the well-established Davies-Charlton Dart Mk. II successor to the original Allbon Dart model of 1950, the Dart-based Davies-Charlton Bantam glow-plug model and the Allbon-designed Merlin diesel. Ironically, all three of these models originated as Allbon designs. All the others, both glow and diesel, fell by the wayside, sadly including the A-S 55.
Although the A-S 55 remained on sale well into 1964, it's always appeared puzzling that Allbon-Saunders appear to have made only desultory efforts to promote it. As far as I can ascertain, the company never placed a single advertisement in "Model Aircraft". Presumably the fact that "Aeromodeller" enjoyed a wider circulation at the time made that magazine the best value for the advertising pound.
Even in "Aeromodeller", advertisements appeared on a highly irregular basis. There were only three in the first half of 1960, the most serious promotional effort being a full-page advertisement in the April 1960 issue, clearly coordinated with the appearance of Ron Warring's test report. That advertisement was significant in that it confirmed that Allbon-Saunders had succeeded in bringing both E. Keil & Co. and Henry J. Nicholls Ltd. on board as distributors. Both of these companies had of course distributed Allbon's engines in the past.
A further advertisement placed in the May 1960 issue of "Aeromodeller" made reference to Warring's very positive summation in his April test report. It appears that Allbon-Saunders may have justifiably seen the appearance of Peter Chinn's equally laudatory report in the June 1960 issue of "Model Aircraft" as constituting the best possible form of advertising (and free at that!), making a separate advertisement by the company redundant in that month. However, it's a rather odd fact that following the appearance of the "Model Aircraft" test of the engine, no further adverts were placed in "Aeromodeller" until December 1960. That placement was clearly aimed at the Christmas rush. It included quotes from both Warring's and Chinn's test reports.
It's even stranger to have to report that the December 1960 "Aeromodeller" advertisement was the final advertising placement of them all! The engine continued to appear in dealer listings for some years, but that was it as far as the company was concerned. The implication is that the lacklustre model engine sales had forced even the enthusiastic Alan Allbon to accept the fact that the company had to become increasingly preoccupied with the development of alternative business lines. The result of this realization was that their model engine line no longer held much importance for them. No doubt the views of Ted Saunders strongly influenced this change in focus.
It was towards the end of A-S 55 production that a young technician in his early twenties by the name of Bernie Bowler joined the firm. He had completed an apprenticeship at nearby Harwell, during the course of which he had become a skilled craftsman. Hence he had considerable value to the company on the technical side However, he also brought with him both contacts and inside knowledge of the workings of the Harwell establishment, thus being in a position to facilitate the ability of the company to secure contract work from that source, just as Ted Saunders had apparently always envisioned. This soon began to bear fruit.
In Bernie Bowler's recollection, Alan Allbon did his best to keep the A-S model engine line going, but Ted Saunders actively discouraged it, feeling that the company's interests would be best served by focusing upon the growing high-tech business from Hewland, Harwell and elsewhere. Bernie's view that Saunders was the better businessman who was simply acting according to his instincts is probably fair enough - Alan Allbon was likely motivated more by his passion for model engines than by any sober business considerations. Whatever the reasons, Bernie observed that this divergence of viewpoints caused the beginnings of a split between the two partners which eventually became anything but friendly.
While the model engine production wound down, the business from other sources was expanding. As time went on, Allbon-Saunders' business and workforce both grew substantially. It seems to have been a combination of low financial returns from the model engine venture coupled with the increasing workload from other sources that eventually forced Allbon to read the writing on the wall and abandon his model engine interests once and for all. Basically, he no longer had the necessary spare time or financial motivation to promote and pursue the further development of the A-S range, nor did he have the support of his increasingly estranged partner. The A-S 55 continued to be manufactured for a time in small batches on and off as the overall workload dictated, but all thoughts of expanding the range had evaporated.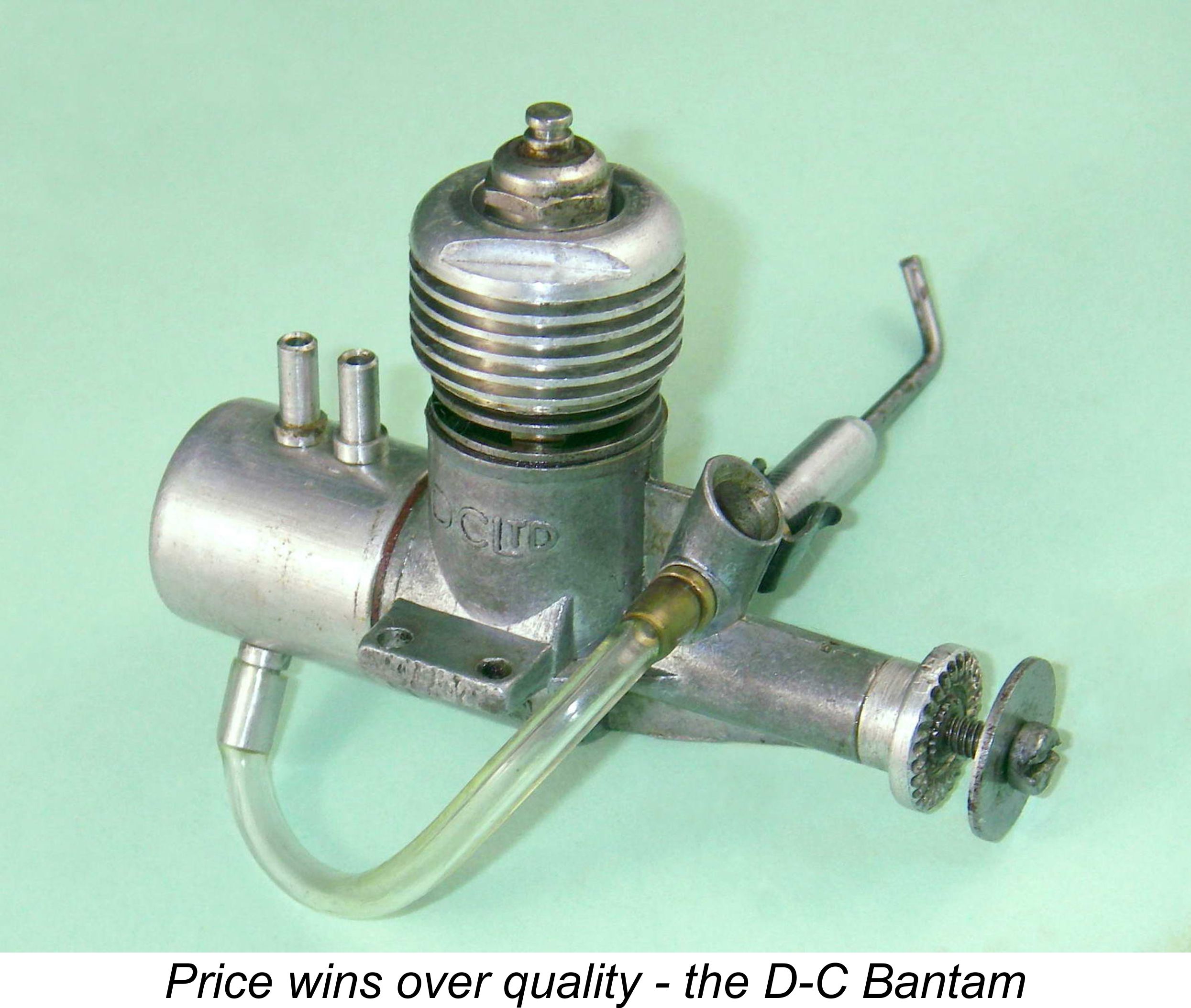 Another factor which appears to have had a considerable influence was the increasing tendency of the British model engine marketplace to be driven by cost at the expense of quality and performance. The fact that the A-S 55 was most definitely built up to a standard had placed it at a great disadvantage price-wise from the outset compared with such competing offerings as the Davies-Charlton Bantam, which like most Davies-Charlton engines by this stage was equally definitely built down to a price. The development of the A-S 55 had taken place in 1959 prior to the release of the Bantam. It must have come as quite a shock to Alan Allbon to find that he would have to compete in price terms with an engine which, while coming nowhere near to matching either the quality or performance of the A-S 55, sold for only £1 14s. 6d (£1.73) compared with the A-S 55's selling price of £2 15s 6d (£2.77).
It's greatly to Alan Allbon's credit that he clearly decided very early on that he was unwilling to join the race to the bottom which the Bantam had inaugurated. The quality of the A-S 55 was maintained, as was its price. The advertisements in May and December 1960 were both headed by the slogan "Quality Comes First", which was unmistakably Allbon's rallying cry against the Bantam and its ilk.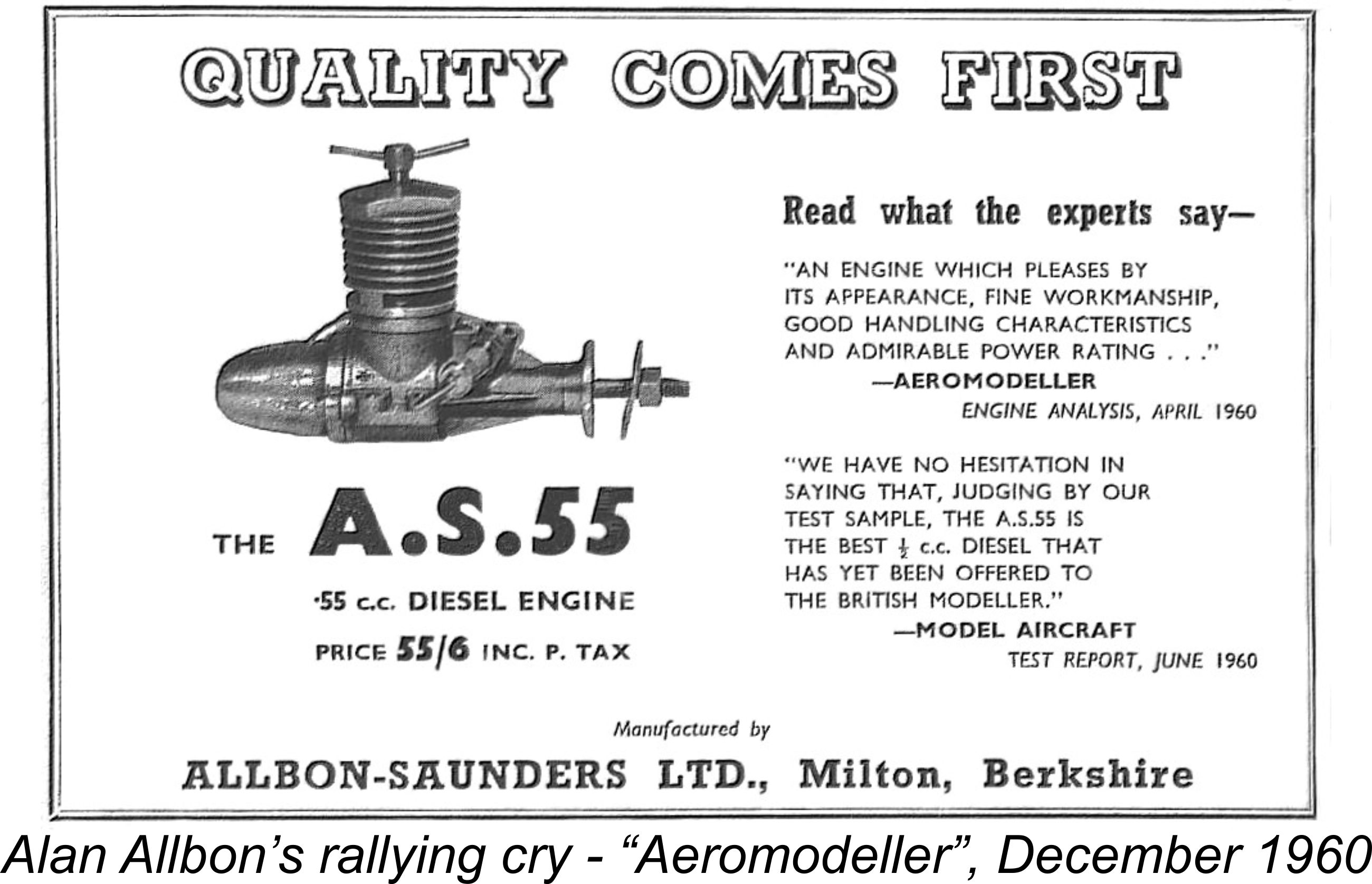 Allbon clearly intended to find out whether British modellers were prepared to pay for quality and performance or whether price was all that mattered.
Sadly, it appears that Allbon got the answer to this question very quickly, soon recognizing that his fine little creation stood a very poor chance of long-term survival in the cost-driven marketplace which had developed largely as a result of Davies-Charlton's aggressive cost-cutting at the expense of quality. Allbon was not prepared to press for the continued involvement of the company in a marketplace in which quality was subordinate to price. One can only admire Allbon's integrity in this regard. Time soon proved his views to be correct - in retrospect, the British modelling community ended up paying heavily for its preoccupation with low prices at the expense of quality in terms of the loss of many fine manufacturers, including Allbon-Saunders, International Model Aircraft (FROG) and Rivers, to name but three early casualties.
Ted Saunders appears to have been the driving force behind the change of focus from model engines to the provision of technical services to the nuclear research facility at Harwell and other similar work. His influence was almost certainly brought to bear at a relatively early stage. This would explain both the early loss of advertising momentum and the relatively low production figures for the company's fine little diesel. Although it's impossible to be definite on this subject, present indications are that at most only some 2300 examples of the A-S 55 were made in total over a four-year period. The engine is a highly prized collectible today.
Bernie Bowler retains an unused A-S 55 box label bearing the serial number 2401. Since this engine was clearly never sold (and perhaps never even made), we seem to have a very clear upper limit for A-S 55 production figures.
The abandonment of the A-S model engine venture ended Alan Allbon's 15 year involvement with model engines once and for all. It would be difficult to overstate the loss to the British modelling community which his departure represented.
It's nice to be able to record the fact that several of Alan Allbon's designs outlasted the man himself as well as his former sparring partner Hefin Davies, who died in late 1980. The Allbon-designed Merlin and Dart were among the final Davies-Charlton products of them all, remaining available right up to the Dav-Cal era which began in late 1982. The Dart was the ultimate survivor, remaining in production at some level until 1984, when it finally ended a 34 year production run - almost certainly a record for a British model engine. It must be recorded however that the Darts produced by Davies-Charlton never equaled the performance or quality of the Allbon originals.
Readers requiring more detailed technical information about the A-S 55 are referred to our earlier article on the engine which may be found on MEN.
The Final Years
One of the enduring legends surrounding the life and work of Alan Allbon has been the assertion, first voiced by O. F. W. Fisher in his 1977 "Collector's Guide to Model Aero Engines", that after terminating production of the A-S 55 Allbon-Saunders went into the optical industry. Interestingly, Kenneth Allbon had no knowledge of any involvement in the optical industry on the part of either Allbon-Saunders or Alan Allbon personally. Bernie Bowler went further - he stated directly that to his first-hand knowledge there was never any such involvement. This seems to dispose quite authoritatively of one of the enduring myths surrounding Allbon's later professional career. One wonders how it got started ................
The reality is that Ted Saunders' business plan was followed from this point onwards. Apart from the ongoing gear blank production for Mike Hewland, the mainstay of the company became the high-tech and rather secretive precision engineering work that they carried out as sub-contractors to the National Atomic Energy Research Establishment at Harwell. In most cases they had no idea of the function of the components that they were making - frequently, they were not even informed of the name or mechanical properties of the supplied material! They simply had to evaluate its machining characteristics for themselves and then make the components according to the very exacting specifications provided. Kenneth Allbon recalled that his father relished the technical challenges which this work presented.
Bernie Bowler was involved during the early phase of this expansion of the company's activities - indeed, he had done much to facilitate their success in this area. However, he recalls that Ted Saunders was a master at manipulating staff, and the less-than-malleable Bernie was not one of his favourites! Being ambitious and seeing himself as facing a brick wall in terms of advancement at Allbon-Saunders due to Ted's attitude towards him, Bernie and another Allbon-Saunders employee quit the firm to establish their own Oxford-based company. They were careful to avoid going into direct competition with Allbon-Saunders.
However, business contacts between the two firms were maintained. Some years later, Ted Saunders approached Bernie to offer him the position of Works Manager at Allbon-Saunders, an offer which Bernie declined, having already achieved the dizzy height of becoming a Company Director!
Following this rebuff, Ted tried again, this time bringng Alan Allbon with him. The two men explained to Bernie that they both wished to retire in the next few years and were seeking a buyer for Allbon-Saunders. An agreement was eventually reached whereby Bernie would return to Allbon-Saunders in the capacity of a third partner and would buy out the other two over a specified term of five years.
This agreement was duly implemented. Folowing his return, Bernie Bowler looked after the "atomic energy" side in relation to the Harwell contracts, while Ted Saunders remained active in the factory managing the ongoing gear blank production for Mike Hewland. It's perhaps indicative of the depth of the split between Saunders and Alan Allbon that Alan was more or less relegated to an administrative role from this time onward.
At the very end, matters unfolded in a way which cannot have done anything to improve relations between Saunders and Alan Allbon. It will be recalled that when Allbon-Saunders was established, Ted Saunders had put his money into equipping the workshop whilst Alan Allbon bought the freehold premises in his own name (as opposed to that of the company). The premises never at any time became a company asset whilst the machinery wore out, thus losing value. When Bernie agreed to buy out the other two, his purchase of the freehold was necessarily a separate agreement between himself and Alan, with Ted Saunders having no financial interest. Alan proposed that the puchase of the freehold be financed in part through the payment (to Alan!) of a fair market rent over a specified period. The purchase of the equipment (in which Ted Saunders did have a financial interest) was based upon the current value of the now worn-out equipment. Ted's reaction may best be imagined ............
As a result of these transactions, Alan Allbon was finally able to retire in January 1970, in which year he turned 64 years old. Ted Saunders retired in June 1972, relocating to the south of France where he built a house. Having bought out his erstwhile partners, Bernie Bowler continued to run the company, from 1978 onwards as a successor company named The Machining Centre Ltd.
Bernie Bowler still speaks with great affection of his former "gentleman partner" Alan Allbon. In his own words, it may be more than a coincidence that he named his son Alan ...........
Bernie retired in 2004, but his company remained in business as of 2016, still at the same location on Pembroke Lane, Milton, albeit in a replacement building, and still proudly proclaiming that it was established in 1959! It clearly sees itself with considerable justification as a direct successor to Allbon-Saunders. Bernie told me that he still owned the freehold at my time of writing (May 2016). Indeed, several employees from the Allbon-Saunders era remained on the payroll as of that time. Even more remarkably, the original sawmill building in which the Allbon-Saunders engines were manufactured still stood in the centre of the expanded Pembroke Works complex as of May 2016, complete with its asbestos roof!
Bernie provided an interesting postscript to the Allbon-Saunders story. In around 1986 he was approached by a couple of young men from Melton Mowbray who had somehow obtained the original jigs, fixtures, and crankcase dies together with some part-finished components for the A-S 55. Alan Allbon or Ted Saunders must presumably have provided these to them. They had assembled a small batch of engines for sale and were proposing to use the Allbon-Saunders name. They simply wanted to know if there was any impediment to their doing so (there wasn't). Bernie heard no more from them, but presumes that these engines and other materials must still be in existence somewhere?!? Anyone out there know more??
This actually ties in with a recollection from my friend and colleague Jim Woodside, who recalled an offering of a collection of tooling and "bits" from the old A-S model engine enterprise on eBay UK some years ago. This must presumably have been the "remains" of the A-S venture after its time spent at Melton Mowbray ............ wonder who has it now?!?
Having retired from Allbon-Saunders, Alan Allbon was keen to make a complete break from the business, accordingly relocating his retirement residence to distant Ilkley in Wharfedale, Yorkshire - a favourite locale of his wife's. In retirement, he continued to take a keen interest in all things mechanical, very much including the cars which had engaged the youthful interest of both himself and his brother Jack. Kenneth Allbon's attached 1977 image of his father admiring a 1923 Citroen at Peter Black's Motor Museum at Keighly, Yorkshire, shows him enjoying himself in a characeristic manner!
By 1978 Allbon was 72 years old but still in apparent good health during his seventh year in retirement. By contrast, his wife Elsie was increasingly bedevilled by a range of health issues, hence requiring a good deal of attention and support from Alan which doubtless took its toll. They were still living in Ilkley.
Although it must have brought back a few painful memories, Kenneth Allbon was kind enough to share some details of his father's final days. He recalled that during a visit which he made to see his parents in late 1978, his mother Elsie became seriously ill, to the point that she had to be hospitalized for evaluation and treatment. To fill in the understandably anxious time while they were waiting for news, Kenneth suggested to his dad that they take their minds off things by driving down to Bradford to visit the well-known Industrial Museum there.
On the way, the car (which Alan was driving) became involved in a very minor accident at a roundabout, involving a slight collision with a truck. There was very little damage to the vehicles involved. However, Kenneth recalls that this very minor incident seemed to upset his father far more than was warranted by the circumstances. He seemed in fact to go into some form of shock. This was the first indication that all was not well with Alan Allbon.
After Alan recovered somewhat, the two of them continued to the Museum and began to look around the exhibits. However, Alan began to look and feel increasingly unwell. Eventually Kenneth suggested that they return home to Ilkley. On the way, Alan began to look and act so unwell that Kenneth insisted on taking over the driving. He actually suggested that they should go to the hospital for an evaluation, but unfortunately his dad persuaded him that they should simply return home. Kenneth still blames himself for not overruling his father by taking him straight to the hospital. In hindsight though, it may well be doubted that this would have greatly affected the outcome.
Alan went to bed, but his symptoms did not improve. Eventually, against Alan's wishes, Kenneth took him to the same hospital where Elsie was undergoing her assessment. The doctors immediately diagnosed a serious heart attack and admitted Alan forthwith. However, despite their best efforts, he suffered another heart attack and died that night in the hospital.
Kenneth recalled that this was completely unexpected - Alan had no prior history of heart problems, apparently enjoying excellent health throughout his life and almost never missing a day's work due to illness. Now suddenly he was gone at a seemingly premature age. His wife Elsie never recovered from the shock, passing away herself only a year later.
Conclusion
I hope that you've enjoyed this retrospective look back at the career of an individual who richly deserves to be remembered as one of Britain's most successful and influential model engine designers of the mid 20th century. It's been both a pleasure and a privilege to record this tribute to Alan Allbon's immense contribution to our favorite hobby! My thanks once again to those noted earlier who contributed so much to the telling of this story.
As always, I don't claim to know it all, nor can I guarantee that I've got it all right. Accordingly, if anyone out there is able to correct me at any point or add to our knowledge as presented here, please get in touch! Any published contributions will be gratefully and openly acknowledged.
_________________________________
Article © Adrian C. Duncan, first published March 2015
First update May 2016