J.B. range
The J.B. Engines
In this article, I'll summarize the rather sad history of one of England's less well-remembered model engine ranges – the J.B. marque. This short-lived series was extremely well made, attractively presented and aggressively marketed, but the engines suffered from some fundamental material selection and production flaws which led to their rapid eclipse in the highly competitive British model engine market of the mid 1950's. The range was only advertised for some 16 months, from October 1955 until January 1957. Good examples are quite rare today.

All of this is a great pity, because the engines were very capably designed in many respects, also being extremely well finished and enticingly packaged. Despite their failure to establish themselves in the British marketplace, the manufacturers undeniably showed themselves to be well capable both of producing model engines of real quality and marketing them effectively.
The letters of the engines' trade-name stand for the initials of their instigator, Jack Ballard. Let's begin by taking a look at the somewhat convoluted background to the introduction of this rather ephemeral range.
Background
Jack E. Ballard was the founding Managing Director of the E.D. company upon its establishment in 1946. He represented E.D. on the sub-committee set up by the Model Trader's Association in 1949 to fight the Government decision to impose Purchase Tax on model engines. Their efforts were ultimately unsuccessful, with a late 1950 court ruling confirming the imposition of purchase tax on model engines beginning retroactively in 1949.
E.D. was apparently one of a number of companies which suffered the financial consequences of not having prepared an adequate contingency plan to deal with the possibility of this unfavorable outcome. I've covered this issue in detail in my separate account of the history of the E.D. enterprise.
It's possible that some of the other directors may have held Ballard partially responsible for this unhappy situation. Certainly, it appears from reading between the lines that the E.D. management team was rather shaken by dissention during the early 1950's. One point on which the Board as a whole seems to have disagreed with Ballard was his perception of the need to continue both to update and expand the company's range and to improve the presentation and marketing of its products.
While this was likely a valid viewpoint, it was an inescapable fact that the full implementation of such a broad program would require a significant investment of financial resources which the company simply did not have at the time. The loss of the purchase tax argument coupled with E.D.'s failure to make provision for an unfavourable outcome had placed the company in a position in which its financial capabilities were extremely strained. This led to its development programs being under-funded for some time.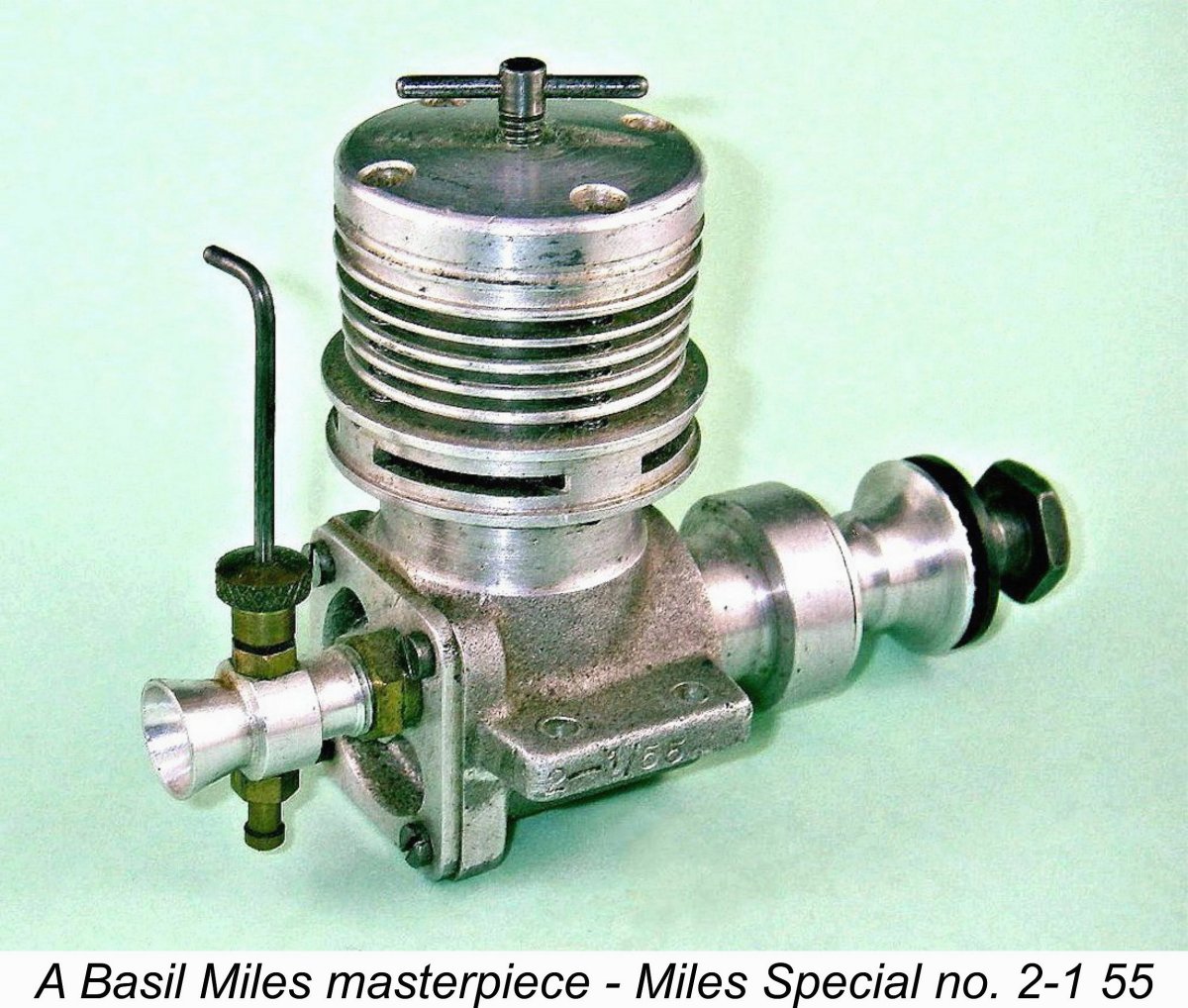 It was at this point that significant changes began to take place among those responsible for the management of the company and the development of its products. The first overt symptom of the coming shake-up presented itself in mid 1953, when Jack Ballard resigned from his position as Managing Director to pursue options elsewhere. He was replaced by Jim Donald.
Ballard was soon followed by chief engine designer Basil Miles, who parted company with E.D. in an officially-acknowledged capacity in late 1953. There were stories going the rounds at the time to the effect that Miles was involved in a personal issue which led to E.D. management deciding that it was necessary for them to sever all official ties with him. Probably best forgotten ................

Whatever the truth of the matter, the severance appears to have been relatively amicable under the surface - Miles continued to design and build engines on his own, and one of these was in fact marketed by E.D. as the 5 cc Miles Special in both diesel and glow-plug forms. Miles also appears to have retained some form of arms-length albeit unpublicized design consultancy with E.D.
Both this ongoing relationship and the quality of Miles' designs confirm that the official parting of the ways was undoubtedly for reasons other than any shortcomings in Miles' engineering capabilities. I suspect that this matter must have exacerbated existing tensions within the ranks of the E.D. directorate.

While all of this was going on, events had been unfolding elsewhere that would have a bearing on our story. Beginning in August 1947 the Chester-based Anchor Motor Company had quickly become a significant player in the British model engine manufacturing market, first with the company's excellent little AMCO .87 cc sideport diesel and then with their plain bearing AMCO 3.5 cc crankshaft front rotary valve (FRV) model of May 1949. They capped this with the August 1951 introduction of the famous AMCO 3.5 BB model which was designed by Ted Martin.

However, there was a problem despite the commercial success of these products. Model engine manufacture formed only a relatively small segment of the Anchor Motor Company's business portfolio, to the point that it was actually little more than a sideline. Moreover, the profitability of this aspect of the company's business had become increasingly marginalized by the loss of the Purchase Tax case in late 1950.
To compound these issues, as of 1951 the company had become heavily involved in Government contract work, greatly compromising its ability to devote resources to model engine development and manufacture. By April 1952, things had reached a point where model engine production had to be suspended altogether in favour of the far more lucrative Government work.

The AMCO name, goodwill, designs, tooling, parts and dies were offered for sale, eventually being purchased by a newly-formed London-based company, the Aeronautical Electronic & Engineering Co. of Alperton, Middlesex (near Ealing). The managing director of this company was a certain F. F. Wells, about whom I have been unable to uncover any specific information.

The initial announcement of the take-over appeared in an advertisement which was placed by the new owners in the October 1952 issue of "Model Aircraft". This announcement included the information that production of the AMCO 3.5 BB would re-commence "shortly". An identically-worded announcement appeared in the November 1952 issue of the rival "Aeromodeller" magazine.

The name of the Aeronautical Electronic & Engineering Co. unmistakably suggested a concern with electronics in addition to model engines. This was of course an exact parallel to the business portfolio of the competing E.D. company, which manufactured both engines and radio control equipment. In addition to resuming the production of certain AMCO model engines, the new company also entered the radio control business with its Avionic range of R/C gear.

After the AMCO range was taken over by Aeronautical Electronic & Engineering in the latter part of 1952, there was a hiatus in production while the required manufacturing facilities were established at the new location. The company wisely retained Dennis Allen to assist them in getting set up to resume production of the flagship 3.5 cc models.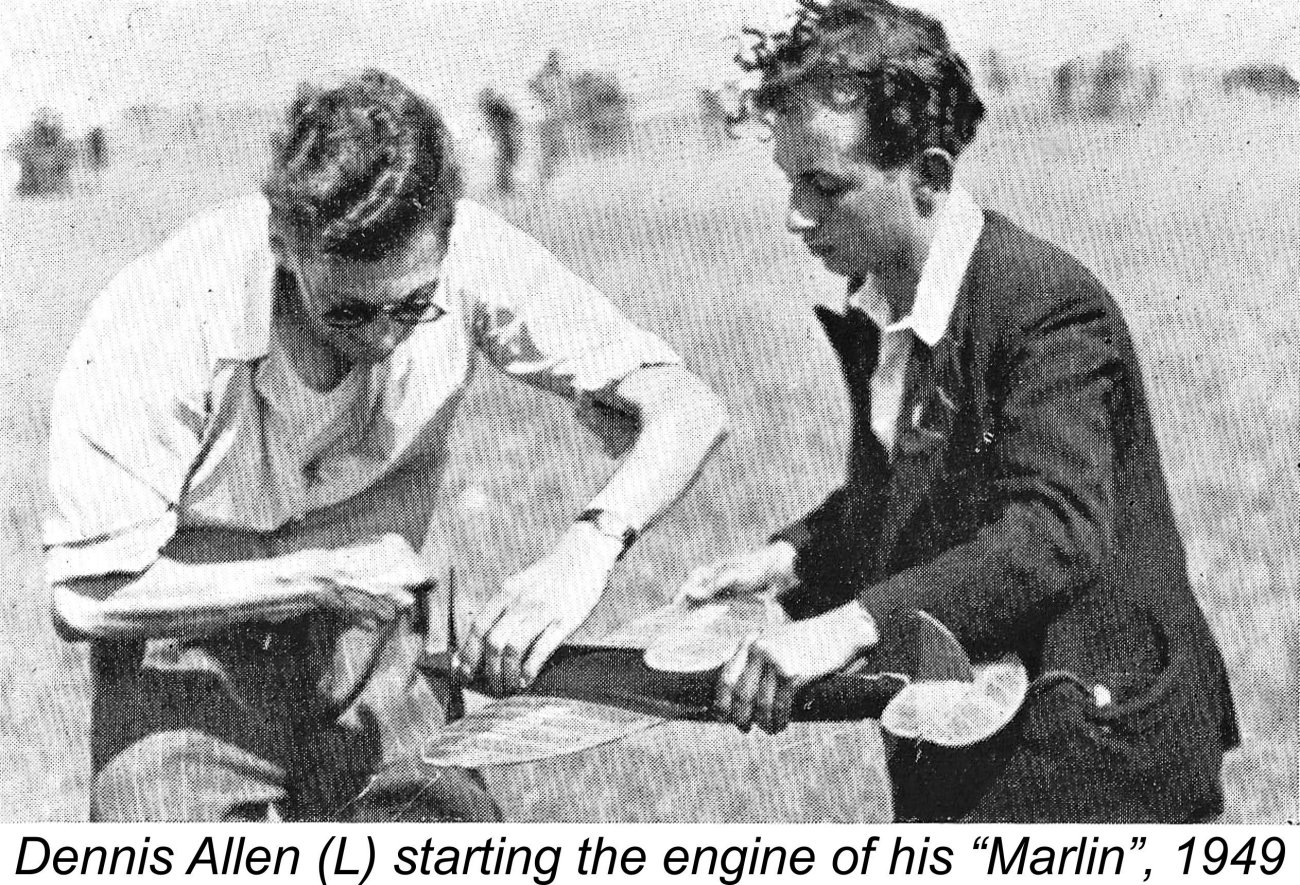 There could have been no better choice than Allen to step into the shoes of Ted Martin as the chief engineer for the ongoing AMCO range. Allen was a highly competent hands-on aeromodeller who had been among the pioneers of control-line stunt flying in early post-WW2 Britain with his famous "Box Car" models. He thus understood the practical challenges of model engine operation in the field. In addition, he had worked as one of the engine repair wizards at Henry J. Nicholl's famous shop at 308 Holloway Road in London during the period when Nicholls' Mercury Models division was acting as the trade distributor and service centre for the AMCO engines. He therefore had the opportunity to get to know the original AMCO range very well indeed. Allen had subsequently worked in the model engine field with Alan Allbon, hence bringing a wealth of directly related experience to his new position.

Allen's hand was soon greatly strenghthened by the addition of his good friend and fellow West Essex club member Len "Stoo" Steward to the staff of the new company. Steward had previously owned the K Model Engineering Co. of Gravesend in Kent, hence having a wealth of hands-on model engine manufacturing experience in connection with the various K model engines. He was particularly noted for his skill in honing cylinders and lapping pistons to fit.
Another notable individual with a proven track record as a model engine designer and constructor who joined the company at this time was Arthur F. Weaver, best remembered today as having designed the delightful Weaver 1 cc sideport diesel for home construction. Weaver was a noted exponent of model car and tethered hydroplane racing, having designed and built a number of his own engines. He was a skilled and highly experienced toolmaker who doubtless contributed a great deal to the further development of the company's design and manufacturing programs. Engineering talent was certainly not lacking at Aeronautical Electronic & Engineering!!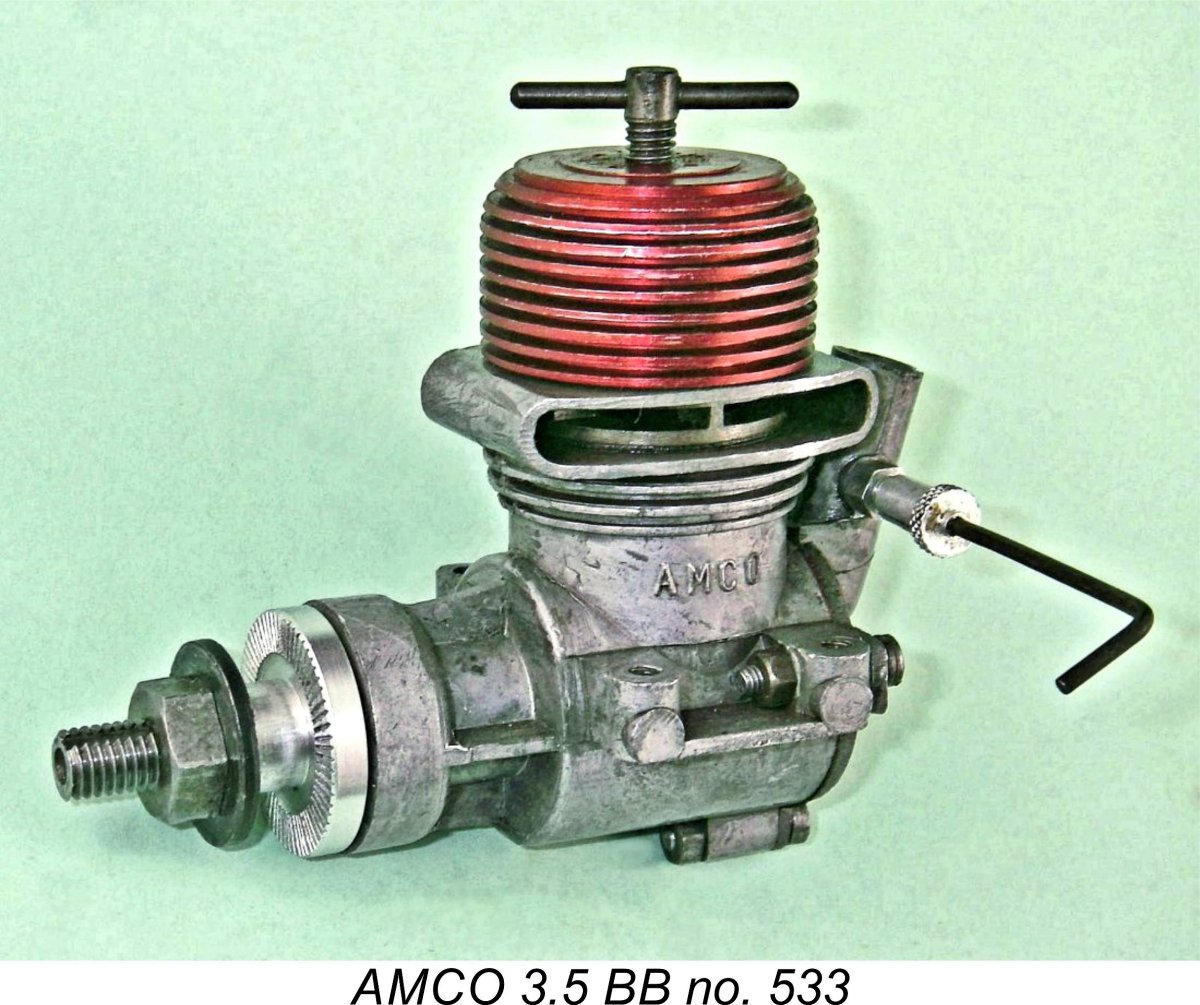 There were no plans to resurrect the old sideport AMCO .87 model, so Allen's immediate priority was the resumption of production of the very popular 3.5 models, starting with the flagship AMCO 3.5 BB which had created such a stir upon its introduction in August 1951. Its premature withdrawal by the Anchor Motor Company had left a significant unfulfilled demand. This excellent model finally re-appeared on the market in January 1953, soon becoming the subject of a very positive Ron Warring test which appeared in the May 1953 issue of "Aeromodeller".
It's perhaps worth noting here in passing that Warring's test report gives the name of the new makers as "Aeronautical & Electronic Engineering Co." This is incorrect – the "&" is where I've consistently placed it elsewhere, as confirmed on the boxes.

It took a little longer for the AMCO 3.5 PB to re-enter production - as far as I'm presently aware, the initial advertisements for this re-introduced model appeared in June 1953. The engine incorporated a few well-considered modifications to Ted Martin's original Anchor Motor Company design. Dennis Allen was doubtless responsible for these improvements. However, it remained basically the same unit - just a little more durable.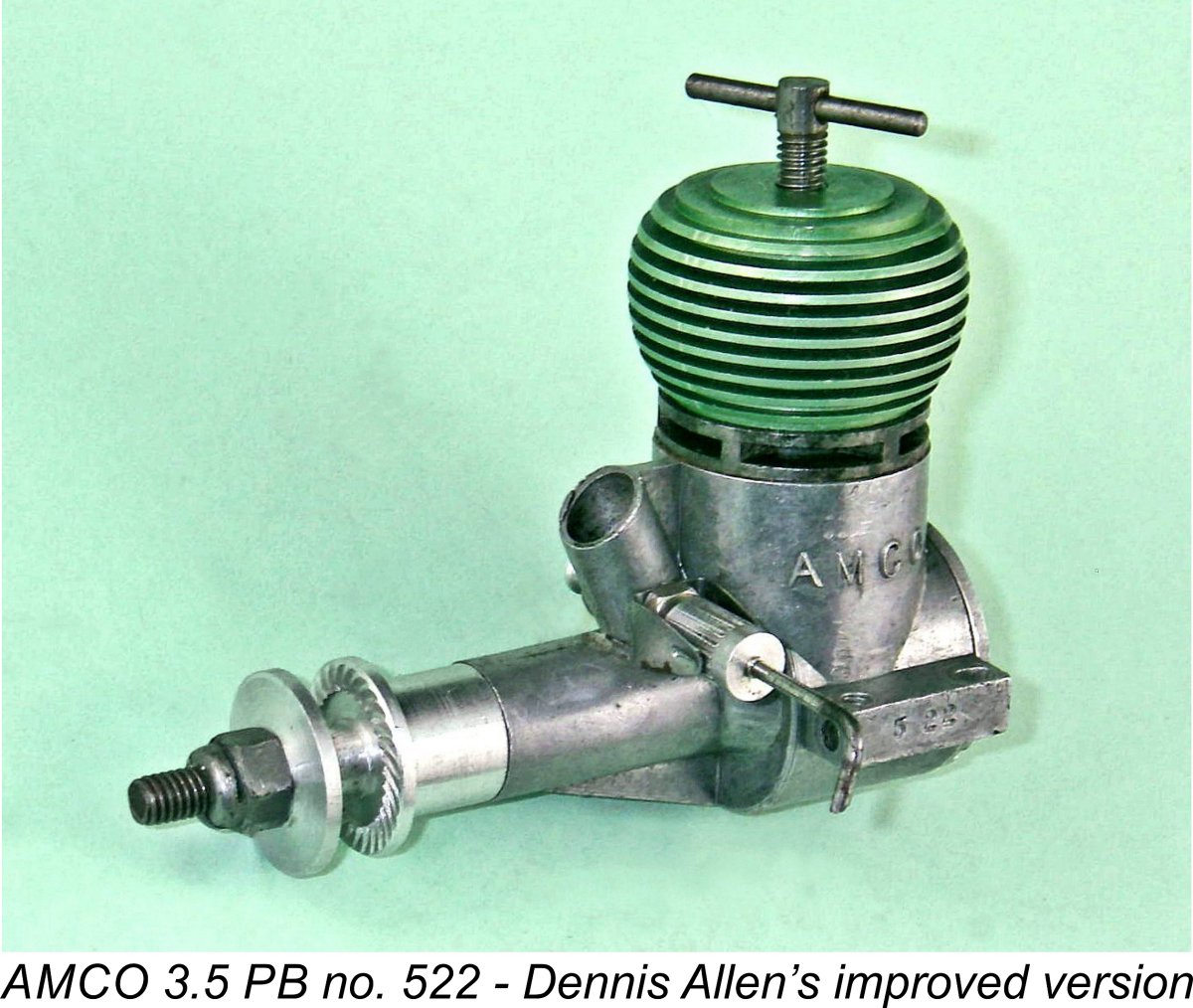 In mid 1953 the management of the new venture was reinforced by none other than Jack Ballard, who had finally come to the previously-mentioned parting of the ways with E.D., apparently because he had ideas about future design and marketing trends which differed radically from those of his rather conservative fellow E.D. Directors. It appears that Ballard saw the change of ownership of the AMCO range as his opportunity to make the break from E.D. while remaining involved with the model trade which by then he knew so well.

Ballard's arrival at Aeronautical Electronic & Engineering Co. in mid 1953 came some time after production of the AMCO 3.5 BB had resumed and more or less concurrently with the re-introduction of the AMCO 3.5 PB. Accordingly, Ballard had little or nothing to do with either re-introduction, both of which which were implemented or at least set in motion prior to his arrival.
At this point, a corporate reorganization took place which may shed some light upon Ballard's character. Having been a Managing Director at E.D. for some 7 years, Ballard was evidently unwilling to accept what he would have seen as a "demotion" from a parallel position with his new employer. However, F. F. Wells was equally (and understandably) unwilling to step down from his position as Managing Director of the company which he had helped to establish before Ballard came on the scene.

The impasse which this situation potentially represented was resolved through the division of the company into two distinct entities. Both the engines and the Avionic radio control gear continued to be manufactured by Aeronautical Electronic & Engineering Co., which was still led by F. F. Wells as Managing Director. However, a separate entity known as AMCO Model Engines Ltd. was now established to market the engines, with Ballard in the position of Managing Director. This reorganization of the company seems to me to imply a certain element of self-centredness and self-importance on Ballard's part - his joining the company was evidently conditional upon his being immediately placed in a managerial position which preserved the status which he had achieved with E.D. If the company had to be split to achieve this, so be it ..............

Ballard quickly drew up a characteristically ambitious plan for a major expansion of the AMCO range, as reflected in the company's advertisement in the December 1953 issue of "Aeromodeller". This advertisement also highlighted the division of the company into the two previously-mentioned business entities.
The proposed new models included shaft valve units in the .55 cc, 1.5 cc and 2.5 cc displacement categories. Their profiles suggested that these models were to be based to a significant degree upon the design of the AMCO 3.5 PB. There was also a 7.5 cc version of the disc rear rotary valve (RRV) 3.5 BB model. A 5 cc RRV model was later added to this "phantom" lineup. However, none of these models appear to have reached the series production stage, and I am presently unaware of any surviving examples of any of them other than a few prototypes of a somewhat re-designed 1.5 cc model, of which more anon.

At this stage, Dennis Allen was still involved with the technical side of the company's model engine development and manufacturing programs. While working on the various design improvements which are reflected in the later versions of the AMCO 3.5 PB, Allen had not confined his attention to the AMCO models - in his spare time he had been working with his good friend Len Steward to develop a design for a new lightweight 2.35 cc plain bearing diesel which he believed to have considerable commercial potential.
According to an unattributed article about the Allen-Mercury (A-M) enterprise which appeared in the June 1958 issue of "Model Aircraft", Allen offered this design to his employers, who were not interested. He reportedly also offered the design to E.D., who likewise declined. These rejections had far-reaching consequences for all concerned, since Allen's unswerving belief in his new design led him to seek other avenues for getting it into production.

Over the years since he had worked for Henry J. Nicholls, Allen had maintained his close personal ties with Nicholls and Mercury Models. In the first half of 1954 this association resulted in Allen's departure from Aeronautical Electronic & Engineering Co. to commence independent model engine manufacture in cooperation with Nicholls under the Allen-Mercury (A-M) banner. Len Steward was also closely involved in the new venture on the technical side, while Nicholls presumably assisted with start-up funding.

Allen's first diesel under his own name, the Mk. I Allen-Mercury (A-M) 25, appeared in June 1954, instantly becoming very popular indeed. This was of course the very design which had been rejected by Aeronautical Electronic & Engineering Co. (and reportedly E.D. as well). It's interesting to contemplate how differently matters might have unfolded if it had been released as the AMCO 2.5!
As it was, the new model was manufactured by Allen's own company, D. J. Allen Engineering of Edmonton in North London and was marketed by Mercury Models, hence the name. A significant case of opportunity lost as far as Jack Ballard was concerned …………

The very over-square bore and stroke of the AMCO 3.5 must surely have influenced Allen when designing the later 3.5 cc A-M 35 (released in 1955), since he adopted exactly the same bore and stroke for that engine. So despite its different porting system, the AMCO 3.5 PB may thus quite legitimately be seen as very much the "parent" or prototype of the A-M 35. I love connections ……….

The above chain of events makes it clear that Allen's association with Aeronautical Electronic & Engineering Co. must have ended at some point in the first half of 1954. Allen's departure was likely the major catalyst in derailing Jack Ballard's ambitious plans for expansion of the AMCO range - his departure plus that of Len Steward seems to have left a major void in the engineering department of the company.
Presumably as a consequence, AMCO production appears to have sputtered thereafter, finally ending altogether in early 1955 - the last advertisement for the AMCO engines of which I'm presently aware appeared in February of that year. Oddly, this final advertisement announced the release of a new version of the 3.5 BB with removable exhaust stacks! Little more was heard of this ultra-rare variant, of which only a few examples exist today to prove that it did at least reach the production stage.

Now we get to the heart of the matter! In April 1954, Aeronautical Electronic & Engineering Co. had announced a new 1.5 cc AMCO engine called the Atom, which had presumably been conceptually developed by Dennis Allen prior to his departure at around that time. Jack Ballard seems to have made a practise of issuing premature announcements, and this one was no exception - as of October 1954 we find him apologising for the delay in getting the Atom out to the model shops! This apology was repeated in December of 1954. It seems highly likely that Allen's and Steward's earlier departures had a great deal to do with this ……….
A few examples of the AMCO Atom were undoubtedly made before AMCO production ceased in March of 1955, since one or two are known to exist today in private collections. Still, this remains undoubtedly the rarest AMCO model of them all.

However, the 1.5 cc Atom design did not die as a result of the cessation of AMCO production! It was destined to resurface in October 1955, albeit then produced by a totally different manufacturer.
Enter J.B.
At some point following the placement of that final AMCO advertisement in February 1955, Jack Ballard clearly decided that the time was right to make a further move. He did so by forming yet another new company, this time under his own name.

This decision may have been prompted by the ongoing production problems with the other AMCO models, including the 1.5 cc Atom which had been prematurely announced by Aeronautical Electronic & Engineering Co. and AMCO Model Engines Ltd. almost a year earlier in April 1954. Ballard may have felt (with some justification) that the existing companies had squandered too much of their credibility by early 1955, making a name change imperative. However, he was evidently reluctant to abandon the development work which had gone into the Atom.
Be that as it may, an advertisement placed in the April 1955 issue of "Aeromodeller" magazine announced the arrival of an entirely new manufacturing concern named J. E. Ballard & Co. Ltd. of 12A Fell Road, Croydon, Surrey.
Interestingly, the former AMCO plant at Alperton seems to have been abandoned in favour of the new location, and the AMCO name was heard no more. The new company adopted the "J.B." initials as its trade-name. The position formerly occupied by Dennis Allen was taken over by one Charlie Gray.
It's interesting to note Ballard's comment in the April 1955 advertisement that the designer of his forthcoming new line of engines was Charlie Gray, "the same highly experienced designer primarily responsible for all the engines manufactured by me (Ballard) during the past ten years". I'm sure that Basil Miles of E.D. Racer fame, AMCO designer Ted Martin and Martin's successor Dennis Allen would all have been surprised to read this ……………..

Regardless, the first product of the new company was a line of model engine fuels sold under the J.B. banner. These were being advertised by July 1955. At this time, the new company had yet to release an engine under its own name, but this changed in October 1955 with the initial announcement of the company's first model diesel, the J.B. Atom of 1.5 cc displacement. Ballard subsequently went on to produce both a glow-plug version of the J.B. Atom and a smaller 1 cc version called the J.B. Bomb in both diesel and glow-plug configurations. These three additional models were announced in April of 1956.
Let's take a look at these engines, focusing on their rather unhappy fate in the marketplace and the reasons underlying this outcome.
The J.B. Atom and Bomb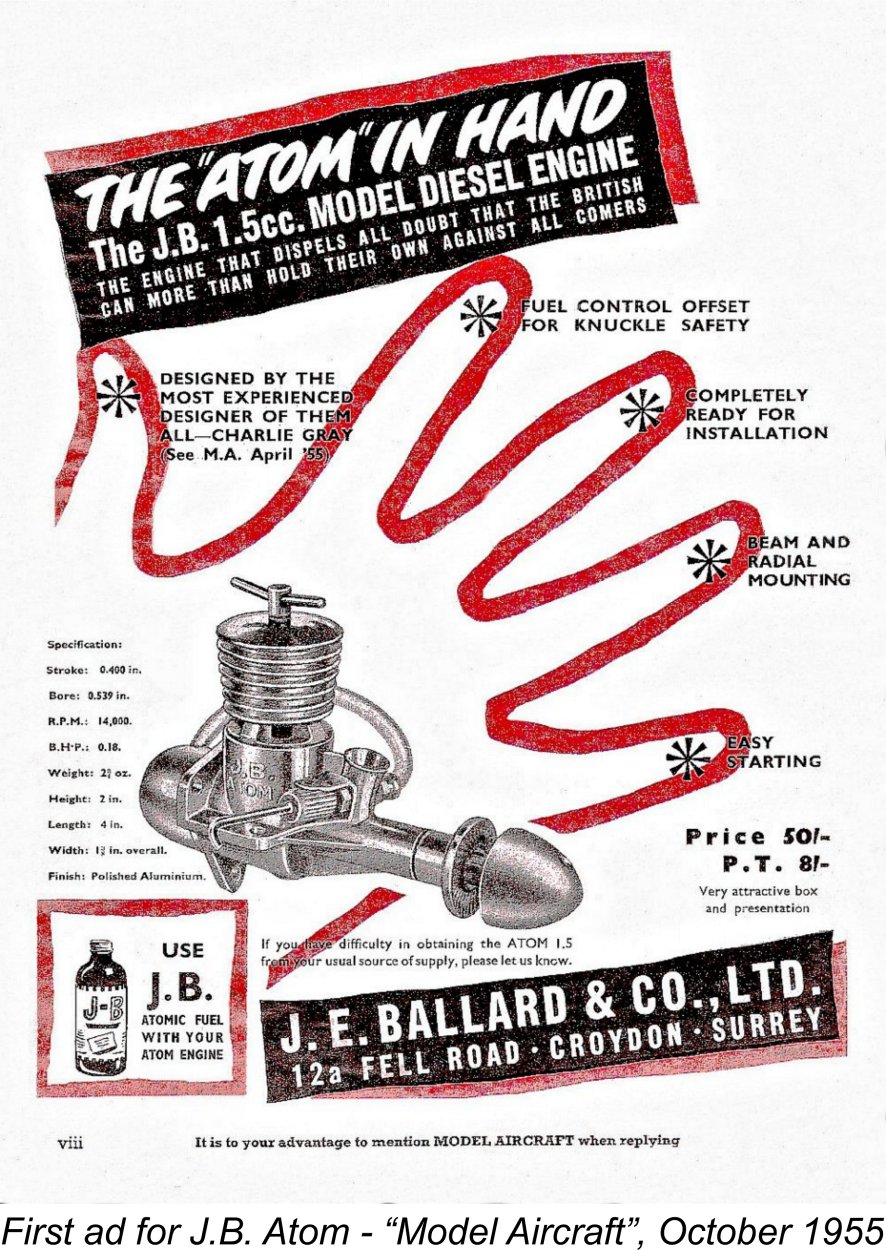 We've seen that the all-new J.B. Atom appeared on the market in October 1955 after a lengthy period of development. But was it in fact all-new?!? Not at all - in reality the J.B. Atom was nothing more than a somewhat revised and re-branded AMCO Atom, the previously-mentioned still-born mid-1954 product of the Aeronautical Electronic & Engineering Co.!
Peter Chinn confirmed this connection in a comment made in his "Accent on Power" column which appeared in the February 1956 issue of "Model Aircraft". He had previously announced the arrival of the J.B. Atom on the market in his January 1956 column. In his follow-up article in February, Chinn mentioned the earlier still-born AMCO Atom model of 1954, commenting that the then recently-introduced J.B. Atom appeared to be essentially the same engine in a slightly revised form and under a new name.
The J.B. Bomb which followed the Atom into the marketplace in April 1956 (see below) was in essence a smaller 1 cc version of the Atom, albeit exhibiting a number of quite significant design departures. I'll cover those departures in the subsequent section of this article which deals with the published tests of the J.B. engines.
The styling, finish, packaging and presentation of the engines were trend-setting for an English production – very much along American lines. This fact supports the previously-voiced notion that Ballard may well have been arguing for a similar approach on the part of E.D. prior to his leaving that company.
Both models were basically conventional radially ported plain bearing FRV diesels of their era. They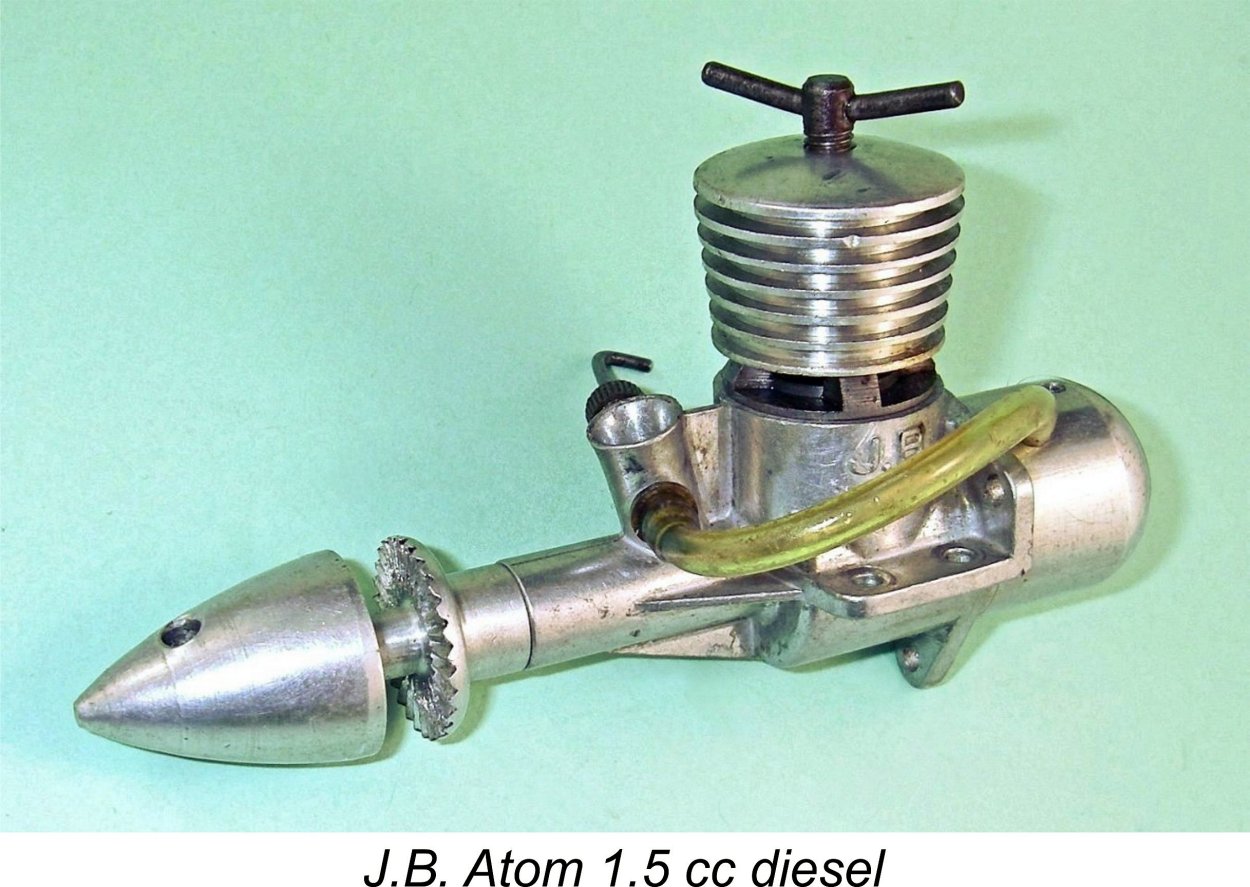 were built to very good standards, also being unusually well finished in a clearly American-influenced style. The J.B. Atom was notable for its extremely over-square internal geometry. Bore and stroke were 13.69 mm (0.539 in.) and 10.16 mm (0.400 in.) respectively for a displacement of 1.496 cc (0.0913 cuin.) and a bore/stroke ratio of 1.347 to 1. The engine weighed in at a quite reasonable 92.2 gm (3.25 ounces) complete with back tank.
Exhaust porting consisted of four rectangular openings of generous dimensions spaced evenly around the circumference of the hardened steel cylinder. Four transfer ports were drilled through the cylinder wall between the exhausts at a 45 degree angle. The transfer overlapped the exhaust almost completely. The transfer ports were supplied with mixture by four bypass flutes cut into the outer cylinder wall. These bypass flutes necessarily interrupted the male cylinder installation thread.

There's a bit of a mystery surrounding the engne's cylinder port timing. The generally reliable Peter Chinn stated that the exhaust ports of his tested example opened very early for a generous exhaust period of "over 150 degrees", with the transfers lagging only very slightly behind. All I can
say is that all three of my original unmodified examples (diesel and glow-plug) check out with far more conservative timing. The exhaust on all three opens at around 120 degrees after top dead centre (give or take a few degrees) for a total exhaust period of only 120 degrees - a somewhat more rational figure for a sports engine having no contest aspirations. The transfer ports do indeed open very shortly after the exhaust for a seemingly adequate period of around 114 degrees. There is also a significant sub-piston induction period around top dead centre.

I can't explain the discrepancy between Chinn's reported timing figures and my own directly-measured numbers - I can only report it. The one possible explanation that I can think of is that a design change may have been made after Chinn's presumably early example had been manufactured. We know that the gudgeon (wrist) pin carrier retention system was changed (see below), so it is entirely possible that the port timing was altered as well.

Another noteworthy feature of the Atom was the fact that the generously-dimensioned gudgeon (wrist) pin was mounted in an aluminium alloy yoke which fitted into the interior of the hardened cast iron piston, thus trapping the pin entirely within the unbroken piston walls. In the earlier examples, the carrier was retained by a circlip, while later examples featured a carrier which was threaded into the working piston "shell". This made the replacement of the gudgeon pin and conrod a bit of a chore. The required approach is detailed in a separate article by Dave Causer to be found elsewhere on this website.
The con-rod was of hardened steel with a relatively short small end bearing. Rods of this material have a well-documented tendency to generate excessive wear on both the gudgeon pin and crankpin bearings, especially if those bearings are short. The use of an ultra-short stroke would exacerbate this effect by increasing the working loads imposed upon the conrod by gas pressure acting upon the larger piston area. An alloy rod would undoubtedly have been a better choice.
The crankdisc was counterbalanced, which worked in concert with the very light piston and short stroke to minimize the engine's potential for vibration. The main crankshaft journal was of generous length, a good arrangement in terms of shaft stability. It ran in a plain bearing formed in the crankcase material. However, the shafts tended to be fitted considerably more tightly than desirable. This was to prove problematic in service, as we shall see.
A rather annoying feature of the J.B. engines was the fact that their intake venturis were transversely drilled so as to orient the needle valve quite sharply to the rear on the right-hand side (looking forward in the direction of flight). While the rearward angle combined with the relatively long main bearing kept the fingers well clear of the prop during mixture adjustment, the fact that the needle could only be mounted on the right was highly inconvenient for sidewinder mounting in a control-line model. A left-hand orientation would have been more universally applicable.
Both the Atom and the Bomb were also offered in glow-plug configuration. I don't have an example of the J.B. Bombglow model, but I do have a very nice example of the Atomglow. The construction of this model is essentially identical to that of the equivalent diesel version apart from the replacement of the contra-piston with a screw-on cylinder head which was centrally drilled and tapped to accommodate a long-reach glow-plug. Readers of my separate article on compression ratio measurement may recall that I determined the compression ratio of the Atomglow to be a somewhat marginal 7:1. A "hot" plug together with a healthy dose of nitromethane both seem to be implied.............
The Involvement of Charlie Gray
As mentioned earlier, Ballard credited the design of the J.B. engines to a chap named Charlie Gray. The J.B. ads refer to Charlie as "England's most experienced engine designer", also implicitly crediting him with the design of many of the E.D. models developed during Ballard's tenure at that company. There's a reference in one of the ads to Charlie having been written up in the May 1955 issue of "Model Aircraft" magazine, but I have searched that issue from cover to cover looking for any such reference, without success. The only reference to Charlie Gray is that included in the previously-cited introductory J.B. advertisement in that issue. Hardly counts as a write-up!

The only comment that I can make about Gray is the possibility (and it is no more than that) of his being a member of the Gray family which ran the long-established precision engineering firm of E. Gray & Son of Clerkenwell Road in London, a little to the north of the City itself. This firm was established way back in 1822, so Charlie Gray couldn't have been the cited "Son" (unless the company name had been updated at some point).
The main business of E. Gray & Son was the manufacture of machine tools, hand tools and related precision engineering production equipment. They were particularly well-known for their Grayson lathes. However, by 1930 the company had become well established as manufacturers of kits for a range of model engines, mostly of the OHV four-stroke variety having displacements of between 20 and 30 cc. These of course were primarily intended for model boat applications, although the firm did offer a powerplant with aircraft potential in the form of their 15 cc two-stroke Grayspec model. In 1935 they advanced their participation in the aero field with the introduction of their 3.5 cc two-stroke Grayson Gnome.
I must stress that I have uncovered absolutely no authoritative evidence to support the positive identification of Charlie Gray as being a member of the family which operated this company. However, someone at E. Gray & Son was sufficiently enthusiastic about model engines that he persuaded the company to establish what must have been no more than a sideline by offering model engine kits for home construction. The company's advertising history proves that they never returned to model engine manufacture after WW2, raising the possibility that the individual responsible for their pre-war entry into model engine manufacture may have sought opportunities elswewhere to remain involved with that activity.
If Charlie Gray was that individual, a decision by E.D. management to retain his services during the Ballard era would make perfect sense - as of 1946 he would have brought over a decade of hands-on involvement with model engine design and manufacture to the new E.D. venture. This would constitute strong support for Ballard's otherwise obscure claim that Charlie Gray was "England's most experienced engine designer" - under this scenario, he would have been exactly that! I'd be really glad to hear from anyone who is able to shed any light on this subject.
Some readers may raise the objection that the name most frequently associated with the design of the classic E.D. engines is that of Basil Miles. However, the fact is that a search of E.D. corporate records by my valued friend and colleague Kevin Richards has revealed that Miles appears never to have held any official position within the E.D. company at any time, either as a Director or as an employee in a managerial or technical capacity. It seems likely that his role was always that of a design consultant.
Furthermore, the first E.D. model engine design to which Miles' name was officially attached was the E.D. Mk. III Racer of March 1951. Prior to that, it appears that he may have had an uncredited advisory role in the 1949 design of the 3.46 cc E.D. Mk. IV, with which he is pictured in the attached illustration. However, the E.D. engines produced prior to 1949 display little architectural evidence of any design involvement on Miles' part when compared with his own known productions from that era. It's thus entirely possible that Charlie Gray may indeed have been responsible for the earlier E.D. designs.
Whatever Charlie may have had by way of credentials, he rather dropped the ball when designing the J.B. engines! But in some rather unexpected ways ………and perhaps he had help!! Ron Warring's test published in the April 1956 issue of "Aeromodeller" magazine sets out the story very comprehensively. The engines were intentionally set up very tight to ensure "good compression" and "tight bearings" - those fallacious tests of an engine's worth in the eyes of the uninformed. This may have been a manufacturing criterion which was imposed upon Charlie by Jack Ballard ............

Even so, this might have been OK with a different material specification. However, the company chose to use hardened steel components throughout! I have to say that Charlie Gray is the prime suspect here ..........
This choice of materials meant that no amount of running-in would relieve the piston/cylinder fit in the normal way. As previously mentioned, the fit of the main bearing was also tight to the point that "hot spots" often developed, and the very long bearing used meant that this would take tens of hours to free up. The use of a steel con rod with an unsupported and hence "wandering" small end also created undue wear on the crankpin and gudgeon pin, with inevitable consequences as far as engine life went – the rod and its bearing pins were shot long before the piston was even close to freeing up!
By insisting on working to ultra-tight fits throughout and also using hardened components, the manufacturers created an engine that suffered from excessive friction and would never free up properly. This inevitably prevented the poor old Atom from ever developing the power that the design could have produced. They also used a rod assembly that would wear out very rapidly, long before the rest of the engine was even broken in properly.
This was a great pity, because in fact the engines were by no means poorly designed in terms of their gas flow arrangements, hence having the potential to perform at a very good level by the standards of their day. They were sturdily built, generously ported and very attractively presented. If they had been properly fitted and made of a material combination which allowed them to be run in effectively, they would have been excellent engines altogether. See below for further evaluation of their potential.
As it was, Peter Chinn's test of the Atom in the February 1956 issue of "Model Aircraft" in effect damned the engine with faint praise, especially in performance terms, while Ron Warring's more openly negative test report on the Atom in the April 1956 issue of "Aeromodeller" (unfortunately coinciding with the expansion of the range) probably settled the issue. See below for further discussion of these tests.

The company continued its promotional efforts throughout the balance of 1956, even making efforts to penetrate the American market with their glow-plug models. During the latter half of 1956 their advertising began to invite inquires to an entity called J.B. Incorporated of 112 Myrtle Avenue, Brooklyn, New York. Presumably they were hoping that the American styling and packaging of the engines might attract attention in the USA.

However, their efforts both at home and abroad evidently failed to achieve sufficient sales success to justify continued production. The actual manufacture of the J.B. engines appears to have been terminated around the end of 1956 - the last J.B. advertisement that I've been able to find appeared in the January 1957 issue of "Aeromodeller". A sad end to a worthy effort having great potential..........

The J.B. Engines on Test
The first published test of a member of the J.B. range was Peter Chinn's previously-mentioned report on the 1.5 cc J.B. Atom which appeared in the February 1956 issue of "Model Aircraft". Reading between the lines of this report, one gets a definite impression that Chinn was expecting considerably more than he got from this then-new design.

Chinn began by describing the engine in some detail. His test unit was one of those which featured a circlip to retain the gudgeon pin yoke inside the piston. The engine was apparently quite free-running, in contrast to many other examples which tended to be supplied quite tight. Even so, Chinn commented that despite the fact that it had been supplied by the factory, his test unit appeared to be "not a particularly good example". As evidence of this, he cited the fact that the needle valve assembly was out of register as supplied, the result being that it was unable to supply a sufficiently lean mixture for all-out running. Incidentally, this seems to prove that the engines were not test-run at the factory, otherwise this fault would surely have come to light.

In terms of its starting qualities, Chinn reported that an exhaust prime and a small injection of fuel into the intake venturi were aids to starting from cold. He noted that his example exhibited a small air leak beneath the cylinder installation flange, and he commented that the addition of a soft copper gasket might be a useful modification for the manufacturers to consider.

Once running, the engine proved to be "reasonably free from vibration" over the tested speed range from 6,000 to 12,000 rpm. Both controls were found to be fairly sensitive for best performance, although the engine was apparently "easy to adjust" despite this. It's interesting to note that apart from the comments summarized here, Chinn refrained from actually characterizing the engine's starting and running qualities in his text. The implication is that he found neither characteristic to be in any way notable.

In performance terms, the Atom was a clear disappointment. According to the power curve which was included with the test report, Chinn measured a peak output of around 0.102 BHP @ 10,700 rpm, a very sub-standard set of figures for a 1.5 cc diesel by the standards of the day. Although Chinn refrained from saying so, a number of previously-tested 1.5 cc units had significantly exceeded both of these figures. Chinn's disappointment is implied by the fact that he did not quote these numbers in the actual text of his report, also avoiding making any performance comparisons with other competing models. This is typical of Chinn's test reports, especially those involving British engines – if he couldn't find anything positive to say, he generally said nothing …………

This widely-read test report cannot have helped the J.B. cause in any way. And there was worse to come in the form of Ron Warring's subsequent test report on the J.B. Atom which appeared in the April 1956 issue of the rival "Aeromodeller" magazine.

Warring began by noting that while the engine was extremely finely finished and exhibited a well thought-out design layout, it "lacked the performance to go with it". He cited both the excessively close tolerances and the inappropriate material selection as the primary causes of this unhappy situation.

Warring ended up trying two different examples of the engine. The first of these was excessively tight, and no amount of running would ease this due to the use of a hardened piston/cylinder combination and an over-tight main bearing. The second example was apparently significantly better, accordingly being used for the balance of the test.

The examples reviewed by Warring both featured the screw-in gudgeon pin yoke which seems to have replaced the circlip design fairly early on. Given the figures taken from direct measurement of my own examples, it's possible that the cylinder port timing had also been amended from the figures reported earlier by Chinn, but Warring was silent on the subject of port timing, hence not providing any resolution of this issue. He did confirm that both of his examples retained the hardened piston/cylinder combination and hardened steel conrod which had also been features of Chinn's example. In connection with the latter feature, Warring noted that one of the tested engines had developed considerable wear on the gudgeon pin after only a few hours' running.

That having been said, Warring did find a few good things to say. He characterized the better of his two test engines as "delightful to handle, easy starting, consistent running and as powerful as any engine in its class" with the definite proviso that the latter comment applied strictly to the engine's use as "a low speed engine for sports flying". If used in a higher-speed context, the engine's performance fell well short of meeting then-current standards. On the positive side, Warring did include the comment that the engine was "substantially free from vibration at all speeds". Overall, he did his best for the manufacturer.

In performance terms, Warring more or less confirmed Chinn's earlier findings, reporting a peak output of 0.090 BHP @ 10,700 rpm. The lower power figure is likely a reflection of the evident fact that Warring's test unit was tighter than Chinn's example. In the hands of both testers, the engine was clearly done by 11,000 rpm, hence fully justifying Warring's comments regarding the engine's forte (if it could be said to have one!) of performing best at low speeds.

Taken together, these two test reports in effect damned the engine with faint praise, especially in performance terms. In particular, Warring's more openly negative test report on the Atom probably ended the company's chances of success in the marketplace. As mentioned previously, the J.B. range was unable to weather the unfavourable publicity which these two reports combined to generate, disappearing from the market in early 1957.

This did not prevent Peter Chinn from publishing a very positive test of the 1 cc J.B. Bomb in the June 1957 issue of "Model Aircraft", at which time the engines were evidently still available from the stocks of several dealers. By this time, however, it's almost certain that the company was simply liquidating their unsold inventory.
Chinn must surely have been aware of this situation, making it seem possible that he felt bad about the role that his earlier test of the Atom had undoubtedly played in adversely affecting the market tenure of the J.B. range. He may well have wanted to leave some kind of positive comment on the J.B. marque, if only for posterity.

The J.B. Bomb fared much better in Chinn's hands than the poor old Atom had done. He began by stating that "in both handling characteristics and specific power output", he found the Bomb to be "markedly superior to its larger bore brother".

Chinn then described the changes which had resulted in the smaller rendition of the basic J.B. design. These were actually far more significant than might be supposed, to the extent that the Bomb was a completely distinct design as opposed to being merely a down-sized Atom. The engine used the same crankcase and crankshaft as the larger Atom, the reduced displacement being achieved entirely through a bore reduction from 13.69 mm (0.539 in.) to 11.18 mm (0.440 in.). This combined with the unchanged 10.16 mm (0.400 in.) stroke to yield a displacement of 0.997 cc (0.0608 cuin.) and a more "normal" bore/stroke ratio of 1.100 to 1. Weight was relatively little changed at 85 gm (3 ounces) complete with back tank.

The number of exhaust and transfer ports was reduced from four to three apiece, no doubt in deference to the smaller bore circumference. The greater thickness of the lower cylinder wall resulting from the reduced bore combined with the same male cylinder installation thread allowed the use of internally-cut bypass flutes in place of the former drilled transfer ports with external flutes. The cylinder port timing was also modified by lowering the cylinder in the crankcase through the skimming of some material off the top of the crankcase. Presumably the piston skirt length was adjusted appropriately.

A highly significant change was a switch to a Meehanite cast iron piston in place of the hardened steel component used in the Atom. A further positive step was the use of a ball-and-socket small end on the hardened steel conrod in place of the screw-in gudgeon pin yoke of the larger engine. This eliminated the unconfined "wandering" of the conrod small end which had bedevilled the earlier Atom design. Overall, the Bomb was a significantly different design from its larger relative - far more than just the displacement had been changed.

Having described the engine, Chinn proceeded to an evaluation of its performance. He characterized its starting as "quite good" and actually at its best on the lighter loads tested. Both controls were stated to be "entirely satisfactory".

In contrast to his experience with the larger Atom, Chinn found that the Bomb displayed an "ability to run at speeds well into the 'teens without appearing "busy"". This was a slightly convoluted way of saying that running at high speed didn't faze the engine one bit! This ability to operate comfortably at high speed was reflected in the engine's measured peak output, which was recorded as 0.090 BHP @ 14,900 rpm - almost the same output as previously reported for the larger Atom, albeit at a far higher speed. Although not quite up to the standard of contemporary 1 cc designs such as the A-M 10, the David-Andersen 1 cc model, the Super Tigre G.25 or the Barbini B.38, this was still a pretty good "average" performance for a 1 cc diesel of its era, albeit at a higher than average speed. It certainly topped the contemporary British E.D. Bee Series 2 and Allbon Spitfire models.

Overall, a very positive endorsement on Chinn's part. It's too bad that the larger Atom so signally failed to match its smaller brother. If it had, the J.B. story would doubtless have ended quite differently.

As far as I'm aware, neither of the J.B. glow-plug models was ever the subject of a published test. However, if the track record of glow-plug conversions of radially-ported diesels such as those produced by Allbon, E.D., AMCO and FROG is anything to go by, one wouldn't expect them to deliver miracles of performance.

The J.B. Design Re-Evaluated

I have four complete J.B. 1.5 cc engines on hand – two Atom diesels and two Atomglow models. The previously-illustrated examples of each model are both LN and appear to have had very little running.

One of my two Atom diesels is highly significant insofar as it has provided me with the opportunity to evaluate the potential of the design in considerable depth. As received, it had been the subject of an assault upon its structure by someone who hadn't a clue what he was doing! He'd started to grind one of the exhaust ports for reasons which escape me, thankfully stopping before the timing was affected, and had managed to mar the bore slightly but significantly in the process. It may have been this that caused him to give up before more damage was done!
He had also turned some metal off the top of the crankcase where the cylinder seats when screwed in – why beats me, since the sub-piston induction and cylinder port timing both become truly ridiculous with the lower cylinder. In his defence, the possibility must be recognized that the case is from a 1 cc Bomb (see above), although I'm not in a position to confirm or refute this possibility. It's certainly a total mis-match for the Atom cylinder with which the engine was received.

The working components had obviously done some running prior to this, since the conrod small end bearing and gudgeon pin were completely shot. However, the crankpin was thankfully OK. The engine was otherwise complete and original – it even retained its spinner and tank as well as its original needle valve assembly.
I decided that since the engine needed a rebore in any case, I might as well rebuild it to appropriate engineering standards, just as it should have been made in the first place. I re-lapped the cylinder to deal with the results of the previous owner's meddling, and made a new conventional piston of Meehanite cast iron, internally milled for lightness. I also made an alloy conrod which was fitted to the replacement piston using a pressed-in gudgeon pin. Next, I made a ring spacer for the top of the case which re-established something akin to the correct deck height. Finally, I lapped the shaft to establish an optimum fit – it was way too tight as received.
The result was a J.B. Atom that was correctly fitted and amenable to optimizing the fits by running in using standard procedures. I did this, with quite impressive results! The re-fitted and fully run-in engine was no ball of fire, but it ran far better than the contemporary published tests would have led anyone to believe. It was also an absolute breeze to start. Finally, it seemed set for a long working life.

This was great, but there was the potential for even more – I previously noted that the cylinder port timing as measured from my original and unmodified examples was extremely conservative (ports open late and remain open for a relatively short time). I had duplicated these figures with my new spacer, but felt that the engine might benefit from a somewhat less conservative configuration. I therefore tried using a thicker spacer under the cylinder to further raise the deck height and thus increase the port opening period to give an exhaust period of around 130 degrees, with a corresponding increase in the transfer period.
Although some of the sub-piston induction period was thereby lost, the results were very positive – the engine started performing well up to the best mid-fifties 1.5 cc diesel standards! As you'd expect, starting was not quite as good, but the torque development was greatly enhanced.

This work was carried out some years ago, soon after I acquired the engine. I recently re-tested this example to confirm my earlier notes. As before, the modified Atom started quite easily with a small prime, its only vice being a certain tendency towards viciousness on the 7 inch and smaller props. This is probably a reflection of the ultra-short stroke. Once going, the engine proved very responsive to the controls, hence being easy to set. Both controls held their settings perfectly at all speeds. Running qualities were outstanding - never a missed beat and no tendency to sag. Vibration levels appeared to be minimal, presumably thanks to the very light piston and rod that I had made for the engine.

The measured prop/rpm figures were quite remarkable in light of the engine's lacklustre showings in the hands of the contemporary testers. The following data were obtained on test.
Prop

RPM

BHP

APC 8x4

APC 7x6

APC 7x5

APC 7x4

Cox 6x4

9,800

11,200

13,000

13,800

14,200

0.102

0.140

0.174

0.168

0.159
The implied output is around 0.176 BHP @ 13,300 rpm. This would have put the Atom right up there among the top performers of its day - in fact, in terms of mid-range torque development it would have been among the very best. A quite remarkable performance for such a short-stroke engine!
This is an astonishing result, although we should remember that the Atom has what amounts to Oliver porting along with sub-piston induction, both of which ought to encourage pretty free breathing. In addition, the tested example is well run in and perfectly fitted as well as having its cylinder port timing extended and its shaft fit freed up.

All in all, I learned a lot from my little experiment! My conclusion is that the basic design of the engine was pretty sound, and poor old Charlie Gray has been unduly castigated in some ways! In my view, the Atom may be fairly summed up as an excellent design with considerable potential. However, that potential was not realised thanks to the fitting tolerances and material specifications being poorly considered.
If it had been released with the standard material specification and structure of my "restoration", particularly with the modified timing that I tried, the Atom would have taken its place among the more respected British engines of the mid-1950's and the J.B. company would likely have gone on to far greater things. Quite apart from its good performance potential, the engine's very attractive appearance and presentation would have ensured that.
One wonders why the company failed to see this for themselves …….. but the fact is that the previously-summarized "Aeromodeller" test of April 1956 probably doomed the engine irretrievably. Ron Warring was clearly struggling to find good things to say about the Atom, but the review speaks for itself regardless ……. I wouldn't have bought one after reading that! The actual manufacture of the J.B. range appears to have ended in late 1956. I've always wondered what subsequently became of Jack Ballard and Charlie Gray, both of whom disappeared from modelling history at this point ………… does any reader know?!? Their experiences with the J.B range must surely have left an extremely bitter taste in their mouths - so near and yet so far...............

Turning briefly to the Atomglow, this is constructed more or less identically to the Atom apart from the cylinder head arrangements. Note the extra cooling fins – they were rightly expecting this one to run hot! Interestingly, both of my examples are far less tightly fitted than the Atom. If they'd used the same class of fit on the Atom …….. but there you are!
The steel rod set-up appears adequate to meet the somewhat lesser stress demands of the glow-plug version. Compression ratio is very low at a measured 7:1, and the engine needs some nitro to run well. It starts and runs just fine, but seems pretty lacking in power. No doubt it would do better with a raising spacer under the cylinder to advance the port timing. But then you'd have to find a way to re-establish the compression ratio ………………….
I have no first-hand information on the 1 cc Bomb other than Peter Chinn's previously-summarized and very positive June 1957 test in "Model Aircraft", nor do I have any information at all on the Bombglow. I assume however that most of the above comments would apply to those engines as well.
Conclusion
It's hard to know how one can most fairly characterize the J.B. engines. On the one hand, they were failures in the marketplace, for reasons which are readily understandable. On the other hand, they were actually quite well designed from a gas flow standpoint, having the potential to deliver more than acceptable levels of performance along with minimal vibration. The fact that they failed to realize upon this potential is more down to a few poor choices in terms of material selection than anything else. They were certainly very well finished as well as being attractively presented and energetically promoted.
I suspect that Jack Ballard's seemingly characteristic impatience may have got the better of him, leading to a premature release of the Atom before its flaws had become fully apparent. A more focused and lengthy field testing program would surely have revealed most of the flaws identified by Ron Warring, allowing for their correction prior to the engine's release.
As it was, the fact that Ballard had acquired a track record of announcing new designs that never materialized may have overcome his better judgment by making him over-anxious to avoid yet another seeming example of the same unhappy syndrome. It's also possible that he faced a cash flow problem, hence needing to get some product out there to generate revenue.
In hindsight, this is a great pity, because the surviving examples prove that the company had the ability to produce model engines to very acceptable standards. With further development prior to release, the range might well have achieved a significant presence in the British model engine market.
As it is, we're left with a relatively small number of examples of the work of the J.B. company to remind us of what might have been. I hope you've enjoyed this retrospective look as one of the British model engine manufacturing industry's most significant, lamentable and (in hindsight) avoidable failures.
______________________
Article © Adrian C. Duncan, Coquitlam, British Columbia, Canada
First published May 2018

Updated January 2020